Created on
August 16, 2023
| Updated on
August 16, 2023
Leverage LinkedIn to Improve Your Content Marketing & Content Writing Knowledge
Content Marketing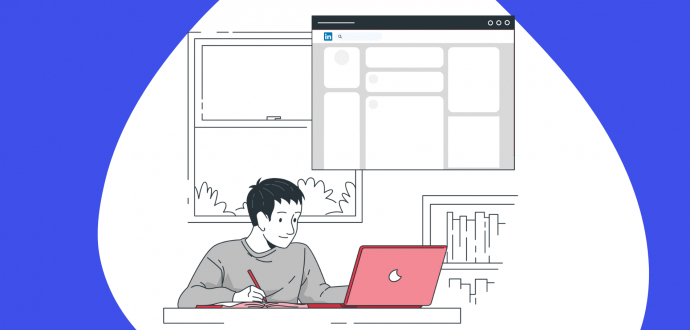 Learning is the eye of the mind. That's why it's always a good idea to improve your knowledge in the content marketing industry.
We understand that there are numerous blogs about content marketing. There are books you should check. The number of resources available can be overwhelming sometimes.
Anyways, we don't want to let you drawn in the flood of information!
If you look for quick tips, news, and trends in content marketing or writing, you can use LinkedIn for it. This professional network hosts lots of specialists in various fields. Content marketing is not an exception.
Today, we will share what accounts and groups you can follow to improve your content marketing and content writing skills.
Contents
Top 5 LinkedIn influencers you should follow
Let's start with LinkedIn's top voices you can follow. If you want to get quick tips, learn about experts' points of view, subscribe to popular professionals.
This way, you will find all the necessary information and insights in your feed.
1. Neil Patel
Neil Patel is a New York Times Bestselling author. He is the mastermind behind CrazyEgg and Ubersuggest.
Both tools serve marketers' needs. So, except for his deep expertise, he always has statistically proven insights under his elbow.
Neil talks about SEO, marketing, digital marketing, entrepreneurship, and social media marketing on his LinkedIn profile.
He explains new and rising trends in simple words. Neil often shares short videos, so you can easily watch them to soak in helpful information.
2. Ann Handley
Ann Handley is a digital marketing pioneer as well as Wall Street Journal best-selling author. Her most famous work is "Everybody Writes" (we even featured it in the top books for writers).
But except this, Ann helps businesses fight averageness in their marketing strategies. She also founded ClickZ,com, a platform for digital marketing news and commentary.
Ann shares her thoughts on writing, AI writing, marketing, B2B marketing, and content marketing via her LinkedIn page.
3. Andy Crestodina
Andy Crestodina is a content marketing speaker and co-founder of an award-winning web design company, Orbit Media Studios.
He's been in marketing since 2000. For over a 20-year career, he published content-matter books, provided marketing services to thousands of companies, spoke at conferences, and more.
Andy talks about SEO, analytics, and website optimization. He posts his recent articles, videos and often makes reposts from his company - Orbit Media - with tips about content & marketing.
4. Julia McCoy
Julia McCoy has been named an industry top voice by several publications. We recommend following her if you want to deepen your content knowledge.
As one of the most-respected content marketers, she explains content gray areas and shows how AI influences content creation and marketing.
Julia talks about SEO, writing, and content marketing. As she is a Content Hacker founder, expect to catch plenty of helpful tips. Moreover, she calls herself an "AI content queen," so expect posts about artificial intelligence use in content marketing.
5. Heidi Cohen
Some call Heidi Cohen a "marketer's marketer." With over 20 years of B2B and B2C marketing experience, she can definitely give you actionable pieces of advice.
Currently, she is a Riverside Marketing Strategies president. Heidi helps companies implement innovative marketing programs to take their businesses to the next level.
Heidi shares her thoughts on marketing, voice marketing, content marketing, and digital marketing. She posts about helpful books, insights, statistics, and others.
Top 5 LinkedIn groups to engage with
Not only can you follow LinkedIn influencers but also join specialized groups. After becoming a group member, you will see its posts in your feed.
So, let's see what groups might be interesting for you.
1. Blogging Success Network
Blogging Success Network is a cozy little group for writers, bloggers, and content marketers. Group members share their take on content, AI usage in content creation, SEO elements, and more.
2. Digital Marketing
Digital Marketing is a palpably larger group our team especially enjoys. Here you'll find links to in-depth guides, practical pieces of advice, and experts' thoughts on content marketing matters.
Also, sometimes this group shares some polls you can take part in and see how your fellow colleagues react to some cases.
3. Media & Marketing Professionals Worldwide
Media & Marketing Professionals Worldwide is another huge community that unites marketing specialists. You can find links to professional events, webinars, and other helpful resources here.
Also, you can directly communicate with your colleagues from all over the world.
4. Chief Marketing Officer (CMO) Network - #1 Executive Group for CMOs
Chief Marketing Officer (CMO) Network - #1 Executive Group for CMOs, another rather big group of marketing C-level executives and top managers, is here to fuel you with knowledge and insights.
You can find personal opinions, polls, links to helpful sources, and more information here.
5. Advertising Copywriting
Advertising Copywriting is an awesome group if you want to challenge your creativity or want to see copy examples from various brands.
Copywriters, content marketers, and others working in marketing departments share topics and sources they find interesting and of great current interest.
Use LinkedIn as a search engine
You can also use LinkedIn just like you employ Google. Type content marketing or #contentmarketing (or any word combination that interests you) to find related content.
You can even follow some hashtags. This way, you will also see the posts you need in your feed.
Conclusion
It can be tough to handle all the amount of information we have nowadays. Thus, it also means there are more chances to find what you need.
If you've never thought about employing LinkedIn as your information source, it's high time you did!
With these accounts and groups, you get the idea of how you can leverage LinkedIn usage. Stay aware of the latest news and trends and also catch experts' opinions on different matters.
It's never too late to learn and discover new things!
More Like This