Created on
May 24, 2017
| Updated on
September 15, 2023
A Complete Tutorial for Buyers & Publishers - Adsy
Adsy Tutorials & News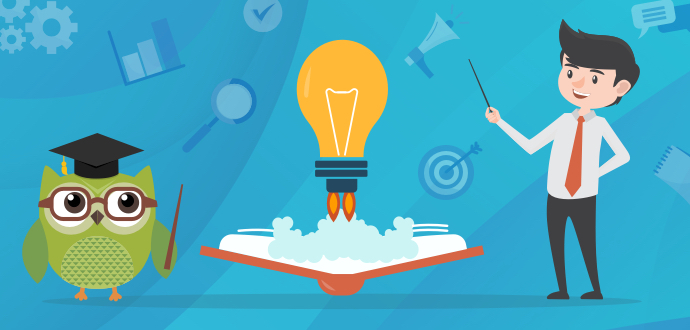 We always strive to make Adsy better for you. That's why we've written this tutorial to help you make your first steps with Adsy and provide detailed instructions on content creation and placement services.
In this article, buyers find out how to create direct tasks or open offers. Publishers, respectively, get a guide on how to add their sites and process job offers.
The first step is to sign up at adsy.com and log in to your account. Please note that you can use your account for both buyer and publisher roles. To switch between them, click the drop-down menu at the top-right corner of the page.

If you are a publisher, you can skip the next part and go straight to the part when we explain how you can start earning with your websites at Adsy.
>>> Go to the Publishers' interface tutorial
Buyer's interface:
Before you become a buyer
Do you want to access thousands of quality sites to place guest posts there and build links? Then start your journey as a buyer. To begin the process, you need to register.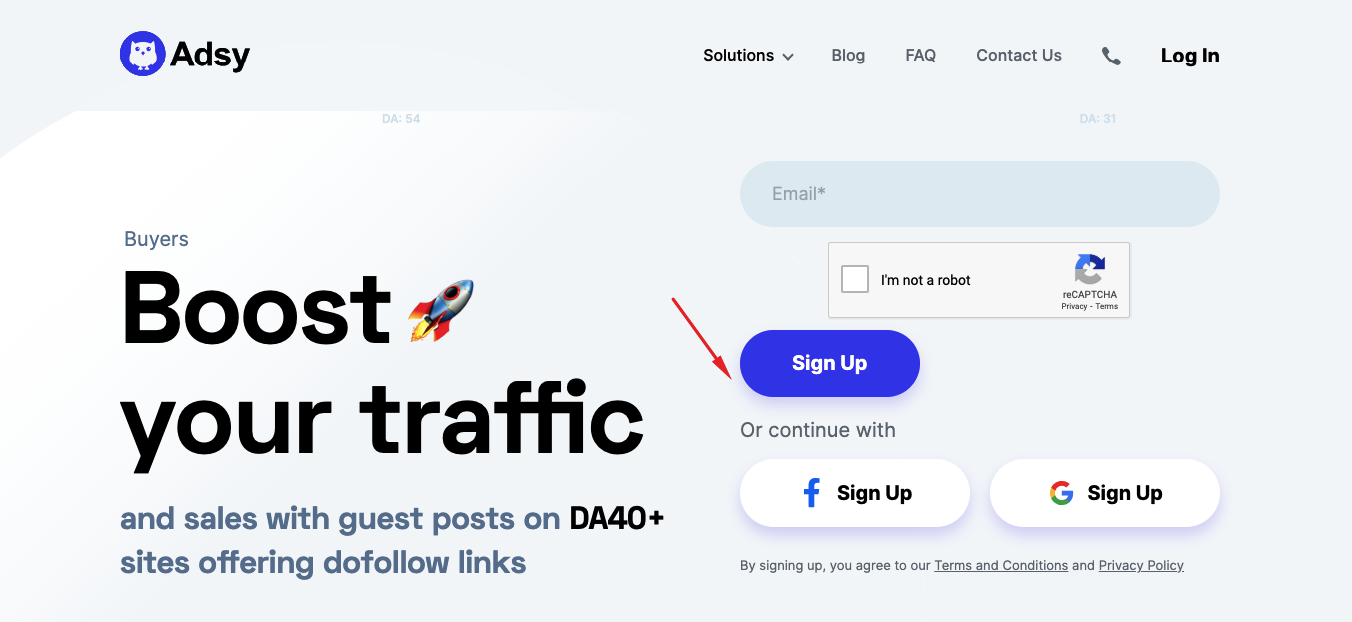 Sign up by entering your email address or by using either your Facebook or Gmail account. As soon as you sign up, you will receive a letter and will be ready to start off.

Search for publishers and direct tasks
The easiest way to go is to search for publishers using the inventory available to all buyers. From there, you can browse publishers that meet your requirements and send tasks directly to the ones you want to collaborate with.
1. A range of filters will help you find sites with appropriate DA, DR, organic traffic, language, country, categories, price, etc. Here you can also sort publishers by the service type you need.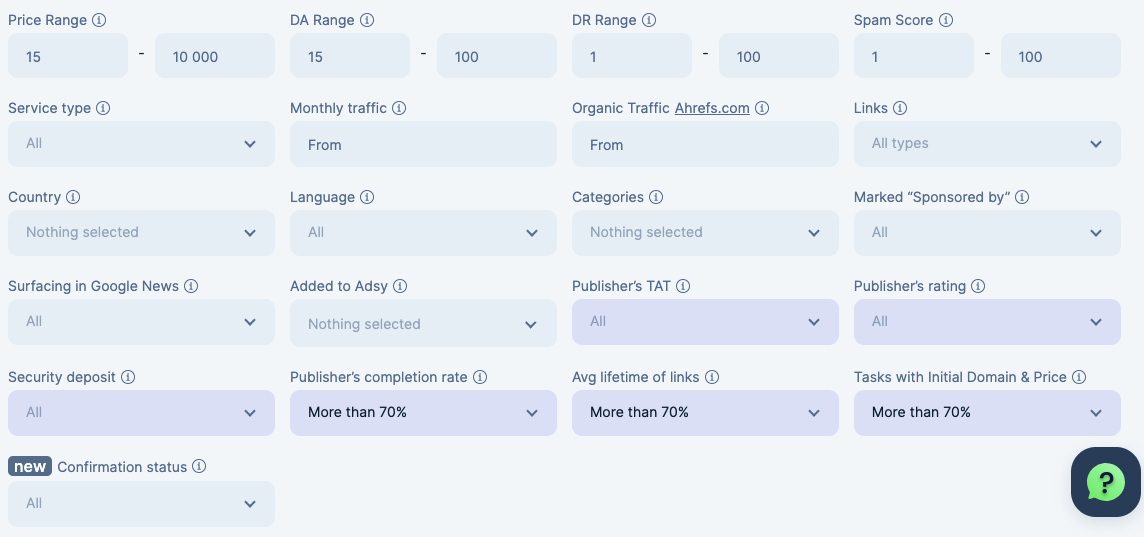 If you are a new user to Adsy, you'll see that publishers' URLs are hidden. All the metrics, however, are available, so you can make an informed choice. To see all the URLs, you'll need to make a one-time payment - your first top-up. This money will then stay on your balance, and you'll be able to use it to order posts from publishers you'll select.
2. Speed up the site's choice by applying some filters. Once you have chosen a platform, click the "Buy Post" button. Notice that you land on the "Verified publishers" interface. It's a list of the top performers who have high metrics (70% and up) and ratings.
Every site section has detailed metrics referring to it - from organic traffic and DA to internal parameters like Completion rate, Avg lifetime of links, and more.
Also, you can choose the newest added sites (updated every three months). It guarantees you place content on various platforms and makes your links more weighty. To pick fresh sites, press the "New" button.

On the new page click the "Buy post" button.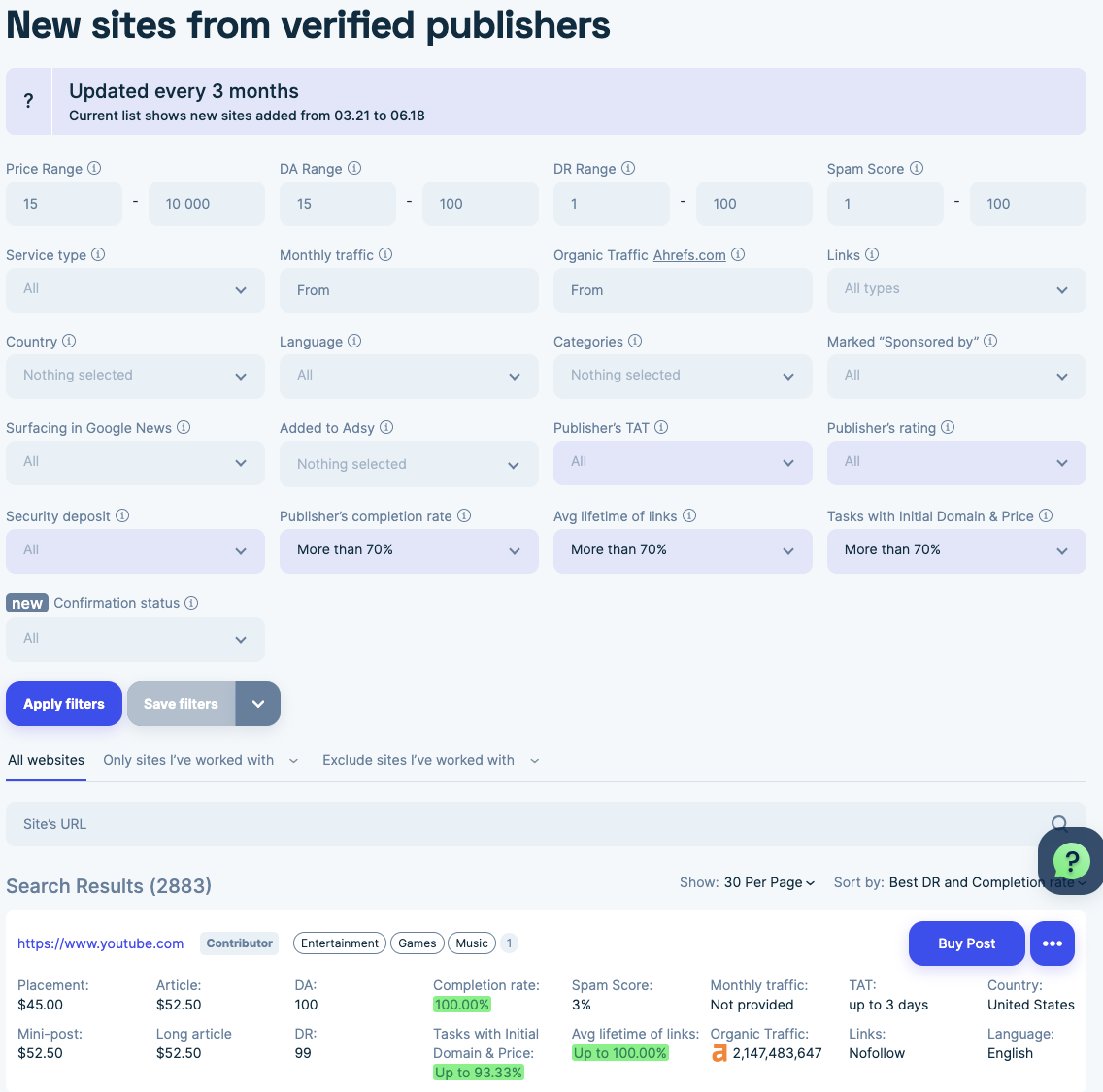 3. In the next step, you can choose who will perform the task for you. Then click the "Select" button. (Notice that you will see the Completion rate metric next to each performer. You can learn more about it in the FAQ section for Buyers).
Also, the full info about the chosen site will be at the top of the page. So, you have all the data to confirm your decision at your elbow.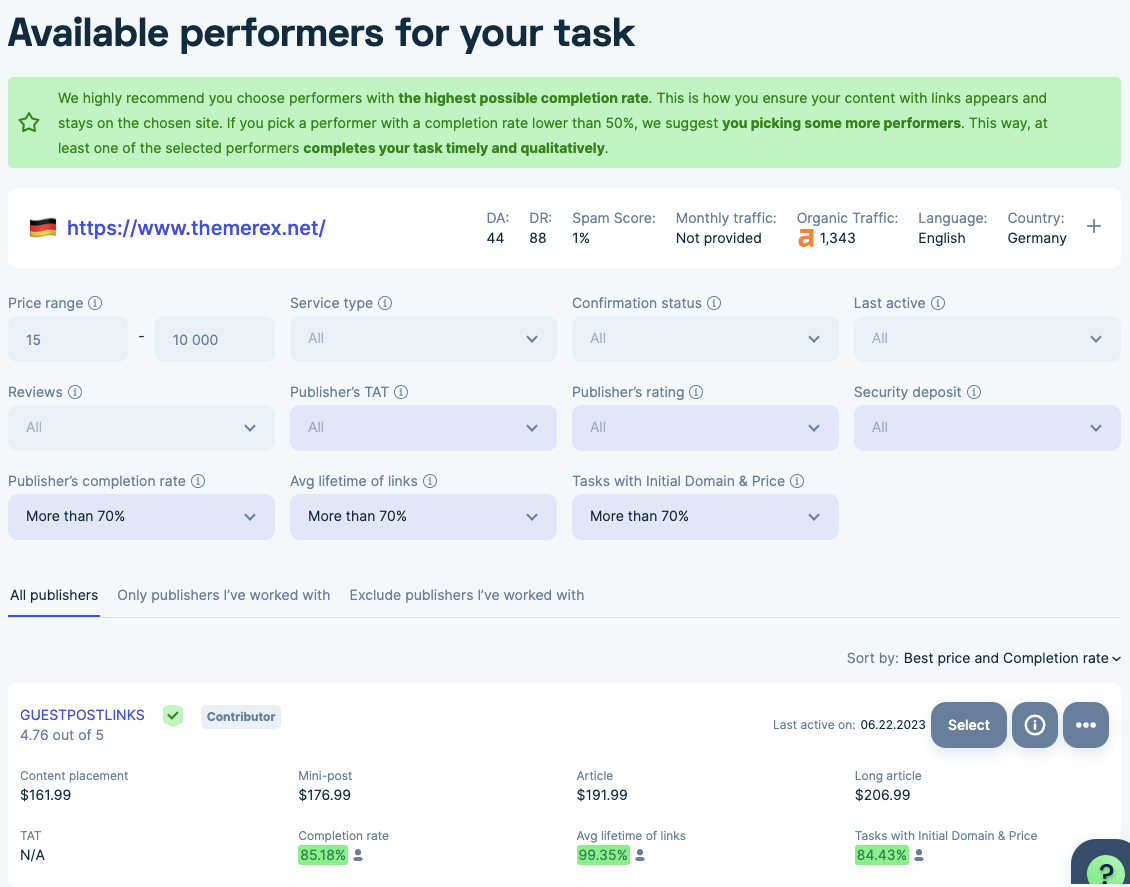 4. After that, create a task for the publisher: include your requirements, and provide the URL(s) you are promoting.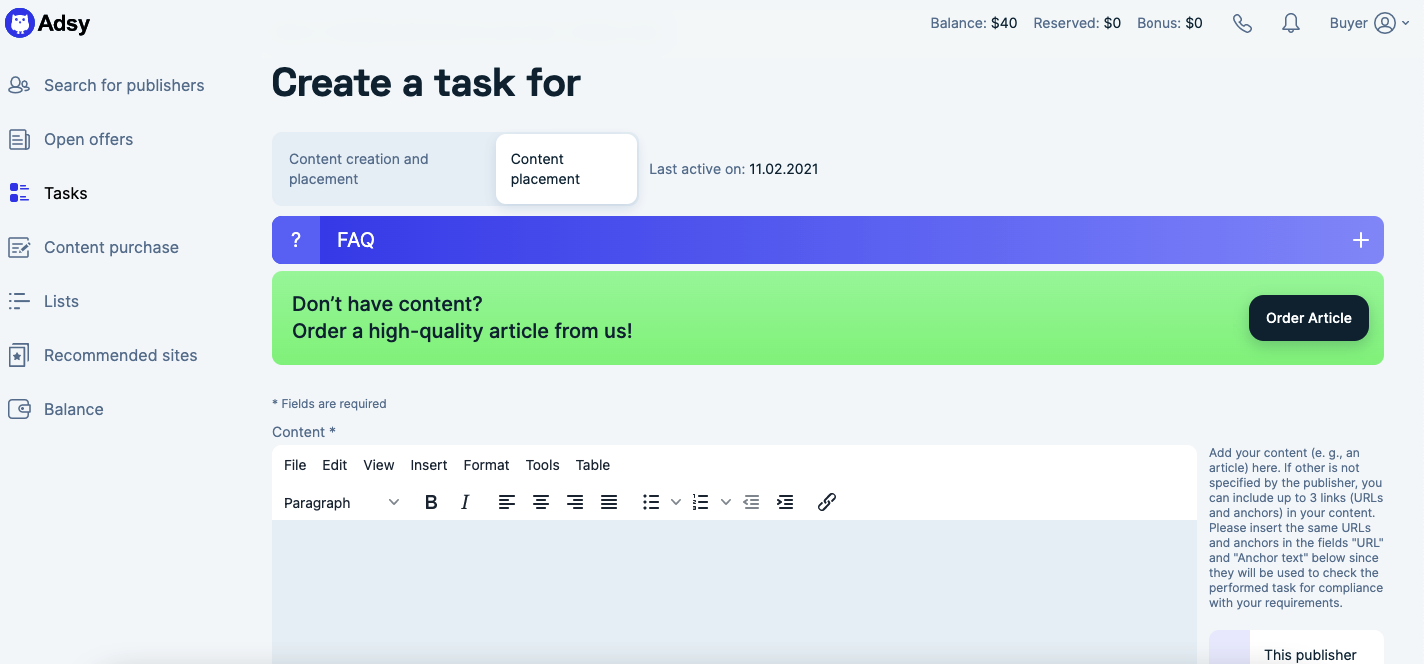 If you don't have content, you can choose the "Content creation and placement" option. In this case, you can let publishers compose an article for you or use professional content creation from our copywriters. We recommend hiring our authors to grant quality content.
Learn more about Mixed Orders.

You can either save your task as a draft to submit later or send it right away. After you send the task, the publisher will get an immediate notification and will accept and start working on your task or reject it.
5. Use the Tasks section to see the progress of your task, and communicate directly with the publishers on any task-related questions. This is also the place to retrieve all your saved drafts and send them to publishers.

Another option will be to use an Open Offer feature to start receiving suggestions from publishers who are already open to the job.
Open offers and bids
Please note that the "Open offers" feature is unavailable. Instead, we recommend using the Verified publishers list to find top-class sites and trustworthy performers for your tasks.

---
Check also
Get Maximum of Your Link Building Campaigns with Adsy: Useful Tips to Use with Adsy Catalog
The New March Updates - Guest Posting Tutorial
---
Useful features
To facilitate your search and order of guest posts, Adsy regularly introduces new features that you can find in your client panel. Below are some of them for various situations.
More helpful filters
You can sort the sites even more efficiently thanks to additional filters. That said, you can pick platforms from sites or publishers you've worked with (in case you've enjoyed your last cooperation).

Or you can exclude publishers or sites if you are looking for new cooperation. You can also hide sites that don't provide prices for their services.

More metrics & option
We provide a variety of metrics to help you choose fitting sites and publishers. When it comes to a publisher selection, please pay close attention to the Completion rate, Tasks with Initial Domain&Price, and Avg Lifetime of Links metrics.

We highly recommend you pick performers with metrics 90%+. That allows you to receive quality service and ensure your guest posts with links stay on the chosen sites.
Also, it's better to pick performers with examples of works. This way, you will know their content quality straight away.

Block- and allowlists
Have you found a site or a publisher you like but are not ready to make an order yet? Add it to your allowlist, and we'll save it for your faster access later.
Or, do you keep seeing a site or a publisher in your search that doesn't suit you for some reason? Add them to the blocklist, and we'll exclude them from your results page in the inventory.


Content purchase
You can use the Content purchase section in your client panel, if:
a publisher you've found only offers content placement, and you can't write the content yourself;
you need an article to place on your blog or some third-party site as a guest post.
Just provide your requirements, and our copywriters will create an article according to them within five working days.

Now when you have all the info about the work at Adsy, it's time to get awesome content about your business and let the world know about you.
Create your first Direct Task to start your business promotion.
Publisher's interface:
To receive any tasks or orders at Adsy, you first need to add your site(s) to Adsy inventory. After that, buyers can see your websites and choose you to do some content work.
Before you become a publisher
Prior to adding sites and getting tasks from buyers, you need to register an account. The whole procedure is super easy.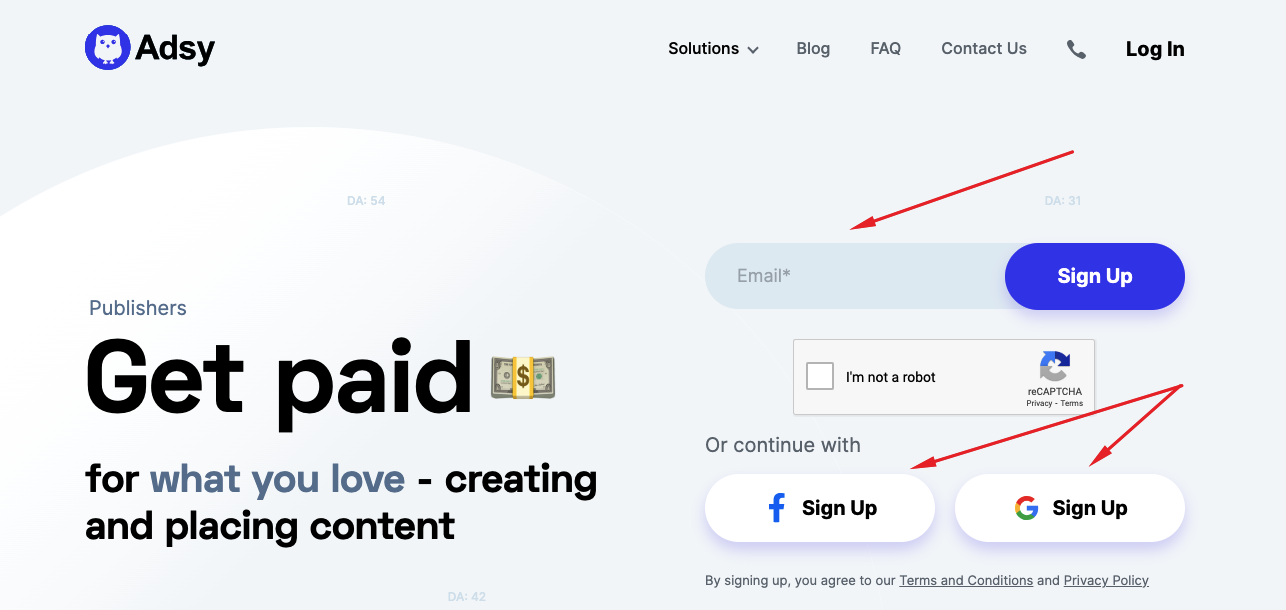 Begin the action by filling in your email address or by signing up with your Facebook or Gmail account. After you receive the confirmation email you will be good to start to your account and add sites.

Add your sites to get tasks
1. To add your site go to the My platforms page when you're in publisher mode. Click the "Add website" button and agree to the Terms&Conditions on the next page.
You have several options when it comes to adding a website. Follow these instructions to make the process hassle-free.
2. You can add one website or a list of sites.
3. If you proceed with a list, you MUST add every site's URL on a new line. Otherwise, our system will be unable to check your sites correctly.
4. As you add your sites we ask you to confirm ownership. Only in this case we can quickly approve your site (if it meets our requirements) and make it active. You can show that you are a site owner by:
by adding a special file to your site's root directory,
by including a special code in the source code on your site's main page (if the site's ownership wasn't confirmed by another publisher).
If you only have the right to publish content on certain sites, you have to continue as a contributor. If your site fits the requirements it will be approved. Anyway, to be shown to buyers it has to pass moderation.
To pass moderation, you need to press:
the "Requires moderation" button in the "My websites" tab,
And then click the "Pass moderation" button on the pop-up window. You will be asked a number of questions. The more detailed your answers are, the more chances you have to be shown to buyers.



You can also notice the "Not in inventory" sign. Press it to learn why your site is not shown to buyers. Like in the case before we will ask you to pass moderation.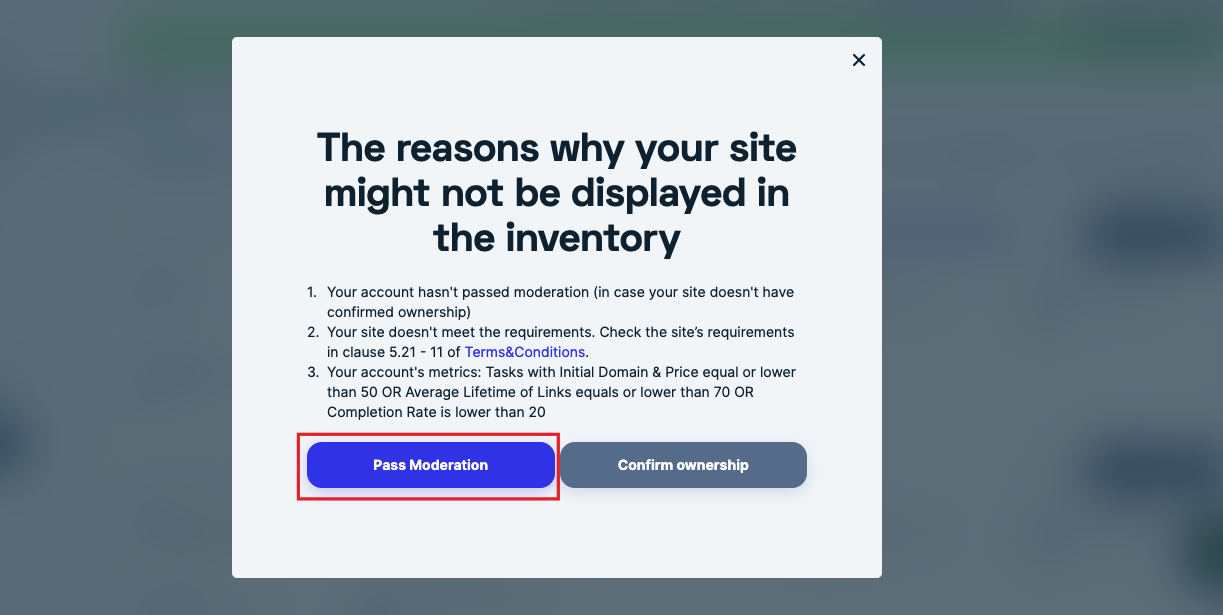 5. You will be able to add any number of sites in a contributor role (but no less than 50). Yet, only 100 of them may be available for buyers in the inventory. If you have added more, they will be on hold until you confirm your trustworthiness (by performing the tasks you receive from buyers).
6. As you add a site, you can fill in all the fields only if you are the first one to submit this website. Another possibility to do this is when you are confirming your ownership.
In all other cases, the site will be pre-filled with some information shared by a contributor who first added the site or the site's owner. Therefore, you won't be able to edit this information.
7. After your site successfully passes the moderation, you will be able to receive tasks from buyers. You can follow the progress of all the tasks you work on in the Tasks section (see the image below).

8. If you need to make some changes to your already added site, use the special three dots buttons.
Click the "Deactivate" button to deactivate the site (or "Activate" to do the opposite action). Or press the trash bin sign to delete your site.
Press the button with the three dots to see short info about your site and access the "Edit" button for more changes.

You will get notifications every time a buyer sends you a task, and you'll be able to react to it quickly.
You can also monetize other sources of yours. As such, we encourage you to add your social media accounts.
1. Go to "My platforms" - "My social media."

2. Read how this option works. Then press the "Add social media" button, and agree to Terms&Conditions to continue.


3. You can add one account or a list of accounts. If you choose the first option, click the
"One account"
button.
Add the link to your social media page, the price for your service, and the link to the associated site (if applicable).

4. Or you can add a list of accounts by pressing the relevant button. In this case, you can add your account URLs each from the new line or upload a CSV, xls, or xlsx file. Of course, don't forget to state the price for each social account.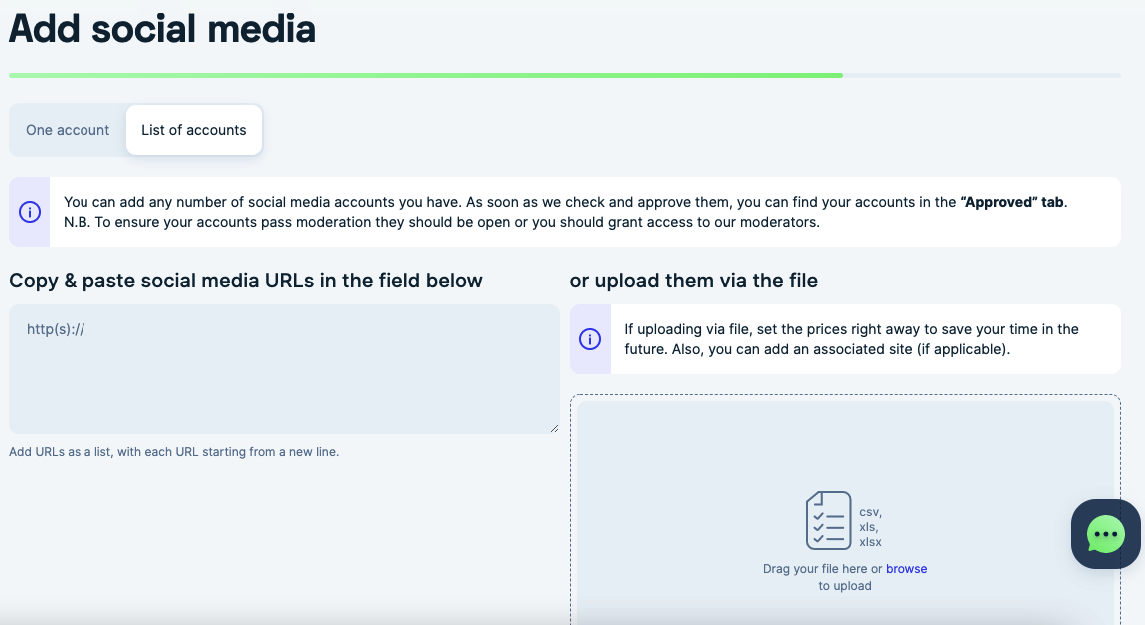 Ensure your account is open (or you can provide an access to it), active, and doesn't contain forbidden topics. After your accounts pass moderation, they become available to buyers, and you will be able to monetize your social networks.
Completion rate
The completion rate is a special metric that is calculated for publishers. It's a percentage that ranges from 0% to 100%.
The completion rate is calculated for a year (12 months). We will divide each year into quarters (that do not necessarily match the accounting quarters) and multiply each by the special coefficient. The closer the quarter to the current date is, the more important (or weighty) it is.
Completion rate = Tasks completion in the Q1*Q1 Coefficient+Tasks completion in the Q2*Q2 Coefficient+Tasks completion in the Q3*Q3 Coefficient+Tasks completion in the Q4*Q4 Coefficient

What's essential, the completion rate is calculated separately for each site. That said, if you have five sites, it won't be an average number for all your sites. We will do the math for each source.
The more the completion rate better. A higher completion rate (70%+) increases your chances to get tasks from buyers and appearing on the "Verified publishers" list.
The completion rate is not affected by the following:
tasks declined by the buyer before they moved to the "In Progress" status,
tasks declined by the publisher with a reason marked as "Task falls into a forbidden category: gambling, casino, betting, ICO, etc." and "The promoted URL or content doesn't meet the platform's requirements."
Open offers
Please note that the "Open offers" feature is unavailable now.

We hope you will benefit from Adsy's sponsored content services. Have full control over the content on your websites, consider your writing style and your blog audience preferences to provide high-quality services, and monetize your sites.
Add your websites and get started as a publisher!
We hope your work with Adsy will be beneficial regardless of the goal of why you are here.
Make your first steps in business promotion or website monetization and profit from the numerous opportunities opening to you at Adsy.
More Like This