When it comes to blogging, all of us want to write an article that will be the best solution for attaining our needs. There are different issues you should handle before writing a single line. You should decide on the length of your post, SEO friendliness, usefulness and uniqueness of your content. The good news is that Adsy has recently launched new content creation services! From now on, you can rely on publishers who will write different articles based on your requirements and considering blog length best practices.
Let's find out, what is an article? Everyone has written articles at least once in life, and you are likely to have a general concept what it is. In general, it is a piece of information that conveys useful data about any domain. If you want to write an article for your blog, you need to choose an appropriate size for that. The question is how to know what will bring you the most benefit?
One of the most crucial issues is to stick to a proper size of a blog post. Many bloggers are wondering: "How many words should a blog post be"? It is necessary to keep in mind the reason and goal of your writing and keep in touch with your target audience to determine the overall mood, style, and size of your post. By planning a content strategy, you will come up with the best blog post length to meet your business goals. Sounds complicated? Time to start using Adsy!
In this article, we are going to provide detailed instructions on Adsy content creation and placement services. The first step is to sign up at adsy.com and log in to your account. Please note that you can use your account for both marketer and publisher roles.
In the Marketer's interface:
1. You can choose a publisher / publishers on Search for publishers page.
To place your already written articles, select Content placement tab and search for appropriate websites by using various available filters, such as DA, PA, language, country, categories, price, etc.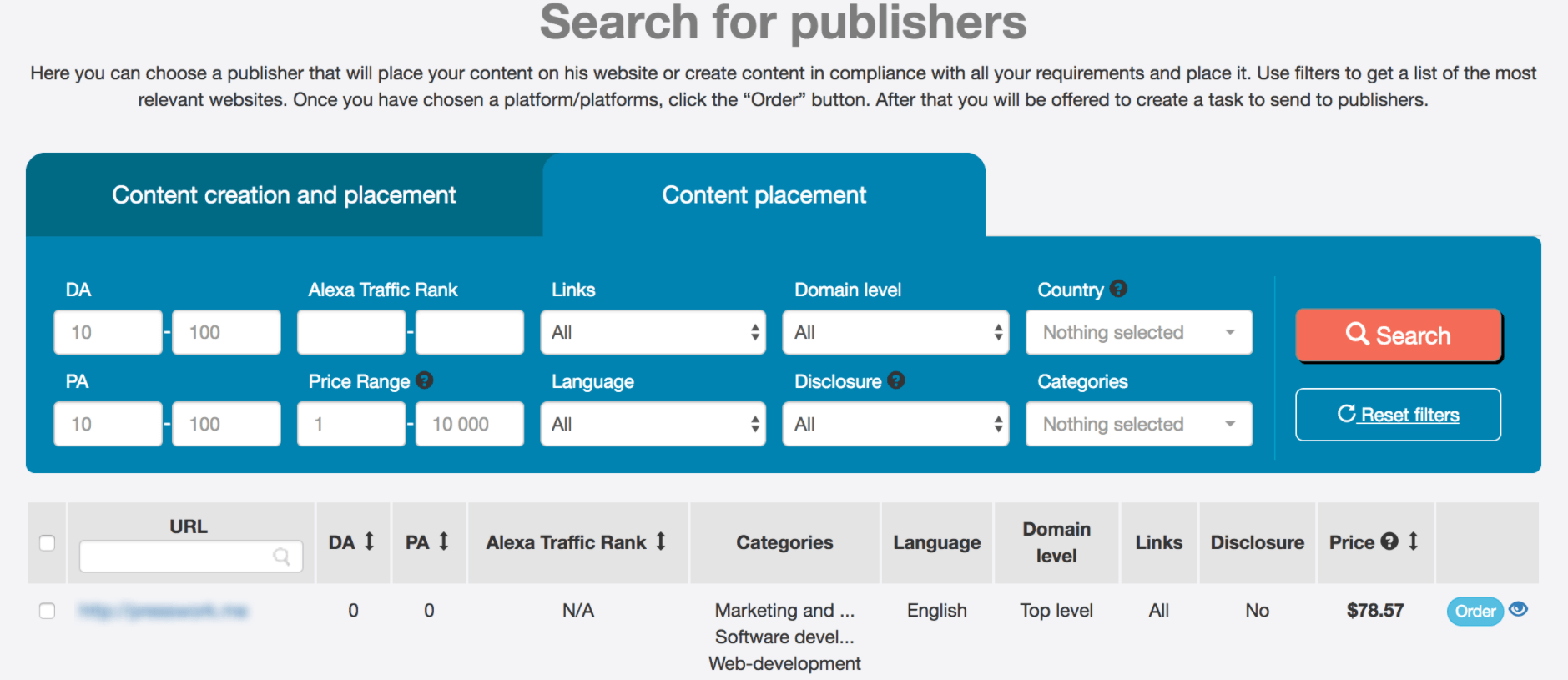 Otherwise, qualified writers can create content in compliance with all your guidelines and place it on their websites. Choose Content creation and placement tab for that, similarly using filters to get a list of the most relevant websites.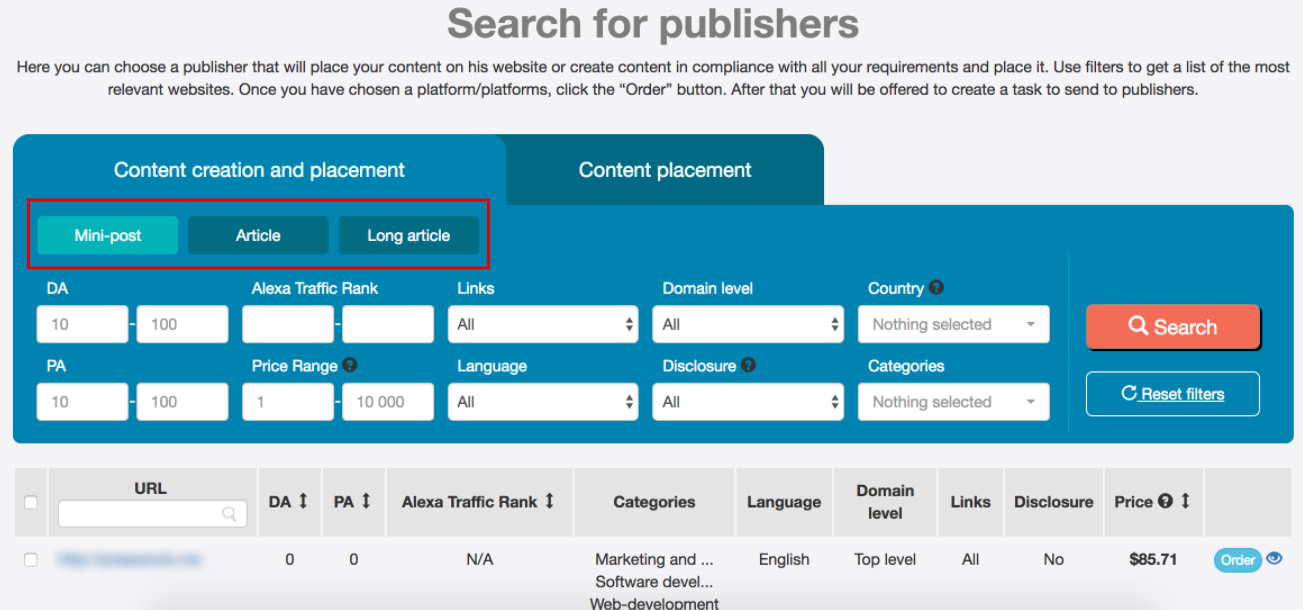 We have analysed different needs of marketers and created 3 types of content they would opt for, depending on how long a blog post should be. So, while ordering content creation and placement service, you can choose one of the following content types:

Mini-post has up to 300 words and 1 hyperlink. Use it if you want to involve your target audience in discussions. While being good for social engagement, too many short posts may be bad for search engine rankings. That is why try not to overdo it.
Article has from 300 to 1000 words and up to 2 hyperlinks. Articles with average blog post length are the most suitable for generating social shares and getting more backlinks.
Long article has more than 1000 words and up to 3 hyperlinks. Long blog posts are the best options to improve Google rankings and generate more organic traffic for your website because professional writers will follow all SEO article recommendations.
2. Once you have chosen a platform, click Order button.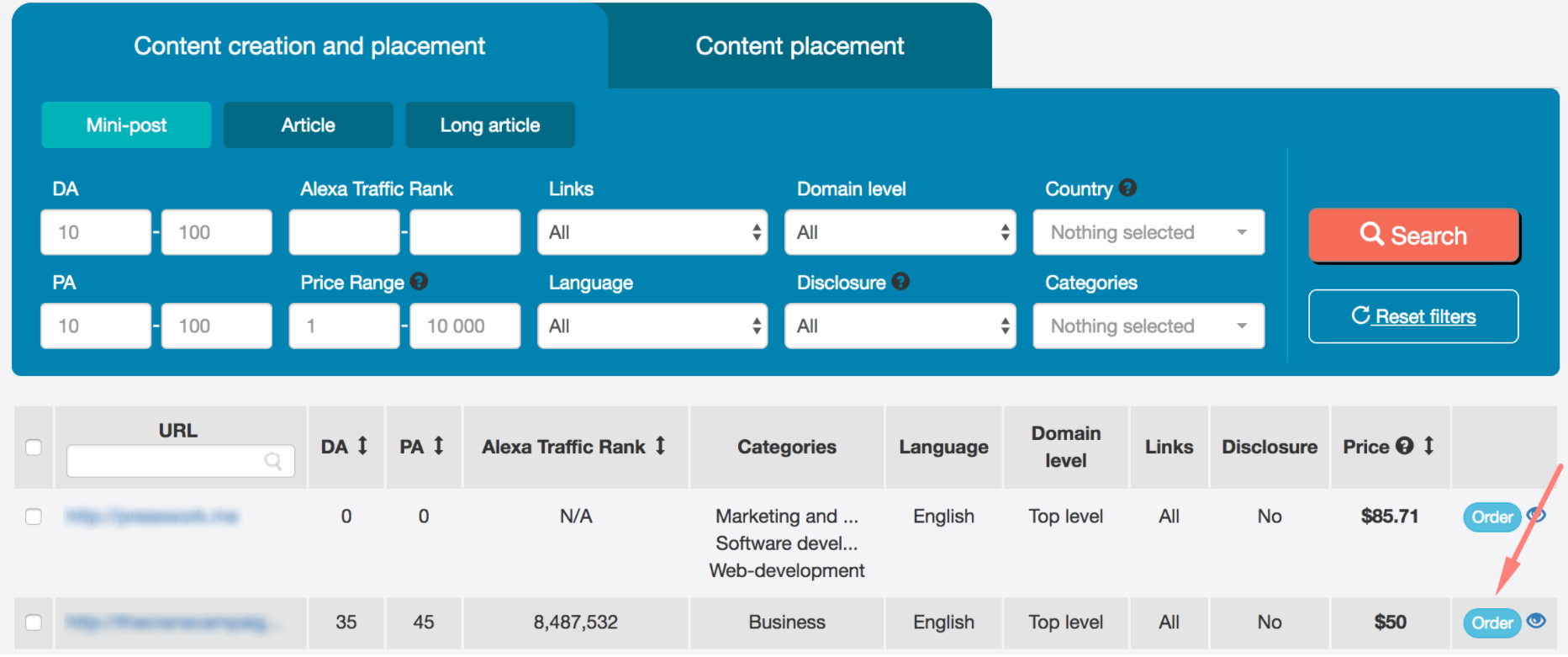 3. After that you will be offered to create a task to send to publishers, specifying your requirements, providing promoted URLs, and adding images.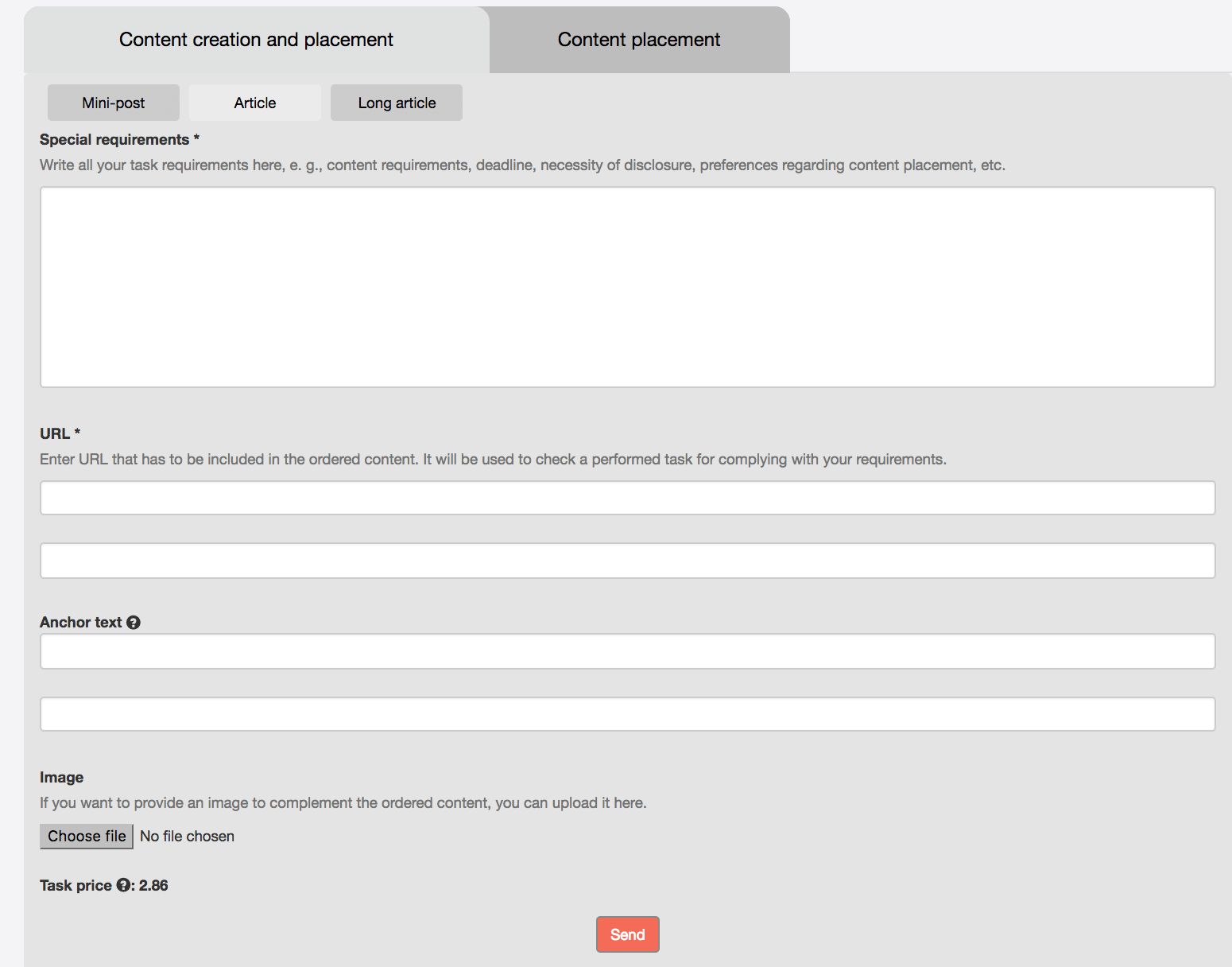 After clicking Send button, your task will be immediately delivered to the Publisher who can accept or reject it. We would advise you to send the same task to different publishers, and then choose among those ones who have accepted it.
4. In order to see the progress of your task performance, communicate directly with publishers to ensure that content perfectly matches your requirements, please use Tasks section.

In the Publisher's interface:
1. First, go to My Platforms page. When you add your website to Adsy inventory, you can indicate what type of services you are ready to provide. Select Content placement option if you want to place on your site articles provided by marketers; if you can also write content (mini-posts, articles, long articles) and then place it, choose Content creation and placement option. Set corresponding prices for each of the services you offer.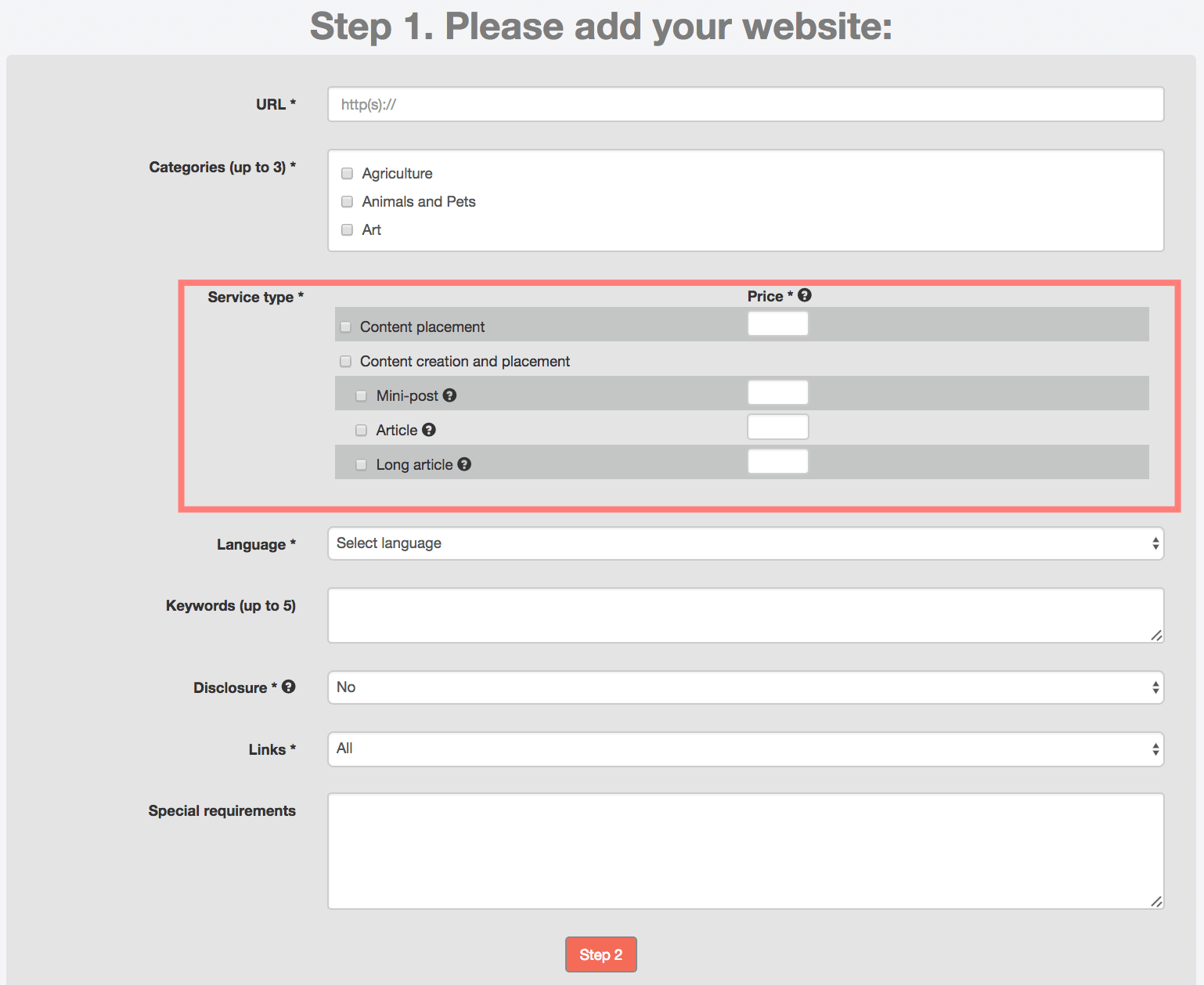 2. Specify the categories your site belongs to, language of your website, add up to 5 keywords, necessity of disclosure, types of links you are ready to place, and your special requirements.
3. Click Step 2 button, and you will be redirected to Confirm ownership page where you can choose among two options to verify your site's ownership. Note: your website will not be transferred to moderation, included in Adsy inventory, and visible for marketers without confirming site's ownership.
4. After successfully passing website moderation, you will be able to receive tasks from marketers. All work with tasks is conducted in Tasks section.


Publishers can also provide new content creation services on previously added platforms. Click Settings icon corresponding to a particular website in My platforms section and choose Update.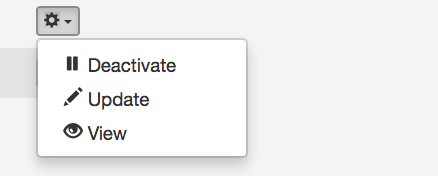 We hope that publishers will benefit from Adsy content creation services which enable them to have full control over content on their websites, considering their writing style and their blog audience preferences.
Adsy content services simplify content marketing and publishing process for both parties. If you are a marketer, you will appreciate such an efficient way to order sponsored content. If you are a publisher, you can have additional income and avoid publishing articles provided by an advertiser when you do not like them.
Publishing interesting, informative, and engaging content is a must for building your company brand in the eyes of your audience or pursuing your brand's goals. Different types of content such as blog posts, long article, surveys, white papers, and reports address various challenges marketers face daily, seeking to help audience growth, generate new leads, spread brand awareness, and improve brand perception on a much larger scale.
Get started and order Adsy content creation services right away!