Created on
August 18, 2023
| Updated on
August 21, 2023
Get Maximum of Your Link Building Campaigns with Adsy: Useful Tips to Use with Adsy Catalog
Adsy Tutorials & News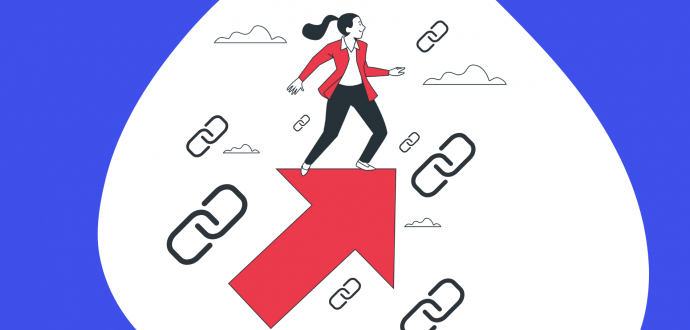 We want you to get maximum benefits from using Adsy. That said, you build quality links and place top-tier content on chosen sites and grow your site's rank on SERP and authority.
You can ensure you enjoy all the tasks and overall work with publishers thanks to some useful tips and insights from our Adsy experts.
So, what should you pay attention to and why?
Contents
We strongly recommend choosing publishers from the Verified publishers catalog.
There are a few strong reasons for this (well, there are three of them, to be more precise).
The verified catalog includes only publishers whose Completion rate equals to or is over 70%, Tasks with Initial Domain&Price equals to or is over 50%, and Avg Lifetime of Links equals to or is over 70%.
That means any publisher from this list has more chances to perform your task more efficiently.
---
N.B. Rarely can you see sites whose metrics are marked "New." They still appear in the Verified publisher, yet only because the site is listed by the site owner. Anyways, we highly recommend choosing sites that already have proven metrics.
---
Of course, we won't stop here. Let's see what else you should take into consideration.
Use dofollow links
We have an extensive list of filters. Use them to get all the possible benefits. When you are using guest posting, you want to get the link juice. That means building dofollow backlinks is more logical.
Set the "Follow / No follow links" filter to Dofollow to work with publishers who guarantee the dofollow links placement.
Pick a category
What does make a guest post perfect SEO-wise? Well, the presence of the dofollow link (see the previous point) and placement on the site from the relevant (or close) industry to yours.
We have over 50 categories to choose from. The cool thing is that you don't need to limit yourself to a 100% match with your industry.
That said, if your site is about an AI video generator tool, you don't have to choose only the Software category. You can also place your guest post on News and Media or Games, etc., and tell about it as a novel trend or part of the gaming development process.
This approach allows you to choose from more sites and awesome publishers. Try finding:
First - the full match with your category,
Second - pick sites from close or cross-industries to grow your reach. You still get a weighty link and have a chance to interact with the audience interested in your site or product.
Note that you can choose multiple categories. Simply put ticks next to the ones that interest you the most.
Pick Spam Score
Spam Score is a metric created by Moz and shows sites that were banned or penalized by Google. So, this metric helps you understand the site's quality.
We suggest setting the Spam Score metric from 1% to 5% to work with the best-quality sites.
Pay attention to the Completion rate and publisher's rating
Please take this step super seriously! One of the most vital things to look at when choosing a publisher is their completion rate (we've mentioned it earlier in the article).
The completion rate in the Verified inventory is already 70% and more. Yet, the higher this metric is, the more chances you have that the publisher performs your task smoothly and without any complication.
Choose publishers with a completion rate of 90% and up. You can find this metric next to each publisher. Try picking especially publishers who have a star sign next to the completion rate percentage (as shown on the screenshot below). That means a publisher has a successful placement on this site.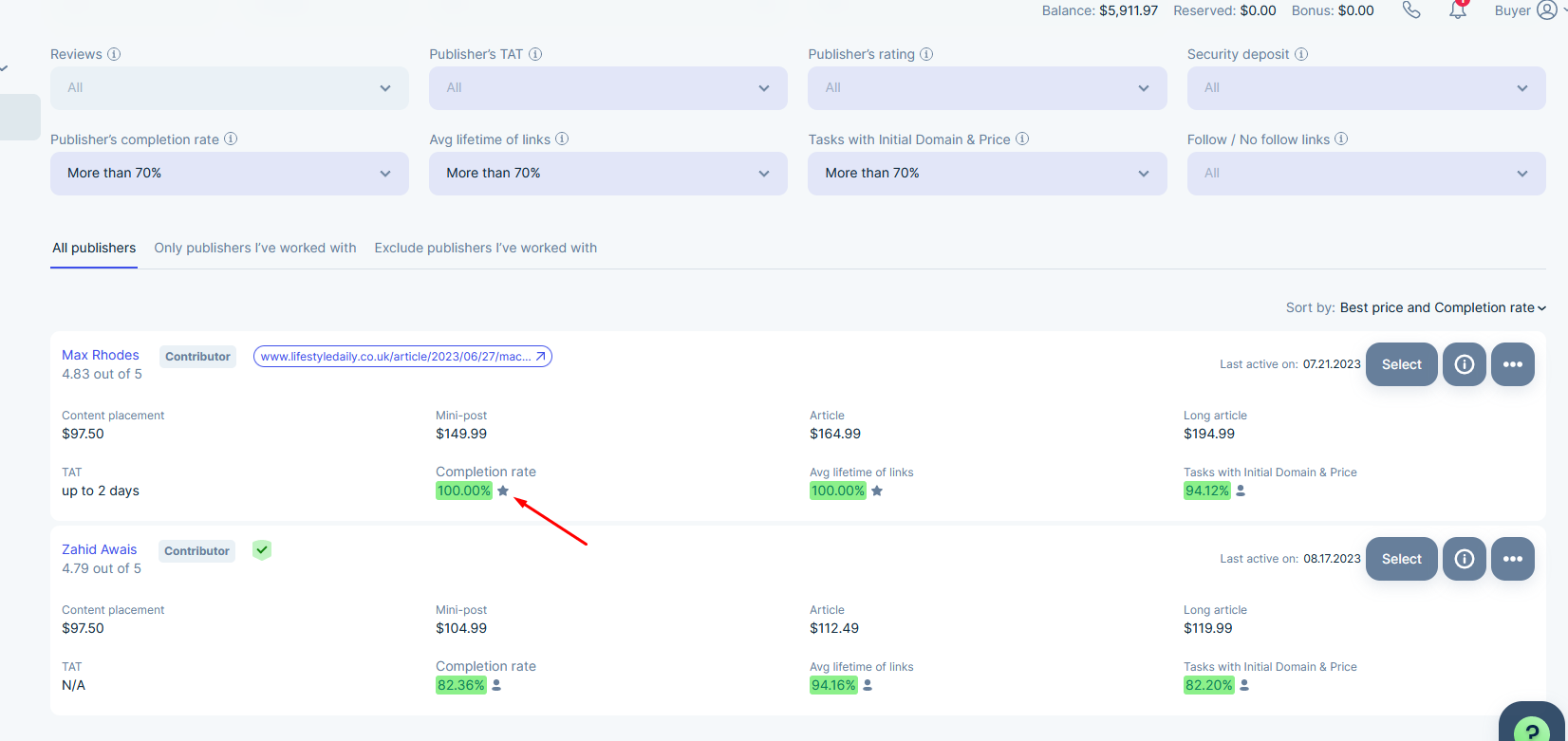 Another metric we recommend setting is the publisher's rating. It can be four (and we'll show performers with a rating of four stars and up) or five (and you'll see performers with five out of five stars).
You will see the precise rating next to each publisher on the performer choice page (the one that opens after you press the "Buy post" button).
Pick performers whose rating is 4.5 and up for better results. The rating will be valid if made based on 50+ assessments from fellow buyers.
Check the number of completed tasks
Another thing to consider is the number of performed tasks. Our recommendation is to work with publishers who completed over 50 tasks (100+ tasks will be even better).
Also, check if the number of rejected tasks doesn't surpass the number of completed ones.
Once again, we won't rely on publishers who only completed one to ten tasks. Though we thoroughly moderate all the publishers, some task manipulations might happen.
So, stick to publishers who successfully finished 50 and over tasks.
Choose sites from publishers you already trust
Let's imagine you need to place content on more sites. Of course, you can go to Verified publishers to start searching for one.
But we suggest looking at your favorite publisher's list of sites. Simply click the publisher's name to see their profile.
Then on the publisher information page, press "View sites" to check the available platforms added by the performer.
After pressing this button, you will see the sites the publisher has added. You can also apply filters you need to find the sites you need quickly.
This way, you can work with publishers you already trust. If you establish good relationships with the performer, you will see qualitatively better results for your guest posting.
Examples of work
Another useful tip you can employ is setting the "Examples of works" filter.
We will show you sites that include examples of works added by publishers. After you press the "Buy post" button and head to the Available performers page, you'll see a link to the article.
This way, the publisher demonstrates an article he/she has placed on the chosen domain.
You will understand if the quality of an article written by a publisher fits you. Thanks to this feature you won't buy a pig in the poke and know if you are ready to trust a performer with content creation.
Final words
Use this guide to increase the number of completed tasks and build qualitative backlinks.
These tips have already helped many buyers to improve their results!
Another super-exclusive tip our specialists can give you is to check your rejected tasks. There you will find plenty of domains you wanted to use for guest posting, but the task wasn't completed successfully due to some reasons.
Try using the tip above for all of your rejected tasks. Just search for the domain, you want to get a guest post from, and look for the publishers who have much higher chances to deliver the work.
More Like This