Created on
March 31, 2017
| Updated on
September 29, 2023
Handy Tips to Make Money Blogging
Adsy Tutorials & News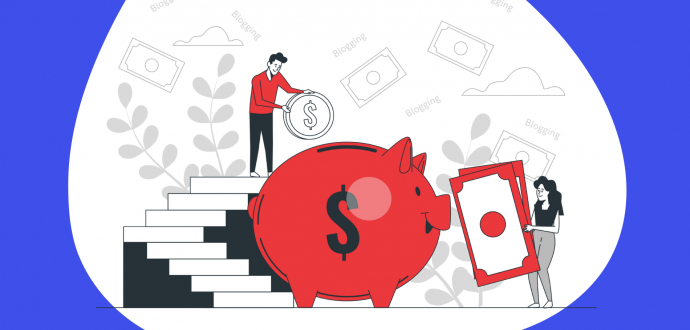 You can add one website or a list of sites. You can add one website or a list of sites.
When you start your website, you put your heart into it. In most cases, not only your heart is involved, but also your time, money, and resources. No wonder that soon after the site launch you are waiting for a reasonable payback. People are often wondering how to make money blogging? What is the essential tool for that?
If you are a buyer, you strive to reach your target audience, herewith make influential resources speak about your company or brand. If you are a publisher, you want to find out how to monetize a blog and place only relevant and unique content on your website. How to handle so many issues?
Here is a great decision for monetizing a blog! Adsy, a content distribution platform, is a real catch for both publishers and buyers. If you are a publisher, you will benefit from the services provided by Adsy. It is as simple as ABC: you place awesome content on your website according to buyers' offers and receive money for that.
Buyers receive similar benefits. Having an opportunity to choose publishers, buyers select appropriate resources to win their target users' attention.
Adsy is a transparent platform allowing you to have total control over your workflow. You will receive reliable payouts while working on challenging tasks.
Do you want to monetize your blog or a website?

The following instructions will reveal how to get a profit as a publisher.
1. The very first step is signing up on the Adsy website.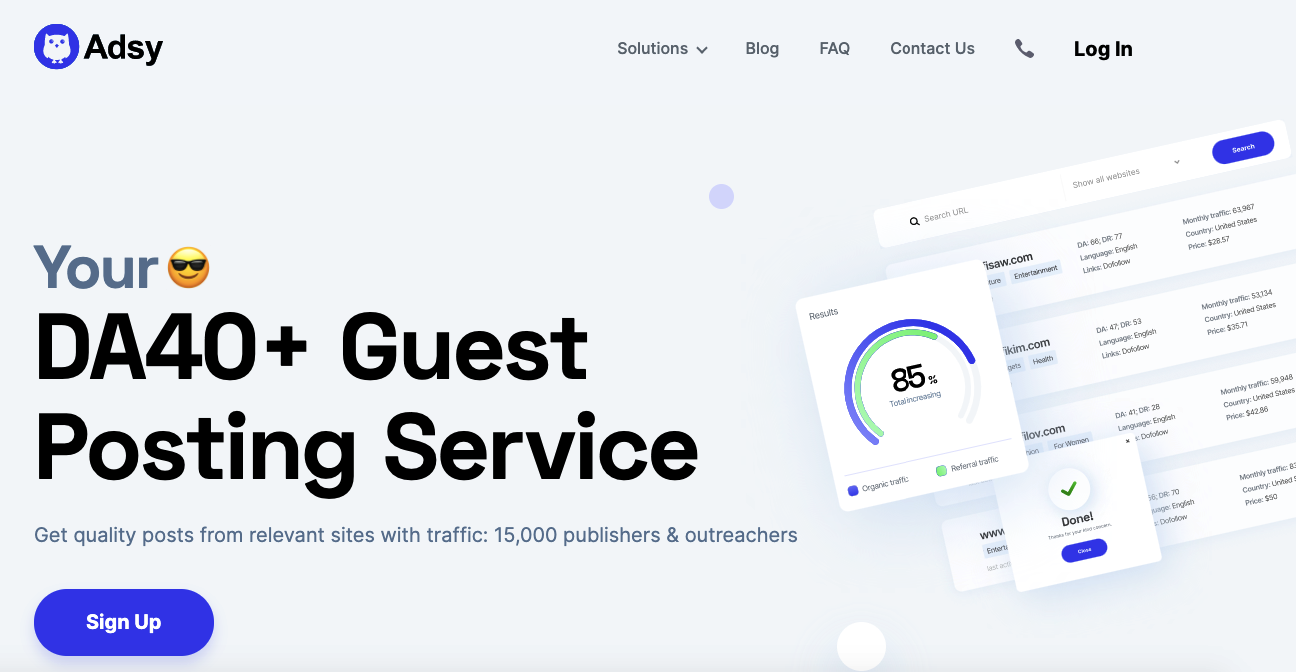 2. In your publisher interface, you can find the following information:
My platforms (your added websites),
Open offers,
Tasks,
Balance,
Referral program.
The "Tasks" menu section contains your tasks with various statuses, which you can learn more about by hovering over each tab with a status name.

3. To start monetizing your website you need to go to the "My platform" menu section. You can also find the requirements your website has to meet to be approved by Adsy.

4. Click the "Add website" button to add your site(s). Agree to Terms&Conditions by pressing the "Agree&Continue" button.



You can add one website or a list of sites. If you proceed with a list, you MUST add every site's URL on a new line. Otherwise, our system will be unable to check your sites correctly.

After you add a site, you become a contributor. You can stay in this role and don't confirm the site's ownership - it won't influence the site's moderation process. Yet, if you want to confirm that you are a site owner, you can do this in two ways:
by adding a special file to your site's root directory,
by including a special code in the source code on your site's main page (if the site's ownership wasn't confirmed by another publisher).
6. After your website has been moderated and approved by Adsy, you have an opportunity to get tasks from various buyers.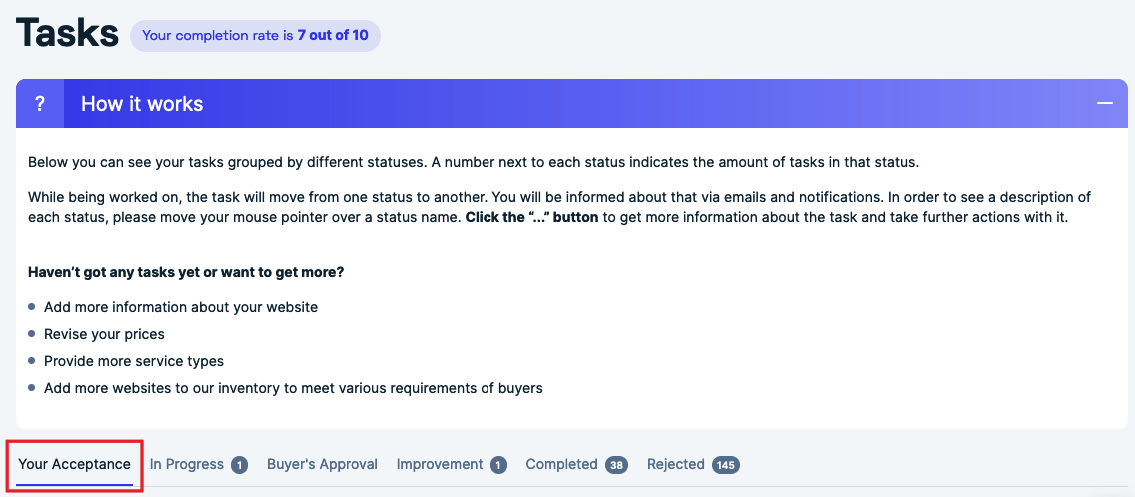 7. The status of your tasks will look like on the screenshot above.
To find out the meaning of each tab, hover a mouse and you will see a pop-up window with a description.

How to make money as a blogger
If you sign up as an Adsy publisher and follow the instructions for your site moderation, you will gain access to buyers who are eager to place their unique content on your website.
You will have an excellent opportunity to select tasks and communicate with buyers via messages in the Adsy system. It simplifies the overall publishing process significantly, so as you may specify task requirements and get instant feedback.
And what about buyers
We know that unique content distribution may become a tough call. At the same time, we know for sure that mentioning your product on competent resources makes your Google ranking higher and brings you more traffic.

The more traffic you have, the more customers and money you receive. Adsy provides buyers with not only a service that simplifies the search for quality and relevant websites, but it potentially helps you to make more money.
So, let's get a look at the buyer interface at Adsy
You may switch to the buyer interface in such a manner:

1. In your Buyer interface, you can find the following information:
Search for publishers,
Open offers,
Tasks,
Content purchase,
Lists,
Recommended sites,
Balance.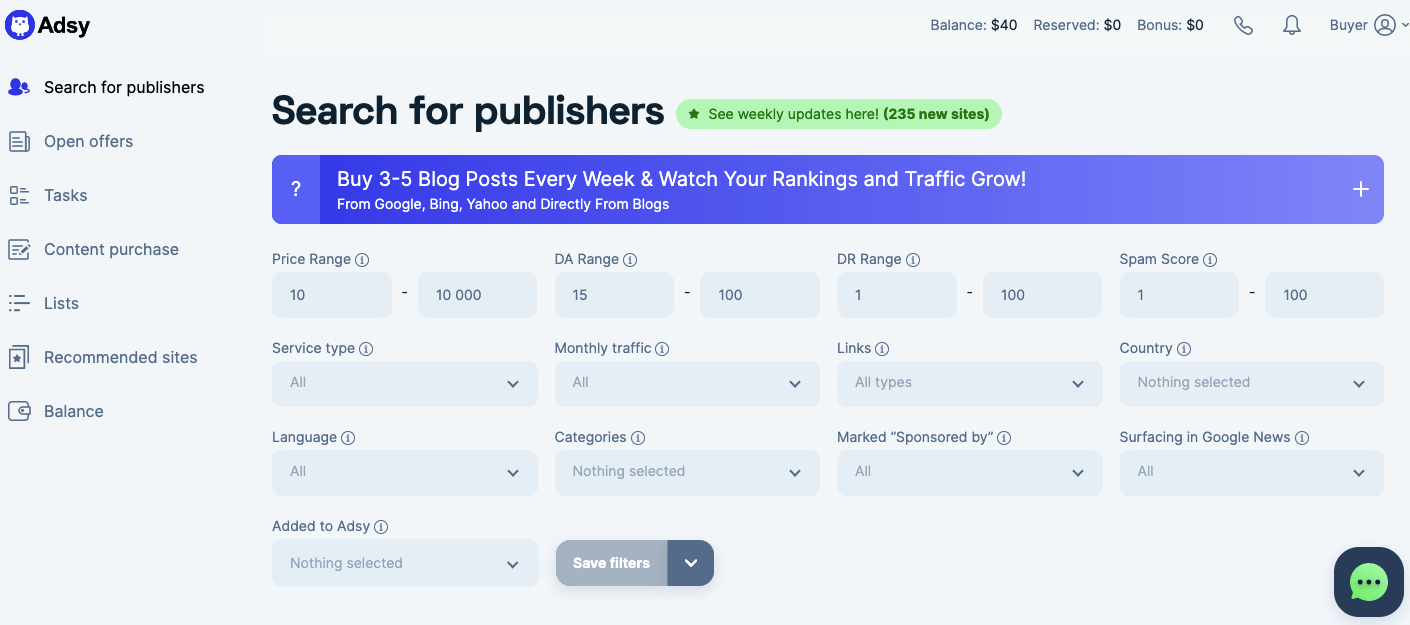 2. Here you have various filters that make your search for publishers more relevant. To reach your target audience, and place your content on the most appropriate resource, you may use filters:
Domain Authority,
Domain Rank,
Spam Score,
Monthly traffic,
Price Range,
Links,
Language,
Service type,
Country,
Surfacing in Google News,
Marked "Sponsored by,"
Added to Adsy,
Categories.
3. After you have found a suitable resource, you send your task to the chosen publisher. While creating a task you provide your content and specify all your extra requirements.
4. The "Tasks" section in the buyer interface is similar to the one in the publisher interface, which was described above.
5. After receiving your task, a publisher may accept or reject it. That is why you can send the same task to different publishers, and then choose among those who have accepted it.
6. If a publisher has accepted your task offer and you have approved him as the task performer, the task gets the status "Publishing".
7. Then a publisher places your content on the selected website and sends the task for your approval. Make sure that the completed task meets your requirements. If not, send the task back for improvement.
8. After completion, all tasks go to the guarantee period of 30 days. Publishers will be paid only for those tasks that have successfully passed the guarantee period.
In your user account, you can also find an "Account Settings" section where you can fill in and edit your personal information: name, phone number, email, password, and preferred payment methods.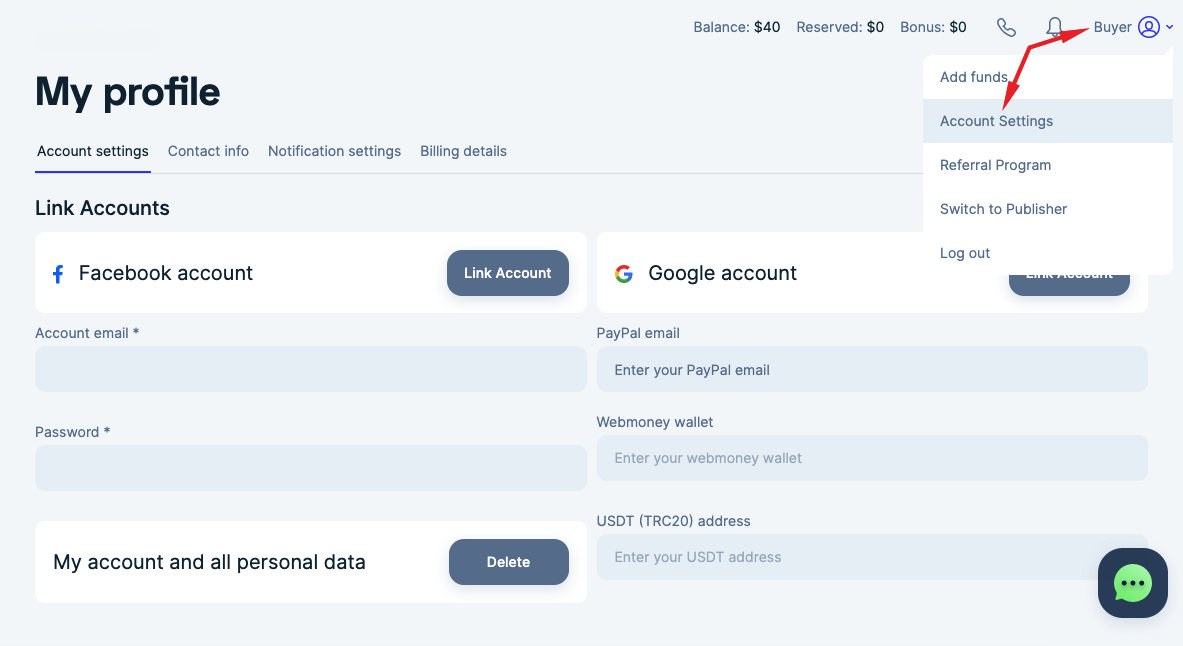 To sum up, the Adsy platform will help you learn how to make money blogging and how to monetize your blog.
Adsy publishers receive a decent remuneration for their work and get unique content from buyers. Also, they are about to get an opportunity to create their own content in accordance with buyers' requirements. This feature is being developed now. Quality content is one of many factors that stimulate the Google ranking of your website.
As a result, your website positions rise and you can even get to Google Top 10, which brings more buyers and higher income. Furthermore, publishers have an opportunity to communicate with buyers directly and specify their requirements concerning the given task.
Adsy buyers can distribute their content on relevant resources chosen by smart filtering. Adsy anti-fraud control guarantees that your content will be placed and remain on a selected website. You can be sure that your content is fine and your money is well spent. What is more, you don't need to check if a publisher made any changes or deleted your links. We do it for you!
Please, take into account that Adsy always develops its functionality and services. So, you are welcome to give us your feedback, and feature requests.
Register now at our guest posting service, and handle your content marketing issues, should you be a buyer or a publisher!
More Like This