Created on
September 29, 2021
| Updated on
September 20, 2023
Why Paywall Blog Monetization Strategies Lead to Audience Growth
Content Marketing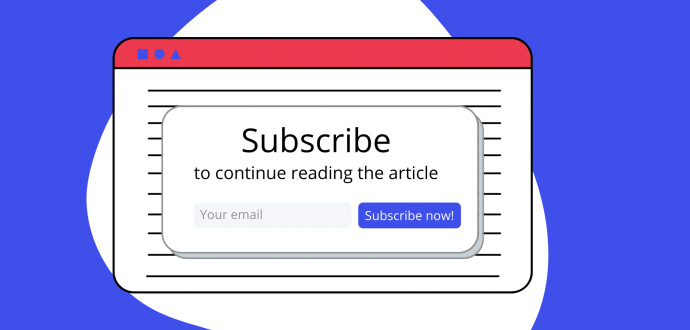 Blog monetization is something you might be dreaming of if you run a blog. In our previous articles, we've given some working instructions on how to get paid to your blog. But are there other options left?
Yes, that's for sure. And the strategy name we'll talk about today is a paywall.
It is another option you can try to receive additional income. Paywall can be really successful if you run a well-established blog with a loyal audience.
Yet, anyone can try this technique. You can use it on its own or try combining it with other popular blog monetization techniques.
But before jumping to learning how to fine-tune and grow an audience with the paywall's help, let's discover what this strategy really means.
Contents
What is a paywall?
Let's check Cambridge or Merriam-Webster dictionaries to learn what a paywall is. Basically, we will get quite similar definitions, which say that
a paywall is a system, aimed to hide a part or all content on the webpage unless the user pays for the subscription.
Let's switch our attention to the paywall's technical notion. In this case, we get a certain website feature that is commonly and widely used to restrict access to certain pages or their parts.
No worries if you haven't heard of this monetization technique. We are here to tell you about it. Yet, you need to understand that it has become one of the most important instruments for marketers and content creators seeking to monetize their blogs.
The paywall monetization feature is now popular among world-renowned journals. It mostly happens because they are shifting their activities from print to online.
For instance, The Wall Street Journal pioneered and first used the paywall system in 1996. Nowadays, you may find such big names as the New York Times, The Guardian, and more industry leaders actively using this strategy.
It is essential to understand that the practice of paid access does not scare away readers, but on the contrary, it shows the growth of the client base and the income of companies. One of the good paywall examples is the New York Times that has grown its revenue by 46% from 2011 to 2018.
It's only fair to presuppose that the boost in the subscribers' number has caused the income increase. That leads us to the conclusion that a paywall can palpably assist in audience development efforts. So, what paywall-based monetization tactics should we employ to build customer loyalty successfully?
1. Know your audience
To use a paywall strategy to its fullest, you need to know your readers perfectly. So, learn more about your target audience if you want to know what makes them enter a paid subscription.
What is your users' geography? How do they come to your site?
Of course, marketers got used to studying blog's audiences and know some peculiarities. Defining readers coming from organic search or social or paid channels is not Chinese as well. Thus, building the strategy based on the ads or subscription methods might be tougher and need more analysis.
Nevertheless, making an effort will pay off. That's because you'll wholly learn what your customers are looking for.
2. Choose paywall type
There are two types of paywall monetization. They are "soft" and "hard."
Soft paywall. Many online publications, as well as consulting and software companies' solutions, widely use this type. In this case, customers can read only a part of an article. Another part will be available after subscription and a special fee. If your content is informative and useful enough, users are very likely to subscribe. Sometimes it's really hard to find valuable content, especially in some niches, so, mostly, users are ready to pay to access top-class posts.
Hard paywall. On the other hand, a hard paywall allows users to see only the article's title. In this case, it's much harder to grasp readers' attention and make them pay. Yet, if you are a trustworthy blog that provides genuinely unique content, you can pull it through. Ensure that the free content you offer is also top-notch. That ensures readers that other posts of yours deserve spending money. Of course, your title should be catchy to attract users' attention. Sure thing, don't forget it should be descriptive enough to clarify what's inside the article.
It's up to you what paywall type to choose. Anyway, the basis for either is to build trustful relations with your reader's base. They need to be 100% sure you offer only top-class content.
3. Content and additional features
In the previous section, we've multiply mentioned the quality of content. That's really vital when it comes to monetizing your blog via a paywall.
Accordingly, you have to ensure that you are the only provider of content that covers a specific topic. Every article should be relevant, well-written, with up-to-date facts, and answer customers' needs.
When planning the content strategy think of posts that will attract and lead to the subscription. The content types of your choice may include but are not limited to local news, cultural events, opinion pieces, or other topics. Bundle offers work extremely well (provide subscribers with access to articles and ebooks or exclusive newsletters).
4. Analyze the results
We believe that analysis is the key to success. This way, great results can lead to even better ones. But only when you check your previous achievements.
There are special plugins and software that can help you set a paywall for your blog. Also, these programs will let you access insights about the paywalled articles. Know the number of subscribers, change in revenues, conversions, and lots more.
So, checking the data, you can imply paid subscriptions to correct content and in the right quantity. Thanks to this paywall, monetization will work in your favor without turning off the readers.
Conclusion
Creators publish 7.5 million blog posts per day. That's a lot.
And that means that readers have a vast choice of articles to pick from. Moreover, sometimes they drown in such a huge number of posts.
Your content should stand out among the common crowd.
And the paywall can be a valuable instrument in the audience development process. The making of the paywall strategy involves many steps. Moreover, you have to perform research before employing this approach. And it should base not only on the content or product/service features but also on the readers' acknowledgment to influence customers' attraction.
As you maintain not only the research but also the analysis, the paywall strategy is going to have a positive impact on the audience expansion.
Give this strategy a shot to earn more. Yet, if you are not ready to use this monetization strategy, you can also get paid to your site thanks to guest posting.
Have you heard about a paywall? Would you like to try this strategy on your blog? Leave your suggestions in the comments below.
More Like This