Created on
April 12, 2023
| Updated on
April 12, 2023
3 Truths and 1 Lie about Content Writing
Content Marketing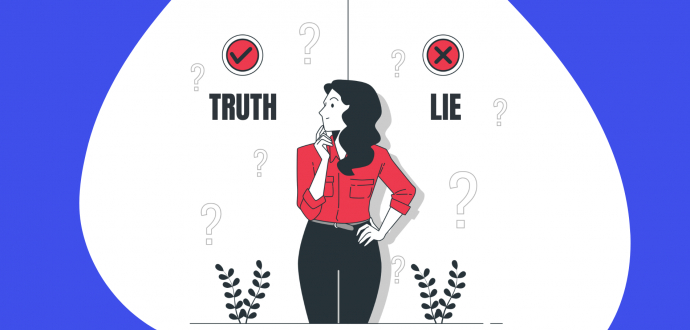 Content stays among the essential elements of a site's success and growth. It influences both people's and search engines' perceptions of your website.
Huge research by CognitiveSEO showed correlations between content quality and the site's position on SERP. That only proves our message - always think about what and how you write. If you want to push through the digital noise, you need to know how to craft top-class texts.
We've discussed content creation approaches and best practices with our content marketing team. And we'd like to create three truths and one lie about article writing based on almost a decade of experience in the industry.
Contents
Truth №1. Smartness and expertise don't always equal complexity
Before you start saying that there are articles about nuclear energy or neurosurgery, we make a disclaimer about exceptions. Of course, there are industries linked with specific language or even jargon.
Yet, for the majority of industries, it's pointless to create texts too tough and overfilled with bureaucratic style.
We'd recommend another approach to the article creation to make it look professional:
Of course, to sound natural and relevant you need to have at least some knowledge of the topic you describe.
Take time to study the theme. Write other expert content from industry professionals, respected online publications, and gather some fresh data.
Make an outline of your future article.
Analyze existing headlines and craft yours. Ensure it's easy to understand, interesting, and describes the main idea of your article.
Ensure everything is logical and organized within your article.
Read everything once again and make edits.
Having connected elements of your article and providing information in an accessible and logical manner, keeps readers engaged. Show your expertise by letting people understand complex topics through your article that is well-structured and helpful.
Gladly, there are dozens of article writing tools that will help you polish your content. For instance, Hemingway App will specifically assist with text readability. As the tool team reports, the average American reads at a tenth-grade level. Well, Hemingway himself mostly wrote at the fifth-grade level.
So, normally your goal is to get a five to ten readability score. But don't think your text is for middle-schoolers only. It's still well-written content with expert thought, good structure, and usefulness for readers.
Vice versa, a higher score will only prove that your article is somewhat confusing and hard to understand. Most probably you use too much jargon or hard-to-read sentences.
Sure thing you shouldn't do something radically opposite to this. With that said, ensure your content doesn't sound too simple. You should know the language, vocabulary, and tone of voice typical for the intended audience.
Find the perfect balance between being way too niche and general.
Truth №2. Editing influences if readers stick to your content or not
If you think that expertness is the holy grail of your article you are wrong. There are a variety of elements that makes content attractive to readers.
No matter how professional you are, overcomplicated texts scare readers off. And, for sure, it leaves clients unsatisfied (in case you create content for someone). So, what should you do then?
Simply look at some renowned authors and how they treat texts. For instance, check Brian Dean and Neil Patel's blogs. They use short paragraphs mostly made of two or three sentences. Sometimes, a whole abstract can be one sentence.
Also, the sentences are not too lengthy too. We also recommend making a smart combination of sentences in the paragraph. That said, use one long sentence with two smaller ones. Or you can create a paragraph out of three short to middle-length sentences.
Even if you look at this very article, you can notice how we use this approach. It helps us make the article feel "lighter." This way, we don't overwhelm readers with unreadable text canvas.
Most of the readers skim articles. So, trust us, their structure really matters. That's why ensure to divide your content pieces into sections and attach headlines to each of them. The heading should showcase what's inside the given section.
It's also a worthy idea to add a table of contents at the beginning of your article. That will allow readers to jump straight to the section they are interested in the most.
What can help your article look even more structured?
Use numbered or bulleted lists,
Don't forget about visuals - they are a must,
Use different headings - H2 and H3,
Add quotations, if applicable.
These easy tips will help you make your text more readable and visually attractive.
Truth №3. Industry influences the content you create
There are general approaches to article writing, no doubt. Yet, we need to admit that the industry you are working for makes an impact. Understanding the industry's peculiarities helps your content shine brighter.
For starters, let's remember there are lots of content types. While some work perfectly for let's say travel industry, others won't grab readers' attention. So, you need to make research to understand what's better to use:
Long reads,
Lists,
Guides,
Comparison articles, etc.
Knowing what your target audience reads more willingly will help you make a more effective content plan.
Not only content forms will differ. Your tone of voice or style will differ depending on the industry you work for. For instance, some industries (like beauty) normally allow a more informal, friend-like approach. Thus, if you working in the financial industry and especially with the B2B model, your language will be more formal.
Content length is another element you should consider. As always, you need to use common sense when writing your texts. That said, you need to use as many words as necessary to cover your idea or topic.
Yet, usually, there are slight differences in length between, let's say, marketing and beauty articles.
Lately, we gathered the most vital information about creating top-tier content for your niche. And we highly recommend checking it out. This way, you'll understand how to grow your blog or satisfy a client you write for.
Lie №1. SEO element is the main to look for when writing an article
Some writers still think that putting as many keywords as possible will lead to visibility growth. But the point is that times, when you wrote content only for crawlers or robots, had long gone.
We are not telling you to forget about search optimization. The point is to use everything smartly. Lately, SEO writing has been gaining huge popularity. That said, you balance people-first together with SE-based approaches.
Content and its scope play a huge role when it comes to Google. To rank high, your articles should be unique, relevant, helpful, and valuable for Internet users. So, when creating something - put humans first.
When using keywords make sure you insert them logically and seamlessly. In other cases, your text will look unnatural.
Conclusion
As companies communicate with users via means of content, it plays a huge role in businesses' growth. The way we treat our articles reflects their rankings and attractiveness to customers.
Whether you run your site, blog, or create content for a client, remember these tips we shared. That will help you achieve better results and have ready steps to use when writing content.

More Like This