Created on
October 11, 2023
| Updated on
October 20, 2023
Social Media vs. Guest Posting. Do They Grow Brand Awareness?
Guest Posting Tips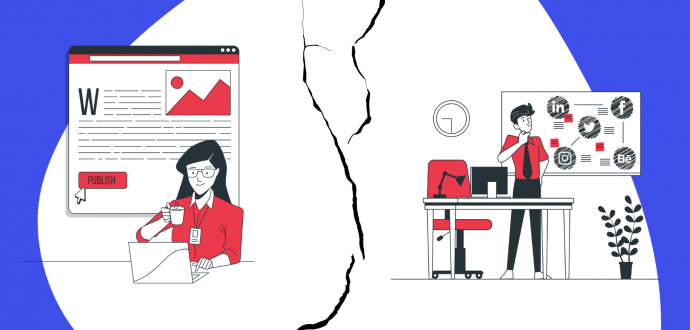 There are a whopping 333.34 million companies worldwide in 2023, according to Statista. So, how do you get noticed?
Brand awareness growth is one of the essential digital marketing goals that lets businesses stand out from the crowd. But what strategies can you use to ensure people learn about your brand?
There are two well-known approaches to use - social media distribution and guest posting.
Yet, which one is better to use? What is more effective? Continue reading this article to see what strategy fits you better and grow your brand awareness.
Contents
Social media for brand awareness
There are lots of social media platforms. It's hard to depict all of them. Yet, we think you'll be surprised to learn that there are at least 35 social networks with over 100 million users each!
This way, you have great opportunities to tell users from all over the world about your company.
Based on our earlier research, social media platforms play a huge role in modern humans' lives. Turns out, 92% of US citizens used social media in 2022. But what are people looking for?
Finding content - 31.6% of users.
Finding information for things to do and buy - 27.7% of users.
Finding products to purchase - 26.3% of users.
And your brand can match some of these users' requests.
If you find the right social network, know your current and potential users, and make the correct content strategy, you can strengthen your brand recognition.
So, how can you build your brand presence online on social media?
To be honest, you can choose various approaches and tactics. Firstly, you need to understand that different generations prefer different networks.
| | | | | |
| --- | --- | --- | --- | --- |
| Generation | Social media use | Facebook | Instagram | X (ex-Twitter) |
| Gen Z | 86% | 88% | 59% | 36% |
| Millennials | 80% | 79% | 39% | 22% |
| Gen X | 64% | 61% | 13% | 18% |
| Baby Boomers | 61% | 61% | 13% | 18% |
Choose two or more networks based on what generation you target the most. Then, decide what you are going to use the network for and what kind of content to post.
There are a few things to consider when building brand awareness on social media networks.
Align all your accounts. Brand awareness is about letting people easily tell it's exactly your company. This way, pictures, bios, and tone of voice across all channels should be similar.
Make it personal. Now, users don't perceive "faceless" brands. Show what you care for, share your behind-the-scenes, tell people your opinion, and make it fun to follow your business online.
Make your account recognizable. Standing out is not always easy. But we encourage you to find the peculiarities that will make your brand different. It can be the use of specific colors throughout your posts, specific style, customized visuals, and so on.
Utilize hashtags. While some experts say that they matter much less on Instagram, there are still networks like LinkedIn or TikTok. And resources like SproutSocial report that hashtags continue to be relevant.
Comment related posts. Do you see content from influencers relevant to your brand? Don't mind leaving a comment under the post. Do you believe an influencer has followers that will love your company? Follow a thought leader and type some comments under the related posts.
Share insightful and unique content. Case studies, surveys, expert thoughts - there are some cool content formats you can share, especially if you work in some "serious" industries.
You should not limit yourself to these strategies only. Feel free to collaborate with brands or influencers. Share some educational content with your current and potential customers.
Try out these approaches and use social listening tools to check if more people talk about your brand.
Anyway, let numbers talk. Here are some main social media statistics you might need to know.
4.59+ billion people are using social media worldwide,
76.1% of users employ social media to find brands,
US users spend 45.8 minutes per day on TikTok, 45.6 minutes per day on YouTube, 34.8 minutes per day on X (ex-Twitter), 30.4 minutes per day on Snapchat, and 30.1 minutes per day on Facebook and Instagram.
So, taking into account people's large-scale involvement in social media use, it can be a worthy choice for you.
You can expose your brand to a truly huge audience and get prompt involvement. Make sure your brand looks similar across all media platforms, and share content consistently.
Guest posting for brand awareness
Many of you have heard of guest posting. For those who haven't - it's content placement on the third-party sites.
Most often, marketers use guest posting for link building purposes. Yet, there are other helpful applications of this strategy. And brand awareness growth is one of them.
Why do we like this approach?
Guest posts allow you to show your company from the best side. Often, guest content is more lengthy compared to social media posts. That ensures you have more chances to show your expertise and hook readers.
Though social media and guest posting is often test-and-try method, the second option seems easier to predict.
Why is it so?
You can fully control where you place content and who sees you. That means you can introduce your business to a really wide audience that is more likely to engage with you.
This way, if you use guest posting service assistance, you get lots of tools to help you get more noticed. What we, as experts, suggest that you:
Choose sites from similar or related niches,
Choose sites with a large amount of traffic (100K+),
Pick sites from the same language zone,
Select sites with Avg lifetime of links 90%-100% (to ensure people not only learn about you, but also check your site).
Based on Adsy research, all that can help you gain 174% audience extension and brand awareness growth.
Undoubtedly, you need to engage in guest posting consistently to get palpable results. Some goals that online creators, business owners, and bloggers have achieved are:
Jon Cooper attracted around 400 readers from a single guest post on Moz. (Neil Patel)
Ryan Stewart of Webris attracted about 90% of his customers via guest posting. (BloggerJet)
Leo Widrich of Buffer acquired over 100,000 clients for BufferApp through guest posting. (SearchEngineWatch)
As you can see, guest posting stays an important tool for the brand awareness extension.
Comparative analysis
Though these strategies are different, they have the same goal - exposing your business to a wider audience.
We've made a little comparison table you can check.
| | | | | | | |
| --- | --- | --- | --- | --- | --- | --- |
| Strategy | Audience | Control who sees | Spending | Results | Flexibility | Effect |
| Social media | Wide | Lower | Lower | Faster | Higher | Long |
| Guest posting | Wide | Higher | Higher | More lengthy | Lower | Longer |
It's up to you what to choose. Thus, we recommend combining both tactics for better results. Moreover, using guest posting not only increases brand awareness but also strengthens your site's backlink profile, grows DA, and moves you higher on SERP.
Conclusion
Winning people's hearts is not an easy task. And paving your way to a bigger exposure might take a lot of time.
Yet, if you know special strategies, you can grow your brand awareness.
Social media and guest posting might be the most powerful and accessible tactics that allow your company to reach a bigger audience.
Try the suggested tactics, be creative, and stay consistent if you want your company to be more recognizable.
More Like This