Created on
January 18, 2023
| Updated on
September 12, 2023
Is Guest Posting Effective in Building Backlinks in 2023?
Guest Posting Tips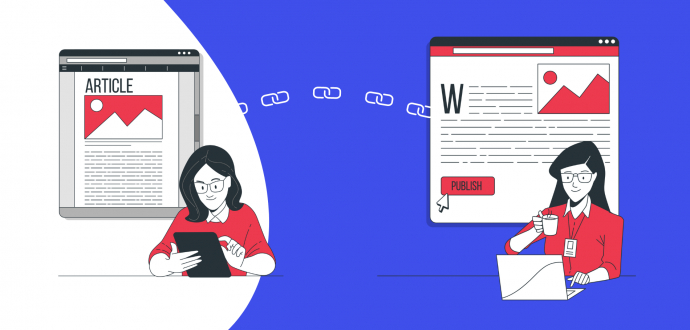 Links stay among the top ten SEO factors for search rankings according to Statista. Google's Senior Strategist Andrey Lipattsev confirmed their importance in one of the Q&A a couple of years ago.
So, the conclusion could be only as follows - you need to build backlinks to get to the top of the SERP. (But, of course, you have to consider other factors like on-page elements, rank tracking, content quality, structured data, and so on.)
There are various ways you can use to acquire links. The most popular tactic is guest posting. It's a white-hat link building strategy many SEO specialists employ. Yet, many professionals question "Is guest posting effective in building backlinks in 2023?"
In this article, we will figure out if this method is worth it and how easily you can get quality links using it.
Contents
Guest posting: manual search vs guest posting services
Many of you might question this method as you consider it very resource-consuming. It definitely can be as follows. If you use a manual approach to building links via guest posting you need to spend a palpable amount of time on it.
That's because firstly you need to use search operators to find fitting sites. So, you will need to write a combination like:
"Guest posting + your keyword,"
to start looking for a fitting site. You will need to monitor hundreds of sites to find proper options. After this, you'll have to check the main site's metrics like domain authority, domain rating, monthly traffic, spam score, etc.
And now imagine - 60% of companies write one to five guest posts per month. It feels like a lot of work. So, should you give up on this tactic?
No, definitely not!
Guest posting services can do the most amount of job for you. That means you can concentrate on other SEO and related stuff to help your site rank higher.
Mostly, guest blogging services have the full scale of features to help you build backlinks without a fuss. That means you can automate the link building process. So, let's see how you can do everything effectively.
Effective link building with guest posting services
The principle of guest post platforms is relatively the same - they help you find fitting guest blog sites within their inventory. The difference lies in the features this platform offers and the quality of the sites they have.
Reduce the time spent on the sites' selection
Well, there are ways of finding fitting sites for guest posting, let's say, partly-manual. Tim Soulo offers to use Ahrefs for his goal. Users need to perform four simple manipulations to get the list of sites. The only point is that you still need to pitch your articles and prepare content.
But can you do it faster and with a guarantee that your content will be placed? Yes, and that's thanks to the guest posting service.
Firstly, you can quickly set the metrics you need. Use any combination of filters you need to get the best results. Moreover, you can save up to five filter variations and use them the next time.
Yet, you can say "Wait! Experts recommend posting guest content on new sites to get more weighty backlinks that will bring more juice." That's true and we've taken that into account.
There's a list of new sites that appear on the platform each week. So, you can always access fresh sources of your future backlinks.
Easily organize your work with sites
Another thing in guest posting that can leave you concerned is keeping track of the sites you've chosen and communication. But this process can also be efficient.
To get results, you need to make not five or even not ten guest posts. So, there are ways how you can quickly find sites (filters) and keep sites you'd like to use later. You can use the "Add to the allow list" option and find all saved sites later in the "Lists" menu.
But that's not everything. You have a separate menu where you can track tasks' progress and communicate with publishers. This way, you can monitor all activities in one place. Plus, there are essential email notifications you receive to always be aware of the situation.
The whole process is pretty quick and easy. But what if you don't even have time for this? No worries, you still can get quality backlinks without extra time to spend.
Order special packages
We understand that the word "package" might scare you. That's because low-quality services sell packages with completely horrible links. And they can damage your ranks. But we work differently.
The main packages deal you can choose is the package based DA or traffic priority. Respectively, you can select sites based on one of the given metrics.
If you choose DA priority, you can establish the domain authority rank, number of posts, and word count, and provide the links we need to insert in the content.
If you choose Traffic priority, we will find sites based on the number of monthly users. You will need to fill in the same fields, to share your requirements.
Please notice, that you can choose either DA or traffic priority.
Stay away from search engine penalties
Search engines don't like when SEO specialists try to hack or manipulate algorithms. That's why Google penalized many link building techniques. But does it refer to guest posting?
Let's remember that you can use guest posting not only for getting backlinks. It's also a great option to grow brand awareness, show your expertise, or get referral traffic. Having a link or two that will lead to your site won't make you a criminal. The point is to direct users to related and helpful pages on your site.
What you really need to take into account is content quality. Examine the guest post site you've chosen. What topics does it usually cover? What value can your article offer? Create a helpful article, don't overstuff it with keywords.
Once again, when you use guest posting platform services, you have various options. You can prepare all content by yourself. If you don't have enough time for this, you can order guest posting with content creation.
You can also choose the article length to fit your needs and goals.
Nevertheless, what we really recommend is ordering content from our copywriting team. That guarantees you receive top-class content with all nuances encountered.
Another important thing to consider is the site's quality and relevance. Guest posting won't be effective if you place content on random sources unrelated to your site.
That's why you should be careful with the site choice. Even if you work in a narrow niche, try finding sites that have something in common with yours.
Anyway, thanks to the guest posting service you can quickly find appropriate sites to ensure link building was worth it.
So, is guest posting effective in building links?
You can really hear mixed opinions when it comes to guest posting. Yet, we still believe in its power!
Of course, you need to follow certain rules:
It's better to get 40 links each from a different site, than 100 links from one source,
Avoid sites unrelated to yours,
Skip low-quality sites and PBNs,
Create useful and unique content for guest publications.
Some industry professionals even conducted small research to prove guest posting does work.
For instance, Ron Stefanski found that his guest posting strategy brought him more traffic and grew the number of referring domains.
Consulting companies, marketing firms, and others still use this method to build backlinks, grow brand awareness and offer other marketing perks to clients.
This way, carefully work on your guest posting strategy and choose trustworthy guest blogging services.
Conclusion
There are lots of methods you can use to build links. But the question is if guest posting is still effective to build backlinks.
In this article, we wanted to show you that guest blogging holds its position as one of the most efficient link building methods. SEO specialists and site owners can see the practical outcome when using this strategy.
Another thing is that you can use special aid in a form of a guest posting service. Thanks to it you can find fitting sites in lesser time. Moreover, you will be sure you place content on relevant sites with worthy metrics and from related industries.
Let's get back to you! Do you use guest blogging as a link building method for your site? How beneficial is it for you? Leave your thoughts in the comments down below.

More Like This