Created on
April 27, 2023
| Updated on
May 31, 2023
Social Media Marketing in the USA - Main Data to Know in 2023
Content Marketing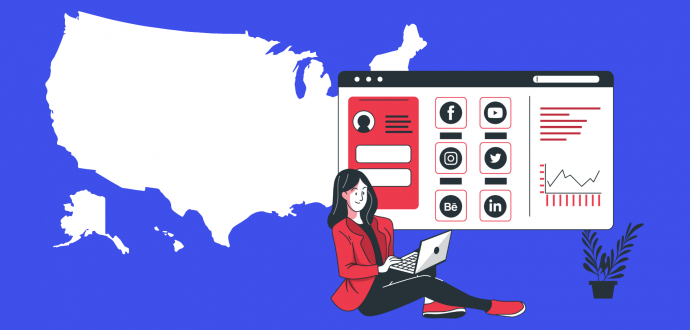 Social media networks are extremely popular. Their number is constantly growing with a projected number of 6 billion users in 2027!
Something that started mainly as a means of communication or sharing visual content turned into a huge mechanism. Companies have their profiles to be in touch with customers, influencers influence the shopping decision of buyers, brands make in-app purchases available… And that's only a part of what you can do on socials right now.
Given this, you miss a lot if your company is not present on a couple of social media platforms. But can you randomly pick the network and say "we'll be there"? Well, not really.
In this article, we gathered some impressive information about social networks, their usage, budgets, development, and so on. This way, you'll understand the current situation, future challenges, and possible applications for your company.
Contents
Social media usage
According to DataReportal*, there were 4.76 billion global social media users as of January 2023. According to the same report, 82% of Nothern Americans use social media. Yet, the global tendency moves toward a growing number of social media users.
The United States is no exception with social media usage of around 92% in 2022**.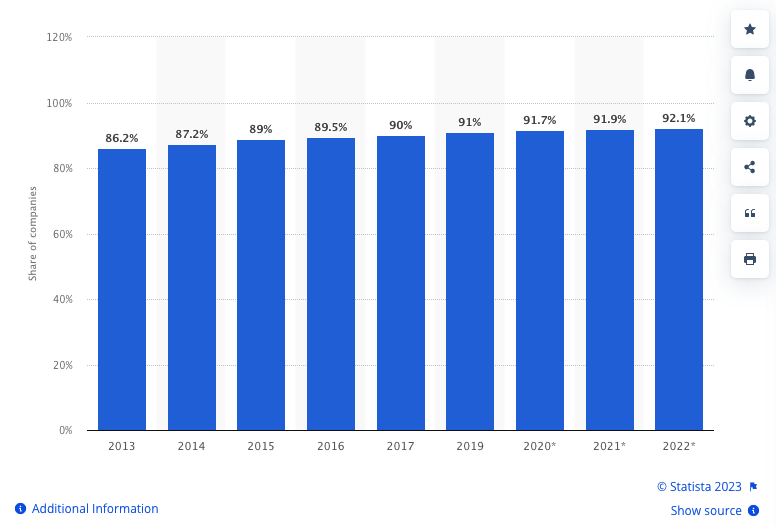 Taking into account high levels of US digital adoption, smartphone ownership, and a fast internet connection, the population will be even more involved in social media in the next years.
What people do normally use social media for*?
Keeping in touch with friends and family - 47.6%.
Filling spare time - 36.3%.
Reading news stories - 35.1%.
Finding content - 31.6%.
Seeing what's being talked about - 29.5%.
Finding information for things to do and buy - 27.7%.
Finding products to purchase - 26.3%.
Sharing and discussing opinions with others - 24.5%.
Making new contacts - 23.9%.
Watching live streams - 23.8%.
But do marketers pass this energy when building campaigns for social media? Well, 58% of marketers aimed at increasing brand awareness. At the same time, 41% of marketers counted on growing community engagement.
Also, senior and executive-level marketers use some platforms to broaden content communication strategies. The top choices were LinkedIn (35%), Facebook (28%), and Instagram (20%).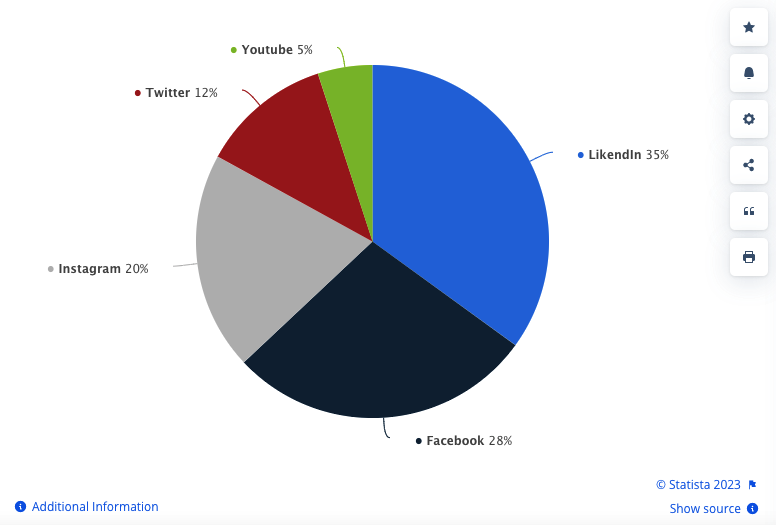 Twitter and Youtube have lower usage levels, yet marketers use them to reach their goals. As you can see marketing professionals are employing various options to reach audiences. That allows for communicating different messages and offering the right information to specific audiences.
Social media content types
As platforms differ so differ content types that marketers use to engage their audiences. If we speak generally, digital media has huge budgets in the USA. The revenue is $187.5 billion dollars as of 2023. US's revenue is the biggest one surpassing China, Japan, South Korea, and the United Kingdom.
But where did marketers put their trust? Well, the most preferred digital media type was influencer marketing (as 41% of professionals claimed).
But influencer marketing is a really broad term. Influencers can engage users through various content formats - from videos to posts or blogs.

For example, when it comes to videos, the majority of users prefer to watch:

2) comedy, meme, or viral videos,

3) tutorial or how-to videos,

This gives ideas as to what kind of content you'd like to produce for your social media channels. Give your audience value by solving their problems and educating them - be it via Youtube or Instagram.

We all know, that many users (especially younger generations) employ social media as the new Google. So, be aware that your potential audience utilizes this option and be present with engaging content.

Yet, Q&A platforms and forums are here to stay. People learn more about companies there. That said, the text-based content type is still in demand.

And you know what? Statista only proves our conclusions.

54% of marketers commonly use video content format,

30% of marketers rely on text-based stories.

At the same time, Sprout Social recommends using the following types of content to ensure the most engagement.

As you can see, videos and text-based formats are also on the list. Yet, don't forget to use high-quality images, trending GIFs and memes, and user-generated content.

SMM budgets & ROI

The tons of content produced for social media exist in the digital world. That's why budgets for social media production and distribution are huge.

Social media count for 15.9%** in media budgets devoted to digital in the US in 2023. Also, marketers from the US shared that their social media spending made up 14.5%** of marketing budgets.

According to Gartner, social media advertising tops the list of digital spending. Statista also claims that most ad spending will be generated in the United States ($72,330 million dollars in 2023).

And that's true. If we see the year-by-year breakdown, we will see steady budget growth.

The average annual growth from 2018 to 2023 made 28.2% proving the high effectiveness of social media channels (Oberlo). Moreover, the increase in budgets is highly logical as US citizens continue to spend more time on socials.

Of course, social media budget, target audience, and company's goal influence spending. Thus, time spent on social media plays no lesser role. According to the same report from Oberlo, US users spend :

45.8 minutes per day on TikTok,

45.6 minutes per day on YouTube,

34.8 minutes per day on Twitter,

30.4 minutes per day on Snapchat,

30.1 minutes per day on Facebook and Instagram.

But do these budgets go in vain or do marketers get the juice?

Well, Hubspot made a study and shared some results based on marketers' feedback. Instagram turns out to provide the highest ROI among all the social media networks. In fact, 50% of users shared to be interested in the brand after seeing an ad from it.

But Instagram holds the prize not only for paid promotions. Hubspot also found that Instagram demonstrates the highest ROI for organic content:

SMM effectiveness

Based on the ROI we can say that company promotion via social media channels can be highly effective. But it's never odd to look at this case in more detail.

First things first, social media are among the leading channels to understand product benefits and it accounts for 29%**. That's how the US customers see it. Moreover, 51%** of US-based online users claimed that their purchasing decisions were influenced by social media ads.

That's a big cohort of online shoppers which brings us to the conclusion that running socials does its job.

How can you make your social media presence more effective? Well, social media users aged 16 to 34 from the USA** answered the following way:

27.6% share that the endorsement from a trusted influencer is most likely to make them consider purchasing a product,

25.1% say that can buy a good after seeing a social media ad directly from the brand.

So, just imagine how many goods and services US shoppers buy after seeing ads or recommendations. No wonder US has the largest social media ad market in the world with a spend of $56.7 billion dollars**.

After all, most marketers agree that social media marketing is somewhat or very effective for their companies.

According to SmartInsights, 57.6% of marketers find this strategy rather effective. You will find a similar outcome when checking other sources (e.g., Buffer).

Social media audiences

Through all the research you see that people are the ones who define companies' social media activities. Brands launch campaigns and decide what strategies and platforms to utilize based on users' opinions.

So, let's quickly check more pin-points that will help you understand the internet audience better.

Based on Statista's recent US-based questionnaire:

39% of millennials want to be contacted by brands via social media,
44% of Gen Zers want to be contacted by brands via social media.

But you don't want to be just one of hundreds of thousands of companies being present on social media. So, here are certain things to know about what customers value.

44% of respondents stated that transparency makes brands best-in-class on social media,
47% of respondents claimed strong customer service to be their main priority.
SproutSocial continues the list by sharing its findings about consumers.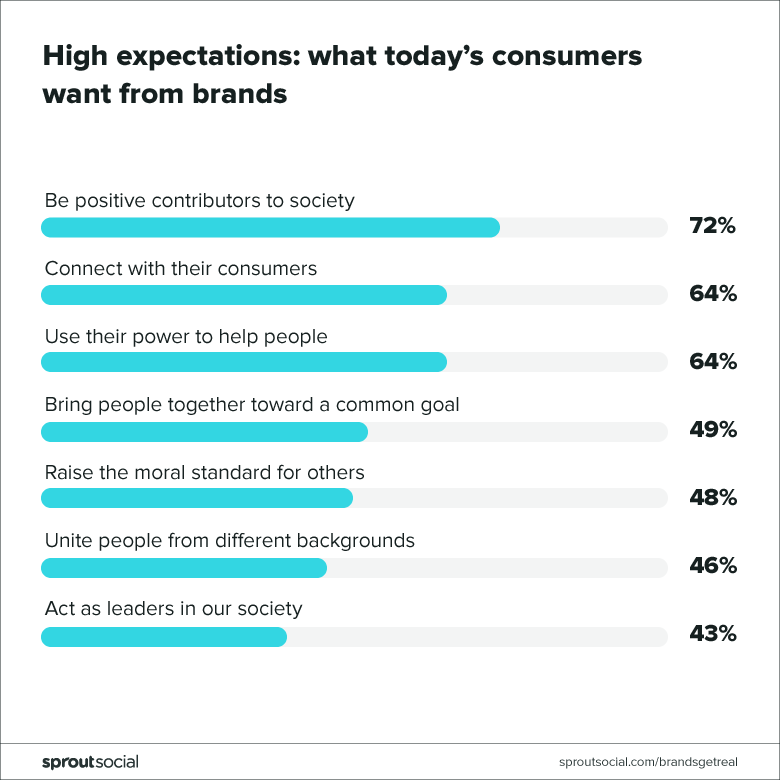 As you can see, two out of three main expectations from brands are society-driven. Add to this the fact that Gen Z will make the most of the buying force. And this generation is deeply involved in social matters, making change, and serving communities.
Here's another essential thing we want you to know. 91% of people** who follow a brand on social media visit its site or app. And nine out of ten respondents shared they purchased goods or services from the brand.
Conclusion
Being active on social media is an inseparable part of a company's success. It's hard to deny the capabilities of social media networks and the opportunities they offer to brands.
According to the latest studies of reputable sources like Statista, DataReportal, Hubspot, and more, the social media sector will only grow. Thus, the growth brings not only new ways to express but also challenges.
To overcome the obstacles and not get lost in the digital noise, know the latest data. We hope the provided information ensures you run social media accounts and fine-tune your strategy.
More Like This