Created on
June 21, 2023
| Updated on
June 21, 2023
7 Essential On-Page SEO Elements: Beginner Guide
SEO Articles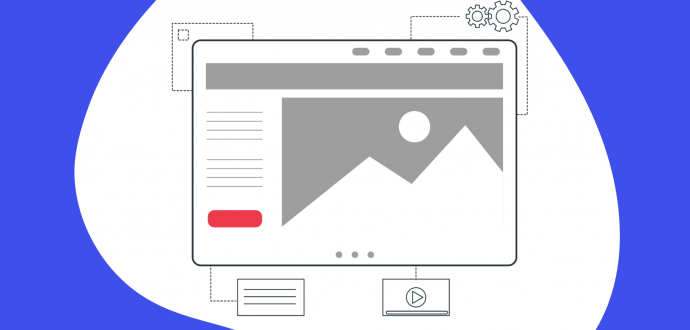 A whopping 92.96% of global traffic comes from Google Search, Google Images, and Google Maps. Moreover, statistics claim that SEO drives 1,000%+ more traffic than organic social media.
So, it's pretty clear you need to fine-tune your SEO if you want your website to succeed online.
If you start building links in a rush after this, you will see some improvements. But search engine optimization does not end with link building. On-page, on-site, off-site, optimization, technical SEO, - all these elements contribute to your visibility and ranks.
Today, we'd like to share a beginner's guide to on-page SEO. Keep on reading to learn more about seven essential elements you should take into consideration.
Contents
1. Page title
How do you introduce yourself to others? Right, by saying your name. The same refers to internet pages. In order to show what the site section is about you need to present a page title.
A page title is an essential SEO element that describes the essence of the page and sometimes it coincides with H1.
Sometimes beginners can confuse page titles with title tags. Yet, these two terms are not slightly equal. Page titles can stand for H1 while title tags often used to optimize CTR and are shown on SERP. In this case, H1 - the title that stands on the site's page can differ from the title tag.
All these names can get your mind twisted. We get it. So, let's make it clearer. We will refer to the page title as to H1 heading that shows on the webpage. Thus how can it be helpful for SEO?
Well, if something is not directly on SERP it does not mean it's useless. Vice versa, page title in SEO is the first thing to keep in mind.
If you have a strong, descriptive, and understandable page title you improve your optimization and also user experience! Generally, this on-page SEO element helps you with four main tasks:
1. Page titles assist users and search engines in understanding what the given page is about.
2. Confirms users landed on the right page and they will find the information they are looking for.
3. Page title assures page content if Google decides to swap title tag with H1.
4. Great page title hooks readers, grabs their attention, and helps you engage deeper in the page.
This way, make your page title (H1) close to the title tag, ensure it's clear, relates to the content on the page, and can engage the reader.
We also recommend using the main keyword in your page titles to contribute even more to SEO.
2. Meta description
Next up is the meta description. It is another element that you will see on SERP right under the title tag.
A meta description is an HTML tag that provides brief information about the webpage. Its average length is up to 150 symbols.
If this is one more thing we see on the result page, not on the site's page why is it on-page SEO? Well, though it's outside the webpage it still works for its benefit.
That said, you create a meta description to provide further information about the page and its content. Its main goal is to advertise the page and grow your CTR. And while Google states there is no direct meta description influence on SEO, it is still very important.
If the page's CTR is high enough, a search engine will see it as a worthy result. Based on this, your page can be promoted and move higher on SERP.
Now, it's really an unpredictable game when it comes to either Google will show your meta description or not. Nevertheless, do not skip on creating catchy and effective meta descriptions!
Here are some meta description best practices:
1. Make sure your description is 140-155 symbols long.
2. Use main and additional keywords.
3. Ensure it is clear and reflects the essence of your page content.
4. Add a CTA in your description and use active voice.
Extend your title tag (page title) by giving additional information about the page and showing what benefits users will get if using your page.
This meta description by Neil Patel is a cool example of how you can clarify what's on the page. Plus, he encourages users to click the link by adding "Read this complete guide.."
3. URL structure
Well, we'll be honest - there were some contradictions regarding the URL's influence on SEO. In early 2010-s, Google representatives marked that URLs with keywords in them (as well as domains with keywords) are positive for the page's rank.
Yet, after 2016 it was admitted that keywords in URLs and their influence are somewhat overrated. So, does this approach helps with CTR and SEO right now?
There can be two cases:
1. Breadcrumb navigation. If you use this type of structured data, Google won't show the full URL of your page. So, you'll see something like yourdomain.com>blog.
2. Full URL display. If you don't use the breadcrumb structure, Google shows your URL as usual. In this case, users will be able to see the keyword (if it's close to the beginning of the link). Yet, Google won't emphasize it.
So, is it even worth bothering yourself with URL creation? Yes, yes, and yes! It still provides information about your webpage. You become less trustworthy if your URL shows a string of random letters and numbers.
As such, use the best approaches to URL structure:
1. Write your URL in lowercase letters. They are easier to read and perceive. Plus standardized URLs help to avoid misunderstandings when linking.
2. Use hyphens (-) to create your URL.
3. Include relevant keywords that reflect the meaning of the webpage.
4. Don't use years in your URLs to future-proof your content.
Though URLs influence on-page SEO only indirectly, it's still an element to take into account. Make sure they are descriptive and true to page content to make your page more attractive and trustworthy.
4. Heading tags
The situation with headings differs from URLs. This page element influences SEO - and it's a 100% case.
Header tags are special elements that divide headings and subheadings. They rank from H1 (usually it refers to the page title) to H6.
Heading tags have to be a part of your page content. See what's Google's John Mueller once said:
"When it comes to text on a page, a heading is a really strong signal telling us this part of the page is about this topic."
So, ensure you have a clear structure of headings on your page to help search engine better understand what the page is about. This way, search engine can confirm that the meaning of the content corresponds to the page title.
Moreover, users often use them when scrolling through the page. They serve as the navigation and are able to make people stay on the page and read its content in full.
Normally, the heading tags structure on the page will look like this:
H1 - is the main tag that normally matches the page title.
H2 - is the most used tag that defines the content's section. Make sure it relates to the section's essence. It's a good idea to include a keyword in the H2 tag.
H3 - is another frequently used tag. Put it after your H2 to provide further information on the matter. You can include additional keywords there or provide more detailed descriptions.
H4 to H6 - are the tags that can also help to divide your content within sections if they are too long.
Once again, your heading tags should match keyword intent. As search engine crawlers scan your content and ensure it matches users' requests, your page elements should ensure crawlers you are the right fit.
5. Keyword optimization
Of course, you need to understand there's no effective SEO strategy without keyword optimization. Finding the right keywords and using them correctly on the webpage can benefit your SEO and boost your ranks.
Why do you need to use keywords in the first place?
When users make a query they type a certain combination of words. Search engines do their best to return users with the most relevant results. As such, the presence of correct keywords within your text will serve as a marker that e.g. Google can show your page.
Respectively, your main goal is to form a list of keywords that fits your site the best. To do this, you need to know who you target. For sure, each article or landing page will have specific keywords.
If you run a blog about holidays and parties, your readers might wonder how to through a party for a boy on a budget. Then your goal to include related keywords in the page title (title tag), meta description, URL, and on the page content.
As you can see, this page contains the correct keywords and at the right density. That contributed to its appearance on the first result page.
To make everything right, you need to optimize your keywords. Gladly, there are lots of SEO tools right now. They will help you find fitting keywords for your site, learn more about their competency, and check keyword strategies your rivals use.
According to Semrush, there are six major keyword optimization tips:
1. Audit your current on-page SEO.
2. Find keywords for your site.
3. Map your keywords.
4. Add keywords to your site.
5. Avoid keyword stuffing.
6. Don't forget your target audience.
Follow these steps to ensure search engines understand what your pages are about.
6. High-quality content
Undoubtedly, content and its quality is what search engines want to see. Google provides a really detailed guide on what content they want to see on your website.
You shouldn't create content for content's sake - just to increase the number of indexed pages for your website. Your content should offer value. So, our advice is to revise all your existing content and see if it's worthy.
Also, the latest trend is to create people-first content. That said, you need to ask yourself some questions:
Does my content provide value?
Can my content solve users' problems and ask about their needs?
Is my content helpful and provides some sort of expertise?
Is my content more insightful and detailed than other content on the web?
Are my headings and page title descriptive and provide true information?
As you can see, the main goal now is to provide an outstanding experience for online users. To do this, you have to know your target audience. Help them find all the information or answers they are looking for.
It's true that Google will count various factors to rank your factors and their number only grows. The search even shifted from E-A-T and turned it into E-E-A-T (experience, expertise, authoritativeness, and trustworthiness). Accordingly, this formula is your shining beacon when it comes to content creation.
And, yes, you need to ask some more questions before even creating your content. They are "Who, How, and Why?"
And after this, remember that creating content for people allows you to be useful, naturally sounding, readable, and engaging.
You can ask but where is SEO here? Should we erase everything we learned in the previous sections?
Sure thing no! The point is to balance everything properly. Keywords research will give you ideas and direction to use for content. But keeping readers in mind will ensure you use those words naturally.
Moreover, SEO copywriting is gaining momentum as it helps to bring out the best in your content.
7. Internal linking
Search engines look for various factors to rank your site. And links are one of the most important parts of a deal. And while many remember about backlinks (that refer to off-site optimization), internal links might stay poorly treated.
Yet, they are really important and you cannot miss them.
Internal links are links from one webpage of your site to another.
Both search engines and users employ them to better understand your content and navigate through your site. If there are no links to a certain page - no one will simply see it!
There are different internal link types. There are ones in the menu, post feed, homepage, etc. And there are internal links within content that we often call contextual links.
Keeping your internal link structure logical, hierarchical, and clear helps crawlers better understand your site. Also, users can navigate it stress-free which leads to a better user experience.
Once again, internal links help bots find and crawl new pages of your website. And given the growing quantity of content, you'd better 'tell' an engine what this page is about.
It's a vital topic you should consider. Gladly, there is an in-depth guide from the respected Yoast, you can check.
Conclusion
As you can see, even a beginner guide to on-page SEO includes multiple elements to make everything work.
Nevertheless, there is some main stuff you need to remember:
Create your content for people,
Don't forget about page title and meta description to drive people from search to your content,
Use keywords based on your target audience, and do not overstuff,
Interlink your content to engage users, answer their requests, and ensure they stay longer on your site.
Don't forget to read helpful sources, guidelines from Google, and industry experts to rank your site higher on SERP.
More Like This