Created on
October 20, 2021
| Updated on
September 20, 2023
7 Basics of Working Social Media Content Marketing Strategy
Content Marketing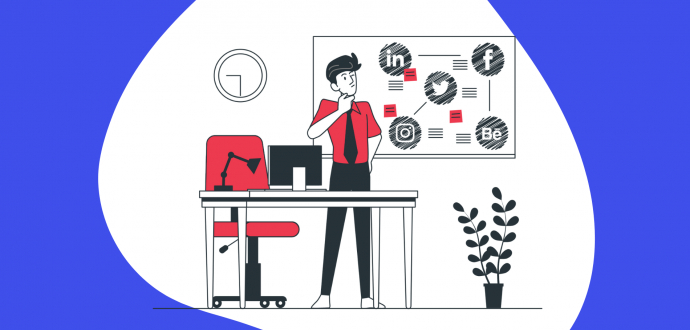 Social media content marketing has long become an integral part of a company's development. Nowadays, you can hardly meet a business that doesn't run a social media account or a few of them.
Why is it so?
Well, social media has become the quickest and most comfortable way of communication with customers. And, on top of that, extremely comfortable. That's because nine out of ten Internet users utilize social media monthly.
Also, DateReportal shares that around 17 social media platforms account for 300+ million users each month.
So, social media is a perfect opportunity for connecting with your current customers and acquiring new ones. And to do this effectively, you need a well-established social media content marketing strategy.
Contents
What is a social media content marketing strategy?
Well, what is this strategy all about?
Of course, we can say that it is exactly a point where social media and content marketing meet. But let's analyze this term by its parts.
Social media marketing stands for employing social media channels to sell products or services or to raise awareness. (These are the most common goals).
In turn, a social media strategy is a unity of tactics and approaches you will use to reach your social media goals. The strategy should also outline channels and content you will use.
And now, as we've investigated what content marketing strategy for social media is, let's move to the elements, it should include.
1. Set goals
Setting goals is an extremely important step as it will define the direction and development of your future strategy.
So, before creating a content plan or thinking about what account to use, ask yourself a question. It will sound like this:
"What do I want to achieve with my social media accounts?"
Many marketers advise setting SMART goals. That means your aspirations should be:
Specific,
Measurable,
Attainable,
Relevant,
Time-bound.
That will help you build a systematic approach to your strategy. At the final score, you'll be able to correctly fine-tune your strategy, answer questions, and measure success.
Mainly, engaging social media channels as a part of your marketing strategy helps with the following goals.
Brand awareness increase,
Lead or sale generation,
Brand's audience growth,
Audience's engagement boost,
Traffic rise.
You may outline one goal or a combination of them. Accordingly, your future strategy will evolve based on those goals.
2. Know your target audience
Remember, you cannot go anywhere if you don't know your audience. This rule plays an essential role in any kind of marketing. Yet, it's really vital for social content optimization and picking the right channels.
Do you have a buyer persona? That's great! Then you can start choosing the right accounts straight away. If not, investigate who makes up the majority of your customers.
You should consider their age group, gender, geography, ethnic group, occupation, and income. With this data, you can start working on social media platforms choose.
So, how do you pick the correct platforms?
Gladly, there are lots of reports that tell about the social media state and offer the usage breakdown. So, in this case, let's refer to the PewResearch study.
Firstly, you will be happy to know that the majority of the population uses social media and does this pretty accurately. Yet, there are some preferences.
18 to 29 years old use Instagram 71%, Snapchat 65%, Facebook 70%, TikTok 48%, X (ex-Twitter) 42%, and Youtube 95%,
30 to 49 years old use Instagram 49%, Snapchat 25%, Facebook 77%, TikTok 23%, X (ex-Twitter) 25%, and Youtube 91%,
50 to 64 years old use Instagram 29%, Snapchat 25%, Facebook 78%, TikTok 17%, X (ex-Twitter) 19%, and Youtube 85%,
65+ years old use Instagram 13%, Snapchat 2%, Facebook 50%, TikTok 4%, X (ex-Twitter) 7%, and Youtube 49%.
Also, there is an amazingly helpful table with the social network use that accounts for various specifications. We recommend checking it out.
After you've checked this data and have your brand's buyer persona at your hands, pick what social media platforms fit you the most.
3. Check competitors' strategies
Most probably, your competitors engage in social media marketing. So, why not check what they are doing.
That's a win-win strategy for you anyway. Firstly, you'll see what approaches are working the best. Secondly, you'll avoid unpopular techniques. This way, to gather the information, you need to conduct a competitive analysis.
Competitive analysis will help you:
Understand what the average number of followers, likes, shares, etc. for your industry is,
See what posting time or day works better for the audience,
Create better social content ideas,
Get an idea of what tone of voice is better to use,
Discover what pains your audience has,
Think out how to stand out your brand.
Also, you can automate the process. Use social listening tools to track your competitors' mentions on social media. Accordingly, you'll know what people think about those brands. Based on users' opinions, you'll know what strategies are working and which are not.
After getting down with all this information, you'll understand what directions and approaches to choose.
4. Establish main metrics
Sure thing, both social media and content marketing, as separate quantities, base on numbers. And successful social media content marketing strategy can't exist without metrics.
But don't get scared beforehand. You don't need to be buried under tons of data to conduct an effective marketing campaign. Instead, concentrate on the metrics that are connected with your goals.
For instance, if you run Instagram to grow brand awareness - see how many views your posts and stories receive. Twitter may be a great tool to increase the response time and make customers happier with your service. In this situation, you can track the response time.
So, the goals may vary. Yet, we advise picking the metrics you will track from these four groups:
Awareness,
Engagement,
Conversion,
Customer.
All in all, there are 19 essential metrics, some of which you might wish to track. Hootsuite has written an awesome article about them with detailed instructions on how to calculate each metric.
5. Pick the main accounts
From the points you've read before, you should understand that not all social media platforms will work equally well for you.
So, basically, here are the most widely used networks.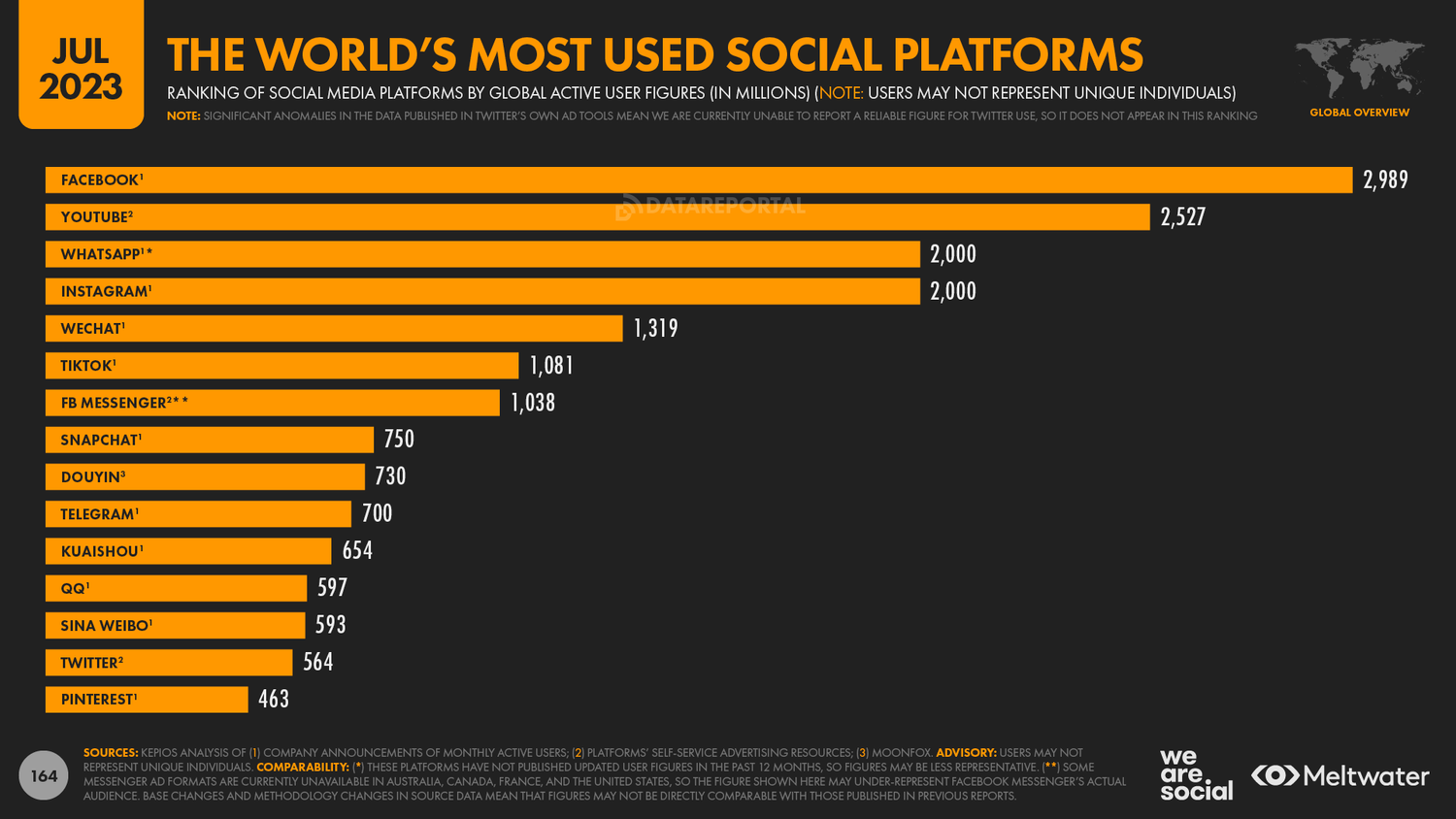 Well, it will be fair to say that almost all age groups are actively using those platforms. So, most probably, you'll give a shot at three to five of them.
Before jumping to the content plan think of what role each network will perform for your company. So, you can use Instagram for sharing new products or posting reels about your business processes, employ Youtube for educational purposes, and so on.
For instance, Nike uses Instagram to inspire people by sharing stories of amazing athletes (pro and non-pro) from over the world. At the same time, they utilize Twitter as a main communication channel.
GoPro sets a high bar for using Facebook for business promotion and YouTube for tips and tutorials.
This way, you can work on your own approach for each of the platforms you pick.
6. Make a content plan
Now, as you know your target audience and the platforms you are going to choose, it's time to build a content strategy and content plan.
When thinking about the content you're going to share, remember the golden rule:
80% of your content should be informative, educational, fun, whatsoever,
20% of your content should promote your company.
Of course, 80% of the content can still be related to your brand. You can share success stories, case studies, and interviews. Or you can show some insights from your work or spare time with a team.
---
You might also like: How to Create a Content Plan to Reach Your Marketing Goals

---
Also, there is a one-third technique you can use for your content strategy. In this case, use one-third of your content to:
Promote your company and convert users,
Share opinions, news, insights from your industry thought leaders,
Make some personal communications with your audience.
So, we advise you to keep in mind these formulas. It will ease the content creation process for you.
After you get an idea of what posts to create, move to the calendar itself. You should post consistently to build loyal and long-lasting relationships with followers. You can use Google Sheets or special social media tools to keep your content organized.

By looking at your competitors, you might have an idea of which days are better for posting. Yet, you can experiment with the quantity and see what's working for you.
Also, don't forget to check the perfect time for your content publishing. Remember, this time varies from platform to platform.
7. Audit and see what's working
At the very beginning of this article, we've talked about setting goals. Well, and it's vital to check how close you are to achieving them.
So, how will you check the metrics?
Firstly, you can use UTMs for every link you use. With their help, you will see from what social channel users come the most. What's even more important, you will be able to track customers' journeys on your website.
Of course, it's always a good idea to use special tools that will help you track your performance in real-time. There are tools from companies like SproutSocial, Hootsuite, Zoho Social, and others that can assist you in this.
Constantly check what's working for your brand. Do you get lower involvement than you've expected? That's a sign to re-think your content type or posting time. Also, you might translate the wrong message.
Besides, asking your users directly is always a great idea. Use surveys on social media or emails to ask your customers about what they like.
As social media platforms themselves change often, you need to keep up with those turns and be flexible.
Follow your social media content strategy and make changes if needed.
Conclusion
As you can see, social media content marketing strategy has its own challenges and peculiarities.
Social media constantly evolves, bringing new trends. And you need to be ready to accept them and use them correctly to ensure better interaction with your audience.
Thanks to these seven steps, you'll be able to build a compound strategy without extra hardships.
Tell us, what social media channels do you use to communicate with your audience? How difficult is it to manage them? Leave your thoughts in the comments section, and let's talk!

More Like This