Created on
July 12, 2023
| Updated on
July 12, 2023
What Search Advertising Is, Why Use It, and the Latest Statistics
SEO Articles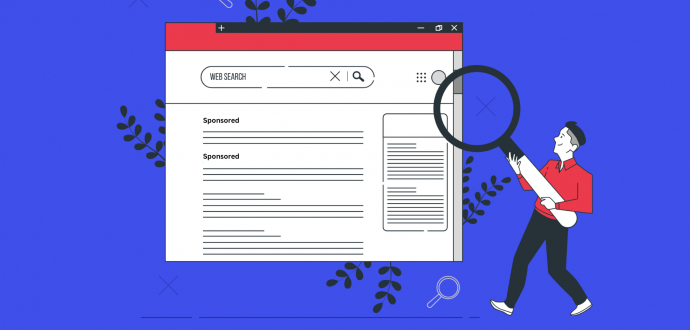 Billions of people use search engines to make online queries. Google holds the leadership with 91.9% of the search market.
We bet you also use Google to look for information, check facts, and do your job.
And, for sure, you cannot help but notice the sponsored sign next to some search results. And they are our today's topic. Search Advertising - what they are called - is a common thing right now.
Now, we'll talk more about search advertising, see what it can do for your business, and check where all this paid search is going.
Contents
What is Search Advertising?
Firstly, let's get to the main definitions. We call it search advertising, yet you can hear notions like search engine advertising (SEA) or paid search advertising. You need to know that all is one thing.
Search advertising is ads you can see above the organic search results on the search engine.
You can start a creative paid campaign and get better positions on SERP by paying a fee or bidding for your ads. This way, each time your target audience makes a query, your pages appear at the top of search results.
Paid campaigns have three main elements:
Headline.
Description.
Display URL.
Your goal is to ensure that the headline and description are informative, engaging, and true to the page content. The better and more attractive these elements are, the more chances you have to convert internet visitors.
Usually, search advertisements are text-based. Anyway, in some cases, they can appear in the form of images or videos.
Why should you use Search Advertising?
You often hear that you need to carry out search engine optimization activities. That said, you need to build links, take care of on-page elements, and so on. While this message stays true, it's clever to use all options to find your way to customers.
Given this, you can use paid ads for various reasons and fulfill different goals:
1. Reach for potential customers faster
SEO is an amazing practice. Yet, it's very time-consuming. An appreciable amount of time should pass before you see your pages climb higher on SERP. At the same time, SEA can put you on top when you need it.
Moreover, users won't need to scroll down the result page to find the fitting answers - the provided solution will be on top. So, you have an extra chance to engage users.
2. Attract quality leads
Search ads let you target exactly the customers you need. You can do this by using various keyword match types to capture the right users. Moreover, avoid customers that are not likely to convert by using negative keywords.
Accordingly, you can reach users that are likely to engage by fitting their search queries.
3. Match local searches
If you want to scale up your business locally, try setting up search ads alongside local SEO. Search engine advertising will help you reach local users making the interaction profitable for you.
Ensure your headline and description include the designated destination and describe your services or products.
4. Cater to shorter sale cycle needs
Do you have a landing page for a product, and do you know it has high conversion rates? And you don't need any extra remarketing?
Then fine-tuning search ads can be a solution for you.
5. Fit your limited budget (if any)
Paid ads allow you to control your advertising budget and track how it's spent. You can choose either pay-per-click (PPC) or pay per 1,000 impressions models.
When you are deeper into your paid ads track, you can optimize your campaigns to make them cost less.
As you can see, you get numerous benefits from using search engine advertising. As mentioned before, you can take attracting users to your website to a completely new level when combining SEA and SEO efforts.
Search Engine Advertising latest statistics
If you still doubt if search engine advertising is effective, let's take a look at some statistics. Lately, Statista has shared interesting data.
Search advertising spending
$279.30 billion is projected search ad spending in 2023. And by 2027, this number can reach a whopping $389.80 billion. So, you can clearly see that the ad market is growing, which confirms its efficiency.
Given the mobile-first switch, the paid search moved from desktop to mobile ads in terms of spending. Starting from 2021, marketing specialists tend to outlay more money on mobile search advertising.
This marketing approach continues to evolve as smart devices become more and more affordable. That said, access to the internet becomes easier, and the web acquires lots of new users daily.
But what countries actually spend on search advertising the most?
Statista reports that the top five countries spending from 2023 to 2027 will be:
USA
China
United Kingdom
Japan
Germany
So, if you target these markets expect higher competition and bids in the PPC model.
Anyway, even if we take a step back to see the bigger picture and compare ad spending in the USA, China, and Europe, the US will still outperform others. The USA has the biggest digital advertising marketing with $261 billion spent (which is more than one-third of the world's digital advertising spending). China's share is 24.8%, and Europe's is only 16.8%.
Yet, what industries spend more on paid advertising?
Here are the latest data presented by MillionInsights.
Unsurprisingly, retail takes more than 20% of the global search advertising market. Yet, other industries continue to invest in paid search which accelerates market growth.
Also, the report states that the high conversion rate of the ads supplies the industry's demand. But we think you can feel it by simply looking at search page results. In fact, the number of sponsored results palpably grew compared to previous years.
The industry spending the most on paid ads on search will be consumer goods. Its CAGR growth is projected to be 10.5% from 2021 to 2028. That's the highest score across all industries inspected.
Paid ads and users
The following statistics refer to user relations and interactions with search advertising (by Lunio.ai).
76% of online users who search for something nearby on a smartphone are likely to visit a business within one day.
33% of people click on search ads because it directly answers their search query.
50% of people landing on a retailer's site from paid ads are more likely to purchase than those from an organic link.
17% of marketers employ PPC ads for lead generation.
58% of millennials bought something thanks to an online or social media ad.
Pay-per-click visitors 50% more eagerly buy something than organic visitors.
As you can see, search advertising can bring you more qualitative leads or even users that are ready to buy straight away.
Conclusion
It's up to you what to choose - search ads or combine them with more tactics to run a full-scale SEM.
Anyway, search engine advertising can bring you effective results in a short amount of time. Also, based on statistics, you can expect direct sales when using paid advertising.
Don't forget to choose the right keywords for your campaign to fit users' search intent. Make your headline and description catchy to grasp the attention and convert customers.
Do you use search engine advertising? Or do you rely solely on SEO? Leave your answers in the comments section below.
More Like This