Created on
November 30, 2022
| Updated on
September 13, 2023
Link Building in 2023: What the Experts Say
SEO Articles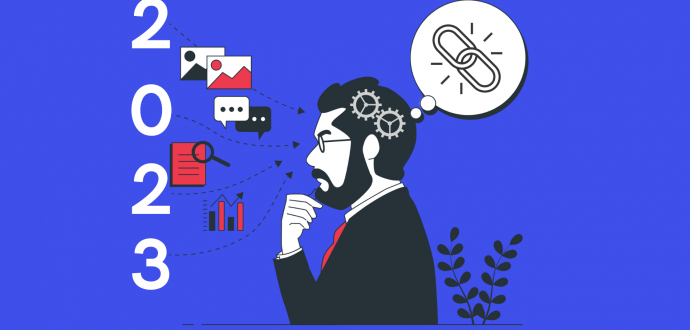 Links are staying among the main ranking factors for sites. In fact, Google's Senior Strategist Andrey Lipattsev said so in the Q&A a couple of years ago. And this statement stays true right now and will in the next years.
That's why site owners pay close attention to link building and acquiring quality backlinks. To help them in this uneasy task, Adsy has multiply covered link-building-related matters. So, to learn how to build links securely we advise you to check:
Yet, you need to understand that Google's algorithms change all the time. That requires your flexibility and readiness to fit the upcoming rules and requirements.
This time, we decided to check what SEO experts have to say about backlinks. We will share the best practices they recommend, their link building predictions for 2023, and share some valuable statistics.
Contents
Take Spam Score into account
John Mueller, a Google Search Advocate, has recently answered the link building question in terms of spam score.
Though 40% refers to the medium spam score, John still does not recommend building links from sites with this rate. Of course, you know that Spam Score is the metric to use to track the quality of backlinks.
By the way, when you build links with Adsy, you can adjust the Spam Score metric to easily find the most fitting donor sites.
Link building outperforms tech SEO
Martin MacDonald, a MOGmediaInc agency and BarbadosSEO conference founder, has reshared this tweet from John Mueller.
This proves the point that links serve as a vote of confidence for search engines or a kind of "social proof" for your site.
Though link building stays vital for search optimization, 41% of companies claim it to be the most challenging aspect of SEO.
You can ease your work and see nine link building strategies. This way, you can have the most effective tactics at your elbow and maximize the search engine's interest through links.
Redirect link building
When you ask for more actual link building techniques, we can't miss Sam Oh's (Ahrefs' VP of Marketing) advice. And it's called redirect link building.
Many of you have heard of broken link building but Sam offers a slightly different option. When you do this type of link acquisition, you reach out to site owners whose pages have 301 redirects. Mostly, that means the site links to the irrelevant page.
So, your goal is to offer to link to your site/article/landing page instead. Of course, it should relate to the initial page and provide value.
You can be successful with this technique. You will provide the site owner a link that will be close to the topic they cover, will make sense, and provide more context to their content.
So, that's a tactic to try in 2023.
Guest posting is still a thing
12% of SEO professionals say that guest posting provides the best link building results. Don't think this percentage is not too high. We are talking about top-notch results here. Of course, there is a variety of techniques but it's cool to know the most resultative ones to combine efficiently.
In fact, here's what Sandra Rios, the co-owner and director of client services at Buzz Agency has to say:
Guest blogging is a good way to get quality backlinks and show that you know a lot about a certain topic, I strongly suggest that you use it. This is a widely used tactic for boosting traffic and search engine results. Find blogs and news sites that are related to your field, popular with the people you want to reach, and willing to post your content in exchange for a backlink. Get your foot in the door by making contact with magazines in your field of expertise.
Sandra says very important to think about partnering with relevant sources. That will allow you to build weighty links that will not only influence your rank but also attract referral traffic to your site.
You can find 50+ categories on Adsy to place guest posts on the most related to your sources. Plus, there's no need to prepare a pitch - all the sites we have in the inventory are ready to publish guest content.
Try the reverse link building technique
That's what Brian Dean, an SEO mogul, and Backlinko founder, has to say about this tactic.
Reverse Outreach completely flips the script on outreach-based link building. Instead of reaching out to bloggers and journalists, you have them come to you. Specifically, you target keywords that bloggers and journalists search for. And create content that they WANT to link to.
So, the point is to guess what journalists are searching for and create articles that are interesting for both your audience and them. Though we say your content should still relate to your area of interest, journalists are whom you target in the first place.
Why this link building tactic with a twist is great? Well, if done correctly it has incredible potential. Brian says he built 5,660 links only in a month thanks to this technique.
Leverage link equity
Link building is not getting any easier. We do encourage you to try new tactics like reverse outreach (the one from the previous point). Yet, if your site is not well-established and authoritative like Brian's you won't get 5K+ links in a month.
That brings us to the conclusion - you shouldn't wait until someone links to your site. You need to take charge of building links. Yet, you need to consider some nuances.
That's what Venchito Tampon, the CEO of SharpRocket suggests.
Link equity is the value the linking source passes to your website. And search engines will base on this value to rank your site.
There are various metrics you can use to determine link equity. But the linking site quality will play the biggest role. Usually, professionals establish a site's class by parameters like DA. So, the higher the DA (closer to 100) the better the donor source is.
In 2023 we advise you to stick to one rule quality trumps quantity. With Adsy, you can quickly set the DA metric to find top-notch sites from your industry.
Put a bet on four link building techniques
The future of link building stands not only for the separate tactics alone. It's the way which strategies precisely you choose and how you combine them.
That's how Paddy Moogan, the CEO of Aira sees the future of link building.
1. Don't massively scale outreach
We are betting on content that doesn't need outreach in order to get links. Scaling link building harshly can be hard in terms of keeping quality. Growing outreach won't be the answer because you risk getting low-quality links.
2. Create content that ranks
Content that ranks for a certain type of keywords stands a good chance of getting natural links over time and not requiring outreach alone. That means blending link building with good old keyword research.
3. Question the relevancy of links
The best option, perhaps, is to keep balance. If you want as many links as possible, you're probably going to need to go fairly wide with the topics and themes of the content you create. If you'd prefer to stay really close to the brand, along with its products or services, that's totally fine and you can get links. But you can get a smaller pool of interested people who can link to you, so naturally, you get fewer links.
4. Think of your content
Often companies get into a trap where they create only link-worthy content, completely forgetting about the audience. Bet on the content that bridges this gap. This is where it's time to improve and do a better job for clients. Adding more value to their business than content that has purely been created for link building.
Conclusion
Is it possible to 100% predict link building rules for 2023? We'd lie if we say yes. Nevertheless, it's always a good idea to listen to what industry experts are saying.
So, to come prepared for 2023 take into account some new strategies you can employ. Don't forget to take care of the backlinks' quality. And, of course, remember that guest posting continues to be a powerful link building tool.
More Like This