Created on
November 16, 2022
| Updated on
September 13, 2023
7 Types of Bad Backlinks to Get Rid of
SEO Articles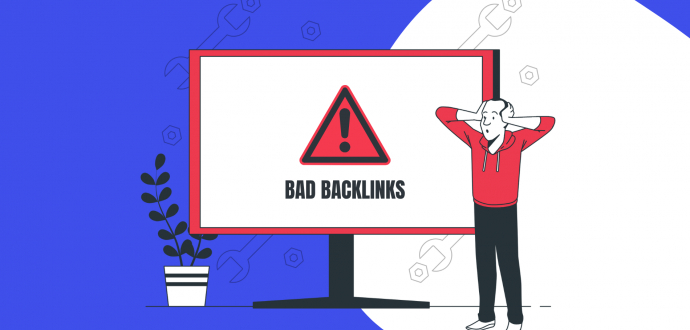 Every site owner seeks to find qualitative backlinks to ensure it ranks high on SERP. Of course, getting links is not always easy. In fact, 41% of businesses claim link building to be the most challenging aspect of SEO.
Nevertheless, you or your specialists do your best to build a strong backlink profile.
Yet, we are sorry to say that some links can spoil your effort. Yes, not all backlinks are equal. Some of them might be pointless. But what's worse some of them can even harm your site.
We don't want you to end up in a situation like this. That's why we gathered seven main types of bad backlinks.
Contents
Some types of bad backlinks
There are various approaches to link building. Moreover, we covered safe ways of getting backlinks. It's the guarantee of your success online.
But there are definitely strategies that lead you to build bad backlinks. Here are seven types of links your site does not need.
1. Links from link networks
There are links that can kill your SEO. And link networks fall under this statement.
These networks' principles base on link manipulation. So, these backlinks won't give any value to users or search engines. Putting links between sites without any relevancy won't do any good for your source.
This type of manipulation was widespread in 2000-s and then in 2010-s. To fight this link building approach Google introduced Panda and Penguin.
So, linking from pages with poor content or just irrelevant links will not help your site to grow. Vice versa, you risk getting under the penalties. And this will cast your site away on SERP and cause organic traffic to decrease.
We understand that sometimes you need to establish links between some sites. Just do not go overboard and add the nofollow attribute to these links.
2. Sitewide links
Back when search engines cared more about link quantity, sitewide links were helpful. These types of links were easy to get (and what's notable in a big quantity).
That's why many site owners started making ways for other websites to backlink to their sources quickly and easily. This was also a manipulative way of getting higher on SERP.
After Penguin's introduction and its following updates, this black hat technique became obsolete. So, all sites that actively used it lost their positions.
Once again, now search engines are looking for natural and relevant backlinks. So, you shouldn't put your bet on this kind of link and build only them.
Of course, sometimes sitewide links can be relevant. For example, links identifying a site's designer or development company, or privacy policy links are okay. They won't cause any problems for you. Anyway, Google pays very little attention to links that you place in sidebars, headers, or footers of your website.
3. Links from blog comments
If you run a blog, you probably noticed dozens of comments with links. Did a person that posted a comment get a link to their site? Yes. But should you copy this strategy? We highly doubt this.
In fact, SEO specialists used this tactic so harshly in the early 2000-s that search engines introduced a nofollow attribute. Google introduced a nofollow tag in 2005. Its goal was to help site owners to fight spammy comments.
That helped site owners to show search engines that they do not endorse these links.
This way, if you find articles recommending building backlinks like this, just check their issue date. Most probably they are old as no modern post will recommend using this technique. Moreover, blog commenting is useless for link building nowadays.
4. Directory links
Using web directories was a norm for SEO specialists. Basically, directories were actually the early-stage internet.
The site, rated there, could sell advertising space or boost specific results in exchange for a fee. But the number of sites grew. So, it was hard to detect which sites were worthy and browse through numerous categories.
Once again, search engines become smarter and smarter. Their goal is to provide value to internet users. And directories do not provide that much value.
Moreover, sleeky professionals automated some processes to build more links at once. And more automation only brought more spam with it. Of course, search engines noticed this.
So, the goal of engines was to penalize users who tried to employ directories as a fast way to high rankings on SERP.
Besides, directories are history now. So, no one consistently manages them. We doubt that any of your efforts there can be efficient.
On top of that, too many links placed on the web directories will lead only to one thing - penalties.
5. Links with over-optimized anchor texts
Earlier we covered the topic of anchor text. When used correctly, it only benefits your ranks. But there are situations where anchor text can lead to undesirable situations.
If you have too many optimized anchor texts it won't any good. Let's imagine you sell plants. Over half of your backlinks have anchor text that is "evergreen plants." Sure thing it does show what your site is about. But do you know what a search engine will actually see?
For search engines, it is nothing but spam. They also consider these texts as manipulations and try to hack the system.
Instead, try to balance your anchor texts. It should be still a keyword you want to rank for, yet, rarefy it with relevant terms, naked anchor text, exact match, branded anchors, and so on. You can also use generic texts (like "read more," "click here," etc.)
6. Links within lousy or duplicate texts
As we mentioned in the previous abstract the text to which the link is attached plays a huge role too.
The sites webmasters create for link exchange won't have any qualitative texts. Moreover, most probably they won't hold any relevant content that search engines assume valuable.
Some might wish to trick the system by creating sites with appropriate content and fitting subject. Yet, search engines quickly understand these manipulations. This way, if your site has many backlinks from alike sources, it risks dropping the ranks dramatically.
7. Links from locations unrelated to yours
The backlinks you build can be relatively qualitative. But if all of them come from the wrong locations, they won't benefit your site.
This especially matters if you run a local business. For instance, if you sell plants in Delaware, it will be suspicious to have 80% of your links coming from, let's say, India.
So, if you concentrate on a specific service area, ensure you build links within your country, specifically from your state and city.
Getting rid of bad backlinks
Now, as you know what links to avoid, we hope you won't build them. Yet, it's always a worthy idea to check the older links you built.
Most possibly, you will find bad links that could possibly harm your rank. Right now we will tell you how to get rid of them.
Collect your backlink data. Use a backlink checker of your choice to see who links to you. Form the list and download it in CSV format.
Detect harmful backlinks. Then you should manually check the links based on various parameters (DA, Spam Score, etc.). Moz provides an awesome guide on this.
Remove bad links. In most cases, link removal means contacting the website owner and politely asking to remove the link. If this doesn't work, you can disavow the unwanted link.
Conclusion
Building backlinks continues to be essential for every site owner. No matter how Google's algorithms change, backlinks and their quality and relevancy continue to be contributing factors to the site's success.
We want you to forget the practices you might use in early 2010-s. Both users and search engines are getting smarter. So do not try to climb to the top of the search engine using shady techniques.
Use this list of bad links to avoid them while building your backlink profile. Use white hat techniques to help your site rise higher and higher on SERP.
More Like This