Created on
March 24, 2021
| Updated on
September 29, 2023
5 Link Building Myths of 2023 Debunked
SEO Articles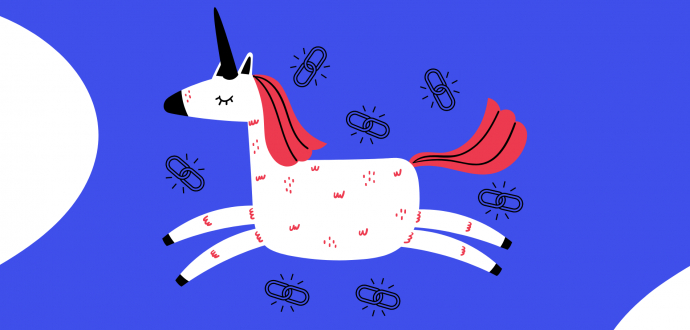 SEO myths have always been there. Search engines have never shared their algorithms. So, link building (as part of SEO efforts) is also shrouded in secrets.
Often, alongside successful strategies, businesses use some questionable ones. That, for sure, may destroy the achievements they had before. Yet, why does this happen?
Well, some business owners may have a lack of knowledge in the link-building field. Some may use tactics that have no longer working. Yet, sometimes even hired SEOs may spoil your road to Google's top 10.
That's why today, we'd like to talk about five link-building myths of 2023.
Keep reading to learn what techniques you should avoid and which ones are effective.
Contents
1. Links don't help you rank
Well, it's hilarious to expect that someone hopes to get a great SEO effect without building links.
According to Google, requests in the Webmaster Help about quality link-building remain among the most popular ones. Quick Sprout also reports that links account for 30% of the ranking algorithm.
That leads us to the conclusion that links are vital.
Many experts share that getting quality links from relevant and authoritative sources upgrades your site's rank. So, your goal is to ensure you have a solid backlink profile.
Moreover, the latest research from the uSERP says that 67.5% of SEO professionals think that backlinks have a big impact on rankings.

---
---
Nevertheless, do not forget that backlinks are not the only factor that influences positions. Accordingly, work also on content quality, on-page SEO, and site optimization, etc.
2. You need only high DA links
Many beginner SEOs think they need only high DA links.
That's another myth we want to debunk.
Yet, don't start acquiring whatever available links. You still should account for various metrics to avoid filling your profile with spammy links.
In fact, 56.2% of SEO specialists think that both quality and quantity matter.

For instance, low DA doesn't always mean that the site is not qualitative. It might be just newly launched. So, you can check the site or domain age. If you see that this source is relevant to yours and provides quality content, you can work with it.
Also, if you run a very niche website, the sources you'll target won't have too high domain authority. But that's just the particularities of your operating niche.
Site relevancy might play the main role here. As backlinks signal search engines that the site is worth trusting and relevant to a certain industry or niche, don't skip smaller sites.
All in all, remember that you need to have a balanced backlink profile. As such, acquire DA90 links as well as DA15 or DA45 ones.

3. Links are the main (if not only) ranking factor
Well, we've written that links help sites rank better. But are they the core ranking factor?
That's highly questionable.
In fact, Google uses hundreds (or maybe thousands) of factors to rank pages. It uses various algorithms to return query results to users.
Yet, according to the Backlinko study, sites that show up first on SERP have an average of 3.8x more backlinks than those in the second to ten positions.
So, are we lying?
Well, that looks more like something that Ahrefs names a "vicious circle of SEO." That's when top-ranking pages tend to get more and more links. And that's mostly because they are on the first position or SERP page.
But commonly, there are lots more factors that Google will check. So, bend your fingers, as search engines also check for:
content quality,
query intent,
load speed,
user's experience.
And the list goes on. This way, you should count various factors to get a better ranking. (For instance, 47.5% of SEO specialists give equal priority to building backlinks and creating content.)

Still, should you forget about building links? Of course, no.
4. You should use the exact match anchor for link building
Myths appear because some tactics have worked once. But this doesn't mean they are effective for everyone or practical nowadays.
That relates to the exact match anchor.
At SEO's prime, using exact match anchors for backlinks was a tactic to put you ahead of the competition. Yet, keyword stuffing was popular also.
So, does it mean you should pursue this technique nowadays? No!
If Google's robots notice that your backlink profile consists only of such links, wait for penalties to come. This way, such a profile looks spammy.
As always, remember about the balance. Use exact match anchors with partial, phrase match, and other variations. More often, the link's quality will play a bigger role here.

5. Guest posting is dead
There have been some Google myths as well. And guest posting belongs here.
Anyway, some things were reconsidered.
So, no worries. Guest posting is effective! Firstly, it goes about building links. This way, you can get a link from a relevant source, and that is in content. And search engine values those links.
As it looks pretty natural, comes from trustworthy sites, you won't experience any penalties.
On the other hand, guest posting is more than just links. It also:
shows your expertise,
grows brand awareness,
gets you referral traffic.
Respectively, guest posting is much alive. And it's also multipurpose. So, it's never a bad idea to use it for link-building purposes.
Conclusion
The SEO industry (like many others) has lots of myths. And they have to be debunked.
Some of them popped out of nowhere, and some just got outdated. You may ask: "But how do I know this?"
Sure thing, we get that Google's algorithms may change often. Sometimes, it's even hard to understand what metrics they use.
This article will save you from some major SEO myths.
Yet, we recommend you keep an eye on top SEO publications to catch the latest link-building news. Following Google's top managers on Twitter is also a worthy idea.
Tell us more about link building myths you've experienced. Write them in the comments down below, and let's discuss them!

More Like This