Created on
November 10, 2022
| Updated on
November 8, 2023
5 Steps to Brand Visibility during the Holiday Season
Content Marketing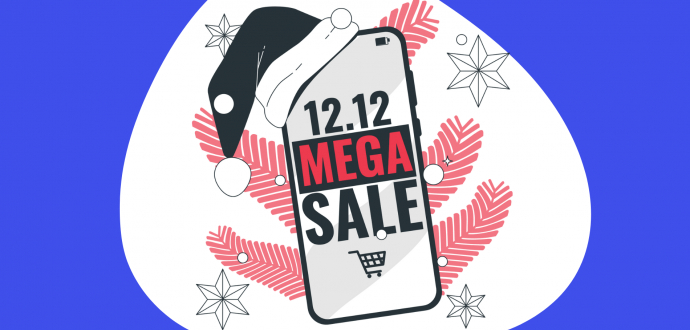 The holiday season is a perfect time for brands to build stronger relations with existing customers and attract new ones.
For instance, holiday retail sales are expected to reach $1.3 trillion, a 3.3% increase over the last year. And that's in the US only! So, you can imagine the overall buzz during the holiday season.
Of course, opportunities that holidays bring to your brand also bring tough competition.
Yet, you always have a chance to shine. We will share five steps to brand visibility during the holiday season.
Contents
A few words about the brand awareness
Before going straight to tactics, you can use to be more visible, let's sort out some basics.
Firstly, a band is more than just a firm. A brand is a business and marketing concept that helps people identify a particular company, product, or individual.
So, you can call your company a brand if customers can easily identify you and stand you out from the crowd. (By the way, earlier, we shared six steps to creating a brand.)
Brand awareness, in turn, is building brand recognition, recall, and remembrance.
This way, awareness goes beyond buyer personas knowing about your company. The fact that the target audience knows your logo and name is not enough.
The point is to ensure that customers know about your values, what you stand for, and what you have to offer.
The holiday season can be a perfect time to get as many users as possible acquainted with your brand. And here are five tactics you can use to be noticed.
1. Put creative approach first

Of course, holiday marketing campaigns should differ from day-to-day ones. It's your chance to think outside the box.
Being creative applies to your organic and paid channels. Harvard Business Review found out that "a euro invested in a highly creative ad campaign had nearly double the sales impact of a euro spent on a noncreative campaign."
So, if you saved something non-typical for your marketing campaigns, it's high time you used it. Nevertheless, no matter how creative your holiday campaign is, it should be relevant to your audience.
Something that can outline your campaign is:
Uniqueness,
Difference,
Interest,
Relevance.
Without a doubt, your ad, post, articles, etc., should be appealing and bring out emotions. The goal is to make people remember your campaign and come back to it. Moreover, it would be great to make your content unusual, catchy, and extraordinary so that your audience shares it.
2. Share your brand values
A brand is a company easily recognized by users and also known for its values and position. The holiday season is the right time to strengthen these signals.
So, make your holiday campaign more than just offering deep discounts to your customers. Try to connect with them and tell a story.
This way, you can tell more about your brand, its history, values, goals, whatsoever. Tell more about people that work in your company and how they celebrate the upcoming holidays. Don't be afraid to show the human side of your brand.
Sharing heartwarming and honest stories or moments will help you build stronger relationships with the audience. And having loyal and returning customers is often much better than attracting new but one-time buyers.
3. Choose an omnichannel approach
Delivering your content via one channel can palpably cut your reach and conversions. Instead, we advise using an omnichannel approach.
Vice versa, when you use different platforms to connect with your customers, you can grow reach and loyalty and improve communication. Did you know that 40% of the younger generation don't use Google Search or Maps to find things like restaurants? Instead, they head to Instagram or TikTok and utilize them like search engines!
That's why be smart when building your holiday marketing strategy. To serve your customers' needs as well as possible, you need to know them perfectly. That's because different generations prefer different means of communication. So, you need to spread campaigns where they have more chances to be seen, clicked, and converted.
The choice here is huge.
Your website. Customers who know you will go straight to your website. So, make sure you spiced up your design according to the current holiday. Also, ensure that users can easily find all the running offers. Moreover, you can encourage people to share your site in return for special bonuses.
Social media. Socials, perhaps, are the best option to make your brand visible. It's a great way to engage with existing customers and attract new ones. Of course, choose social media platforms where you are most likely to reach your target audience. Combine organic and paid efforts to get the maximum effect.
Email marketing. This channel is excellent for keeping your existing customers informed about your latest offers. On top of that, email marketing can offer another benefit. You can convert subscribers who haven't made any purchases yet. Email campaigns can also influence users' shopping habits or decisions. All thanks to the email subject lines.
You should also check this article to learn more about holiday marketing and getting inspiration from popular brands.
via Hubspot

4. Create themed content
Logically, you should refrain from creating generic content during the holiday season. Everything you produce should be aligned with the current event. And this is essential from the user and search engine point of view.
Firstly, a search engine's goal is to supply people with relevant and valuable content. That means you need to optimize your content for the running events. Use the most appropriate keywords and start your campaigns at the right time.
For instance, searches for the term "Halloween" are not too popular from August to mid-September (according to Google Trends). Interest over time normally doesn't outrange the 25 scores. Yet, starting from September 13th, the trend kept growing and reached the 100 scores on October 15th.
Of course, if you run campaigns on your website via special landing pages or blogs, it's better to start early. Search engines still need time to crawl your pages.
Start a few weeks or a week earlier if you plan to grow your visibility over social media or email marketing.
5. Take care of the community
Did you know that 82% of users stated that they purchase from brands that serve a greater purpose? But that's not all. 76% of shoppers say the brands they buy make the world a better place.
Finding your mission is a challenging task, we get it. But being a socially active company is truly essential right now.
Think of how you can contribute to the community. Are there pet shelters seeking help? Maybe, some senior people need assistance? Or you can always pick a charity and donate there.
Of course, this help should be continuous and consistent. It shouldn't be a holiday period show-off.
Nevertheless, holidays like Thanksgiving or Christmas are a good chance to share this part of a brand story. Tell your customers about how you help. Connect with them on the emotional level - often, it works much better than a routine discount.
Conclusion
There is a variety of options when it comes to keeping your brand visible during the holiday season.
The point is to choose what works better for you. We would recommend selecting some options to show your brand from different angles.
Remember that often customers do not buy after one interaction with a company. So, you need to work on brand awareness growth. And the holiday season can be your chance to nail down a success.
More Like This