Created on
November 8, 2023
| Updated on
November 8, 2023
5 Content Marketing Ideas for the Holiday Season in 2023
Content Marketing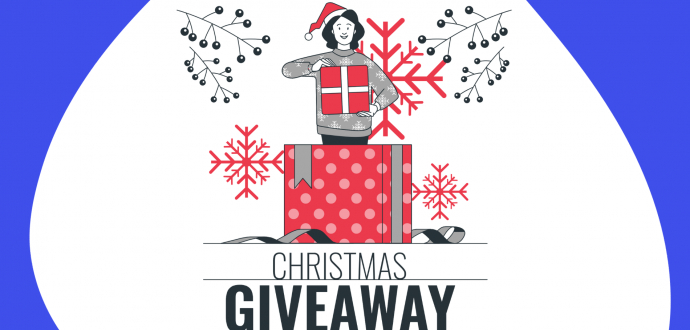 Content marketing aims at the creation and distribution of content that sparks interest in a brand. And the holiday season is a great time to do something mind-blowing, bright, and catchy.
But there are so many ideas you could put your belief in. What should you choose? What strategy is better to employ?
If you know your target audience well enough, then you are aware of its generation's belonging, favorite social media, and so on. You can make many choices based on this.
Nevertheless, we've gathered five content marketing ideas you can use to increase engagement and attract new customers during the 2023 holiday season.
Contents
1. Gift guides and product recommendations
Earlier, we mentioned that guides are one of the best-working content formats. So, why not apply this type to meet festive needs?
We suggest writing holiday-themed gift guides and product recommendations that fit your target audience's needs.
Make popular items, unique gifts, and bundles that match the holiday vibe pop out. You can offer kitchen gadgets, recipe books, or even hosting tips for Thanksgiving. Think of telling about gift ideas for different categories like gadgets, fashion, home decor, or toys for Christmas.
For instance, take a look at the famous American multinational retail corporation Walmart. Its main window is fully dedicated to Thanksgiving. Shoppers can easily access top recipes, dinnerware, holiday-special turkey fryers, and lots more.
Take into account that each segment card clearly shows what's inside.
A luxury clothing seller - Saks Fifth Avenue, gets its clients ready in style. Shoppers can discover holiday party collections as well as discover heartwarming Christmas gifts. Though the page design is moderate, it's still clear that the store lets buyers easily reach Christmas shopping categories.
2. Festive content and decorations
For years, people have been decorating their homes for holidays. In the tech era, people decorate websites, too.
Give a refreshed look to your website and social media profiles. Add festive banners, images, and colors to set the holiday mood. That will show the human side of your business and that you also care.
Moreover, don't forget to create holiday-themed content. The choice is yours: blog posts, videos, shorts, or stories that cover DIY decoration ideas, holiday recipes, sales, and tips for worryless holiday preparation.
This can not only engage your audience but also add value. You can grow your sales, make clients more loyal, and simply set the festive mood.
For example, the famous clothing brand American Eagle makes its Instagram account Christmas-ready. It shares the upcoming holiday collection as well as drops some funny and relatable memes.
Build-a-Bear - an American stuffed toys retailer, is Christmas-ready. If you take a look at its site, you'll notice that 90% of banners on the site are dedicated to Xmas. Moreover, the company has highlighted the holiday category by making the "Christmas" sign multicolor.
3. User-generated content and contests
UGC (user-generated content) is a perfect tool that makes you closer to your customers. It's a tactic you can use year-round. Yet, it can be on the front burner during the holiday season.
You can encourage your clients to share their festive experiences. Of course, your products or services should be involved.
Then, you can run a contest where winners can get special prizes in the form of discounts, freebies, gift cards, etc. Create special guides and conditions for your holiday championship and share the best applicants on your account and website.
It's a terrific way to build a sense of community and trust among your consumers.
For instance, E.l.f. cosmetics is always happy to share incredible makeup from its community on its official Instagram page. That's what they did during the Halloween period.
L.L.Bean, an American outdoor apparel and home items company, runs a "12 Days of Giving" campaign. When the holiday season comes, the brand encourages followers to share photos of their outdoor adventures, family traditions, or winter merriment with the hashtag #LLBeanContest. The company then features some submissions to let followers win gift cards or outdoor gear.
4. Email marketing campaigns
Another amazing tactic to engage your audience during the holiday period is email marketing. The most widely used tactics are offering discounts, announcing sales, directing customers to certain categories or goods, and so on.
Also, email marketing is an excellent opportunity to grow a customer base. How? You can offer early access to some promotions exclusively to email subscribers. So, this will be a worthy reason to subscribe to your email newsletter.
But generally, email marketing gives you a lot of space for creativity. You can share stories of your company and employees to make your brand feel more real. You can tell subscribers stories of fellow buyers to show your deep connection with the audience. And the list goes on.
For example, another famous apparel brand, J. Crew, spoiled its subscribers with a special deal email for 12 days of Christmas.
Puma, a famous sportswear and gear retailer, sends a smart holiday email. What's cool, shoppers can enjoy free overnight shipping - a great chance to get all gifts delivered timely. Moreover, buyers can jump straight to festive deals. Additionally, everyone can get awesome ideas for Xmas gifts.
5. Social media challenges and hashtags
Do you seek even more engagement with your audience? Gladly, social media lets you easily do this.
Our advice is to make a holiday-themed contest where everyone can participate. You can track all the submissions by creating special hashtags. For example, it can be #YourBrand12DaysofChristmas, #ThanksgivingDecorYourBrand, and so on.
And who doesn't like a good challenge? This way, you encourage your customers to be more active. They could share pictures or videos where they meet some of your contest's requirements.
Moreover, ask them not only to use special hashtags but also to mention your account in posts or stories. Accordingly, you can grow your brand awareness and develop your social media account.
For example, Lush Cosmetics holds a great contest yearly. The brand asks followers to share their Lush-themed festive content under the #LushChristmas hashtag. Winners get Lush gift sets and other festive goodies.
The home of Santa's scout elves - Elf on the Shelf - encourages followers to share their photos under the #elfontheshelfchallenge hashtag. Later, the company can feature your picture on its official Instagram account.
Conclusion
The holiday season is a wonderful time to build more loyal relationships with your audience.
It gives you lots of space for creativity and channels you can use. As you can see, you can boost interactions and sales by employing your website, blog, and social media accounts.
One thing you should remember is to plan your content marketing strategy in advance. Also, align it with your overall marketing goals for the holiday season. This will help you make the most of this festive season and connect with your audience meaningfully.
More Like This