Created on
March 22, 2023
| Updated on
March 22, 2023
GPT-4: What It Is and What It Will Do
Content Marketing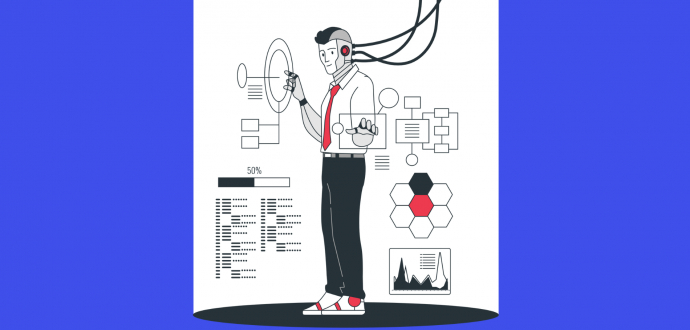 No sooner had we written about ChatGPT based on the GPT-3 than OpenAI released the new version of its large multimodal model called GPT-4.
Like in the case of its predecessor, GPT-4 has become a viral topic. So, we can't help ourselves but talk about it.
Many professionals and enthusiasts from various industries have tried and tested it. We try to explain everything and showcase some results GPT-4 can deliver. As usual, we will concentrate on writing part of the deal.
So, buckle up and take a ride with us to one of the best smart tools on the market.
Contents
What is GPT-4?

First things first, let's write out this popular abbreviation. GPT stands for Generative Pre-trained Transformer. And number four represents the transformer's version. Pretty clear hear.

But what is GPT-4?

GPT-4 is a large multimodal model capable of human-level performance in different academic and professional fields. This model is able to accept text and image inputs and return text outputs. Though performing on the near-human level, GPT-4 still can't handle some real-life scenarios.

The creation of GPT-4 represents the OpenAI desire to boost deep learning. The OpenAI team spent half a year fine-tuning GPT-4 by employing examples from its adversarial testing program and also ChatGPT.

The testing and training part took time but OpenAI's CEO Sam Altman showed his excitement in his tweet.

GPT-4 has shown impressive results in factuality, steerability, and rejection to go outside of guardrails. Anyway, this LLM requires further improvement even though it's the most perfect piece for now.

Despite limitations, GPT-4 seems to have palpable improvements. That definitely opens a wider opportunity for its application. And a short presentation video confirms our judgments.

What parameters does GPT-4 have?

And now let's move to GPT-4 parameters. The training process is the most vital step here as it influences the whole work of this model.

GPT-4 was trained to make a forecast about the next word in the document and utilize publicly available data. But that's, eventually, how previous models (GPT-3 or GPT-3.5) were trained.

Respectively, the model can answer a large number of questions based on internet data or information licensed by OpenAI. Yet, the model's replies to some questions might be far from user intent. To improve this situation the developers use reinforcement learning with human feedback (RLHF).

GPT-4 developers pay close attention to predictable model scaling. That's why they've built a deep learning stack to boost predictability. So, the team created an infrastructure and optimization with a very predictable bearing across multiple scales.

OpenAI gives access to their research and shows the process of predictable scaling (find this section by scrolling down the page).

Besides, RLHF training allows for decreasing harmful outputs. The new version of the model is taught to decline detrimental requests. Of course, you might wonder how does GPT-4 differentiate 'normal' and 'harmful' inputs?

OpenAI compiles a wide range of data from different sources. Additionally, it employs the safety reward signal (including a positive or negative value) on allowed as well as disallowed categories.

Many users also seem to wonder if GPT-4 is open-source. Sam Altman said "we are open-sourcing OpenAI Evals, our framework for automated evaluation of AI model performance, to allow anyone to help improve our models" via Twitter.

Besides, your company can join the API waitlist.

How to use GPT-4.

Anyone can use GPT-4 since its release date is on the 14th of March 2023. It's available via ChatGPT Plus which is a paid subscription ($20 per month).

Subscribers will be able to access GPT-4 with a usage cap. OpenAI will calibrate the usage cap based on demand practical system performance. This way, OpenAI can create another subscription time to cover demand in a larger scale of requests.

Yet, the company also considers creating a free version for a limited number of GPT-4 inputs.

What can GPT-4 do?

Now, let's move to the examples of GPT-4 use. As always, we are curious about how it assists with content creation.

OpenAI itself claims that the new version of the smart model is more creative. That's why users can collaborate with GPT-4 to compose technical or creative tasks. Now the chatbot can adopt your writing style, craft songs, or write screenplays.

Moreover, GPT-4 can process 25,000+ words of text. This way, users can expect more qualitative long-form content creation. Also, the system can handle longer documents before giving the output.

Besides, OpenAI shares examples of well-established companies that use GPT-4 to optimize their processes.

Morgan Stanley uses GPT-4 to optimize its vast knowledge base and quickly help users by providing relevant information in the chatbot. Stripe employs GPT-4 to review sites and make reports about them (and the model performed better than humans during the testing period).

But there are lots of stories and examples shared by users via Twitter. So, let's review them as well.

Some users employ the model to write an "About" section on LinkedIn and change the way recruiters approach potential candidates.

GPT-4 can review and evaluate academic works. Ethan Mollick input his old academic paper and asked the model to give feedback. Results? GPT-4 gave back a reasonable review.

In some cases, GPT-4 can define the authorship of content pieces. Mike Conover asked the model to identify an author based on the short passage.

Do you want to write content about a famous person? GPT-4 can help you quickly find quotes, pieces of advice, etc. from the chosen person. For example, Michael Houck asked the model to collect the top ten pieces of advice from OpenAI's CEO Sam Altman.

Some users build programs based on GPT-4 and give access to users. Victor Ciorangan created six prompts that will help to write 30 Twitter posts in approximately five minutes.

Conclusion.

Well, no more questions about how good will GPT-4 be. Real-life examples show that it is capable of many tasks. From transforming a sketch of a website into a working site or writing a book, this large multimodal model does a lot.

That leads many professionals to a logical question - will AI replace humans?

Though we're seeing impressive results, GPT-4 is not perfect with OpenAI developers confirming limitations to the model. There is still space to train and develop this system.
More Like This