Created on
December 7, 2022
| Updated on
September 13, 2023
Top 11 SEO Article Writing Tools for 2023
SEO Articles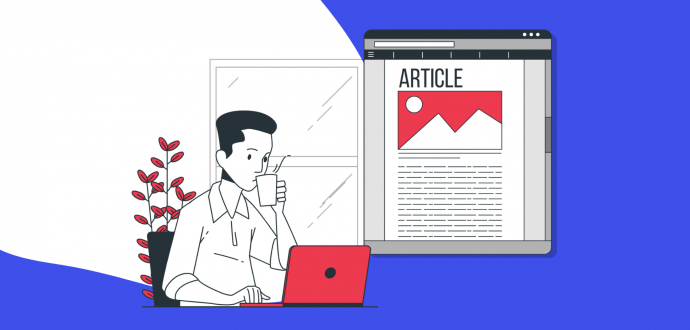 Monthly 1,385,000 new articles appear on the internet. The number is impressive. Of course, not all of them will belong to your industry or the keywords you try to rank for.
Still, this doesn't mean you don't need to put effort into article creation.
SEO article writing is exactly an approach that will help you stand out from the competition. It ensures your post has everything it takes to rank high and bring traffic.
Today we want to share 11 SEO article writing tools that will allow you to compose your articles easier and more efficiently.
Contents
What is SEO article writing?
Before jumping straight to the tools, let's get some definitions clear. How will article writing for SEO differ from just making a text?
SEO article writing is content creation with the goal to increase the site's organic visibility and SERP rankings.
Unlike traditional copywriting where writers think about product presentation first, the goal of SEO writing is broader. Hence, this kind of content creation keeps user needs and SEO results in mind.
Of course, when writing texts for your site, you need to set measurable goals to evaluate the content you create. For SEO writing, it can be, for sure, SERP position, organic traffic, but also click-through rate, conversion rate, and so on.
As this kind of writing requires extra effort, it's a worthy idea to use extra help. So, check the tools that will assist you during this process.
1. Ahrefs
The trend of the last few years is thinking about what customers need first. We are no longer going to the keyword stuffing techniques. Yet, to rank for certain queries your articles should group around a specific keyword.
And Ahrefs is exactly the tool that will help you look for those keywords without any complications.
You will give detailed information about each word - from its difficulty to volume or clicks. Moreover, Ahrefs provides an in-depth guide on how to find correct keywords.
2. Similarweb
Of course, you have alternative SEO software when it comes to keyword research. This way, you can use Similarweb for this purpose.
It's another powerful tool that will show you the traffic share per keyword and the freshest data. Also, you can benchmark your keywords against your industry to ensure that you hop on top of sector keyword trends and never miss an opportunity.
Besides, you can get really great suggestions to enrich your content and meet a wider audience. You can do this with the keyword generator, gap, and seasonability.
3. Semrush
And here comes the third qualitative keyword research option you have. With Semrush you can look for your desired keyword and get the best-fitting suggestions to create all-up content.
This tool has a very convenient filtering system so you can organize keywords by word count, search volume, or keyword difficulty. There's even the searcher intent metric that we find just awesome.
Semrush also allows you to create a keyword gap analysis. This way, you know what opportunities you are missing.
4. Answer the Public
As we now know SEO article writing is content creation with search engines and people in mind. Let's talk about the tool that will help you with the second part of the equation.
Answer the Public is a free SEO article writing software that will offer you dozens of ideas. All you have to do is write a word or two that refers to your chosen topic. For more precise results, don't forget to choose the country and language.
This tool will instantly give out various queries people are looking for. Moreover, you will see loads of ready topics grouped around your keyword. The ready themes come in the form of questions (e.g., why, where, when), or statements (e.g., can, versus).
5. Grammarly
This tool doesn't require an additional introduction. Anyone working in content marketing already knows it. For sure, the primary goal of it is to check our grammar. That is, of course, vital as we don't want to lose people because of typos and errors.
But we suggest looking at other options and functions it offers. Do you remember we mentioned you need to write for people? That means you need to know the particularities of your audience.
With Grammarly's help, you can arrange your tone, delivery, and clarity. This way, you can get suggestions on how to sound more official or polite. Or, you will get recommendations on how to make your texts more informative or persuasive.
6. Frase
The upcoming 2023 is a great time to use technologies to write better SEO articles. Frase is an AI-powered writing tool that will help you produce top-tier content spending less time.
This tool analyzes top results for certain queries. Based on them, Frase can create content for you. Yet, our goal here is to make your own custom templates aimed at your needs. Accordingly, you instantly get a basis for your future article.
On top of this, Frase can help you generate a blog introduction! All you need to do is enter a blog title and the software will automatically create a solid introduction. Of course, you can edit it to 100% fit your target audience and article goal.
7. Clearscope
Yes, content production is often not easy. So, we have to offer another AI-driven article writing software. And, as one of the Clearscope clients says it "is an amazing tool to streamline what happens in content and SEO."
This tool promises to help you make your content not only qualitative but also highly relevant. As such you can keep your clients spending more time reading your articles and growing their loyalty.
Clearscope allows you to create content briefs and outlines. Moreover, it offers a text editor option so that your texts are grammatically correct and have high readability. On top of that, Clearscope has a Google Docs add-on and a WordPress plugin.
8. MarketMuse
SEO article writing goes around creating awesome content for engines and people. This way, the topics you pick play a huge role too. MarketMuse automates content and topic research to help you prioritize impactful content.
The software will audit content across your industry and tell you about its authority and quality. This way, you'll know what themes have more potential.
With MarketMuse you can write as a professional. It's possible thanks to content briefs and suggestions the tool will offer you. It will help you to cover the chosen topic more in-depth and answer the right questions.
9. Headline Analyzer by CoSchedule
Headlines are a huge part of your article's success. That's why you need to take good care of them. And CoSchedule can help you do this. You only need to insert your headline to get started.
After this, you need to create an account or log in to get the full info. As soon as do this, you receive an in-depth analysis of your headline. The software will evaluate it based on different metrics.
As we are talking about the article writing software for SEO, here's a special option for this too! Switch to the SEO Score tab to learn more about your headline's performance.
10. Cliche Finder
This is a basic-looking tool, yet it will help to brush up on your text. It's free to use with a limit of 10,000 characters.
All you have to do is paste your text into a special box and click the "Find Cliches" button. The program will highlight all the cliche phrases so that you can fix them. So, you can quickly get rid of words or phrases that are overused.
The software will analyze your text and suggest loads of synonyms in order to make your writing more diverse. Thanks to it you can save your time and concentrate on other essential things for SEO article writing.
11. Thesaurus
And, finally, let's concentrate on the word choice. There is a whole tool for this goal. Start by typing the word or phrase of your choice.
Thesaurus will then suggest fitting options you can utilize instead of your primary choice. There's a cool feature that we like. You can write a sentence with a word you want to change, and see how it looks with available synonyms.
Also, you will see when to use the word or phrase and examples of its usage in books, magazines, etc.
Conclusion
Apparently, some texts require an all-round approach. That's when SEO article writing tools come in handy. They ensure you write top-notch content without spending ages on its creation.
As SEO article writing pros include better ranking on SERP, better engagement level, and higher conversion rate, you need to shoot your shot! Use this list of tools to master greater content and outperform your competitors.
Do you use article writing tools when creating content? Do you use precisely SEO writing approach and successful it is? Leave your comments down below!
More Like This