Created on
March 29, 2023
| Updated on
April 5, 2023
How to Market Generation Z in 2023
Content Marketing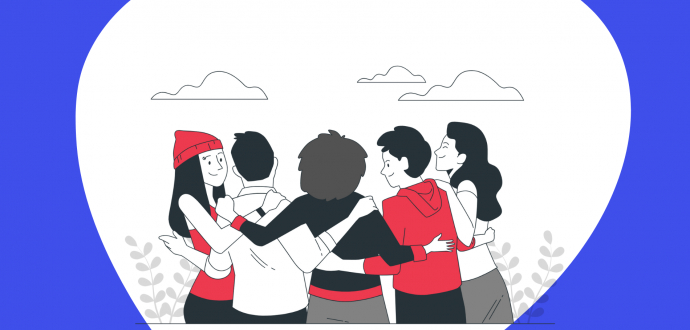 Gen Z - the generation born between 1997 and 2012 - will soon be one of the largest cohorts of consumers. It's highly likely that in some time (or maybe now) your brand has exactly this generation to target.
Though centennials have similarities with marketers' favorite millennials, they still are very distinctive. Gen Zs are the internet-first generation meaning they are savvy technology and social media users.
Moreover, they are ethically and environmentally concerned, and they approach many things differently. That means you cannot market your product the same way as you do for other groups of people.
In this article, we will try to understand Gen Z a little bit better. We worked on gathering some essential information and statistics to help you understand this generation better. So, let's dive in and figure out what you should consider when building a marketing strategy for Gen Z.
Contents
Demographic breakdown
Though millennials are the largest demographic group in the US right now (according to Statista), soon Gen Z will pass it. Even if your primary age group (e.g. people in their thirties) consists of millennials, it will shortly become the one formed by centennials.
We want to show you what market opportunities you will have regarding quantity, sex, income, and so on.
Gen Z is the third largest generation in the US. There are 72.19 million millennials, 70.23 million Baby Boomers, and 68.6 million Generation Z according to Statista.
Many Gen Z representatives are working professionals and college students. They earn and are free to make their own shopping decisions. Soon, more centennials will become buying customers.
We can also take a look at the global population as of 2020 presented by VisualCapitalist.
Well, that's an age breakdown, yet we can make some conclusions here too. Young people under 20 years old make up 33.2% and young adults from 20 to 39 years are 29.9% of the global population. Gen Z partly belongs to both of these groups. Once again - it's a considerable buying force you cannot deny.
Also, you cannot miss the customer's sex when building a marketing campaign. We've tried to find the freshest data possible about the gender break, yet here's what 2016 says:
As you can see, Gen Z sex distribution is pretty equal according to the graphic. Nevertheless, we need to mention that gender differences are more blurry for this generation. So, most probably, traditional marketing hooks won't work for them.
As we mentioned earlier, soon Gen Z become an important part of the labor force in the US. Deloitte reports that this generation will make around 10% of the labor assets by 2025 and around 23% by 2030.
You need to consider Gen Zer's purchasing power. The average salary for this generation is $33,800 per year. And that's not that much, let's be honest. Moreover, 65% of this age group's representatives say that they live paycheck to paycheck.
It's also fair to say that Gen Z differs from other groups a lot. That's why it's vital some other points into account:
Gen Z values diversity - be it gender and race, or identity and orientation.
Centennials value education. Though many consider youngsters don't care about this matter, most Gen Zs are willing to get (at least) a basic college education.
More female Gen Z in STEM. More tech companies will aim at hiring young women. Also, the trend will be sparking interest in STEM for the younger generation of centennials.
Prioritization of social activism. This way, this group of people will choose your brand not only based on its popularity or quality conditions. Ethics, practices, and social impact will also matter.
It's not too long until one-third of the world's population will count themselves Gen Zers. So, your company better come prepared. Thanks to this block, you can see what potential your company can have and what particularities to take into account.
Media consumption of Gen Z
Many of us are aware that Gen Zers are digital natives. Any new social media network appears - this generation will be the first one to try and test it.
Anyway, let's concentrate on how iGen consumes media - what social media networks they mostly use, what apps they like, and generally how they act online.
Believe it or not, the most popular network for this generation is TikTok. Instagram loses to the competitor with 41.4% users compared to 45% fans of Tiktok. Still, the most popular social channel is Snapchat with 47% of users.
In the next two years won't change much, with Snapchat, TikTok, and Instagram holding the three leading positions. So, if you target this generation make sure you are present and reachable via these social media networks.
If we talk apps, TikTok and Snapchat are among the most downloaded ones. Yet, this generation tries something different - by installing apps like BeReal or Snack.
Thus, centennials' behavior on social networks is far from chaotic. They usually know what they came for. Here are some data 99firms shares:
41% of iGen refer Instagram to be their preferred social media platform to follow brands.
16% of respondents prefer Facebook for the same goal.
11% of centennials follow brands via Twitter.
Besides, 85% of Gen Z use social media to learn about new products. So, if you are planning to open a new business or boost brand awareness for the existing one - be present on social media.
Attitude to marketing
Well, how will you approach Gen Z to promote your products? Some will still use email marketing. It's true that 58% of Gen Zers check their inbox multiple times per day. Even more, 31.8% of this generation don't mind getting brand emails a couple of times per week.
Nevertheless, 36.4% of Gen Z have never bought something as a result of an email marketing campaign. Does this mean you need to fully give up this strategy? Of course, not. Just make sure you combine email marketing with other marketing channels to reach your target audience.
All-in-all, the general picture will marketing picture will look like this:
20.2% of Gen Zers prefer engaging with a brand on social media, more than any other channel.
19.2% of this generation don't mind getting brand content via email.
18.4% of iGen are willing to communicate with brand representatives in-person.
Besides this, 11.5% of Gen Zers check companies' blogs to stay in touch and get information.
Add to this that 45% of centennials currently follow over 10 influencers on social media. This leads us to the conclusion that influencer marketing is still an effective way to promote your brand. Moreover, you can decide if you want this to be a direct advertisement or a native promotion (just like a recommendation from a friend). Keep in mind that 56% of Gen Zers are more likely to try a good if their favorite influencer has recommended it.
On top of that, Gen Zers trust in personalization. The Drum reports that 77% of this generation believe it's essential for companies to customize interactions. At the same time, 76% are looking for businesses to send them digital communications they can personalize based on their preferences.
Also, we are living in the cancel culture era. So, being ethical while handling your business is vital. Statista shares that 28.2% of Gen Z are ready to cancel a brand due to its marketing activities.
At least, that's the case for the United State. Citizens from 18 to 25 years old expect brands to be more socially active (like we stated earlier) and support various causes (e.g., racial equality or sustainability).
Favorite brands
American Gen Zers have approximately $44 billion in buying power. So, where does this gen spend its money? What brands do young people adore?
We looked through various resources to share some results with you.
According to Numerator, Gen Z purchased the most from:
Hero Cosmetics (cosmetics)
The Honey Pot Company (toiletries)
Panoxyl (skincare)
Maseca (food)
TheraBreath (health&wellness)
Tree Hut (self-care/toiletries)
BuzzBallz (beverages)
Olipop (beverages)
La Roche Posay (cosmetics/skincare)
Native (toiletries)
The Morning Consult shares the following list of Gen Zer's top brands:
| | |
| --- | --- |
| 1. YouTube | 11. Gatorade |
| 2. Google | 12. Nike |
| 3. Netflix | 13. Cheetos |
| 4. Amazon | 14. Dollar Tree |
| 5. M&M'S | 15. Sprite |
| 6. Walmart | 16. Pringles |
| 7. Target | 17. Capri Sun |
| 8. Doritos | 18. Pixar |
| 9. Kit Kat | 19. Skittles |
| 10. Oreo | 20. Apple |
Yet, this company has made a deeper analysis with 40 brands on the list. Based on the data they have received we can conclude some things. Gen Z is one of the most demanding generations. Born in the era of smart devices and fast access to the internet, youngsters can quickly find information about any brand.
Moreover, top-used brands are tech companies. Brands that work under the food&beverages umbrella account in almost half of iGen's most preferred firms.
But what about clothing brands? According to YPulse, the top three brands favored by centennials are Nike, Jordan, and Vans. Please notice that the age distribution of YPulse's scheme has some odds, as Gen Z as of 2023 starts from people of 25 years and younger. That's why, there might be some matches with the millennial's list.
Our advice is to check how all these brands from different industries conduct their marketing campaigns. See how they communicate with their audiences. Learn from their winning strategies and failures.
Shopping behavior
Around 42% of Gen Zers spend one to three hours on social media and 50% of Gen Zers want to buy directly from social media. Instagram, for instance, took this trend seriously and added an in-app purchase feature.
So, this network lets you provide services to your target audience faster and in a more convenient way.
Often social media becomes a new Google for centennials. 85% of Gen Z learn about new products or services through social media networks. Besides, this generation trust recommendation of blogger and influencers more than TV ads (or just online ads). In fact, 56% of iGens are more likely to try a product recommended by an influencer.
All-in-all, Gen Zers are avid digital buyers according to another diagram from Insider Intelligence. 41.6 million young people made online purchases in 2022 and their number will increase by approximately 4.5 million in 2023.
Gen Z and metaverse
Generally marketing goes to new dimensions as technologies continue to evolve. This way, many A-list brands become a part of the metaverse to engage with users.
Entering the metaverse via technology companies and platforms like Roblox or Decentralized allowed companies to reach wider audiences and offer completely new experiences. Some companies create their own virtual worlds (like Gucci), some create virtual clothing (like Adidas), and some drop NFTs (like Tiffany).
Using the potential of the metaverse can be a winning strategy for your company if you target Gen Z.
Though there are around 48% of iGens know what the metaverse is, we believe their number will only increase. And if you be one of the early adopters of new technology you will have a competitive benefit.
Though this industry still is uncertain and requires more explanation and work, some entrepreneurs take their shot. For instance, Andy Nguyen opened a Bored Ape Yacht Club (one of the most popular NFTs) themed cafe "Bored and Hungry."
Nguyen uses the image of the Bored Ape he bought as a design element on products and interiors. Visitors can pay for their order with cryptocurrency - Ethereum or ApeCoin.
Conclusion
As soon Gen Z will become the largest cohort of customers with a huge buying opportunity, you need to study this generation. What does define them? What is their shopping behavior and how do they make purchases?
Answering these questions will help you understand centennials better. In turn, you will be able to fine-tune your marketing strategy according to the needs of this generation (if you target them).
We hope that the extensive data that we shared would help you make smart and balanced decisions.

More Like This