Created on
May 31, 2023
| Updated on
May 31, 2023
7 Writing Hacks Popular Bloggers (and Blogs) Use
Blogging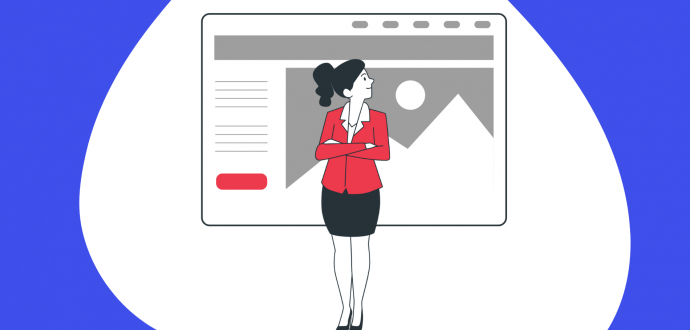 According to Ahrefs, there are over 600 million blogs right now. Moreover, 70% of Internet users eagerly read them.
So, what conclusion can we make? Well, still enjoy this form of content.
Yet, another question might stay unsolved. How does your blog get noticed? What makes readers want to read your content? How do you engage them?
In this article, we will share the most powerful techniques popular blogs use. You will learn how to be attractive to online users, what techniques to use, and how to become the top blogger in your industry.
Contents

1. Crafting captivating headlines
No wonder the majority of bloggers name headlines as one of the main elements of content. According to statistics, approximately eight out of ten users will read the headline. Only two will continue on to reading the full article.
That's why experienced bloggers spend time crafting engaging title tags. There are some common approaches we recommend you to use.
The main rules for creating a successful headline are:
Your title should be 50 to 60 characters long. If you write a longer headline it can clip. A reader won't receive the full information about your article. So, learn how to fit the text's meaning into a short line.
Don't read your headline in all CAPS. You might think it attracts attention, instead, you risk losing your reading. After all, using only uppercase letters feels like someone is simply shouting at you.
Use numbers, and emotional words, or create rational titles. Statistics claim that titles with numbers in them result in 50% more opens. Emotional words help to strengthen the message of your headline. Rational titles, in turn, describe how readers can do certain things.
Though blogs are about being creative, there are some SEO rules you should follow. That said, professional bloggers use keywords in their titles. It's even better to use this word or phrase closer to the beginning of the headline.
We made an in-depth guide on how to grow your article's CTR. You can learn more about writing awesome headlines there.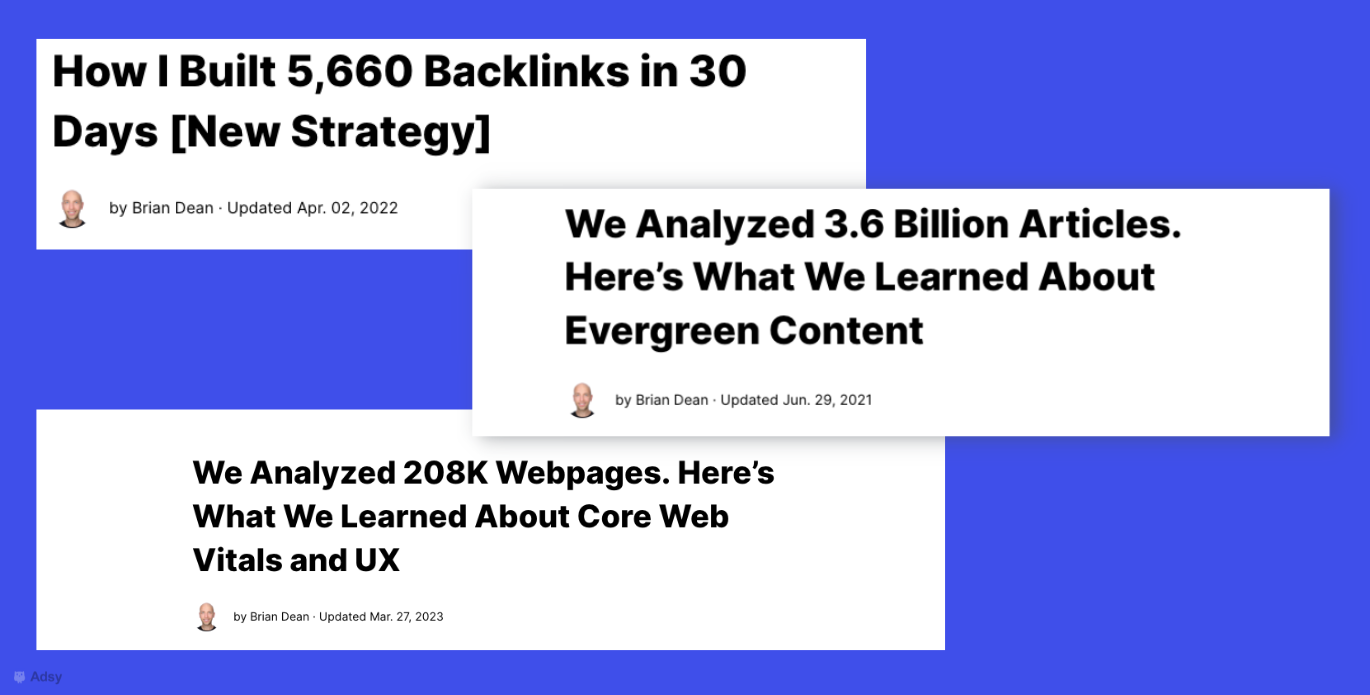 For example, marketing guru Brian Dean likes using impressive numbers in his article's headlines. We bet you'd like to click on these articles' titles when you see them on SERP - it's hard to resist reading studies like these.
2. Implementing storytelling techniques
Various studies proved that people remember stories better than just disjunct words or facts. But that's the more practical side of the coin.
When we talk about blogging we understand that storytelling allows us to be more personal, create stronger connections with readers, and lets us be more creative. Being sincere, vulnerable, and sensible attracts people better.
This shows that you are just like other people - with up and downs.
Bloggers can use special storytelling strategies like personal anecdotes, case studies, or narratives, to provide better information on some topic. Moreover, telling stories frees you from sticking to one genre. This way, one of your articles can be more comedy-driven while another can be mysterious.
Either way, storytelling helps your content be more memorable, relatable, and touching.
Do you write blogs for brands? Then read more about creating stories for brands.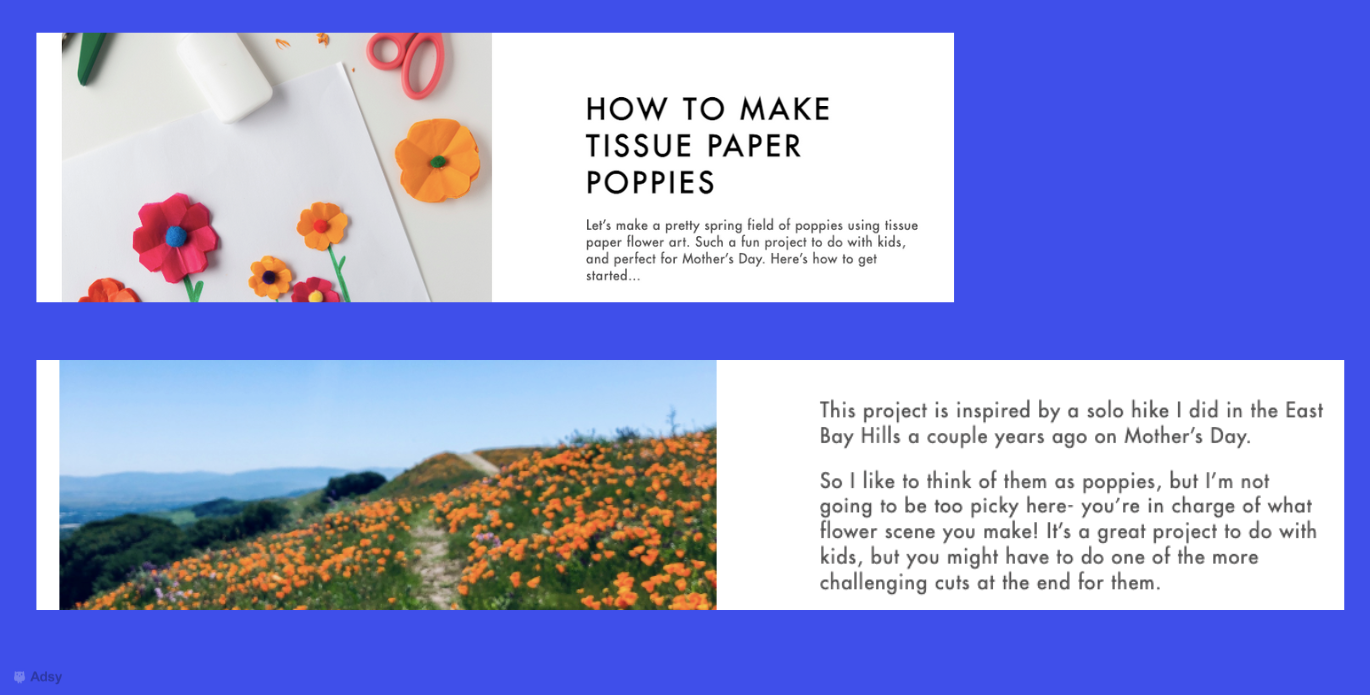 Liz Stanley, a creator of the award-winning blog "Say Yes" incorporates personal stories in her DIY articles. She shares what stands behind her inspiration - in this case, her hike through the beautiful field of poppies.
3. Using concise and clear language
When someone wants to learn more about a new topic they don't wish to get overwhelmed by complicated language. That's why many established bloggers try to write in an easy-to-read manner.
It's a popular approach to use short paragraphs users can quickly scan. Our advice is to make paragraphs no longer than five sentences. Yet, if you use long sentences, use two or three only.
Sometimes one catchy sentence can serve a whole paragraph!
Also, pay close attention to the meaning of your sentences and the words you use. Avoid difficult constructions, jargon, or bureaucratic language. Your goal is to make your content clear to wide audiences.
Undoubtedly, there can be some exceptions. Often, your articles can be more complicated and use professional jargon at some point. But that is only applicable to narrow niches or specific topics (e.g. academic articles, medicine, chemistry, etc.).
Besides, we advise you not to forget about text editing. This will make your texts more readable, light, and clear.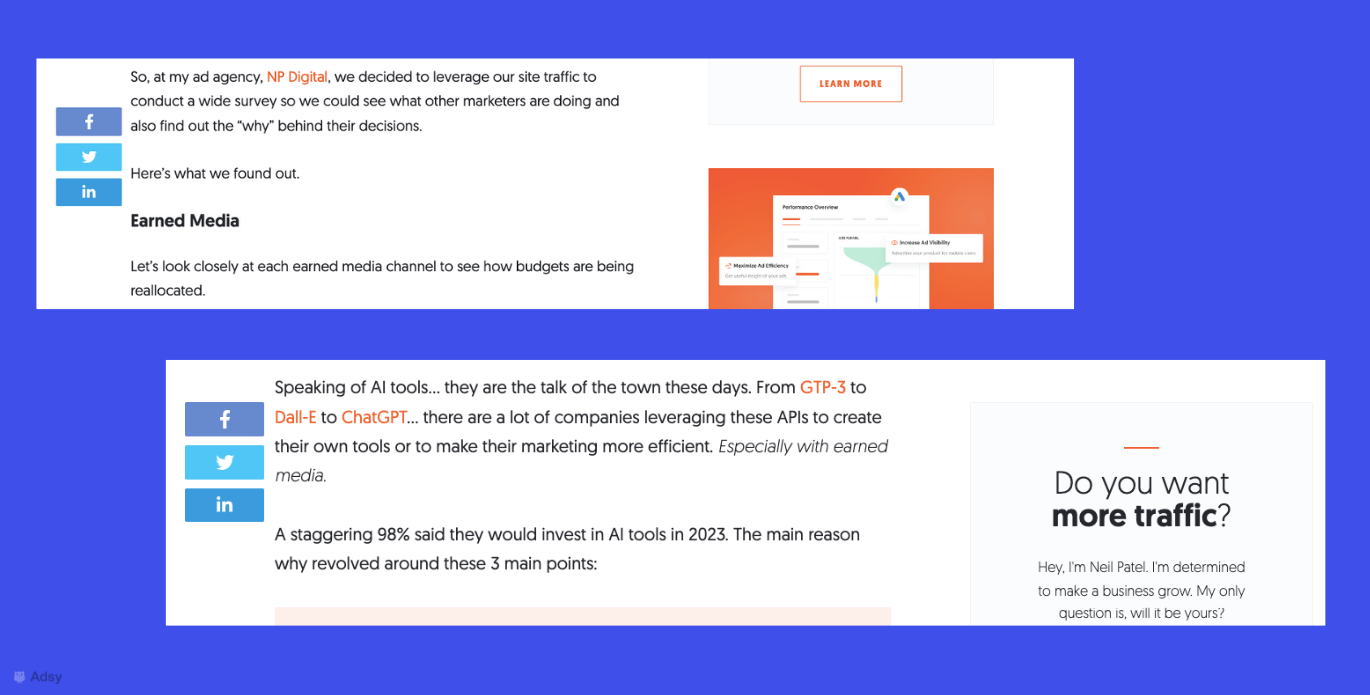 For instance, SEO mogul Neil Patel uses short to medium-sized sentences. That lets users easily follow Neil's thoughts. Moreover, the paragraphs are rather short (just as we suggested).
4. Incorporating visuals and multimedia
It's difficult to underestimate the power of visuals nowadays. They can complement your content or even provide further information.
On top of that, images or videos help your text be more varied. Just think about reading a text only. If your content is long enough, readers can easily get bored.
Visuals can illustrate your article and make it less boring. Moreover, if you add customized pictures you can be recognized for them.
Different multimedia elements can make your blog more interesting and interactive. Also, it gives you space for creativity.
In fact, we have highlighted 13 reasons to add visuals to your blog content in one of our previous articles.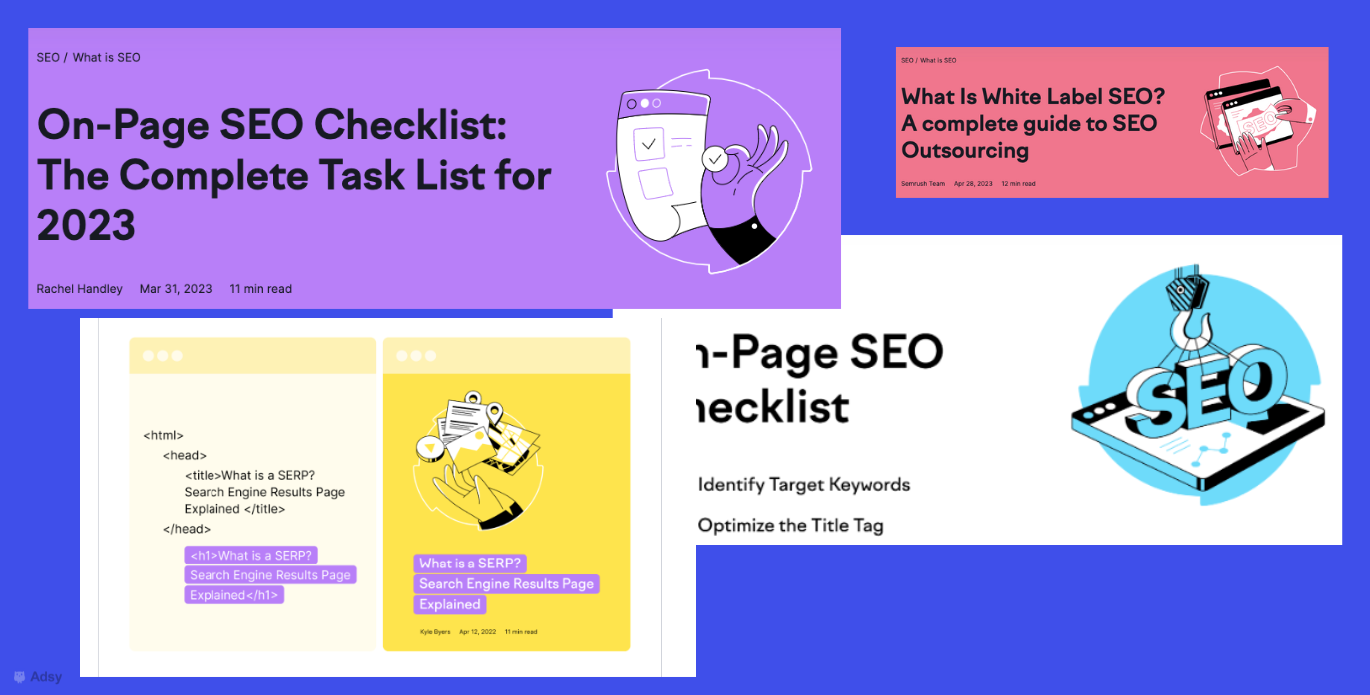 Semrush is famous for its customized visuals it uses as the main article's pictures and within the content. These pictures are often colorful and have aligned style elements.
5. Applying the "inverted pyramid" structure
Attention span is getting shorter and shorter. It was 12 seconds in 2000, 8.25 seconds in 2015, and became close to 8 seconds in 2020. So, you have lesser time to grab readers' attention.
That's why many blogs use the "inverted pyramid" structure. It's your extra chance to get a firm grip and direct visitors to read your article in full.
So, let's sort this approach out.
If you choose to employ the inverted pyramid, you need to group and write the main information at the very beginning of your article.
This way, you can clearly state what points you are going to discuss within your article. You can provide short summaries of your text's sections upfront. Some blogs make a special box with a bulleted list of key takeaways from the article.
So, your goal is to make a clear and catchy introduction to involve people and make them read your content.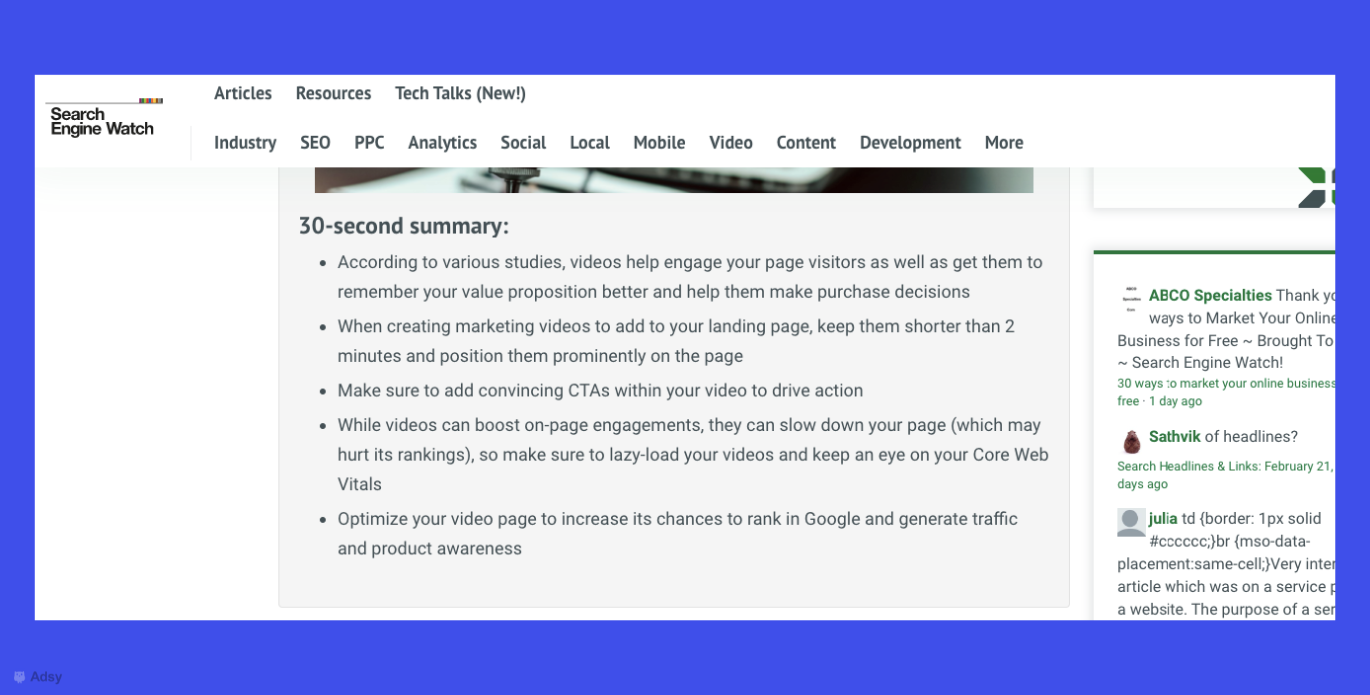 The respected SEO industry blog - Search Engine Watch - uses this approach in its articles. Most of their content is complemented with 30-second summaries. This way, readers can get a clue about what will be in the article.
6. Using bullet points and subheadings
We have slightly touched on the topic of the article's structure. As you see, successful bloggers understand that appearance plays an essential role in a blog's popularity and growth.
As we mentioned before, people prefer to scan texts. So, allow them quickly find the information they look for.
Your best helpers here are subheadings. By using H2 and H3 headings you can effortlessly divide your article into logical sections. Ensure your headings clearly describes what this part is about.
You can also make some information within these sections stand out. That is possible thanks to numbered or bulleted lists.
These easy tips help your text be more structured. You create a hook that allows the reader to be comfortable working with your content. Moreover, if they like what you have highlighted, they might stay on your page longer and read your text as a whole.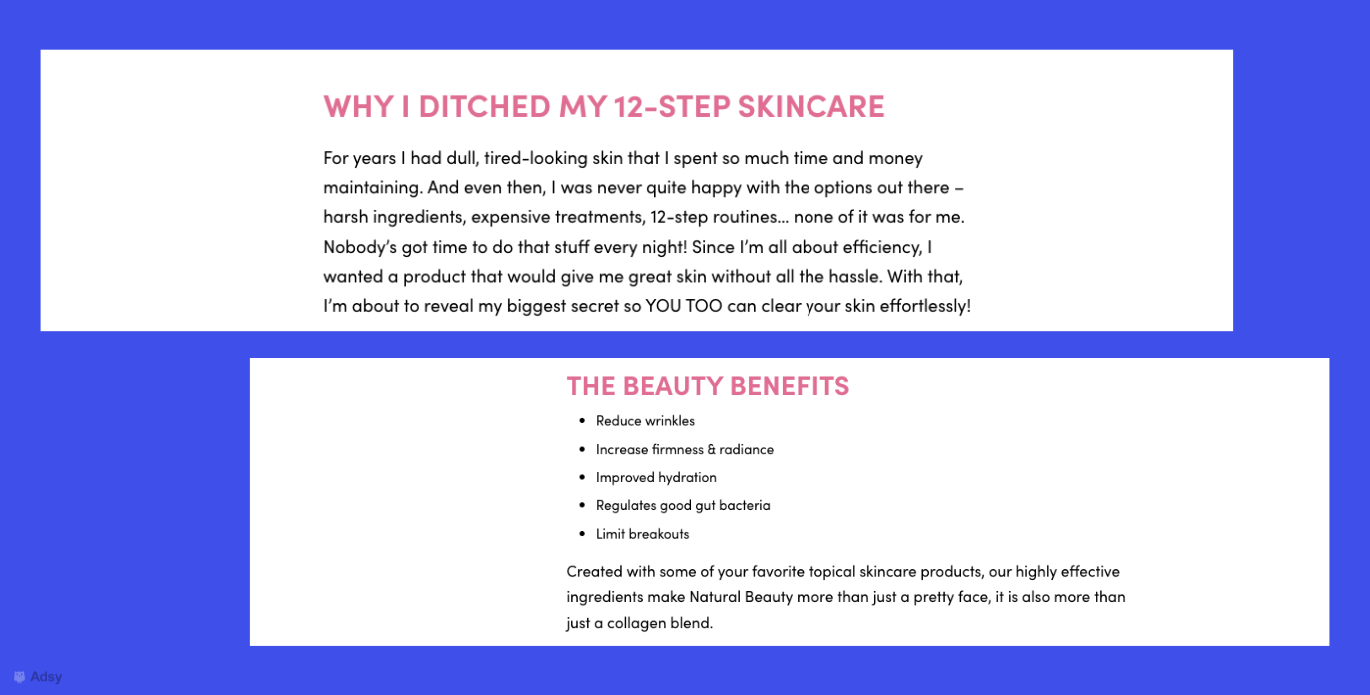 Katie Dunlop a creator of Love Sweat Fitness uses subheadings in her articles. Moreover, they are easily detected and in different colors, so scanning her content leads to no stress. Besides, she uses bulleted lists to highlight important points.
7. Incorporating call-to-actions (CTAs)
It's a common practice to guide readers to take certain actions. Without CTAs users will most probably leave the page without any further activities.
So, experienced bloggers add call-to-actions throughout their content.
CTAs might pursue different aims and bloggers can ask you to:
leave comments,
share the content on social media,
subscribe to newsletters,
explore related articles,
purchase their goods or services,
buy sponsored goods.
The CTAs can be different and exist in the form of text links, special boxes, or whatsoever. The point is to make them visible and easily distinguishable.
The call-to-action is a perfect tool to foster interaction and build a loyal readership that engages with a blog.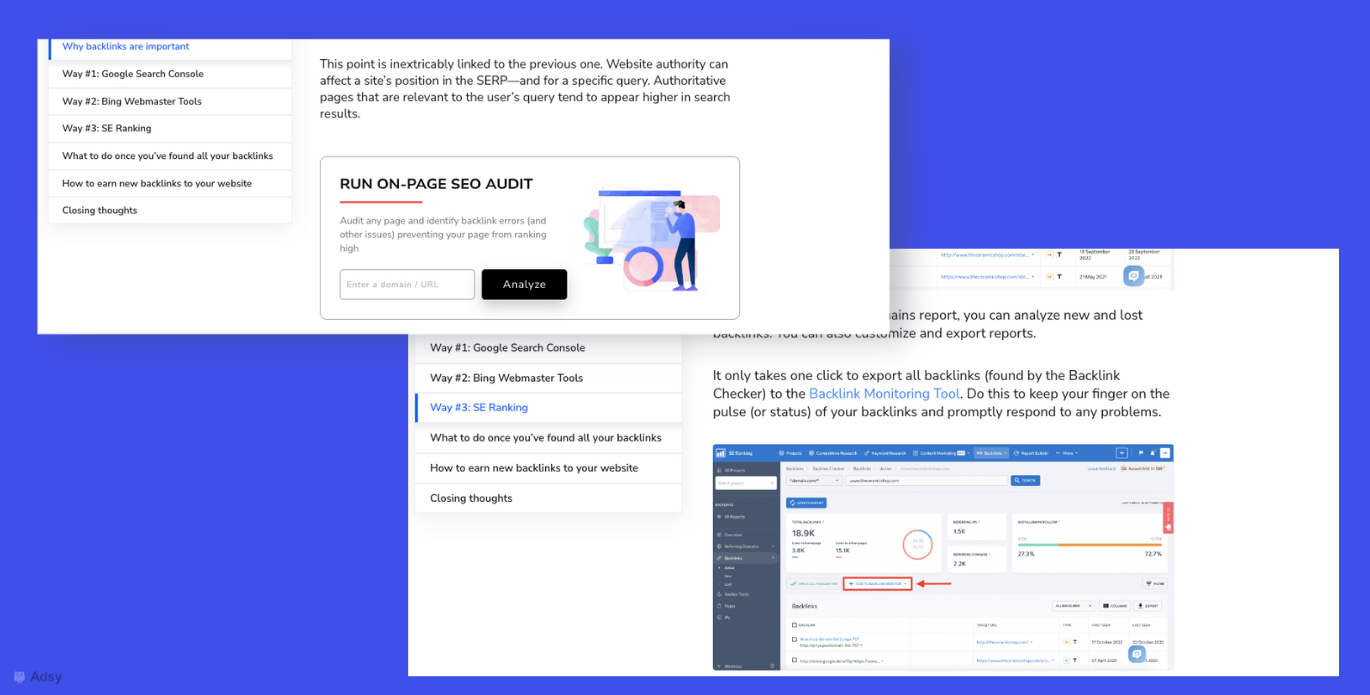 For example, the SE Ranking blog uses special boxes throughout the text multiply to urge readers to conduct an audit using its tool. Also, it directs users to its services by adding links to the relevant parts of the content.
Conclusion
Many people start blogging as a hobby. Yet, if bloggers want to turn it into a full-time job that brings income, they need to put in the effort.
These seven essential tips will help you understand what main things to take into consideration to create a striving blog.
Of course, it is more about the external side - we haven't spoken about the SEO part here. Nevertheless, it is something that deals tightly with readers. That said, special writing hacks help you gain more attention and visitors.
As you might notice, many popular blogs and writers use them on a daily basis. And that, in turn, gives them awesome results.
What are your favorite blogging hacks? Have you found something new in this article? Write your comments below and share this article with your friends on social media!
More Like This