Created on
October 4, 2023
| Updated on
October 20, 2023
5 AI-Powered Tools for Making Better Video Content
Content Marketing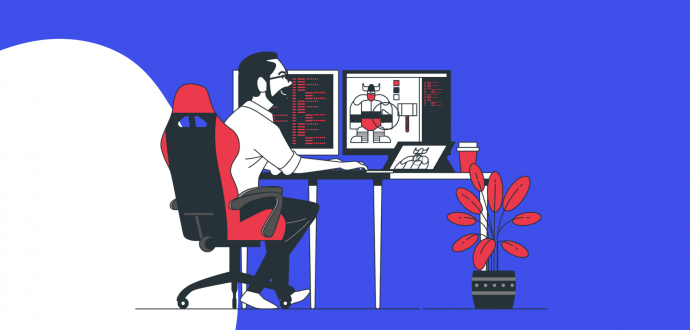 Why are we discussing AI-powered video-making tools today?
Well, Oberlo reports there are 97.8% of digital video views from 18 to 24 years old in the US. Moreover, the overall demand for video is growing. As such, 91% of respondents answered they wanted to see more video content from brands.
We've already shared what videos you can create to promote and sell your products or services. But what about the ways of their production?
Video marketing is not the easiest thing to do. Yet, the demand for this content type is undoubtful. Gladly, modern technologies like AI can ease the process for you.
We've gathered and tested five awesome AI-based video editing and creation tools that will help your company stand out.
Contents
1. HeyGen & HeyGen Labs
Okay, that will be two in one because these guys have come up with one big stunning product and a great head-turning tool. So, let's get everything sorted out.
Now, you don't have to pay thousands of dollars for video production. It can be a $24 or $72 monthly subscription only. Sounds awesome, isn't it?
But what will you actually get?
HeyGen spoils you with 100+ AI avatars of different sexes, ages, and ethnicities. These "talking heads" can reproduce 300+ voices across 40+ languages.
Accordingly, you can pick any avatar that matches your company's energy and let them narrate your story. Nowadays, "talking heads" are used in videos for various purposes - often for education, presentation, introduction videos, etc.
Getting started is easy. You can sign up using your email address or Google or Facebook account. Then, you can pick the available avatar in a fitting scenery.
After, move on to editing the video. You can paste your text, and the chosen avatar will narrate it. You can also select the voice (male/female) as well as accent (British/US/Canadian/Australian/Indian/South African).
This way, you can make a short introduction to your company, present a new product, or do any action you need. Are you looking for some fun? You can use pictures to vocalize any script! This way, Mona Liza can tell users about, e.g., the brand new ice cream taste you have.
And while you think that can be the strongest HeyGen feature you can use, we reply that there's more. Recently, the company introduced HeyGen Labs. And this tool changes the game.
Its main goal is translation. You can upload any video that is over 30 seconds and translate it into 13 available languages.
HeyGen Labs will translate the text using your voice and intonation and make a correct articulation.
This way, if you want to scale your company and enter new markets - this tool is for you. It will definitely save you lots of money. At the same time, you will be able to reach a wider audience in its native language.
The main product and the Labs have a free trial, so you can test it out and decide if it's a fit for you.
2. Captions
Here comes the next AI-powered tool. What are its main features?
As the name suggests, it takes caption-making to a whole new level. But we'd like to talk about another significant feature first.
We can imagine that video recording and participating in them can be challenging. Especially if you are not an actor or someone who feels comfortable in front of a camera. Add the necessity to learn a text, and it all can turn out as a pain in the neck.
But people demand video content from you.
Captions offer a thrilling feature. Its AI Eye Contact tool will ensure you always look into the camera. Even if you actually don't.
That allows you to read the script without worrying that you need to learn something by heart. You can feel more comfortable and forget about the stress of forgetting something.
The editing process is easy. You upload the video, apply the AI Eye Contact function to it, and download the updated video.
Another helpful feature to try is AI captions. Why captions are vital?
Verizon conducted research and found out that 80% of users are more likely to watch an entire video if it has captions.
That's why if you want to grow your engagement and conversion rates, you must include captions in your videos. And Captions helps you do this seamlessly.
The whole process stays very easy. You need to upload your video, choose from the 28 available languages, and press the "Add Captions" button.
You can customize the text with 100+ available styles. What's awesome is that you can edit your captions (in case AI didn't get something right or you made a mistake while talking and want to fix it in your text).
Thanks to this app, the words will pop on the screen as you narrate the text.
So, by taking quick and non-complicated actions, you can palpably improve your videos. Not only will you feel more confident making video content for your blog or company, but also provide your audience with a better experience.
There's a free three-day trial where you can try the main features out and decide if you need a paid subscription.
3. Runway
But what if you need something different? You can unleash your creativity with AI video tools like Runway.
Well, what does it do?
Runway uses AI and machine learning to turn users' video prompts into videos.
You can type anything you wish, not limiting your creativity, and get a picturesque video. Or you can turn an image into a video. Or, even more, upload an image and add a text prompt to make everything even more fascinating.
After making all the actions, you will receive a four-second video.
It's better to be very precise with your prompts to get what you want.
Yet, that's not the only cool feature. You can turn video into video. No, it's not a misprint. You can upload your video and add an image, and the newly generated video can absorb the style and properties of the added picture.
Runway offers free limited seconds to use for your videos. The Standard package starts at $15 per month.
4. CapCut
CapCut is an all-in-one video editing software. The service's team promises that AI will help users at every turn.
Basically, it's a powerful tool that allows you to do everything you want with your video content. You can edit, add music, use ready templates, remove backgrounds, and so on.
AI algorithms will help users transform speech to text (so you can have captions in any language) or turn text into naturally sounding speech.
Do you need to include multiple languages in your video? No worries. CapCut smart tool will translate everything for you.
You can choose from multiple options and utilize this service online on any device or as a desktop or mobile app.
That said, CapCut is a perfect video editing suit for both professionals and newbies. Thanks to the intuitive menu, everyone can learn how to treat their videos and come up with awesome results.
Many popular bloggers already use this tool, so it's time for your company to try it, too!
Moreover, the service is free to use.
5. Lumen5
This is more of a corporate video editing type of tool. Mostly, you can use it for content repurposing.
This way, Lumen5 uses its AI algorithm to help you turn your blog posts into videos. Or you can use any written content for this.
Getting started is simple. You only need to insert a link to the blog article, or you can paste a document with text. AI will excerpt content from your links as well as images to convert them into video.
Also, the AI will match your content with the most fitting stock photos to make the video complete. The users will have enough time to read the message on each scene, as the algorithm will adjust its duration with the average reading speed.
Of course, users will access various editing tools to add the finishing touches to their videos.
You have a limited amount of time for videos to see how it looks. And the paid plans start at $19 per month.
Conclusion
91% of businesses utilize video as a marketing tool in 2023. It's time for your company to join the ranks.
As it becomes easier to create videos "in-house," more marketers are starting to make them. Moreover, if you are aware of helpful AI-powered video-making tools, it's no stress at all.
We shared five handy tools that could cover all your video creation needs. You can edit your videos, add captions, apply effects, and do lots more. You can even vocalize avatars using your voice or translate original speech into various languages.
Were these tools helpful, and would you like to try them out? Leave your thoughts in the comment section below!
More Like This