Introduction to Influencer Marketing
According to Jon Buscall, Head of Moondog Marketing, "content marketing is a commitment, not a campaign." This quote is the best example of content marketing importance and its role in making your website visible on the Internet.
Content marketing deals with creation and distribution of online materials. It happens under fierce competition. Let us explain. Suppose you search for an "oil rig" on Google, what do you get?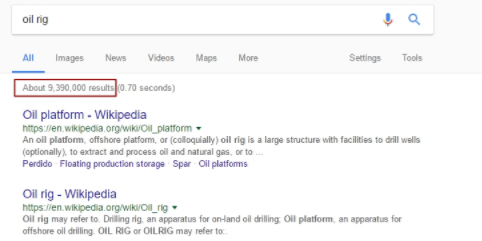 You get more than 9,000,000 results, whereas most users look through only first 10 results. Thus, you ought to get your website to the Top of Google search.
Quality content is a crucial element in your website success. But it is not enough. People should reveal this content and talk about it. It is a moment when influence marketing will make a big difference.
Influencers help to reach target audience faster, since their followers listen to their opinions.
What is Influence Marketing
It is striking up an acquaintance with influential people, or thought leaders. They can make your product or service visible to more people. Using influence marketing provokes you to think carefully about your product value, customers' benefits, an audience of the influencer, and relationships with the influencer.
Today, there are many ways how marketing influencers may affect your business. Here are some examples:
Writing a post about your product, service or website
Sharing information on social networks
Placing guest posts on their websites, etc.
Besides, influencers may like or share your content on social media, which is less beneficial than the above methods, but still, it will work for you. Influencers have a large audience, so you will reach more people, or at least will become more popular.
Let's do simple math to show you the benefits of finding influencers. Say you have 200 followers on Twitter and they share a post about your product. This may lead to 25,000 people seeing this post. As a result, you may receive additional links and shares from 30 new followers.
Imagine yourself capturing the same audience with only one influencer. The audience will respond better because people trust the influencer. As a result, it will attract 100+ shares and 50+ links. It is a distinct advantage.
It's amazing once you have found the answer to the question: "What is influencer marketing?" The more influencers you engage, the more people to your website you get.
Benefits You Get with Influencers
If you got interested in content marketing, you should certainly have a blog or accounts on social networks. You understand the importance of digital presence and its benefits. Ensure that you have similar content topics when creating a new post and share it on social media.
What it should look like:

If you do it properly, it will be a promising start. People who have already subscribed to you will share your posts, thereby enlarging your target audience.
If you manage to set your social media accounts in such a way, you will gain more with it.
Build steady relationships with leading influencers. Follow them and try to persuade them to follow you back. It is possible if you have captivating content. New links and shares will be your payoffs.
Make an active search for influencers who will publish your content on their social media accounts and blogs. Guest post writing is one of many ways of getting your content published. Maintaining a credible history of your post publications is important. This approach is more direct that the previous one, besides it has immediate payoffs.
Make Relationships
Making new relationships with influencers is similar to building relationships in an everyday life. To find influencers, you need to attract users. Also, it is important to act wisely to have a high reputation.
The major elements of making working relationships:
Interaction with influencers. Focus on showing how-to, instead of asking how-to. Provide benefits and answer questions.
Return services. Prove influencers that you will share their content. It will be a good beginning.
Help others. Acknowledge other people by sharing their work. Ensure that you publish great stuff to keep your audience engaged. The influencers will be even more interested once you find a little-known author with great content.
Personal interaction. You may attend conferences and speak face-to-face with influencers. Such influencer marketing strategy works magic.
Set your priorities. Which people are worth your effort? How to make right decisions? Sometimes you decide to go to another city just to meet influencers you need. And sometimes you interact with other influencers only on social media. But after all, a face-to-face interaction is the best way to build relationships.
Don't miss an opportunity to impress. Be useful. And people will share your content on social media.

Remember that finding influencers never end. You should always be trendy to get other people to share your content. But sometimes it doesn't work for you because of improper or irrelevant information on your website.

We have developed a list of elements showing the probability of sharing or linking to your website. Follow this list in developing your influencer marketing strategy.
Relevancy. Try to post only relevant things. People share relevant information more actively. If you provide inappropriate content, no one will share it even if it's of high quality.
Uniqueness. Stand out among others. People always notice and appreciate something special.
Quality Content. Do not underestimate the importance of quality content. Everyone discourages thin content.
Author Trust. From now on, your search of influencers begins. You have to find a reliable, trusted author to make people share your content. Or may become such an author yourself.
Trusted Sources. How to know that a given piece of content has a high share rate? If you trust a source of information, you will follow a link or share a post.
Visibility. Visible content is more likely to be shared. You may have brilliant content, but it is useless if nobody reveals it. Bear in mind that any great stuff may be lost in a social media stream. So, stand out from the crowd.
Impressions. Marketing experts usually say that one sale takes in average 7 impressions. And the key to success is a diversity of those impressions. If an impression reaches influencers, you will get not only backlinks but also people who want to share your content and as a result, receive links.
Conclusion
Communication is a bedrock for developing good relationships in every life sphere. In marketing, you can do nothing without it. Interaction with influential people has always been a sterling opportunity. And the Internet gives us a bunch of tools and ways to research people's behavior for developing a smart marketing strategy.
Nevertheless, the communication now is as easy as 1-2-3, do not forget about face-to-face interaction. Stick to old-fashion style and try to make your communication with marketing influencers more personal. It will bring the maximum effect.
Great content and good relationships should be a part of your influencer marketing strategy. Let everyone know about all the great job you do. And develop an acquaintance over the Internet with influential people to expand your target audience.
A key element of your content success is its value for users. People usually share and like helpful stuff. So, create relevant content, and your audience will appreciate your efforts with plenty of likes and shares. You will also get your website visibility and marked traffic increase.