Created on
May 17, 2023
| Updated on
May 31, 2023
Guest Posting Dos and Don'ts: Essential Tips for a Successful Guest Blogging Strategy
Guest Posting Tips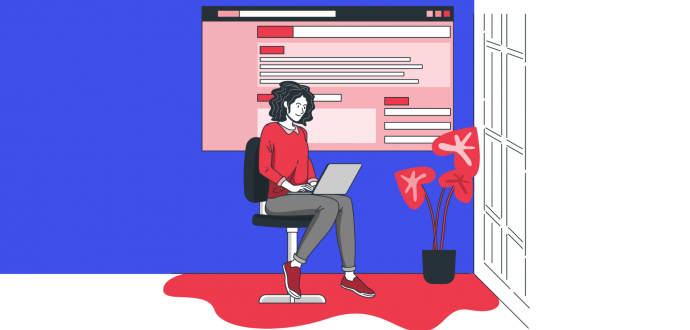 Guest posting stays one of the most used and effective link building tactics. According to statistics, 60% of businesses write one to five guest articles monthly. Many blog and site owners prove that guest blogging brings results.
So, this is a worthy link acquisition strategy if you want to grow your site's rank and visibility.
And though this tactic is great, some webmasters don't use its full potential. We, as guest posting experts, want you to get all the juicy from this strategy. Because that's what we are here for, after all.
Without further ado, see your main dos and don'ts when engaging with guest posting.
Contents
Guest posting dos
The next four points are the ABCs of guest posting. If you know them, that's 90% of your success. Read them attentively so that your campaign brings you palpable results.
Automate guest blogging
Marketing is moving towards automating various processes. Guest posting is no exception. Forget about times when you needed to spend weeks manually searching for fitting sites and outreaching site owners.
A guest posting service is an alternative that saves 85% of your time!
Automation lies in the bunch of principles and practices guest blogging platforms offer. The main ones are:
Presence of sites and blogs that already agree to accept guest articles,
Various metrics that let users choose the fitting sites straight ahead,
Different publishers (including sites' owners) ready to post your content,
Prices that you see at the very beginning of the process,
Special features that allow upscaling link building,
Prompt help from the guest posting service's representatives in case of arguable points.
This way you don't need to be torn between lots of tasks - from finding publishers to checking sites' metrics to pitching your content.
But even given the benefits of guest blogging platforms' usage we still have one question unsolved. How do I choose the right platform?
Find your answers in the next three sections.
Choose guest posting services with feedback from users
There are dozens of blogging services ready to see you as customers. But will all of them provide you with a top-tier guest posting experience?
The first thing we recommend doing is to see if a guest posting service has reviews. If some service doesn't have evidence of user feedback skip it. Your goal is to partner with a company that is transparent and open.
Sometimes services incorporate users' feedback right on their sites. Often, you will see it when scrolling through the main page. Yet, if you don't find it there, look for a platform on sources like Trustpilot or make a search request on Google or use a search operator like "platform name + review."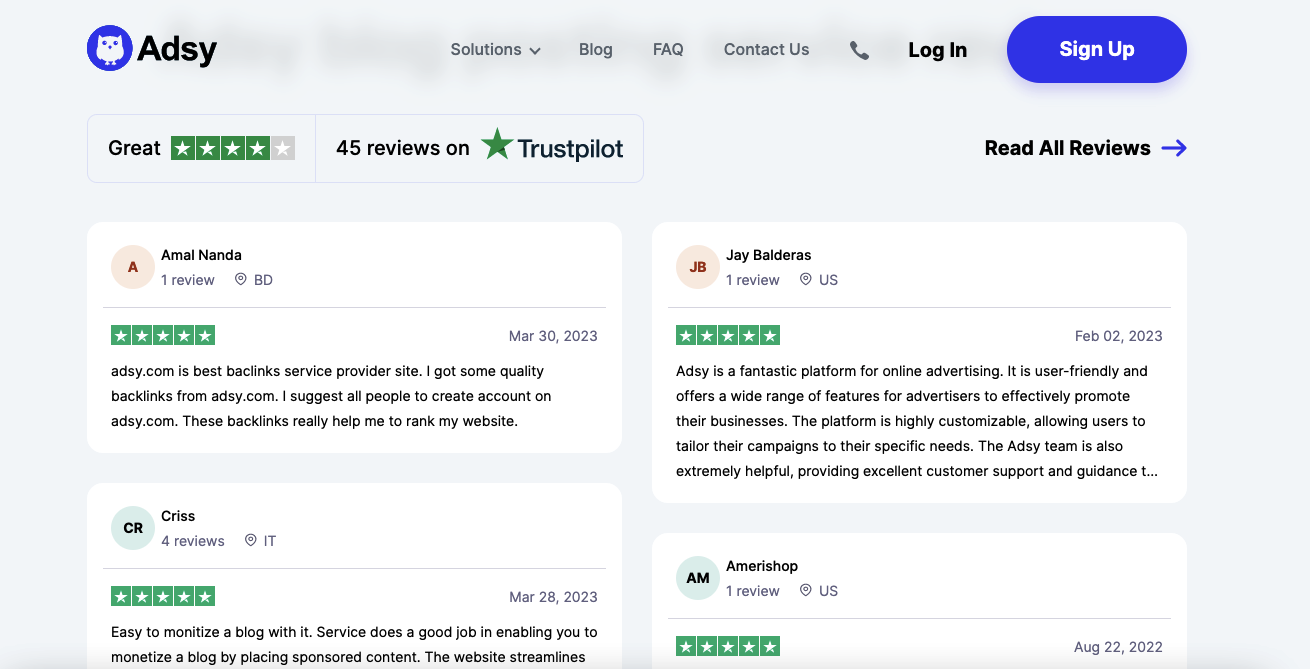 The better the rating and the reviews the more trustworthy the service is. Also, check if the service's team communicates and engages with the feedback. This will get you a clue about how the guest blogging platform treats its clients.
Ensure the guest posting interface is intuitive and easy to use
Do you want to puzzle your head over a complicated interface and control panel? We bet the answer is "no." Especially if you are new to guest posting.
All you might wish is to find appropriate sites and publish your content there. That's why guest posting should pamper you with an intuitive interface. So, here are a couple of things we consider helpful, and advise looking for them.
The service has special filters. DA, DR, organic traffic, country, language, and some other metrics are things you want to see. That will ensure you choose from fitting sites only. That will optimize your time and effort.
The service provides information about publishers. You want to be aware of who you are working with. See if there are publisher ratings, feedback from other users, and other specific data.

The service lets you easily track your progress. The platform should have a menu that allows you to see your tasks' progress and communicate with publishers.
The service offers various payment options. A big payment choice is an obvious benefit that lets you easily fund your balance to buy great guest posts.
The service has clear naming for all its services and feature and offers explanations/knowledge base. Sometimes you can be overwhelmed by the number of products the guest posting service provides. So, make sure you can quickly orientate yourself by just glancing at the menu. Also, special prompts and extra explanations help you understand e.g., what some metrics mean.
See if the guest blogging service has clear user rules/terms for customers
No one likes to be fooled. So, the next thing you want to check is if the guest posting platform has clear terms of service.
Often, there are two parties present within the platform - buyers (users who purchase guest posts) and publishers (users who place content on sites). Terms of service should depict the main conditions for those parties.
This way, you should easily find some core things there. They can be minimum top-up sums, accepted payment methods, information about fees, descriptions for main processes, etc.
Of course, terms & services are sometimes hard to understand as they are very formal. That's why it's a big plus when the guest blogging service gives prompts and provides explanations right within the interface.
For example, there can be sections like "How does something work?" or easy access to FAQs.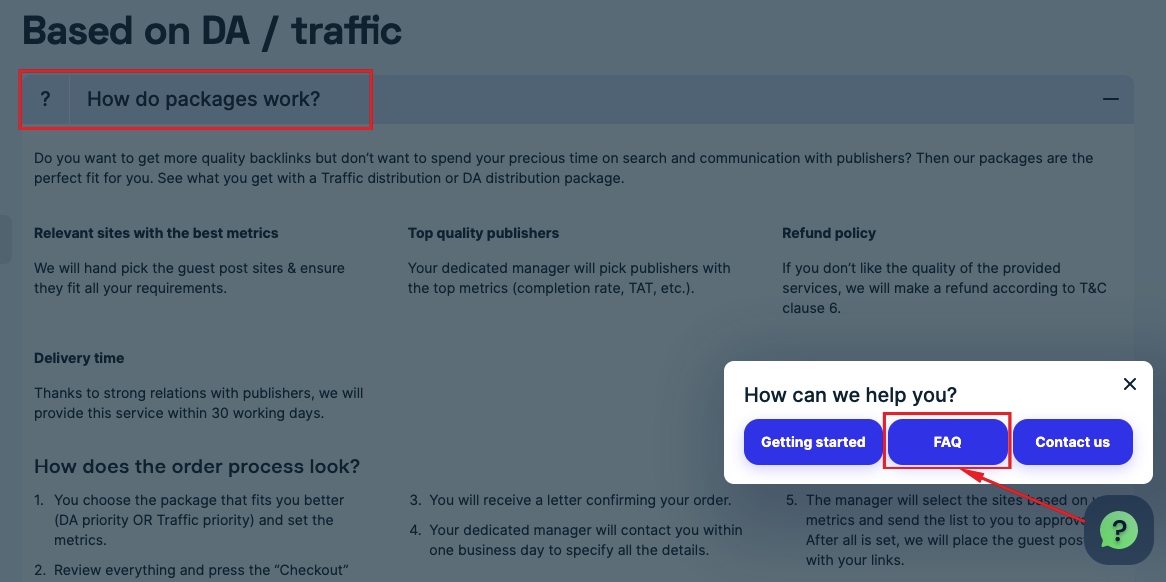 Guest posting don'ts
After you know the best practices of guest posting service choice, it's time to move to things you should avoid.
Don't fall for low prices
Hopefully, you don't get tricked by low prices. What you should take into consideration is the median price for the content placement.
That said if one publisher claims to publish a post at $10 and others do the same for $50 minimum, you should think this over. Most probably, a low price is a hook to attract you and the publisher will try to change the site or price when communicating with you.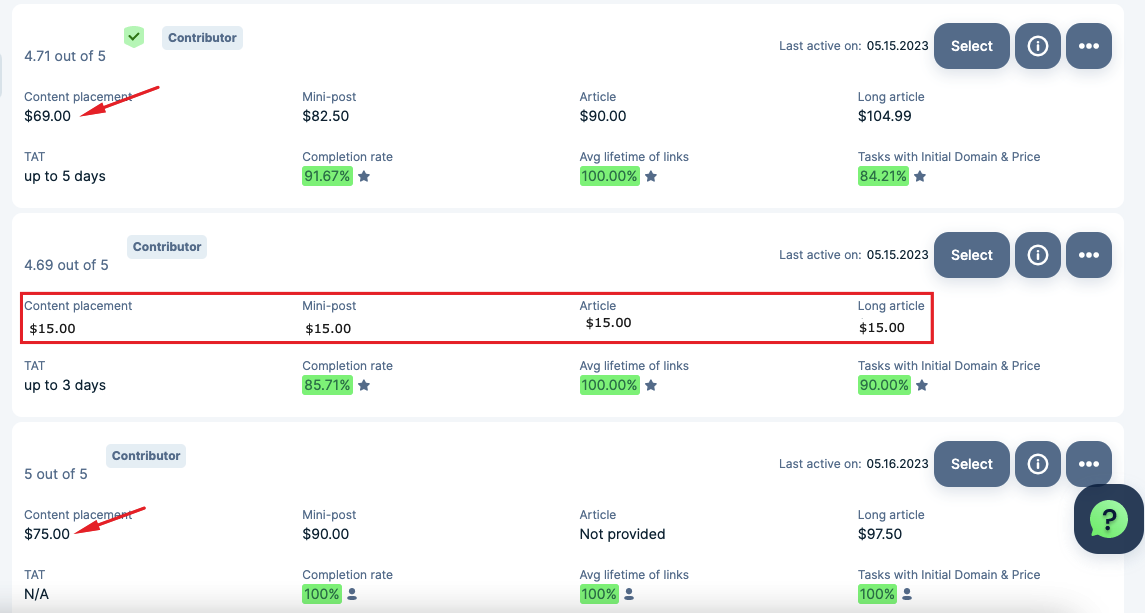 ---
Please notice that the guest posting service doesn't set prices for the guest posts. It only shows listings of available performers for specific sites.
Yet, if a performer tries to trick you with a price, their Tasks with Initial Domain&Price metric will drop down.
---
Avoid guest posting platforms that offer packages only
Avoid partnering with guest blogging platforms whose only services are packages. Most probably you end up with a bunch of low-quality sites or PBNs. Moreover, you won't be able to control what's in the package.
The goal is to work with guest posting platforms that have diverse services and customization options.
Conclusion
Guest posting is one of the top tactics to build quality backlinks. It is a white hat and does not abuse search engine rules.
Yet, you need to know how to use this strategy right to see results. And we hope this article gave you a clue about the guest posting dos and don'ts.
We will be happy to see you among Adsy's customers! Order quality guest posts now and get a $15 welcome bonus.
More Like This