Created on
January 11, 2023
| Updated on
September 13, 2023
5 Instagram Marketing Trends for Businesses to Know in 2023
Content Marketing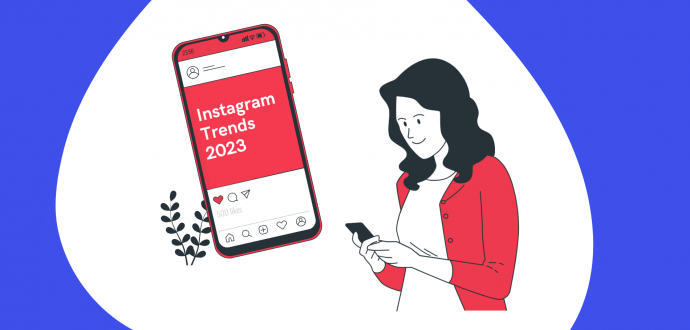 Instagram has been there for over 12 years now. Once started as a platform where users can share their photos and videos, it turned into a huge business.
According to Statista, there are 1.2 billion Instagram users. Some of them are individual accounts, some are business ones. But this number only proves that there is a place for anyone. And your business can promote itself and its products on this platform.
Of course, you need to know the latest trends and tendencies to be successful. We decided to gather information from open sources and the latest Instagram Trends report. So, let's talk about the latest updates and statistics to help you with your business Instagram marketing strategy.
Contents
1. Instagram's audience is getting younger
Earlier, we wrote that it's essential to consider the age of your audience. Different generations think differently and choose different social media platforms.
Instagram stays one of the most used platforms among teenagers and young adults. As such Instagram's users are predominantly people below 35.
Most popular social networks of teenagers in the United States from fall 2012 to fall 2021 (Statista)

If your target audience is younger millennials and Gen Z - Instagram is the right communication and promotion platform for you to choose. Your brand will have the biggest opportunity to grow and reach the right people.
Nevertheless, there is a piece of cake for everyone. If your products or services are for older generations, there's still a place for you.
Distribution of Instagram users worldwide as of April 2022, by age and gender (Statista)

What is extremely interesting the younger Instagram generation has more male users. So, if you produce goods for men - Instagram is a place for you as well.
The main point here is to work out the right approach. Let's take a look at the Old Spice marketing campaign. That's a renowned male grooming brand. The company identified one of its audience's interests which is running. Then, Old Spice built the campaign around it. Many influencers and users supported this initiative.
2. Most followed accounts

As Instagram has such an impressive number of users, you can get lots of followers for your business. For example, Cristiano Ronaldo has the most popular account with 531 million followers.
But that's an athlete (read individual) and we focus on business matters here. If we take a look at the list of the most followed account, we will notice lots of celebrities there. But brands make it to the top too (like Nike with 227 million admirers).
Instagram accounts with the most followers worldwide as of June 2022 (in millions) / Statista

But of course, that doesn't mean you only need to have hundreds of millions or millions of followers to be successful. As matter of fact, you need to know that Instagram users actively follow
fashion brands,
car brands,
food companies,
beauty & health brands,
travel companies.
If you are among one of these industries, expect competence. Yet, at the same time, it'll give you lots of opportunities. If you establish your business account from day one correctly your Instagram will grow.
Of course, don't forget about influencer marketing. There are lots of Instagram personalities that can promote your brands. As Statista puts it, travel, food, fashion, and beauty are among the most famous ones as well as pet influencers.
You need to find your way of communicating with influencers to achieve the best results. This way, even partnering with micro-influencers can be very beneficial for your company.
For example, hair care products company Hair Story Studio actively uses UGC and partners with hairdressers and salons to share their products.
3. Fashion on my mind
According to both Instagram Report and Statista, fashion remains one of the hottest topics in 2023. Brands like Chanel, Gucci, Louis Vuitton, Prada, and Versace have over 20 million followers each!
Does this mean you need to try these fashion giants? Not necessarily. The report clearly shows that Gen Z takes fashion into their own hands. But what does this mean?
This generation is often described as the most environmental-concerned. To prove this statement, see that
50%+ of Gen Z plan to DYI clothes in 2023,
More Gen Z youngsters will thrift their clothing in 2023.
So, if you own a thrift or a vintage clothing store - you are more than welcome to Instagram. Let more people know about your business.
Do you produce clothing? Show that you care! Tell your audience about your ethical use of materials, utilization of reusable materials, or refurbishing of your older collection.
For instance, a clothing brand called Reformation created a Story Highlight where it talks about the brand's sustainability. But there's another highlight about reusability, which is also very cool.
4. Place for foodies
As we mentioned, the food industry and respectively food-related content stay among the top topics in 2023. Popular food influencers gain millions of followers.
If you own a cafe, food truck, or do bakery as an entrepreneur, you can get a loyal audience too! The point is to know it well and create fitting content to grab its attention.
Instagram's report says that 68% of Gen Z users will either continue or would like to try food from another culture after discovering it online. It seems like a great opportunity for us.
You can share recipes of unusual dishes, make food days of a certain culture, or share special offers for some menu positions.
If you take good care of your account you can get noticed. Many online magazines and bloggers write about what food account to follow. Most suggestions go to influencers, yet restaurants, bars, and catering companies are on the list too! This way, you can grow your brand awareness in multiple ways.
5. Take on the Metaverse
Over a year ago Mark Zuckerberg introduced a new name for its corporation that is Meta (previously Facebook). The switch shows that the tech giant is eager to produce new ways of communicating and interacting with users via the metaverse.
The metaverse will be built by everyone, with creative ideas and practical applications being developed every day by all sorts of imaginative people. (Meta)
Leading benefits of the metaverse worldwide in 2021 (Statista)

One of the main instruments of building the metaverse will be virtual reality glasses alongside AR, VR, and MR as the main technologies. People can now create avatars, explore new digital worlds, and even be present at various virtual events.
This topic is so huge that 50%+ of Gen Z users plan to get fashion or beauty inspiration from digital avatars or influencers in 2023. Moreover, Meta plans to introduce digital collectibles to showcase NFTs on Instagram.
Huge brands like BMW, Gucci, Nike, and more are feeling the hype and making their way into the metaverse. They create digital cars, and virtual clothing, and make fashion shows. So, we recommend you check their strategies to get inspiration and re-work them for your business.
Conclusion
Instagram is among the most popular social networks. 63% of Instagram users in the United States access the photo-sharing app on a daily basis.
By integrating new technologies like metaverse, we believe the network will only grow bigger.
This platform is huge numbering millions of accounts. But this only means anyone can find what they like be it fashion or traveling. And this means, there's always a place for your business!
Keep an eye on the latest Instagram marketing trends to set your strategy correctly. We believe 2023 can be a year of progress and new opportunities for you!
Data from Instagram Trends Report and Statista.

More Like This