Created on
May 24, 2023
| Updated on
May 31, 2023
5 Examples of Creative Marketing Campaigns by Brands
Content Marketing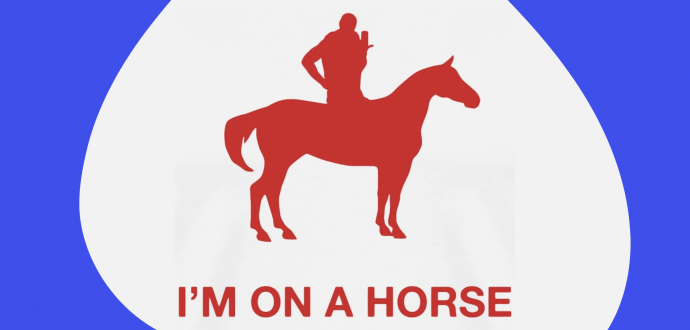 Did you know that the digital marketing market is projected to reach $786.2 billion by 2026? Or that 63% of companies have enlarged their digital marketing budgets past year?
These statistics prove that marketing stays an essential business process for any company. As we all know, marketing stays an activity that allows companies to promote and sell their products. Yet, you can do this differently.
While some digital marketing campaigns change the game, some pass completely unnoticed. But what does the campaign memorable and relatable?
In this article, we will share five bright examples of creative marketing campaigns that made us say "Wow!" Let's see if you've heard of them too.
Contents
1. Old Spice's "The Man Your Man Could Smell Like" campaign
Old Spice has been making viral content for a long time. It's hard to find someone, who hasn't heard of their iconic phrase "I'm on a horse" or seen a funny video.
But did you know that the legendary phrase is actually a part of "The Man Your Man Could Smell Like" campaign? And that this campaign has a whole Wikipedia page dedicated to it?
Yes, this marketing campaign was this huge!
The ad first appeared in 2010 and was a creation of Wieden+Kennedy (an advertising agency). An ad was a single-take shot and took three days to film. Yet, the effort was worth it resulting in 11,000,000 views and numerous honors and rewards.
Nevertheless, what makes this campaign stand out? Of course, Craig Allen and Eric Kallman - the authors - wrote a funny and emotional script. But the last phrase "I'm on the horse" is what makes it so catchy. It's the true punchline that has made the ad so memorable.
The technique the advertisers used is called a non sequitur. That means some sentence or phrase sounds absurd related to other content of an e.g. advertisement.
So, sometimes pushing the boundaries and skipping traditional approaches can bring results.
2. Coca-Cola's "Share a Coke" campaign
Personalization plays a huge role in marketing. This approach is of high importance in the last couple of years. 87% of customers shared that personalized content positively influences how they feel about a brand.
And Coca-Cola passed the vibe check and did everything to provide this kind of experience back in 2011!
So, instead of making traditional Coke wrapping it created a new one that stated: "Share a Coke with…" And those dots were actually popular names. This way, you could share a famous red can with family and friends. Or just find one with your name on it.
The campaign first launched in Australia in 2011 covering 150 most popular names. Next up were Great Britain in 2013 and the US in 2014.
As Coca-Cola often promoted family values, spending and sharing moments with your loved ones - this campaign just blended in perfectly. Just remember how desperately we all looked for a bottle with our or friend's name on it.
Yet, when the campaign launched in China, the brand slightly changed what was on the wrapping. Instead of names, Chinese customers found nicknames. The twist was made to fit the cultural differences and smartly engage shoppers within the country.
This way, Coca-Cola's marketing campaign shows how a personal approach (and generally, personalization) can make a product stand out.
3. Airbnb's "Live There" campaign
Many brands turn to providing authenticity and immersive experiences. And Airbnb is no exception.
With its 2016 "Live There" campaign, Airbnb encourages people to be travelers rather than tourists. The booking platform created a series of short videos showcasing experiences people can receive exclusively via Airbnb and its community.
The main highlight is an opportunity to feel just like at home no matter where you are.
What does Airbnb do to grasp users' attention from the very first seconds? Well, the narrator says "Don't go to Paris. Don't tour Paris." Which is not logical at all as it's a travel company's ad. But that creates a perfect hook making people wonder what will be next.
As the story develops, we understand that Airbnb is ready to provide a one-of-a-kind experience allowing: 1) to be yourself; 2) to feel like a local at the same time.
In fact, Airbnb offers to be a part of a city and a part of a culture every time you travel and book a stay with this brand.
So, providing your unique experience to customers and adding quality storytelling to your campaign can be key to success.
4. Red Bull's "Stratos" campaign
Red Bull's marketing campaigns are different, in general. While other brands work with ambassadors who are famous actors, singers, etc., this company uses another approach.
In most cases, you won't know the athlete's names - instead Red Bull makes its brand name as popular as possible. You see crazy track rides, extreme flight days, or some fun events - we assure you that you notice the Red Bull logo everywhere.
So, when you remember a guy making a jump from the stratosphere, Red Bull's name just pops up in your head.
That was the "Stratos" campaign live-streaming a freefall of Felix Baumgartner sponsored by Red Bull. In October 2012, Felix flew around 39 km to the stratosphere. This way, the brand set its hand on the safety of space professionals' improvement as well as potential space tourism.
Besides, "Stratos" was another ground-breaking campaign that attached Red Bull to all sorts of extreme sports and activities much tighter.
Sure thing, not every company has the budget to sponsor something like skydiving. Yet, that's an example of how you can choose a niche or direction within your industry and become noticeable and authoritative in it.
5. Dove's "Real Beauty Sketches" campaign
Dove has presented a third campaign (after Old Spice and Red Bull) that has its own Wikipedia page. As you can see, some projects go huge and impactful.
Created by Ogilve&Mather, it shows how women evaluate their beauty. The goal was to bring out that women are more attractive than they actually think. To prove this, the woman described herself to a forensic. Later another lady talked about the preceding woman's appearance.
It so happened that the strangers' descriptions were more accurate. On top of that, those pictures appeared to look more flattering. Of course, those sketches brought a strong reaction from participants. Women were really emotional and hopefully, ensured, they look really divine.
The "Real Beauty Sketches" went viral generating over 15 million views. BuzzFeed listed it among the Top 10 items in April 2013.
Though some issues shared a mixed reaction calling the marketing campaign "thought-provoking," the majority of publications and viewers shared positive experiences after watching the video.
After all, the goal of "Real Beauty Sketches" was to promote self-acceptance and question conventional beauty standards. And we think Dove's team did it.
Your campaign shouldn't be as huge as this one. But you can create something that arises questions and involves your customers in conversation.
Conclusion
There are lots of promotional approaches companies use. Some are more effective and some are less.
We understand that it's hard to find and mark the perfect formula for the marketing campaign's success. Yet, in this listing, we tried to share different takes on the company's promotion and advertising.
You can use your expertise, be funny, or make something that is out of the ordinary. The choice is fully yours. Just don't be afraid to show your creative side, know your audience, and don't forget to evaluate your results later on.
More Like This