Created on
June 16, 2021
| Updated on
September 22, 2023
How to Buy Backlinks and Secure Yourself from Penalties
SEO Articles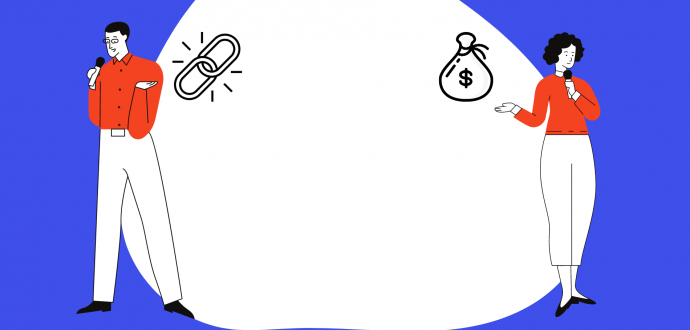 To buy backlinks or not to buy, that is the question.
Some may doubt this tactic. And we understand why. Well, nobody wants to get penalized by Google. Yet, you still need to have backlinks as they are among the top Google ranking criteria.
So, how do you not get in hot water?
Gladly, it's possible thanks to understanding the essence of backlinks, what Google values, and what doesn't. But before this, let us show what fellow SEO specialists think about backlinks.
53% of marketers think that link building continues to have the same impact on search rankings,
92% of marketers consider links still to be ranking criteria in Google algorithms in five years,
41% of SEO experts assume link building to be the hardest part of search optimization.
Accordingly, link building is a necessary yet tough activity. Today, we'll share how to smartly work with links and even the best place to buy backlinks!
Contents
What are backlinks?
First of all, let's get down with the basics.
A backlink is a link that appears when one site points to another.
Basically, when any external site links back to your website, you get a backlink. Backlinks are vital for SEO. When others point to your site, they express a vote of confidence for your site.
Search engines, in turn, take this as a signal that your source is worth trusting. This way, if multiple sites link to your site or page, search engines perceive it as a fit to show to a user's query.
That's what Google says about links.
Google and most other search engines use links to determine reputation. A site's ranking in Google search results is partly based on analysis of those sites that link to it.
This basic information clearly shows that your site needs backlinks. They are the cause search engines rank your site better. As a result, you show your business to more people and have better chances to convert them.
As long as backlinks are a ranking factor, you can't succeed without them. 94% of the world's content receives zero backlinks, and you don't want to experience this.
Link building tactics to avoid
But are all links equally good?
Of course, they are not. That's why you shouldn't use any link building technique you see on the Internet.
Moreover, there are lots of horror stories considering penalization by Google. We won't deny this fact. It's possible. But only if it is too obvious that you buy links.
The point is that the link acquisition looks unnatural. For example, when you get 100+ links per day. Or when you get lots of links from suspicious sites or sites that have nothing in common with yours.
Besides the restrictions for the too high pace of getting links, Google will punish you for acquiring links from PBNs. Another tactic to sheer away from is using only exact match anchor text.
This approach may lead to close attention from Google's side. Ensure that your anchor texts look natural. This way, use various anchor texts (exact match, keyword phrases, brand mentions, etc.) to stay off troubles.
Also, we'd like to share ten link building techniques to avoid:
Do not use links coming from unrelated sites.
Do not use offtopic site-wide and footer links.
Avoid links coming from low DA sites.
Avoid links from article directories.
Forget about backlinks with over-optimized anchor texts.
Forget about links from low-quality or thin content pages.
Say no to links from penalized sites.
Say no to links coming from blog comments.
Stop employing nofollow or dofollow social bookmark links.
Stop employing automatic link building programs to build links.
Use this checklist to quickly find some toxic links coming to your site (if any).
So, do I really need to buy backlinks?
Link building is an inseparable part of SEO. Backlinks are one of the most influential reasons why your site ranks well. So, yes, you have to engage in this activity.
The point is to purchase quality links and do it smartly.
At first, think of what to check when you buy backlinks.
Examine the backlinks' quality - nowadays, just a random link may do more harm than good. So, check the links you are getting. Statistics say that 65% of SEO specialists measure link quality by looking at DA. At the same time, some of them also use DR (48%) to measure quality.
Make a quick checklist - that will help you toss low-class or inappropriate links. For instance, this list may include the site's TLDs, language, industry, domain using strong language, etc.
Find where to purchase links - for instance, direct purchase and linking services are not the best options to proceed with. It's better to partner with SEO agencies or guest posting services.
Perhaps the question of where to buy backlinks is the most essential. Why is it so?
Well, because if you find a trustworthy service to get links from, the first two questions will become irrelevant. You will receive high-class links, not fearing to get them from PBNs or directories.
What links can I purchase?
It's obvious that you need backlinks to succeed in the SEO game. So, if used cleverly, link purchase can work awesome, just like outreach, cooperation with bloggers, PR activities, etc.
So, let's figure out what backlinks Google will enjoy seeing.
Linking sites. Google values links coming from authority and high-quality sites. Such interaction will send more positive signals to Google and increase your chances of ranking better.
Dofollow or nofollow. Dofollow links will notify search engines they should count them when ranking your site. So, you should concentrate on dofollow links when doing link building. Anyway, we have to notice that you should aim at a balanced link profile. That means your site needs to have nofollow links as well.
Link location. That's really important. Ensure that a backlink is in the main body content. They are the most weighty and give much more value than others.
Editorial links. Those are links coming from trusted websites. These backlinks may point back to your site as a source of additional information, as a citation, as an infographic/visual creator, etc.
Authors bio backlink. Sometimes there is no opportunity to include links within the text. In this case, bio's links come to the rescue. They offer lesser value yet still can add some more weight to your backlink profile.
Press release backlinks. Thanks to the press release submission, you can not only tell about your company's updates. It's also a great way to acquire quality links from respected online publications.

And here's what factors Google points out considering backlink quality.
The link comes from an authority site.
The link has your target keyword in the anchor text of the backlink.
The link that points to your site is from your industry/niche site.
Thus, a backlink service you are using should provide you with links taking into account these factors.
Assuming this fact, we advise you to work with a trusted guest posting service like Adsy.
That allows you to purchase top-class backlinks. Here's why.
We precisely check each site (for every accepted, we have two declined).
We have strict quality policies.
There are 35,000+ sites to choose from.
There are DA, DR, and monthly traffic metrics to help you.
There are 50+ categories (in other words, industries the site operates in).
You can pick links' type (dofollow or nofollow).
All links you get are within the main body content.
You state the anchor text on your own.
You control the quantity and speed of the link acquisition.
This way, you can buy backlinks at no risk. You receive links from relevant and authoritative sites.
Conclusion
There is no SEO without link building. You can have numerous activities to rank your site better. But they won't be complete without backlinks.
Today we did our best to clarify the controversies that exist around link purchase.
As you can see, there's nothing scary there if you know some rules. In fact, remember to:
partner with trusted link building services (better - with guest posting services),
ensure your backlinks come from quality sites relevant to your niche,
avoid buying too many backlinks at once,
brush up your link profile regularly.
When you buy top-class links consistently, and in modest quantity, you won't get punished. Moreover, you will grow your positions on SERP and expose your site to a bigger audience.
Make sure you provide helpful and informative content. This way, thanks to this and high positions, you will naturally get more mentions and links.
Tell us, what link building strategies do you employ? Have you worked with link building or guest posting services?

More Like This