Created on
October 28, 2020
| Updated on
May 12, 2023
Guest Blog Posting 101: How to Use This Strategy with the Full Force
Guest Posting Tips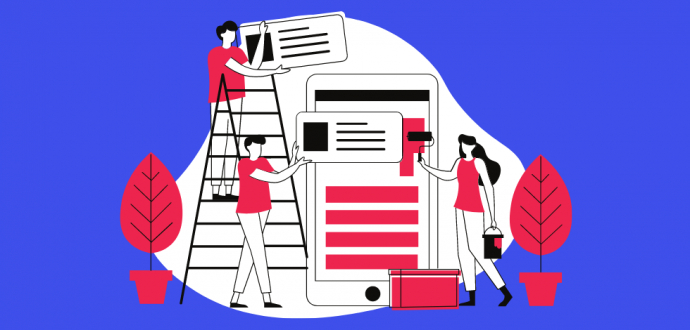 Matt Cutts, a former Head of Web Spam at Google, said that guest blog posting is dead. So, why should you even check this article? Wait, don't close it! Many marketers and companies have proved that guest blogging is doing good.
In fact, it's doing better than just good. It's flourishing and evolving. According to recent Optinmonster statistics:
60% of blogs write one to five guest posts per month.
50% of contributors reach out to place guest posts over email to 10 or fewer contacts a month.
56% of bloggers post for multiple sites.
7% of bloggers pitch to 100 or more blogs per month.
That leads us to the conclusion that SEO blog posting still could be a worthy strategy.
Contents
What is guest blogging and why should you use it?
Before breaking down some guest blogging rules, let's figure out what it actually means. So, we are going to define the term in the following way.
Guest blogging is content production with an aim to place it on the external site or blog.
It's pretty clear from the name itself, that this activity involves blogging but on third-party sites or blogs. Of course, you may wonder why do you need to write articles for other blogs rather than yours?
Well, guest blogging can help you reach three goals:
Develop backlinks to your site
Direct more traffic to your blog/website
Claim yourself as an industry expert
Guest blog posting is an integral part of the company's content marketing strategy. This way, when you are planning marketing activities for your brand, don't forget to save time for guest posting.
What are the benefits of guest blogging?
If you build your guest posting strategy correctly, it may bear fruit. We are going to share seven main benefits, guest blogging services can give you.
1. Grow your brand awareness
In fact, you can reach 174% audience extension and brand awareness growth with guest blogging.
Guest posting is an amazing opportunity to show your expertise. It's your time to shine! We highly recommend submitting guest articles to niche/industry sites.
Here are some article's characteristics you don't need to forget about. It should be:
Useful
Relevant
Informative
Expert
Unique
Don't forget to use the company's tone of voice across all platforms. Also, show your potential customers how your company helps solve their problems.
2. Build a strong backlink profile
Many blogs offer to insert the "dofollow" links in the articles. That means you can acquire quality backlinks.
The domains referring to your site will be relevant. It's because you post on industry-related blogs. Also, those backlinks will look natural as they are covered in the text.
Besides, guest posting allows you to build backlinks from high-authority sites. That will positively influence your off-page SEO.
3. Get more targeted traffic
Without or with links, you aim to drive more traffic to your site. That is possible if you publish high-quality content that has a novelty. In fact, 50% of guest posts get 50 to 100 visits from the referring site.
Moreover, if you are killing it with your article, you get 3x more leads close to conversion. Sounds awesome, isn't it?
Well, to ensure better CRO, make sure to prepare outstanding landing pages, CTA, and other content of yours.
4. Increase your online authority
It's hard to stand out in the noisy world of content. Only after you deliver quality content, you may gain authority. So, strive to become your industry thought leader.
Do what it takes to earn trust. Only this will help you build strong relationships and increase customer loyalty.
Try your best to contribute to authority sites and niche leaders. That'll show the audience that you are also trustworthy.
5. Get qualified leads
What can be better than a person that understands what you are talking about? Respectively, guest blogging ensures 62% of budget savings through relevant audience interactions.
You've heard it right. In the first stage, you interact with an audience that is already interested in your industry. In the second stage, with your content and solutions, you may get them interested in your business.
Once again, think of the landing page you are driving the prospects to. It has to correlate with the guest article. That'll ease the users' navigation and convert them into leads with a higher probability.
6. Cut the sales cycle
The sales or marketing funnel has a certain amount of stages. You can pass some of them by employing guest blogging.
Respectively, guest posting on authority sites helps you reach the fitting audience faster. Also, it is much easier to pitch your brand or services to potential customers. As people already trust the site they are reading, you have more chances to cut the cycle.
In fact, guest posting brings a 75% increase in direct sales thanks to the hot leads. It's a worthy argument to try this strategy.
7. Expand your social media presence
Don't get too surprised. You can extend your social presence with the help of guest blogging. Basically, all you need to do is check the social media of the sites that you target.
If they have enough subscribers and regularly share their articles via social networks, it's your right choice. It's your chance to double the online presence straight away.
To make your article more likely to be shared, add some shareable content to it. It could be statistics, infographics, and so on.
What are the traditional guest blogging opportunities?
90% of resources will show you this option to submit guest posts. Can you guess it?
Well, it involves "search operators." What are they? Basically, it's a string of words or a phrase you type in the Google search box. For instance, "write for us + beauty." After this, you receive some amount of results.
But what does happen next? Well, lots of work awaits you. The full process of article submission looks like this.
You use search operators to find the appropriate websites.
You check them for relevancy and authority.
You form a table with the list of fitting sites, contact information, and results.
You write a letter with a pitch.
You get a positive or negative answer.
You prepare content.
All it may take long weeks of searching, communicating, and writing. Yet there is no guarantee of being placed. That's why we move to another part of the article.
Learn how you can place your content easier, worry-free, and in less time.
What is a guest blog posting service and why is it so cool?
The blog posting services are special platforms that connect publishers and contributors.
This way, you eliminate the stage when you spend long hours looking for appropriate sites to place your content. The guest posting service already offers thousands of platforms ready to publish your articles.
On top of this, in most cases, you can sort publishers by Industry to ensure you are placing your content on the relevant site.
What's even better, it's super easy to register on the guest blogging platform. All you need to do is press the "Sign up" button, fill in your data, and confirm your email address. And you are ready to get started!
Then make sure you have signed in as a Buyer. Click on the "Search for publishers" tab. That's where you will pick the fitting sites/blogs to publish your guest blog.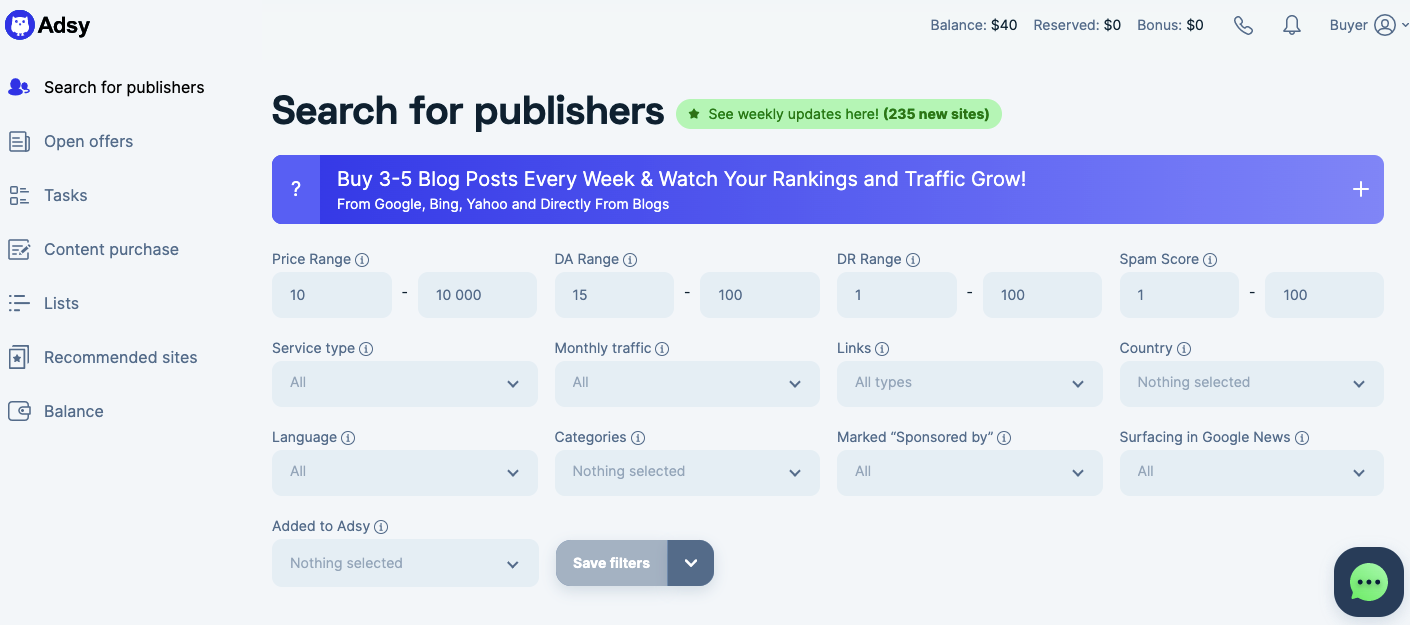 Use 13 helpful filters to choose relevant guest blogging sites. We advise paying really close attention to the following metrics:
DR,
DA,
Spam score,
Links,
Category.
That guarantees you get placed on the right blog and build quality links.
Conclusion
As you can see, guest blog posting is a rather popular technique many marketers use. Of course, it takes time and effort. Yet in the outcome site owners may receive outstanding results.
In this article, we've highlighted seven amazing benefits that guest posting may give you. That's why we recommend integrating this tactic into your content marketing strategy. Moreover, with the help of guest posting services like Adsy you can reach incredible results much faster.
Tell us more about your guest posting experience. Have you ever tried it? Did it bring results and if yes, which ones?
More Like This