Created on
January 30, 2018
| Updated on
June 14, 2023
6 Types of Content That Inevitably Fail
Content Marketing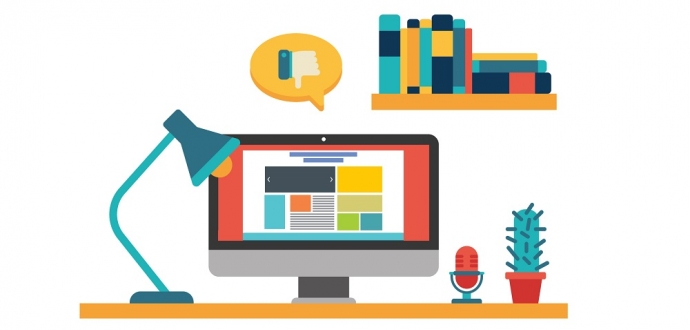 Content writing is resourceful and sometimes complicated. Yet, you cannot skip this part of content marketing if you want your brand to grow and evolve online.
Unfortunately, you can't always know for sure what made your content a hit, and why it got thousands of shares and hundreds of comments. (Well, at least you can check some working assumptions about content creation.)

But you can be sure that if you write some of the content, we'll describe in this post, it will never get appreciated by the audience. So here it is, the content that inevitably fails.
Contents
1. Boring
The one that you can't read without a yawn, despite the cup of coffee in your hand. The first thing that comes to mind when someone says "boring content" is the story that is unappealing, long, plain, and fuzzy.
This shouldn't mean that you need to torture yourself every time you need to write, say, a blog post, trying to create a piece worth the Pulitzer. Sometimes writing comes easier, while you may struggle for hours sitting in front of a blank document some other time. When this occurs, keep this short list of questions close at hand while you're working:
What point do you want to make with your content?
Do you really demonstrate this point in every paragraph?
Do you have enough examples and real-life stories to support your idea?
These questions won't help you generate highly original ideas, of course. But they will keep you focused, which, in its turn, will make your content more focused, specific, and to the point. To freshen your story up, you can then work more on crafting an enticing title for it.
2. Unsuitable size and format
Sometimes text itself is not the only case. You can make a really good point, be witty and clever, but tons of good content goes unnoticed because you turn your text into an army of words, standing close to each other. No paragraphs, images, or examples. Wordy content alone, as if it's an essay or a thesis and not something real people are going to read.
When you catch yourself writing something similar and justify it by saying that text, content, and real advice are what your readers are seeking, think about this:
These stats mean no more, no less than
readers find visually supported content more useful and worth attention, and
you will only benefit from mixing your content with visual aids
In one of our previous blog posts, we already covered the topic of quality content, including formatting, and readability tips, so check it out to find out more about content that attracts readers and converts them into your loyal audience, devoted users, or whatever you need them to be.
For now, the main thing to remember is that the way you present any content matters just as much as the content itself. If you want to see it shared, commented on, or at least read up to the end, learn to hook readers. Do it with writing which is easy to process and a general style that supports every significant idea.
3. Salesy, company-oriented
If you write for business, be it B2B or B2C, it's understandable that you may want your content to be a reflection of your company's beliefs and achievements. The only thing is, this is what makes it fail.
From the very beginning, draw a definite line between content that tells people how your business can help them and content that only tells how great you are and what an honor it is for people to have come to you. Because this line really does exist.
It may sound trite, but successful business and content for business are only possible when you place your users' needs first. This so-called customer-centric approach means farsight, understanding, support, and genuine care for your customers that should imbue your writing.
Start with answering "why" you're writing what you're writing. Is this news about a service you've launched your way of saying what a great job you have done? Or is it about sharing a way to help your customers make their life easier through this innovation you've integrated?
4. Content for the wrong buyer persona
Just as when you write solely about yourself, writing about someone who is not in your target audience will bring no result.
Defining your buyer persona is not only about figuring out the market share your business falls into. It means also narrowing down to such traits as age, gender, education, occupation, etc.
As soon as you finally get to know your customers spend some more time mapping out their journey with your product. This way, you'll be able to promptly and appropriately answer their questions before they turn into a real issue. You can even work on creating some additional content for each of or some stages of the customer journey.
Adsy has already given an insight into video content that helps users discover, get to know, and make up their minds on a product - see this blog post to read more on the topic.
5. Content for search engines
This is such a widespread mistake that we actually have a separate place for it on our shortlist of business blogging sins. Staffing your content with keywords will not necessarily attract more visitors to your site. What's more, those who will come will hardly choose to read texts with little sense and gazillions of keywords willingly.
For those of you who are still lost and perplexed when it comes to SEO and content, we've got two blog posts on their integration, you can find them in this section.
6. Content without proofs
It's quite simple here. When you make a point, illustrate it with anything you've found - stats, graphs, quotes, tweets. When you use someone's opinion, don't omit their name and, possibly, a link to their profile or website.
All this will signal that your content has some real and rather serious grounds. Credibility is one of the key points that make readers finish with their reading and then come back to your site later when looking for some relevant information.
Conclusion
These are the main reasons why your content may be failing. Have you faced any others in your practice? Let us know in the comments below!
P.S. If you found the information we've gathered useful, share it with your friends - help them create content that is always successful.
More Like This