You've seen those "sponsored" and "advertisement" labels on your favorite websites or social networks. But what do they actually mean? And, more importantly for you, a marketer or a publisher in the content marketing industry, do they work? Can you employ them in a similar way, or should you avoid them, as they scare the customers away from your brand?

In this post, we'll investigate the case about sponsored content, and see if there are any safe (or maybe even effective?) types of sponsored content.
There are actually three kinds of content that we're examining today. They are so close to each other that up until lately it was a real problem to define and separate them. However, now we can clearly see what each of them is, and what it's not.
Promotional content types
As you may know, as a marketer you always can employ owned, earned and paid media to promote your brand and keep in touch with your customers. All three content types we're looking at today are united in the fact that they relate to paid media.
Sponsored content
Sponsored content has been a promotional tool for a while now. For brands and their marketers, it has a powerful potential to build awareness and approach new people in hope to turn them into customers. For publishers, witty and helpful posts are not simply a way to monetize the website, but a chance to become influencers in the industry.
What are the main features of sponsored content?
First of all, sponsored posts are, in most cases, created by outsourced publishers rather than by the writers working for the brand. These publishers will later place the posts on their sites.
Secondly, sponsored content usually takes an educational rather than a promotional tone, as its initial goal is to create a positive image of the brand.
One truly brilliant sponsored content example is the collaboration between Qualcomm and Atlantic last year.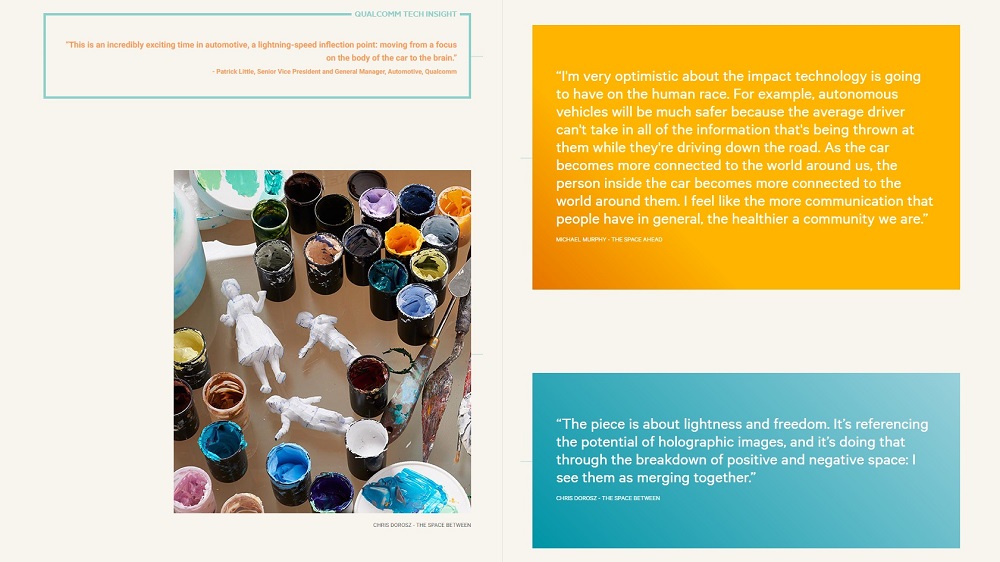 Atlantic admitted that this post managed to triple its click-through rate and made readers spend around five minutes reading the content. That is a huge number if to remember that the average attention span of internet users is 8 to 12 seconds! Moreover, when the readers were asked to define if this piece of content is an editorial or a sponsored post, 47% voted for an editorial.
Branded content
When it comes to branded content, it differs from sponsored by two significant features - the authors that produce it and the place where it's later published.
As soon as brands realized the power of storytelling and blogging in general, they started to actively use them to keep in touch with their customers.
When it comes to branded content, marketers prefer to use in-house writers to create it. And, unlike, sponsored content, branded features are published on a brand's own blog or website. The main goal is, however, the same - build up relationships in an entertaining tone rather than in a sales-driven.
Airbnb, which we examined in our recent case study, can serve as an example of elegant branded content implementation in content marketing.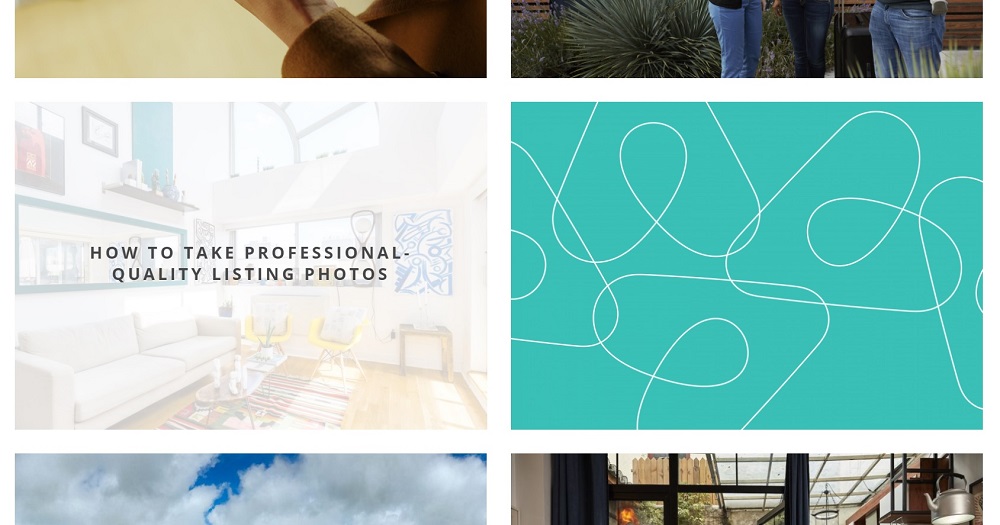 As a result of such useful blog posts, brands also boost their search engine rankings and organic traffic to the website. The readers get to know you and your brand better, and, quite possibly, make a purchase decision in your favor.
Adsy is very proud to provide services of both sponsored and branded content creation. On our platform, you can easily find publishers who will create and/or place a sponsored post on their sites.
Native content
Native content or native ad is, however, a bit different type of promotional content. As it comes from the name, it's an advertisement, therefore, its initial goal is to sell, not to educate.
Native advertising is a strategy that means to imitate the style and design of the platform it's placed on. You may have noticed such ads on Facebook or Twitter - those in-feed posts not from your friends or people you're following.
Native ads' main advantage is the ability to reach the audience that is targeted as much as possible and to take the form which is not annoying to the users.
The most popular native ad examples include:
In-feed pieces (used on social media as well as on publishing sites)
Paid search results (the ones you see on top of your Google search results page)
Promoted products (seen on Amazon and some other shopping platforms)
Below is an example of native content you can run into when shopping on Etsy: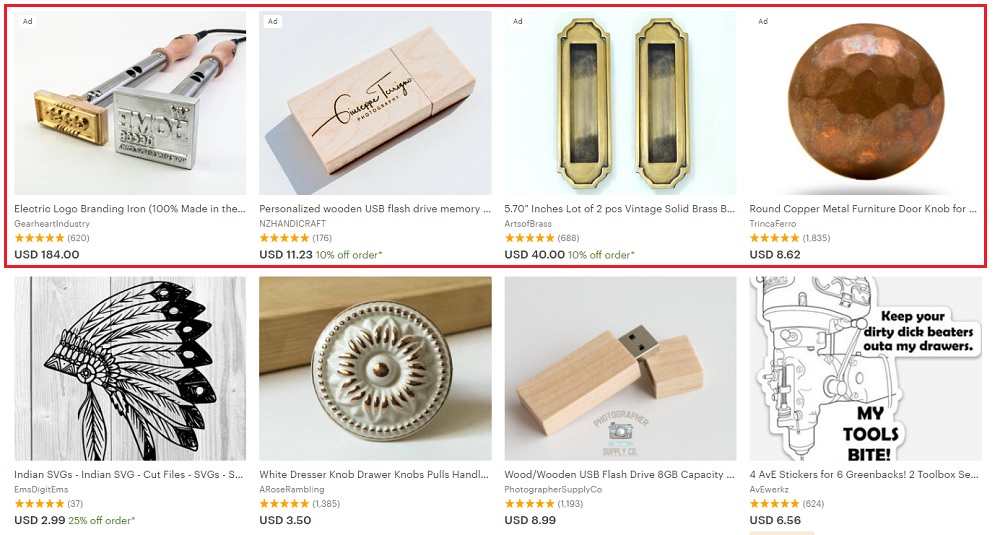 Sponsored content myths
From this point on in the article, we'll mainly talk about sponsored content and native ads as promotional tools for content marketing. What is particularly important for us is the reaction they evoke in readers, the level of credibility they have, and ways to enhance their persuasiveness.
Right now we'd like to dispel some common myths about sponsored content to help you orientate yourself better in the market and make a wise choice for your content marketing.
A study on native and sponsored content, conducted by Contently in 2016, revealed a list of problems content marketers encounter and the challenges they have to overcome.
Respondents answered questions concerning the way they perceive such content, moreover, content on different platforms, the way this type of content affects their purchase decision and trust to the brand. We'll look at some of the findings not to be misled by common myths.
#1 - Readers are not interested nor influenced by native ads
Myth. More than a half - 59% - of users admit their interest. They also feel convinced by the ad or sponsored post and express the opinion to purchase from the brand.
#2 - Readers don't trust sponsored content
Myth. 41% of readers trust it completely or at least partially, in comparison with 24% of those who don't.
#3 - Native ads worsen publishers' reputation
Myth. 48% of respondents say the ads have a positive impact on them, while only 10% have a negative one.
#4 - People don't mind when the content is sponsored
Another myth, sadly. 54% of respondents feel deceived when they realize the content they've just read was sponsored. However, it's not a reason to give up on using sponsored content and native ads. Look at all the previous myths to see some real potential behind them, and use them wisely. We'll give you a couple of hints on that.
What do customers want from sponsored content?
Shortly, they want to know. As the biggest part of users have troubles with identifying content they're reading (43% confuse native content with editorial), they want to have some identification when running into sponsored or native content.
For most of them (49%) a word "Sponsored" next to a piece of content is the best textual label. In addition, the majority of respondents (74%) would wish to see a brands' logo, too.
Another way to help readers identify sponsored content is to place it in specific parts of a publisher's website, or at least, mark its borders with a different color.
It's interesting to learn that users have much fewer problems with recognizing native content on social networks. Take Facebook, for example. First of all, it's almost perfectly targeted, and will surely improve with time. Secondly, ads on Facebook have clear "sponsored" identification.
Future of sponsored content
Within the next few years, content marketing is expected to develop the area of sponsored and native ads. The main work will be done with the development of some universal standards for brands, publishers, and social networks.
At the moment Facebook and Google together receive 74% of overall digital ad revenue, and we can expect this number grow bigger. Google will hardly lose its number one position in the online advertising world, and Facebook can easily gain a bigger coverage along with the increased mobile devices usage.
Sponsored, branded and native content will definitely become a driving force for business growth. It's rather hard to say which of the three content types will be dominating in the content marketing industry. What is known for sure is that the urge for top-quality content will increase exponentially as marketing, storytelling, and journalism keep mixing together.
If you liked this article use social media buttons on your left and share it with your friends. We'll also be really happy to read your comments on the topic.