Created on
September 27, 2017
| Updated on
June 29, 2023
Paid Content Overview: Is It Worth to Use Sponsored, Branded or Native Content in 2023?
Content Marketing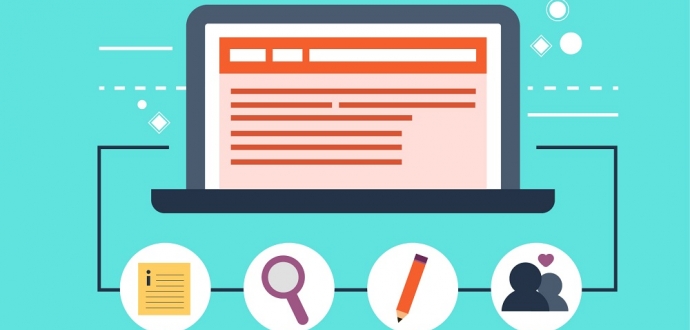 The development of the digital sphere forces marketers to adapt to new conditions almost every month. The change in user preferences and the emergence of new technologies force brand owners to look for the best options for advertising content. Although the types of content remain unchanged, they simply acquire new tools that allow you to get new customers.
We are talking about sponsored, branded, and native content. Surely you heard about each of them and most likely you even know firsthand about each. But which of these kinds of content should be used in 2023, and which one can be left for later?

Why are we talking about which type to leave for later but not to skip it permanently? Because to ensure effective advertising, it is optimal to use all three kinds of content. This year, online advertising trends have shifted focus from one type to another. This is exactly what we will talk about in this article.
Sponsored content
Sponsored content can still increase brand awareness and attract new customers. But only when such content is educational, and not direct advertising. This way, you can create a positive brand image. Typically, such content is created by third-party publishers who post content on their sites. Nowadays, this type of advertising successfully works as storytelling and video content.
the 9th season of the popular Youtube show "Hot Ones" was sponsored by Tums

If we look at Instagram, then most influencers advertise ten brands a day and most of the audience follow the links but do not turn into real buyers. This is due to the fact that the audience understands that this is an ad and the influencer loses credibility. Although the standard circuit still works, it no longer has the same effect as several years ago.
Therefore, when choosing an influencer, you should pay attention to his/her audience and how it matches yours, as well as how often the influencer has an advertisement. Now the less the better scheme works.
Direct sponsorship content may work on TikTok. This platform is gaining momentum almost daily and can be an ideal place for sponsored content.
Branded content
This type of content is essential for all brands and it's not in vain. High-quality content on the site and social networks can transform users into real buyers. However, in 2023 this works only if there is high-quality content.

Is it worth hiring an author who will create content for your brand? Definitely! Also, in addition to the quality of the content, do not forget about visualization and compliance with the brand voice. According to Statista, 47% of Internet users read blogs every day. If we rely on Traffic Generation Cafe, it's possible to increase traffic by posting from 24-51 blog posts, which once again reflects the need for the continuous development of the brand site's blog.
It is also significant to mention a good opportunity for highly specialized brands. It's much easier for them to get into the top Google search results according to the specific queries if the content carries useful and voluminous information.
2023 portends that videos bring sales, so this kind of content should not be ignored either. Based on the reports, Martech Advisor found that the availability of video in the email list can increase click rates by 300%.
Should you create branded video content? According to Wyzowl, 97% of users understand a product better through a video. Creating video content can be cheaper than native advertising but no less effective. Moreover, such platforms as Instagram and TikTok do not require videos with clearly defined scripts and support a freestyle. According to Hubspot research, 65% of users make a decision after watching the brand-focused video.

Native content
Native content is an advertisement that appears on a third-party platform but does not look like an advertisement. The format of such advertising organically and aesthetically fits into the design of the platforms. Thus, this type of advertising does not irritate the user.


Today, marketers are also using this type of ad to reach their target audience. Why did marketers begin to invest less in such ads? On average, one Internet user receives more than 1,700 banner ads per month, but only half of them are viewed.
Statistics every Internet marketer should know about
TikTok continues to grow in the ranking and is the third most downloaded app. It is expected that marketers will actively begin to use this platform for promotion, so the sooner you turn your attention to this platform, the more likely you will "cherry-pick."
91% of potential consumers are willing to reward brands for their authenticity. It is possible to achieve with branded content, as users want to see useful and informative material from brands.
64% of content marketers build relationships with influencers, journalists, and brand advocates. This leads to the fact that sponsored content will continue to work in the current year.
As for video content, 44% of consumers prefer to watch live video from brands once a week. So it's worth implementing this tool in your content strategy. 80% of brand owners say that spending time on the site increases if there is video content.
What do we want from sponsored content?
As mentioned above, potential consumers are waiting for brand alerts not only from influencers. Now, most of the audience focuses on real stories of people and not on recommendations from popular bloggers. Although the standard scheme also works well and brings results no worse than a paid campaign. And by the way, influencers are much cheaper. But let's get back to how to use sponsored content today.
Marketers seek to find lesser-known influencers that match niche brands. Typically, such influencers have an active and organic audience. Accordingly, it is much easier to transform them into real buyers.
Consumers also want to see personalized content but this trend in digital marketing has been relevant for several years. Consequently, when choosing partners who will post content about your brand, you need to pay attention to the full compliance of the target audience.
It is significant to mention user-generated content, although it is included in the free form of advertising. User-generated content is a direction that will be relevant for a long time. Therefore, you can safely add it to your content mix.

most of Forever21 Instagram content is user-generated (see the highlighted photos)

Also, Airbnb, Dove, and Olay are focusing on such content. What does it give? Firstly, it is a free content and brings results no worse than branded ones. Secondly, with the help of user-generated content, you can achieve customer loyalty and affection for the brand.
And finally, we would like to note that when it comes to content, quality and not quantity plays a big role here. The more engaging posts are on your blog, the greater the opportunity to increase traffic. But if this is not high-quality and meaningless content, then Google will not give you the opportunity to climb to the top of the results. Consequently, focus on quality, regardless of the type of advertising content.
Conclusion
Advertising, branded, and native content have been the driving force in the context of business growth. Today it is worth paying more attention to sponsored and branded content than spending more than 5 thousand dollars a month on ad banners, which can simply go unnoticed.
But this does not mean that this type of advertising no longer works. You can reduce the budget for this direction and shift the focus to branded and sponsored content.
Google dictates the need for quality content, and quality should be the main focus. Enter any query in Google and you will see that the article that carries as much specific and high-quality information as possible will be in the top results. Based on this, we can conclude that marketers need to work in this direction.
Using only one type of advertising is not the best tactic in modern conditions. Therefore, if you want to stay afloat, you will need to find a balance between sponsored, branded, and native content and use an integrated approach.
We will be glad to know your opinion on this topic, so do not hesitate to leave your comments. If this article was interesting to you, then do not hide it from your friends! Use the social media key on the left to share the article with your friends.
More Like This