Created on
September 28, 2022
| Updated on
June 21, 2023
The Lifetime of Backlinks, Packages, and Security Deposits - See What's New
Adsy Tutorials & News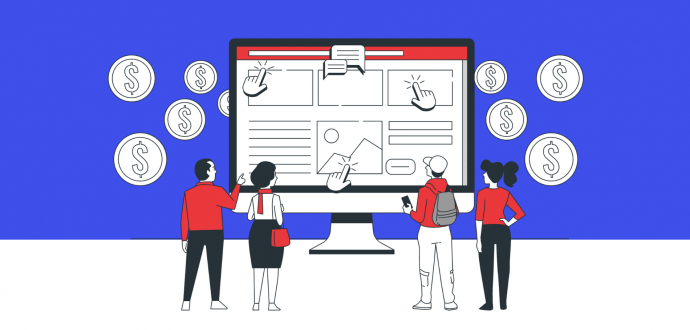 We put your needs first. So, we listen attentively to your feedback and the pains you have. Exactly that's why we made some major updates during the last couple of months.
The main goal of new releases is to make the work of buyers more secure and help publishers to stand out from the crowd.
Let's see how everything works.
Contents
Avg lifetime of links - buyers
One of the essential requests we tried to solve is the longevity of backlinks that performers placed on sites. We continue to hand-check every added site, yet different things may happen.
To make your guest posts more secure, we've already added different metrics like rating, completion rate, etc. Still, one part was missing. But we listened to your feedback and introduced a new metric - the average lifetime of links.
Avg lifetime of links - is the metric that shows how long the links stay on the publisher's site. It's calculated as the percentage of the time that has passed since the task completion. It is also an average value of all the tasks completed by the publisher on a particular site. The bigger the percentage is, the better.
This way, when you see sites and then performers with Avg lifetime of links that is 70% and up, you can be sure that your links will stay on site with a bigger probability. See where to find this metric.
1. Go to "Search for publishers." You can either go to "All publishers" or "Verified publishers" and see the new metric in the site's information box.
You can hover over the metric's sign to get more information about it. At this step, the percentage refers specifically to the chosen site. The higher the % is, the better.
2. Check the performer's "Average lifetime of links." Click the "Buy post" button to proceed to the performer's choice. You will also notice the "Avg lifetime of links" button.
In this case, the metric refers specifically to the performer. The higher the percentage, the better.
Set a special filter to work with the list of the most reliable publishers from the very beginning. Accordingly, you won't need to spend too much time searching for a better option.
Of course, don't forget about other metrics to ensure you work with the most trustworthy publishers.
Packages - buyers
We wanted to make your work with Adsy even easier. We thought, what if you can spend less time on the publisher choice but still get awesome results?
We introduce a new service type called Packages to offer you this opportunity. With this service, you only choose the parameters you are interested in, and our managers do all the work for you. With that said, you don't need to communicate with publishers, search for sites, and so on.
Thanks to this service, you can spend up to three minutes of your precious time and enjoy the results.
How does the package deal work?
1. Press the "Packages" tab in the menu on your left.
2. You can choose from the two options 1) DA priority; 2) Traffic priority. Pick the one you need.
The interfaces for both packages are similar. You only have to choose what interests you the most.
3. Type in all the information in the required fields and fill in all other data to make your task as precise as possible.
Notice that content will be written for you by Adsy copywriters. Please, take into account that the final price depends on the word count you choose. For instance, 1,000 words worth $50.
Also, if you choose to order five posts, we will place them on five unique sites based on your selected metrics.
4. After you set all the parameters, click the "Checkout" button.
| | DA priority | Traffic priority |
| --- | --- | --- |
| Number of words in a post | 500 - 2,000 | 500 - 2,000 |
| DA | 20 - 60+ | NA |
| Traffic | NA | 1k - 100k |
| Number of posts | 5 - 100 | 5 - 100 |
Our specialists will do all the work for you based on your chosen metrics and your needs. The delivery time is up to 30 working days.
Please pay close attention to this notice.

Even if you try stating an acceptable category and then try to switch it to CBD, loans, etc., we won't work with them as it violates our Terms & Conditions.

Security deposit - publishers
We understand that there are lots of fellow publishers on our platform. As you might remember, there are ways to stand out and attract buyers' attention. To do so, you need to:
Have a high completion rate,
Good ratings and comments on your publisher's profile,
Filled in a profile,
Be polite and professional.
But is there a way to become even more noticeable? Yes, with a new feature called Security deposit.
What does the Security deposit do?
Security deposit shows buyers that you are a reliable performer. Your deposit ensures that you are ready to reimburse a buyer if their guest post is edited or deleted after their approval.
This way, you look more trustworthy in the buyers' eyes and have more chances of being chosen. (Provided that other metrics of yours and competitor performers' are the same or close.)
Moreover, you will get a special mark to notify buyers that you've made a deposit.
Another wonderful perk of the Security deposit is that you can add more than 100 sites. Usually, we put the sites on hold if their number surpasses 100. Yet, if you add the deposit, we will check your sites and approve* all of them regardless of their number. That means more chances to get orders and increase your income.
*approve all the sites that stay in line with our terms and conditions.
How do you make a Security deposit?
1. Go to Balance, choose the "Do you want to make a security deposit?" shield, and press "Make Deposit." Your deposit can be $100 or more.
2. On the next page, read all the information attentively. Then scroll down, choose the sum you want to deposit, and press the "Make Deposit" button.
How will your publisher's profile look from the buyer's side?
As we've mentioned earlier, you will receive a special mark showing you have secured a deposit. It will look like this.
If you take care of your reputation, and constantly work on your metrics, the security deposit will help you look even more attractive and reliable.
More Like This