Created on
November 18, 2020
| Updated on
May 12, 2023
How to Submit a Sports Guest Post
Guest Posting Tips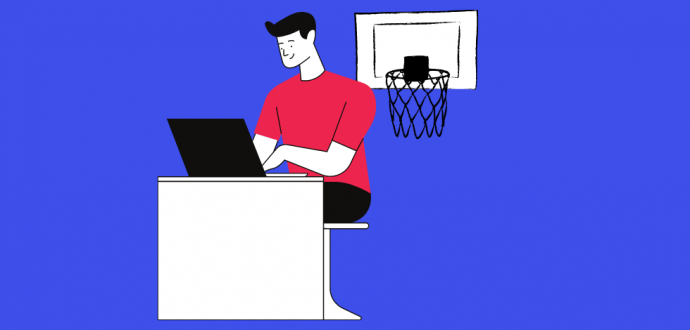 Why may you wish to submit a sports guest post? Well, if you sell sports goods, own a fitness studio, or produce sports food, it's a worthy strategy. Wait, how can an article help your business grow?
Have you ever thought about why Google shows one site on the first result page and others on the tenth? That all depends on how good your site's optimization, authority, popularity, and trustworthiness are.
Would you like to improve your site? Then the guest posting is your thing. Did you know that 60% of sites write one to five guest articles per month? That, in turn, helps to acquire quality backlinks and grow rankings.
Today we are going to guide you through the sports guest post submission process. We'll show you how to find relevant blogs and get published.
Contents
Why is guest posting beneficial for you?
The guest blog posting has proved its efficiency. Many online companies use this content marketing strategy to achieve multiple goals. So, let's see what's inside this "deal."
Firstly, this tactic lets you acquire quality backlinks. And, for Google, backlinks are still one of the key factors when it comes to page ranking. What backlinks are valuable in terms of ranking:
If an authority site points back to you.
If your target keyword is in the anchor text of the link.
If you acquire a link from your industry/niche site.
Accordingly, if you build backlinks like this, you have all chances to improve your rankings. And guest posting is, by far, one of the most effective methods to get such links.
Secondly, if you submit a sports guest post to the relevant websites, you can increase brand awareness. In line with our study, guest blogging assures 174% audience extension and brand awareness growth.
Moreover, readers that refer back to you are closer to conversion. Why so? Because you are getting traffic from the relevant industry. That means people are already interested in the sport. And you may present your goods/services to an engaged audience.
How to submit a sports guest post
Now, as you know about guest posting benefits, it's time to submit your article. We've prepared two guidelines for you to make this process hassle-free.
Submit a sports guest post with the help of the guest posting service
Do you want to submit sports, wellness, or fitness blog guest post? Then a guest posting service is your destination.
Firstly, a guest posting service saves you 85% of your time. And time is money.
But how is this advantage even possible? That's all thanks to a sophisticated filtering system and huge sites' inventory. So, you are searching for sports blogs that accept guest posts. Take the following steps.
Register with Adsy as a Buyer. After signing in, you'll get access to 14,000 hand-picked sites that accept guest posts. Of course, we remember that you are interested in the sports theme. No worries, refer to filter "Category" and pick "Sports."


But that's not all. We wouldn't call our system a top-tier one if we didn't have more helpful metrics. Region and language are also vital. They ensure you receive referrals from your serviceable area. There are 24 major languages to choose from and worldwide coverage in terms of countries.

Do you remember we've mentioned that you'd better get backlinks from authority sites? Well, you can easily pick them by establishing the DA and DR metrics. Usually, getting links from DA30+ sites can give solid results.

Sure thing, there are more filters to choose from. It's totally up to you. Yet we insist on the importance of those we've named. So, don't forget to use them for better results.
Now you have a list of sites. Look them through to find the appropriate ones. Are you an SME? Then set "Price low to high" to find prices that won't harm your budget.
Then press the "Buy post" button and place your order. What's great, you can submit an article written by your team or order one (if you have no time or resources to write a blog post). After creating a task, hit "Send," and that's it.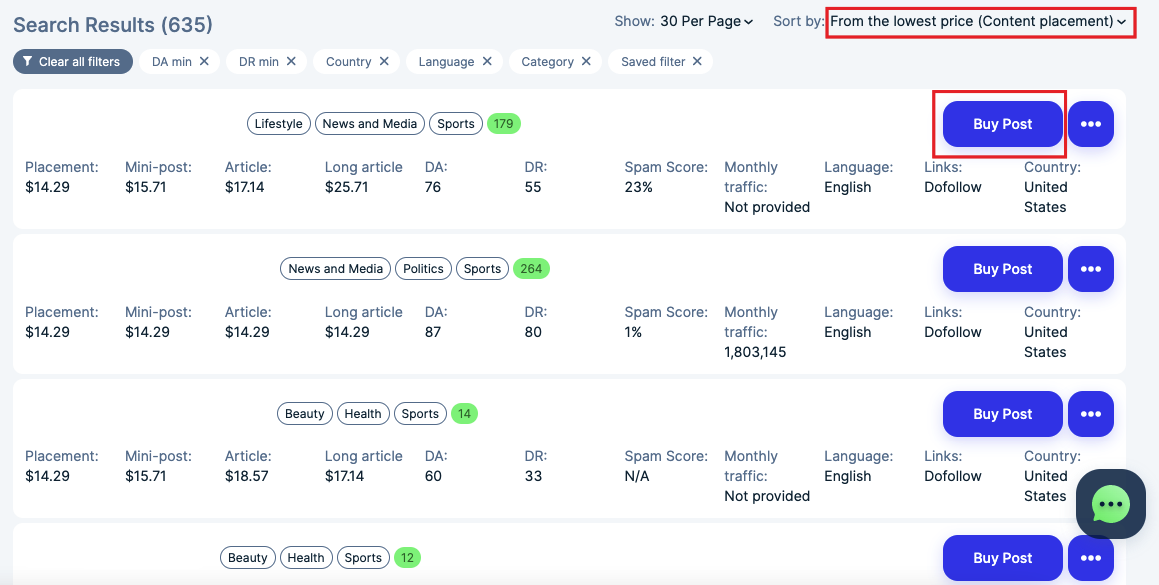 Adsy's team will check the text quality and ensure that all your backlinks are in the post. Moreover, we are always here to help you with any questions. So, these are the guest posting benefits.
Submit a sports guest post via the manual search
But what if you prefer the good old methods? Then use the manual search to find media and sites that accept guest posts.
In our earlier articles, we've described how to work with search operators. Let's revise it real quick. Use your preferred search engine and type:
"health and fitness write for us" or, "sports write a guest post."
In fact, the formula stays the same. You type your keyword (connected with sports in our case) and write for us/submit an article/write a guest post/etc.
Then start gathering the websites. We recommend you do this in a separate Google Excel form. Arrange the following columns:
media's/site's name,
website's URL,
DA rank,
monthly traffic.
Then sort your table according to the sites' DA you aim at. Get rid of the inappropriate sources.
The next step is reading the article submission requirements, a detailed site's examination, preparing a pitch, waiting for the results, and publishing your article. But that's in case of a positive outcome.

As you can see, it's still a working method. Yet it takes much more time and effort compared to guest posting service. Unfortunately, you cannot predict the success of the article's placement. That means all your hard work may go in vain.
Conclusion
So, is it easy to submit a sports guest post? To be fair, we can say that you have options. And it's up to you what path to choose.
If you don't publish guest posts constantly, you may stick to manual search. Form a list of media/sites you can reach. Also, try to establish a good relationship with some of them. That'll ease your submission process.
If your content plan includes regular guest blog posting, we advise you to choose a reliable guest posting service. This way, you'll guaranteedly partner with trustworthy publishers. Moreover, the whole submission process will take much lesser time compared to the manual one.
If you don't submit sports guest posts to promote your sport-related business, you'll better start doing this! Remember that guest blogging is an outstanding opportunity to boost your site's ranking and grow brand awareness.
How do you promote your sports/wellness company online? What tactics do you use, and is guest posting one of them? Share your thoughts in the comments, and let's discuss them.

More Like This