Created on
August 5, 2020
| Updated on
May 12, 2023
How to Build Backlinks Using Guest Posting [2023 Guide]
Guest Posting Tips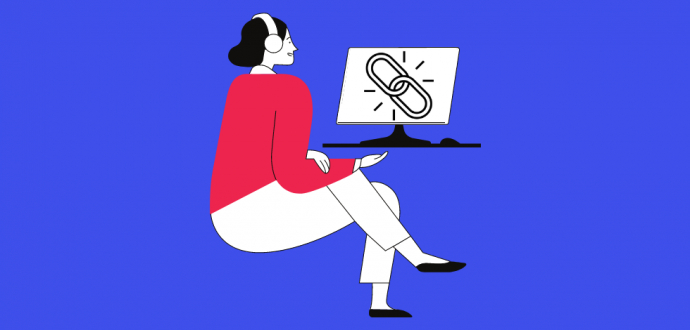 What discovery does make you wonder about how to build backlinks to your site? So, you run a site or a blog. And you think it's perfectly optimized. Yet it doesn't rank that well. But why? The answer may lay in a poor backlink profile. And now you wonder how to create backlinks for my website.
By far, one of the most popular white-hat link building techniques is guest blogging. In fact, 60% of blogs write 1-5 guest articles each month.
And though in 2014 Matt Cutts (former Head of Web Spam, Google) claimed that guest blogging is dead, marketers continue to use this tactic. Moreover, sites like Ahrefs or Buffer employ guest posting to top up their rankings and attract more visitors.
Thus, guest blogging in 2023 is alive and flourishing. Besides being an integral part of a marketing funnel, it benefits your SEO. That said, if you are thinking about how to build high-quality backlinks - guest posting is the answer.
Yes, this tactic works amazingly well. And in this article, we will share tested steps on how to build backlinks in 2023 and boost your rankings.
Contents
Why backlinks are important
It doesn't matter how long you are in the SEO sphere, you know that backlinks are vital. Point.
Though the backlinks' definition sounds pretty simple
links that point from one site to the page on another site
they may become game-changers. That is because Google and fellow search engines count backlinks as a vote for a certain web page. Accordingly, the higher the number of quality backlinks on the page, the higher its rankings are.
In its latest data Statista shares that 17.4% of industry professionals consider links as one of the leading SEO factors for ranking.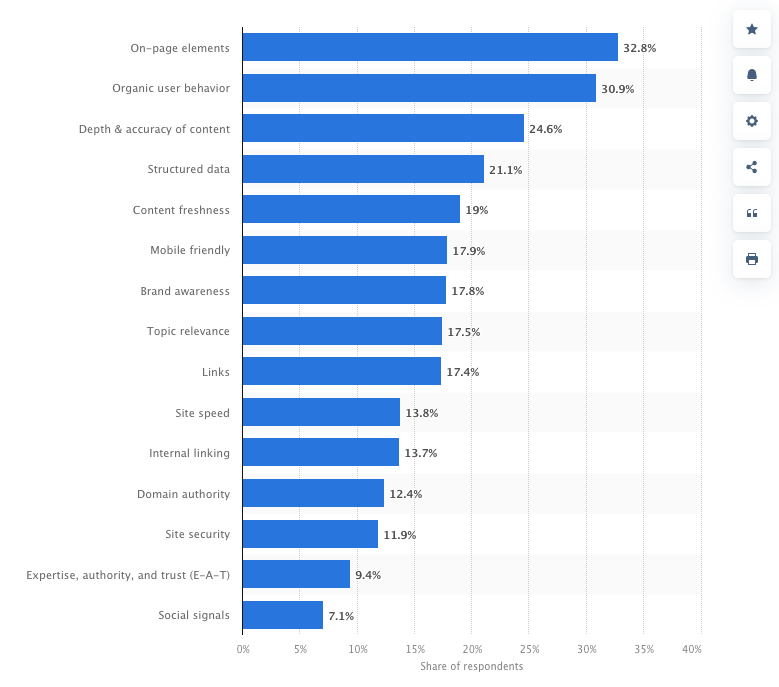 Moreover, backlinks were among the founding members of Google's late PageRank. And though Google doesn't update this metric, backlinks continue to be the key signal for ranking.
Also, Google points out what factors make the backlink valuable.
The link comes from an authority site
The link has your target keyword in the anchor text of the backlink
The link that points to your site is from your industry/niche site
As you can see, Google values backlinks from the high DA sites with keyword-rich anchor text. And as we have always said, the website's relevancy plays a huge role too.
So, after we've discovered what types of links you should look for, let's learn how to build quality backlinks.
How to build backlinks using guest posting
It's hard to say "it's all Greek to me" when it comes to guest posting. Instead, this tactic is pretty straightforward.
Basically, you need to form a list of sites where you are going to publish your articles. Yet we'd like to add some sauce to it. In this abstract, we will learn how to build backlinks that are qualitative and able to increase your rankings.
How to get started with guest blogging
For years, two main guest posting opportunities dominate the market. You either use specific search operators or mimic your competitors.
For sure, we'll discuss these methods. But also we give you an alternative that saves 85% of your time spent on searching for sites that accept guest posts.
Option #1. Use search operators
Let's be honest. It's the first opportunity major blogs about SEO and marketing will suggest. So, what are the moves? You need to use special search operators to find websites that allow guest blogging. They are:
your keyword + "write for us"
your keyword + "guest post"
your keyword + "guest article"
your keyword + "contribute to our site"
and so on
Nevertheless, this method usually transforms into nine-plus steps you have to make. They will be writing pitches, choosing a theme, writing an article, promoting your content, etc.
And, of course, you'll have to manually look through the hundreds of sites to find a worthy one. Yes, it's an option. But wait till we advise you something better.
Option #2. Mimic your competitors
You can involve yourself in a little spy game. No worries, it has nothing to do with the CIA. What you do is find sites linking to your main competitors. To reveal these sites you can use a search operator. It'll go like this:
guest post by + your rival's name.
To be honest, this technique won't bring great results. Instead, try using sites like ScanBacklinks, Ahrefs, or Semrush to discover the competitors' backlinks.
Anyway, after you've found thousands of sites to reach, you come back to the same long procedure. Yes, you still need to make lists, prepare content, write a pitch, etc.
The next step tells about how you can get backlinks from the relevant sites (with the "dofollow" links) in less than an hour!
Option #3. Use reliable guest posting service
Here we will show you how to build backlinks fast. Without a doubt, guest posting requires master skills. But with guest posting services like Adsy, you get a personal search engine with a huge list of sites that accept guest posts.
You have a variety of metrics to ensure you get quality backlinks. So, at the very first step, you set the filters. They are very intuitive and easy to use. As we've mentioned before, Google values links from the high DA websites. You can specify the number you need.
The unity of other metrics ensures you find the sites that are from your industry, with traffic, locally correct, and answer your price expectations.
Also, the DR is a metric we cannot leave unmentioned. Ahrefs, that has created it, gives nice tips about understanding the DR.
DR 0-20. Sites with this mark are either new or inactive ones. The link from this publisher won't probably influence your ranking.
DR 21-70. That's a really nice spot. Sites with such a rating are ready to place quality content. That's an option to improve your ranking.
DR 71+. These are the top sites in your industry. They tend to publish thought leaders and renowned professionals.
Nonetheless, keep in mind that Adsy gives you access to any site you wish. Just remember that the higher the DR is the higher the price tag might be.
After you have applied the filters you receive the list with the publishers. It'll look like this.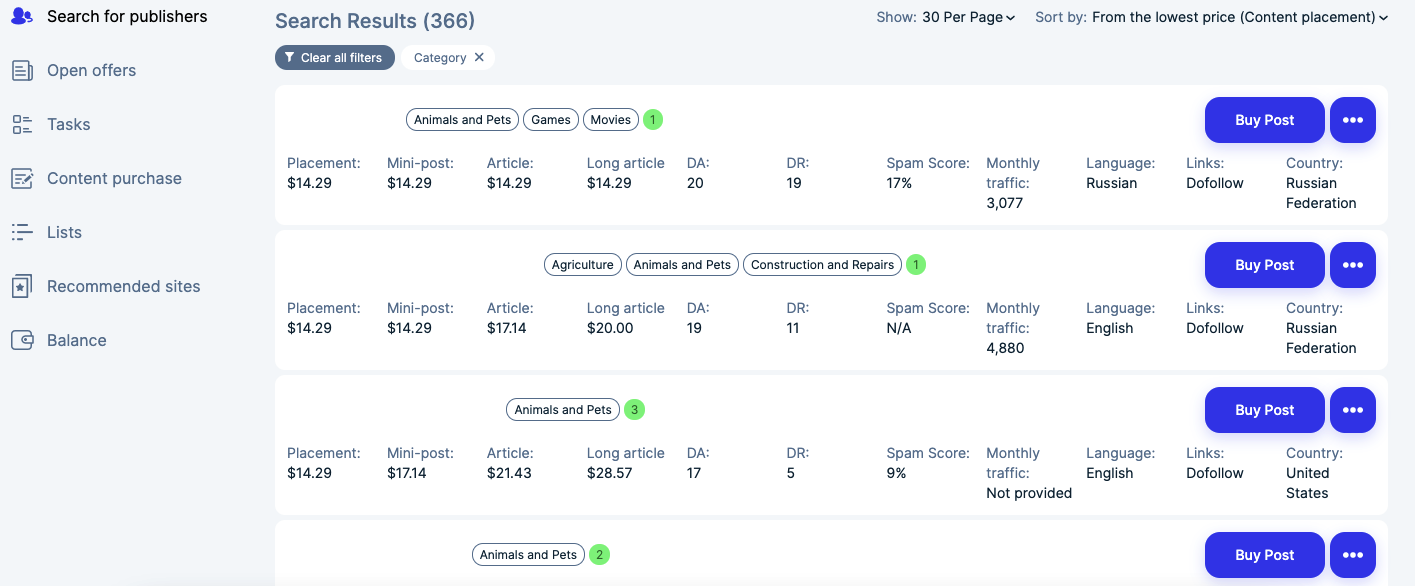 Then pick the sites to work with and press the "Buy Post" button. Create a task and send it to the publisher. That is it.
This option saves your time and nerves. Moreover, you guaranteedly get 5x more weighty backlinks. 62% of budget savings through relevant audience interactions are among other benefits.
If you haven't worked with the guest posting service before, it's a high time you tried it!
Why guest posting brings quality backlinks
When you build a plan on how to build backlinks, we hope you don't go for any backlink out there. This strategy has nothing to do with position growth.
Furthermore, Google appreciates links that come from related sites. As posting content on your niche sites is the basics of guest posting, you have nothing to worry about.
For instance, if you sell eyeshadows you want to get backlinks from beauty blogs.
Besides, you can place your target keyword in the backlink's anchor text. As a guest post is an article on one's blog, it won't look weird or unnatural. It will be just a link to your site within the text. That's what Google also likes.
And last but not least. Guest blogging helps in acquiring the "dofollow" links. Remember, Google doesn't pay attention to the "nofollow" ones.
A pro tip. Try getting a backlink from the website that has never pointed to your site before. As Backlinko puts it, the more links one site points to you the less valuable they are. So, try acquiring 50 links from different sites rather than 200 from one platform.
As a reminder, Adsy helps you find sites that fit all these requirements.
How to win in a link building game using guest blogging
After we've taken a deep dive into getting backlinks via guest posting, let's highlight some key moments. For sure, you want the links to be as quality as possible. So, we've gathered some further tips you can use.
1. Be selective
Scrupulously pick sites that will publish your content. Remember that quality outweighs quantity. So, better to go for a few authority sites rather than a dozen average ones.
Choose publishers from your niche or from the close one. Any search engine will have more trust in links like these ones. Once again, if you write about spinners, place a guest post on the fishing, not a beauty blog.
(N.B. Adsy has 50+ categories to select from)
Besides, if you work in the US it's better to place content on the US site. Adsy allows you to sort publishers by country. Isn't it great?
2. Consider the website's performance
In the previous abstract, we've mentioned several specific metrics. They are the DR and the DA. Use them to learn more about the site's authority and popularity.
Also, you can work the extra mile. With the guest blogging service, you can use more metrics like monthly traffic to make a more precise choice.
3. Deliver awesome content
Of course, we are talking about getting backlinks here. But it's never a bad idea to have some referral traffic.
To ensure customers refer to your site, write killer content. To do this, know your audience's needs, think on a catchy headline, and write an in-depth post.
Conclusion
So, how do I build backlinks to my site? We hope that this article has answered this question. All-in-all, what have we got out of today's guide?
Successful SEO activities cannot happen without a link building strategy. To ensure constant traffic growth and rankings increase, SEO specialists work on the backlink portfolio.
Guest posting remains among the most popular backlink building strategies. It's an option you should go for if you aim at getting quality links. Why so? You can enjoy links pointing to your site that are from relevant sites with high DA and DR. Moreover, they will be "dofollow" and covered in the text which makes them look natural.
Trust us, Google and other search engines will appreciate your efforts. As a result, you build backlinks that guaranteedly influence the boost of your rankings.
We, at Adsy, have been experiencing the effectiveness of this guest posting strategy for years. Yet we are curious about your thoughts. How do you prefer to build backlinks? Leave your comments down below!
More Like This