Created on
January 20, 2021
| Updated on
May 12, 2023
How to Distribute a Press Release via Guest Posting Sites
Guest Posting Tips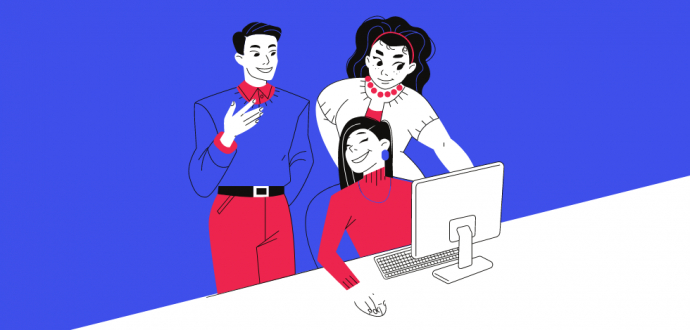 Someway or another, you've thought about how to distribute a press release if you run a business. It's the right way to inform customers about the novelties you have. You may also attract new clients if they find your press release informative and useful enough.
We've talked about guest posting benefits many times. And it's time to add one more perk. You can distribute your press release via guest posting sites.
And in today's article, we'll share some points about what a press release and its distribution are. Moreover, we'll show how to spread your news with guest posting services assistance.
Contents
What is a press release?
Before you try to submit a press release, let's understand what it is.
A press release is a type of content that informs various media and their audience about updates or developments your company has.
In other words, you let people know about any kind of updates your business has. It may be a new product launch, new hirings (usually in C-level), re-branding, etc.
So, if your company experiences some major changes, we do recommend you submit a press release. As research puts it, 44% of journalists view press releases as the most reliable source of brand-related information. This way, you shouldn't forget about this content type.
A press release distribution: what that actually means
Some definitions describe the distribution process as the press release seeding out to various media representatives.
Simply put, press release distribution is content submission to different sources. They may be newspapers, online magazines, blogs, podcasts, radio, etc.
In this article, we'd like to put our close attention to online distribution. Your best helpers here are online media, blogs, and podcasts. As you can get from the article's title, we'll talk about the first two options.
Statistics prove the effectiveness of this approach.
34% of U.S. adults prefer to get news online, whether through sites or social media,
82% of Americans get local news online.
So, online press release distribution ensures you get broad coverage.
Besides, online distribution gives you some additional benefits. This way, apart from blogs and sites coverage, you:
ensure your business shows up on the "News" tab on Google,
get more traffic to your website,
boost your rankings,
receive more brand recognition.
As you can see, a press release distribution plays an essential role in your company's development.
How to distribute a press release via guest posting
Where to submit a press release online
So, we cover a digital direction here. Let's see where to submit press releases online. We've decided to stick to two distribution channels:
Why are they effective? Well, 77% of Internet users read blogs. Also, Statista shares that up to 40 million U.S. adults consumed e-magazines last year. Accordingly, these channels are your touchpoint with your current and potential audience.
You can submit your press release to these sources separately. Or you can use a guest posting service for submitting a press release. Let's see how to use both of these options.
How to submit a press release
Before the press release submission, you have to find appropriate media or blogs. The search process somewhat resonates with the guest posting site's research. Accordingly, you can start by using search operators.
Let's assume you run a technology company, and you have some news to make. Run the following operator.
technology + submit a press release.
After this, you'll see some sources ready to accept your news. Look them through to find the fitting ones.
Also, there is a helpful tab, "News," you can use. You can type something like "new in internet technology" to see what online media cover this theme.
Once again, start selecting magazines or blogs that fit your needs.
After making a list, you have several options.
you can try contacting a journalist or blogger directly,
you can find the source's email address for press release submission.
We recommend creating a Google sheet with journalists' and sources' names, contact information, contact date, and the results to have all this information in one place. This way, you can easily track your progress.
Anyway, you can use another approach. Partner with a guest posting service to distribute your press releases.
These services have a large number of sites in their listings. Among them are, predominantly, blogs and online media. In such a way, you get instant access to sources that guaranteedly place your press release on their side.
Note! Despite the significant number of blogs available, check if they publish press releases or blog posts only.
So, let's see how to submit a press release via a guest posting site.
First, pick the domain authority and domain rating of the desired site. The higher the rank (the maximum is 100), the more trusted the site is. Also, most probably, it'll have a better position on Google. That means more people can read your press release.

Don't forget about the traffic. This metric indicates how many people visit the source per month. Sure thing, you need to state the language and country. That guarantees you get leads from the right region.

Last but not least, pick the category. Basically, it's the industry of the site where you publish your press release. Normally, it corresponds to yours.

(For instance, you can pick "Technology" as your primary category. Yet, Adsy also offers categories like Software development, Hardware, Computers, Gadgets, etc. So, you can pick sources from a variety of them. You can also directly refer to "News and media" to submit a press release there.)
After you've picked all the metrics, hit the "Search" button to receive the results. You'll see the list with different sites. Click on the link to check the source and decide if it fits you. If everything is fine, press "Buy post."


On the new page, you can submit a press release, the link to your site, and leave special requirements, if any.
You can track your progress by clicking on the "Tasks" tab.
So, this is how you distribute your press release with the guest posting service help.
Conclusion
The press release is a powerful communication tool. Nowadays, it's much more than just a way of presenting company updates.
As a matter of fact, a press release still performs its main function. It informs people about innovations or updates in a company. This way, you can introduce new features to current users and attract a new audience.
Yet, we need to take into account the mass popularity of online sources. And publications in digital media can improve the overall state of your company on the Internet.
This way, you can grow brand awareness, improve your positions on Google, acquire quality backlinks, and grow referral traffic.
As you can see, the press release is a beneficial way of sharing corporate updates. Do you use this content type to communicate with your audience? If yes, how successful is it for you? Share in comments, and let's discuss the results you've achieved.

More Like This