Created on
December 30, 2020
| Updated on
September 29, 2023
5 Unobvious Guest Blog Posting Benefits
Guest Posting Tips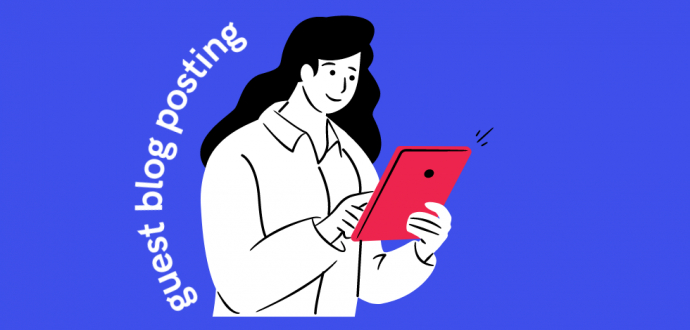 You've heard of guest blog posting if you work in marketing or with SEO. Then you know how beneficial this tactic is. Let's see what pros you can name.
Most probably, the first advantage of guest posting on blogs you remember is backlinks. And we do agree with this. Guest posting allows getting 5x more weighty backlinks. Moreover, we've shared a detailed guide on acquiring quality backlinks with the guest blogging help.
Is there anything else? You'd probably add brand awareness growth to this. That's also a point!
But are there any other benefits? How else can guest posting help your business? In this article, we've gathered five unobvious guest blog posting perks you can expect.
Contents
1. Attracts more quality leads
What does happen when you submit a guest post? You ensure that more people can view your content. Now you can argue that audience extension is a pretty obvious perk. Well, don't rush as there is an unexpected hint.
For instance, you employ paid ads. Do you invariably attract relevant leads?
Well, that's not always the case. But what does happen when you choose guest blogging as your strategy?
Firstly, you post your article on the niche blog. At least, that's what you should aim to. That triggers the mechanism. So, an audience that is already interested in this theme checks the post. People read the article because:
They trust the source (where you decide to post your article),
They've searched for the information on purpose,
They are aware of the theme or want to deepen their knowledge.
Let's assume that your article was really helpful, in-depth, and informative. Respectively, a person decides to click on your link and learn more about your business/service.
This way, guest blog posting brings you engaged prospects. Your goal now is to turn them into leads. To do so, work on the landing page where the prospect lands. Ensure you connect it logically with the guest article; it is transparent and has enough information & CTAs.
According to our study, you can enjoy up to 62% budget savings through relevant audience interactions. And this is possible thanks to guest blogging.
2. Strengthens your social media positions
Do you remember we've talked about content distribution strategy? Then you remember that there are three media types: owned, earned, and paid. So, guest posting itself refers to earned media.
You may say that the site owner fully controls the content you've shared with him/her in this case. You are fully correct. Yet, there's a further benefit you can get.
What is a guest post? It's a publication on a third-party site. So, in the view of customers, it'll be just another blog post. Should they like it and find it useful, be ready to get a social share. So, it doesn't even matter who controls the content - you or the third-party. Content quality is all that matters.
Wait, maybe it's not everything. Guest blog posting should strengthen your social profile. So, let's see how you can do this.
Firstly, you have to pick a site from the relevant niche, ensure its authority, and popularity among the target audience. You can easily set these metrics if using a guest posting service.
After you've formed a list of fitting sites, look them through thoroughly. Ensure that they have social share buttons. Also, many sites provide the number of shares of the article. Accordingly, if you notice the high level of engagement with articles on the site - pick it.
This way, you'll get more shares on your article. Moreover, if you provide top-tier content, you can even get more subscribers to your social media networks. That will allow you to share your services/goods with a broader audience.








3. Cuts the sales cycle
Your partnership with guest posting sites can shorten the sales cycle. Yes, you've heard it right. Guest posting brings 3x more leads close to conversion. Isn't it great?
Once, again - it's your chance to reduce your costs on nurturing the lead. Without guest posting, you have to prepare targeted content for every stage of the sales cycle. And there are seven to eight of them (according to the major sources).
Thanks to guest posting, you can catch prospects right on the presenting stage.
And though you get customers who are more likely to convert, you still have to close the deal. Your future consumers will come from your niche-relevant site. Yet, the landing page to which you drive traffic should be flawless.
As we've stated before, ensure it's clear, not random, depicts the benefits of goods/services, and has CTAs.
4. Grows your subscriber number
How can guest blog posting and subscriptions even stand close? Well, it's another unexpected benefit you can get.
As we've discussed, the blog you post on already has its loyal customers. In turn, you can grasp their attention and turn them to your blog/landing page. In such a way, you get referrers already interested in your services/products.
And if you succeed in engaging them even more, these referrers may end up as your subscribers. That will offer you broad opportunities in the future.
On the one hand, you increase your subscription base. And sending newsletters is one of the distribution channels. That ensures your content gets enough views. On the other hand, you can pitch your products and services via your letters.
As a result, you can win readers who then will buy your goods. And if you do your job correctly, you can convert them into loyal customers.
5. Develops your content marketing skills
And last but not least - you can brighten your content marketing skills. And you cannot deny the importance of this skill.
Nowadays, content marketing stands at the forefront of the brand's success. As Hubspot puts it, 70% of marketers actively invest in content marketing. It's time to join their forces!
As you write content for guest blog posting, you constantly upgrade your skills. Becoming a better writer will help you make your blog more qualitative. That guarantees you satisfy your customers' demand for top-tier content.
After writing several articles, you'll notice how your style, grammar, and overall writing efficiency increases. Respectively, you develop the quality for your current and future readers.
Conclusion
As you can see, guest posting results in much more than getting backlinks and growing brand awareness. It ensures that content marketing for your company works faster and more effectively.
Those five benefits we've named is an amazing addition to other perks guest blogging provides. In fact, you grow your online presence in a variety of directions. Moreover, you can expect up to a 75% increase in direct sales thanks to the hot leads.
Of course, to ensure you fully enjoy these perks, you need to mind the sites you pick. This way, the guest posting sites should be with a high DA, real traffic, and from your niche. Use Adsy as a guest blog posting service to reach these heights.
Tell us if you knew about these guest blogging perks. And do you use this content marketing technique at all? Leave your comments down below, and let's start a conversation!
More Like This