Created on
August 26, 2020
| Updated on
June 29, 2023
B2B Content Marketing: The Definitive 2023 Guide
Content Marketing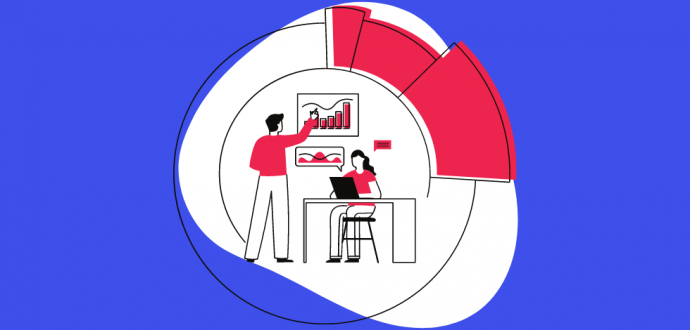 B2B content marketing. What associations do you have when you hear this term? Do you consider the B2B content marketing strategy harder to implement and not as fun as B2C one? Do you think this marketing type is more challenging?
Well, you can answer "yes" to all of these questions. Yet our goal is to change your mindset a little bit.
Firstly, 91% of B2B marketers confirm to employ content marketing as a part of their overall strategy. It's an impressive number and it supports the idea that content marketing is a must for B2B companies.
Secondly, 88% of B2B marketers share that they value creativity in the content creation process. And this proves that content marketing in B2B is not only about a formal approach.
In this article, we'll take a look at how marketing for this sector differs. Also, we are going to discuss what content type is most effective and empower you with some mind-blowing examples.
Contents
What is B2B content marketing?
In our previous article, we've shared how Content Marketing Institute describes content marketing. All-in-all it goes around the creation and distribution of content.
But what is the B2B content marketing definition?
B2B content marketing also deals with content production and delivery. Yet it has a more specified target audience and longer-term planning. Becoming an industry thought leader is a vital part of the process. Nevertheless, it may be more challenging compared to B2C content marketing.
Besides, content marketing for B2B aims at three main goals. And the majority of marketers claim to achieve them.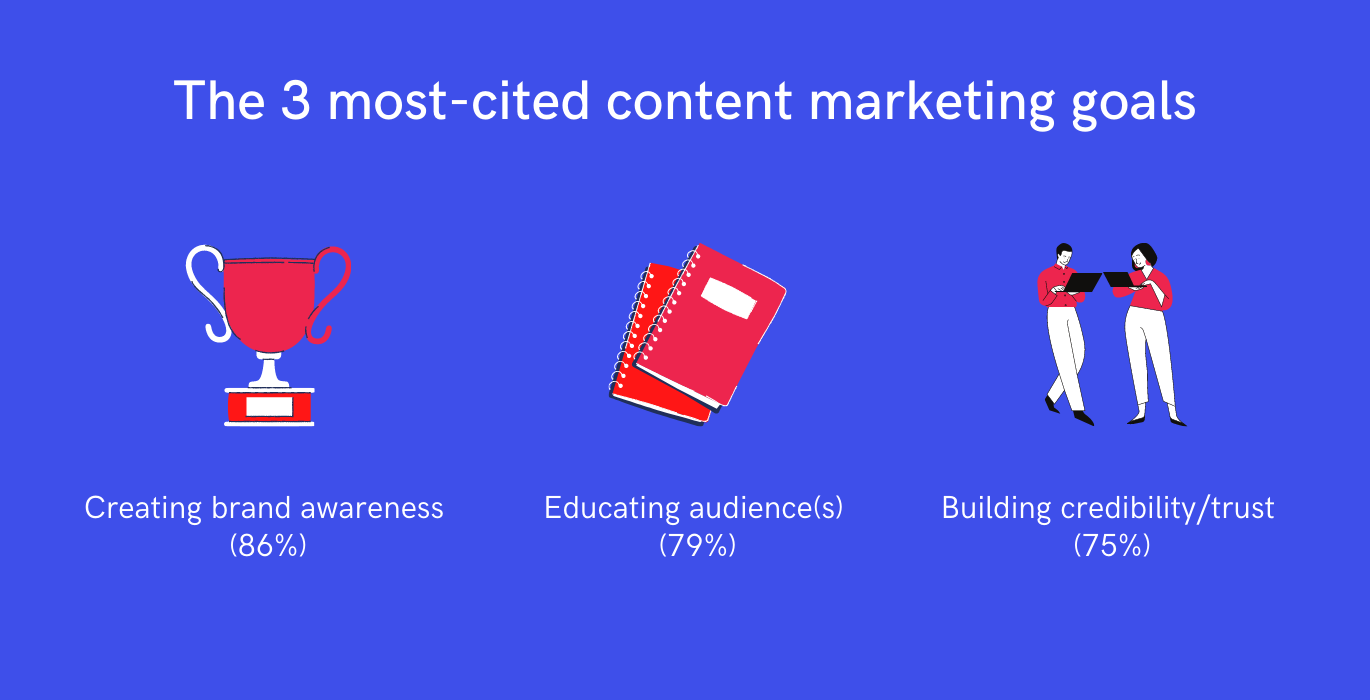 The distinctive features of B2B goals are education and building trust. Working with companies, enterprises, and so on involves more complexity. That's why B2B marketers often sharpen their content to these goals.
Of course, we don't underestimate the work of the B2C sector. Yet describing and promoting the explorer rig is harder than spreading the word about the hairbrush.
Taking this into account, 88% of B2B marketers prioritize clients' needs. And even more, marketers ensure they deliver credible and factual content.
Moreover, the B2B sales funnel is more complicated. Turning prospects into leads take effort and time. That's when we come closer to the B2B content marketing strategy.
Setting up a B2B content marketing strategy
Before jumping straight to B2B content marketing strategies, you need to understand the process. That said, know the core idea of your company to correctly identify your strategy.
We advise you to go through these six steps:
Do research.
Create and understand your buyer persona.
Know your sales funnel.
Define the goals you want to achieve.
Think of content that will work for your B2B aims.
Contemplate promotion and distribution channels for your content.
According to B2B content marketing statistics, 62% of the B2B companies succeed while they have documented content marketing strategies. And the majority of marketers who don't have a strategy, plan to make one.
So, if your company does everything chaotically - you have to stop it. Everything is possible even if your in-house marketing team consists of three to five professionals.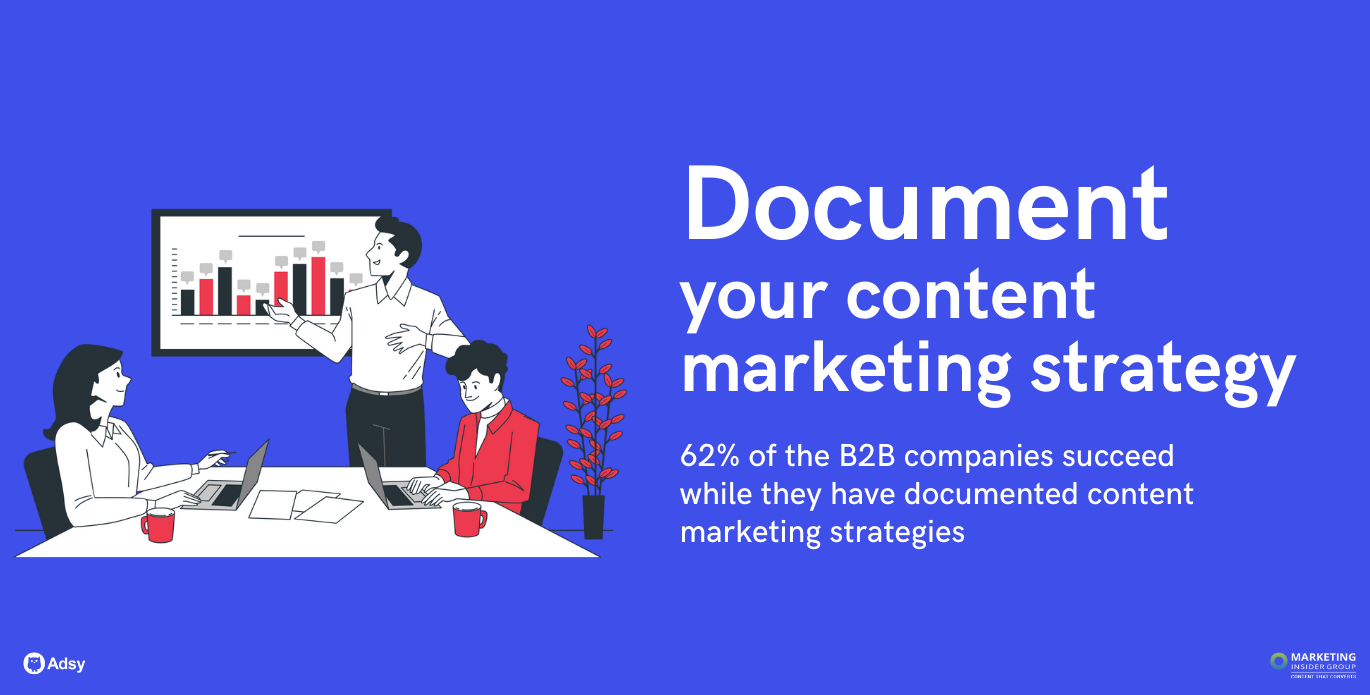 Remember, the strategy is about the steps you are going to take. Here is a universal approach to building a strategy you can use. Nevertheless, remember the solutions you will work on will be unique for every business.
Brand positioning
Nowadays there are a lot of goods and services that are substitutes. At this stage, your goal is to answer these two questions.
What value do your products/services give to the client?
Why are you better than your competitors?
When you have the answers to these questions, you can start building brand awareness. Thus, you can choose different types of content to do this. It might be webinars, case studies, whitepapers, and so on.
Anyway, you can go beyond the owned media. Use these options to position your brand:
Guest posting,
Cooperation with influencers,
Participation in events.
They will definitely have a positive influence on brand recognition increase. In fact, guest posting ensures 174% audience extension and brand awareness growth. So, try to combine different methods.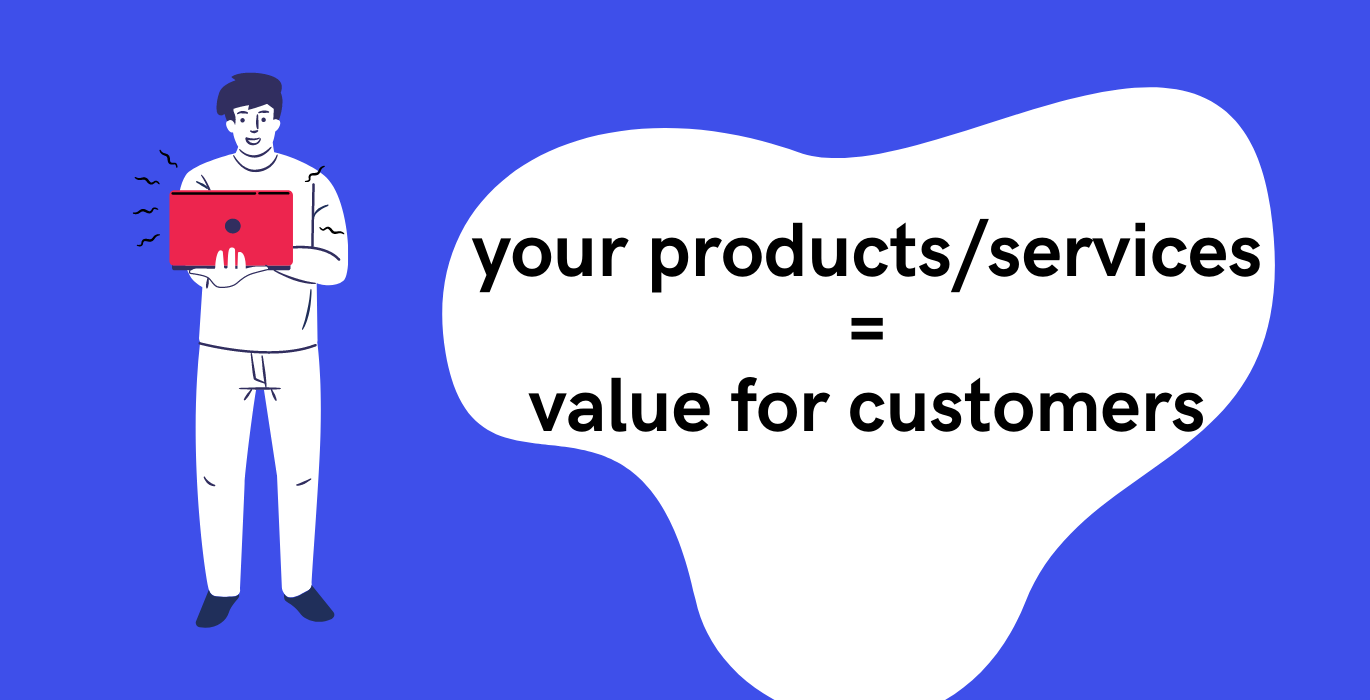 Business case
After you understand how to position your brand it's time to define another global issue. You have to understand that all the activities you do have to lead to certain results. To become a go-getter in the business world, answer the following questions.
What business goals do you have to reach?
Does your content marketing strategy help you achieve your business goals?
For sure, you can make your content fun and creative. But if it doesn't help you reach your objectives it's useless.
It's true that many marketers say they struggle with creating engaging content. Nonetheless, do your best to create quality content. It positively impacts your content marketing success. That, in turn, takes you closer to fulfilling your business goals.
Strategic plan
Now, it's time to polish your overall strategic plan. Let's add the following questions to make your strategy clear.
What clients would you like to reach?
What channels will you use to distribute your content to them?
How will you evaluate your results?
Answering these questions is very important to finalize your strategic thinking. Once again, defining the right audience is highly essential. Should you choose the wrong one, the whole chain may fall apart. Why so?
Because every audience perceives content differently. Moreover, different clients will require choosing different delivery channels.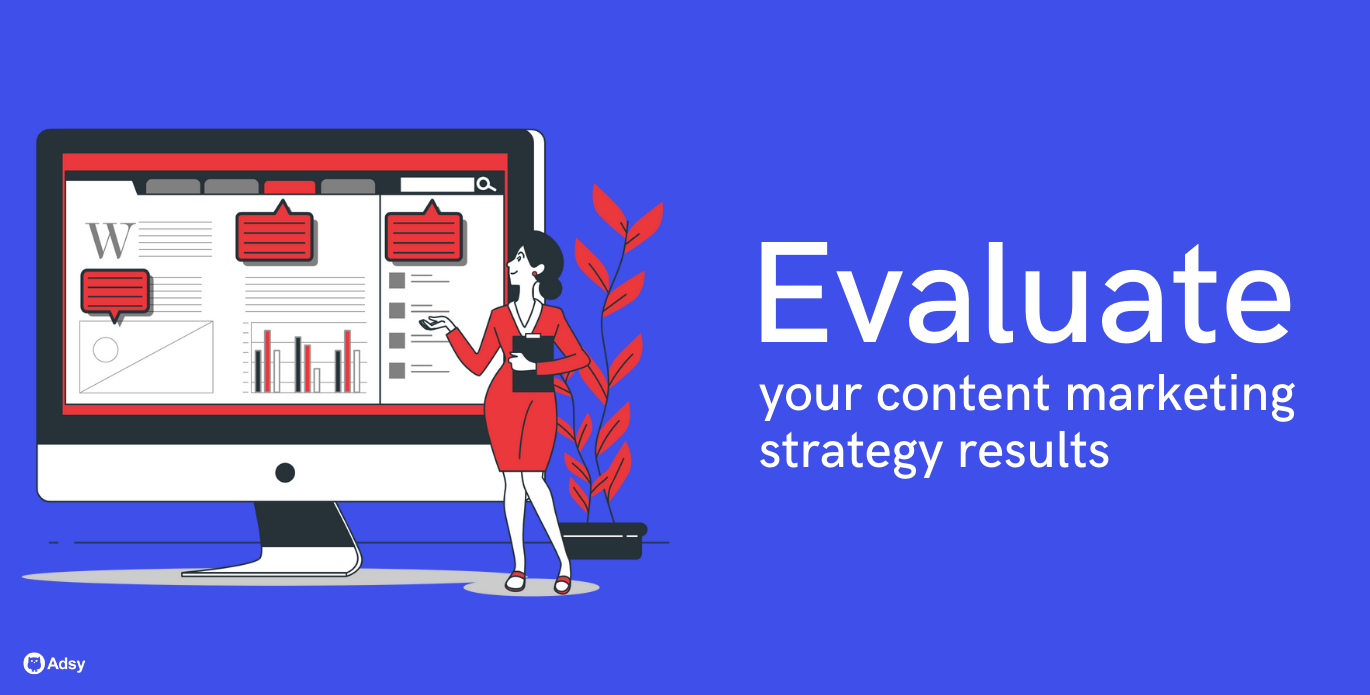 Anyway, if you do everything correctly, you still have to evaluate B2B content marketing stats. That shows what approaches work effectively and which ones need improvement.
Best content types for B2B content marketing
Blog posts
Undoubtedly, we refer the blog posts to B2B content marketing best practices. The majority of marketers rank blog articles among the most powerful content types for B2B.
Efforts you spend on the creation of the posts pay off. So, you can use it for educational purposes or tell about industry news. Also, it's proved that marketers who include a blog in the content marketing strategy are more likely to see positive ROI.
To top it up, blog posts drive organic traffic to your website. Your blog might be the first touchpoint with the client. And if you make it useful and relevant, you may get a lead.
Ebooks/whitepapers
Marketers share that ebooks and whitepapers are among the top-three practices they use. Like blog articles, ebooks work perfectly if you want to educate your audience or tell them about the newest trends in the industry.
B2B companies who share guides or statistics in whitepapers tend to gain success with this approach.
Besides, using ebooks as a part of your B2B content marketing strategy holds other perks. That way, 76% of customers are ready to share their data in return for ebooks. So, this content type also helps you acquire new prospects. And that's great as they can become your clients then.

Videos
B2B content marketing best practices for 2023 definitely include videos. They might be short or long, fun or serious, yet the video is a new normal. 72% of online users fancy videos over texts when discovering products or services.
You can distribute videos using various channels. Employ Youtube or social media platforms to share this content.
If you are not using this content type, start doing this. Why so? Because the majority of B2B marketers notice a positive ROI when it comes to social media videos.
Podcasts
If you ask our team about B2B content marketing trends for 2023, podcasts will be there! As many people do a lot of stuff on the run, texts might not work to their full potential. It's a high time you created a podcast.
We employ this strategy ourselves. It gives real value to your customers who'd like to learn about your product or get an expert point of view.
There are some approaches you can use. Firstly, you can turn your articles and videos into podcasts. Or you can work on the autonomous podcast. Choose relevant themes, engage industry experts, or discuss new niche trends to attract customers.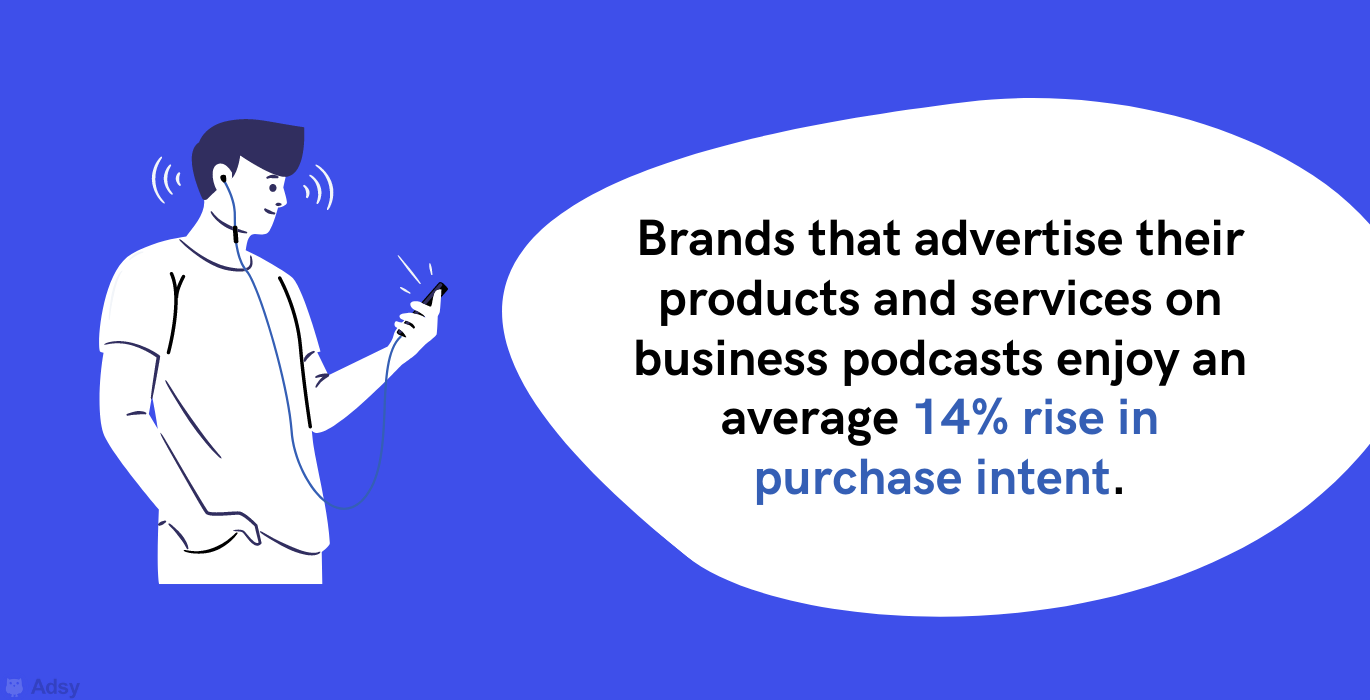 Newsletters
Email marketing is still a killer strategy. Firstly, they bring the highest ROI compared to all other content types. Secondly, it gives you huge flexibility.
You can engage emails to tell about company updates. They can notify your clients about new helpful articles on the blog. You can walk your customers through the sales funnel via emails.
This content type is a perfect tool to keep in touch with your clients at every single stage of their journey.
Case studies
We sincerely hope you are using case studies as a part of your content marketing strategy. It is one of the most powerful content types for the B2B niche. In fact, 36% of B2B companies actively use them in their content marketing strategy according to "Content Marketing Trends 2022" by Statista.

B2B content marketing strategy should include success stories. You may wonder why. Well, we've mentioned that the B2B segment usually deals with more complex products. And the case study is the perfect content type to show customers what value your company offers.
B2B clients do mention that they refer case studies to the most influential content type. So, you should also make use of it.
Awesome B2B content marketing examples
As promised, we are sharing some superb B2B content marketing ideas.
Canva - Email marketing
Canva is an online service for marketers and designers. It helps them create visuals for their brands (as well as gives tools for influencers or design enthusiasts). Why do we love this email?
Well, it's 100% clear from the very beginning what you get inside. The title explains it all - "Our tips will help you realize Canva's full potential."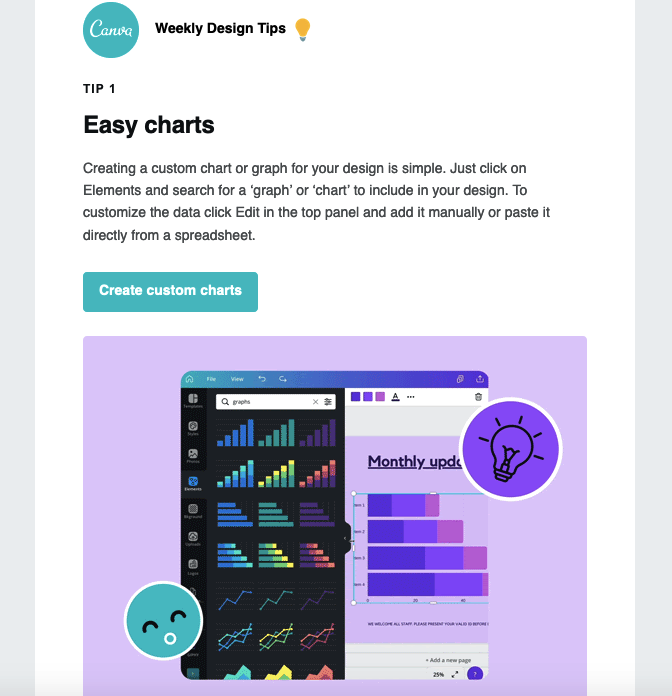 And inside you get helpful tips on how to use the full potential of the service. Everything is clear and easy-to-understand. That's what you should aim in your education letters.

Slack - Videos
We really appreciate the Youtube channel of Slack. Slack empowers professionals all over the world with communication solutions. Its team has made an awesome video about how you can enjoy the full functionality of Slack.
This video is great because it was timely. It was published in April and showed how businesses can use it for remote work during the pandemic.
Also, the video demonstrates the strong sides of the software like easy chat creation, file-sharing, fast replies, video chats, and so on.
Salesforce - Podcasts
Salesforce is a renowned CRM system. And it wins the game when we speak about podcasts. The company offers a separate section for them. Also, Salesforce has grouped podcasts by different threads.
You can make a deep dive into any theme you wish. It's possible to listen to podcasts from the site or on Apple, Google, or Stitcher.

Bitly - Case Studies
Bitly helps brands create short and recognizable links. The company shares a variety of success stories from their clients.
What's noteworthy, Bitly's case studies tell about proven approaches in different areas. It might be stories about SMS marketing, CTR improvement, or omnichannel distribution challenges.
Conclusion
Content marketing for B2B has a lot of peculiarities. Though you may use the same content types as B2C marketers, their distribution channels and message may vary dramatically.
From this article, you can see that the best B2B content marketing practices include blog posts, videos, podcasts, case studies, and so on. Ensure that this content is relevant, fresh, and helpful.
Build strong relationships with your audience via the chosen content. Engage new customers by telling them why your services make a difference.
Of course, don't forget about a well-built B2B content marketing strategy. Ask the right questions and don't forget to measure your results.
What does challenge you the most when you create the content strategy for your business? Leave your comments down below and let's talk!

More Like This