Created on
August 25, 2021
| Updated on
September 21, 2023
5 Top White Hat Link Building Services
SEO Articles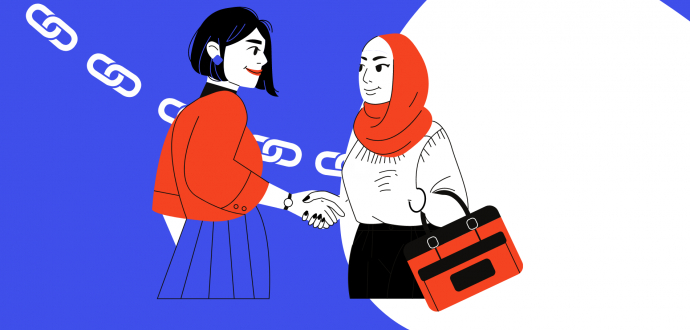 SEO specialists may argue what's better for SEO growth - white hat link building or content?
Well, everybody can find their own way. Some may consistently improve the content quality and quantity. Some may work on their backlinks profile. Yet, a combination of both will provide the best results.
We have multiply covered link building strategies and debunked several link building myths.
Nevertheless, we want to help you make your relationships with backlinks even more effective. That's why we are sharing the top five white hat link building services with you.
Contents
1. Adsy
92% of content marketers believe that link building will continue to be a vital ranking factor in the next five years.
Yet, how do you acquire those links most efficiently?
It's not a secret that many SEO specialists praise guest posting as a way to build quality and natural backlinks. And we cannot agree more!
So, Adsy - is a guest posting service operating globally. It connects those who need to post a guest article and those who are ready to place it.
As a result, one party gets a guest publication with a link back to their site. Another party gets free content for their site or blog.
Why do you get a white hat link with Adsy? Because the backlink is:
in content,
from the relevant site,
from authority source,
attached to correct anchor text.
This way, search engines count the link you've built as quality and weighty. That helps you strengthen your backlink profile and get higher on SERP.
The number of links you acquire with Adsy depends on the post type you choose.
Mini-post - one backlink,
Article - up to two backlinks,
Long article - up to three backlinks.
Prices are very affordable. The lowest rate per post is $14.29 only.
Also, you'll get access to a modern and intuitive interface after registering. That'll ensure you can comfortably build links.
2. OutreachMonks*
Let's continue. 52% of marketers say that link building directly impacts organic search rankings.
So, how else can you get white-hat backlinks?
You can work with link building service companies. They often provide link building activities and SEO accompaniment. OutreachMonks is one of those companies.
This agency helps users acquire quality links thanks to blogger outreach. Accordingly, you choose from available packages, and OutreachMonks does everything to:
connect with a blogger,
create content,
place it,
get a link.
Yet, be ready to spend some money. The basic package will cost you $549 for five links.
After choosing the desired plan, you will access a dashboard where you can track your tasks and create new ones.
3. LinksManagement*
69% of digital marketers think that buying links can amend a site's search rankings.
But let's not forget that those links should be top-class ones. That said, you should use only white hat link building services.
One of the worthy agencies you can choose is LinksManagement.
You can find a fitting webpage to build a backlink. Thanks to special filters, you can pick:
website category,
domain zone,
placement type,
and more metrics.
Moreover, you can state some keywords that describe your business.
After you've set up the filter, you will be able to add the link you'd like to promote. What's vital, you can write a short sentence that has to surround your link. (We've mentioned that Google loves in content backlinks).
The prices on LinksManagement vary depending on the linking site domain authority. The services' cost starts from $3.27 per month.
4. Smashdigital*
Here's another interesting statistic for you. 84.39% of marketers think link building has a significant impact on brand authority.
You may want to extend your backlink profile, no matter you represent a company or an agency. Once again, white hat link building services can help you do this.
Smashdigital is one of those services. You can safely use it to grow both your site's authority and positions on SERP.
This service knows for sure that not all links are equal. So, they do their job to precisely check every link. For example, Smashdigital:
investigates and audit site,
uses top SEO tools to learn more about URLs and domains,
avoids PBNs, link farms, etc.,
makes use of well-established connections with site owners.
Potential customers can order full-cycle SEO services from Smashdigital. To help you outperform your competitors, this service will use its technology-baked approach to link building.
Smashdigital's services aren't the cheapest ones. The basic package is $2,500 per month. Yet, the price may vary based on your needs and goals.
5. Crowdo*
41% of digital marketers say link building is the most challenging part of SEO. Well, we won't argue this statement.
Yet, there's one more link building company that can assist you.
Crowdo provides various services that let you build quality links. You may choose from five main directions. Thus, the goal stays the same for all of them - link acquisition.
To boost your rankings, Crowdo offers links:
from niche sites,
from sites in any language,
that are SEO-friendly,
that are natural-looking.
Every client can get a mix of dofollow and nofollow links. Also, every site is real with traffic and high domain authority.
Crowdo offers four packages for individuals and three packages for agencies. Plans for individuals start at $99 per month and at $1,390 per month for agencies.
Conclusion
Nowadays, you don't need to think about what link building technique to choose and how to do the outreach. There are white hat link building services that can do this for you.
This way, you can pick the company that fits you the best. Some of them will do the whole job for you. With others, you will be able to conveniently pick the sites to build the links from.
No matter what service you choose, you need to look at certain parameters. For instance, check what sites are in the inventory. They should have metrics like:
domain authority,
domain rating,
monthly traffic, etc.
So, you'll know you are getting links from quality sources. Also, ensure your backlinks are in content and come from relevant sites.
You can get all these quality metrics from Adsy. Your way to positions growth and outperforming your competitors will be seamless and hassle-free. Try out now!
*Please notice that Adsy is not affiliated with mentioned services. We created a list based on Trustpilot, Google, and Facebook recommendations. If you want to work with any of the mentioned services, thoroughly check the links they provide. Adsy is not responsible for the activities of the recommended services and your actions related to the work with these services.

More Like This