Created on
July 27, 2022
| Updated on
September 13, 2023
5 Don'ts of Writing a Newsletter Every Email Marketer Should Know
Content Marketing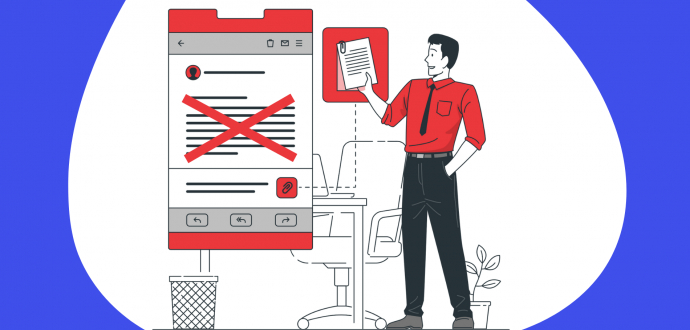 82% of marketers choose writing newsletters as a part of marketing strategies. Moreover, 77.6% of professionals across North America, Europe, and APAC, employ email marketing as the most widely used technology for customer engagement.
That proves that email marketing continues to be one of the main communication channels.
Taking this into account, it's highly important not to spoil a newsletter you send to your customer. And if you want to learn what mistakes to avoid, this article will be your best helper.
Today, we will share the top five don'ts of writing email newsletters. Check them out to ensure you avoid them and get the maximum of email marketing for your business.
Contents
1. Poor or irrelevant email subject
47% of email subscribers open emails based solely on the subject line. What conclusion can we make? The subject line is one of the contributing factors to your success.
You can constantly drop your open rate by creating a poor subject line. Moreover, if it is irrelevant to the email text itself - you can grow the bounce rate.
According to Statista, an average
open rate is 18%,
unsubscribe (bounce) rate is 0,1%.
Of course, it can vary based on the industry you are in. Yet, the open rate won't normally go much further than 30%. Simultaneously, the bounce rate won't be much higher than 0,3%.
If you notice that these metrics differ dramatically from the average rate, something is wrong with your email subject.
Let's set some examples to see what subject lines can lead your email campaign to nowhere. Firstly, there can be some completely generic subjects. They are not engaging or interesting to your audience.
For instance, you own an online store selling house plants. So what makes bad subject lines for you?
Buy cool plants
We have many plants - pick what you want
WE HAVE MANY PLANTS
As you can see, these subjects are too generic. Though your users can still open newsletters with these headlines, you won't achieve a high open rate or sales.
You'll also fail if your subject doesn't match the text inside the letter. Let's imagine you write something like:
How to take care of your Zanzibar Gem
And in the letter, you only try to sell more types of these or other plants. This way, the subject line doesn't match the content you provide. And if you do this regularly, you risk getting an increased bounce rate or even getting to a spam folder.
Yet, can you change this situation and improve your open rate and overall engagement? Of course, it's possible!
Read our guide on creating effective subject lines in 2023.
2. Low-quality content
OptinMonster shares some interesting data. 40% of B2B marketers report email marketing is a critical strategy for their success. It's also the main source of lead generation. 80% of B2C professionals say that email marketing grows customer retention.
As such, newsletters have too many tasks to do to let them fail.
Another truly vital part of your merit or total disappointment can be content. An easy way how to make a newsletter email fail is by writing poor text.
Once again, what content is low-quality, in our opinion?
Totally irrelevant content. It can be nonsynchronized to the subject of your newsletter. Also, it could be completely inappropriate for your TA's interests and needs.
Content without editing. If you write anything and then don't proofread it, you risk ending up with a text containing lots of grammatical and punctuation errors.
No formatting. Emails should be easy to read and understand. This way, don't forget to use headings and subheadings, images, videos, gifs, etc. Anything that can logically structure your newsletter is welcome.
Half-assed design. Black background with white or bright orange letters is an example of bad design. Too bright colors and too many unnecessary images or emojis also fall under this category.
So, if you notice that you make some of the above mistakes, make sure to change this. Moreover, monitor your emails' CTR to understand how appropriate and attractive they are. Also, if your unsubscribe rate increases, that means that something is wrong with your content.
Can you improve content for your newsletters? Sure thing! Check how to create thought-out content for your email campaigns.
3. Too many links and CTAs
50.7% of users make a purchasing decision under the influence of emails. To lead a customer to this action, your email should contain links and CTAs.
Nevertheless, it's essential not to go overboard.
If you try to use links in every single sentence trying to lead subscribers to certain pages, it won't work. If you use buttons with CTAs after every abstract, it won't work.
Instead of converting users, you are highly likely to overwhelm them with the number of actions they can take. Or even worse, you can just annoy your audience, causing a higher bounce rate.
How can you evade this? Let's show everything in the example of the online house plants shop once again.
Put only vital links. For instance, if you send an email about how to treat different types of ficus, add links or buttons where it's logical. Add one to three CTAs in the form of links or buttons based on the newsletter length.
Ensure readers can read the goal of the link or button. Subscribers should understand what to await after they press the link or the button. This way, provide clear descriptions.
These instructions will help you get a better effect on your CTAs. You can also A/B test your letters to understand what form of a call to action your audience prefers - as a text with a hyperlink or a button.
Of course, you can grow the chances that a user lands on your site. To reach this goal, add links to your logo or images you add.
4. No segmentation
What is email marketing? It's the channel professionals use to tell about new products, communicate with customers, and sell goods. So, no wonder that
85% of companies use it for lead generation,
84% of firms use it for sales,
78% of businesses use it for lead nurturing,
74% of companies use it for customer retention.
Yet, you won't achieve these results if you send the wrong emails to the wrong users. Accordingly, one of the biggest don'ts in email marketing is sending the same newsletters to all your email lists.
If you do not segment your audience, your subscribers won't simply open your letters or even unsubscribe from your email newsletters.
Let's go back to our house plants online store. You can say that the goal of a store (in general) is to sell its products. Sure thing, it's true.
Yet, customers can be in the different stages of the sales funnel. That's why you should apply different approaches when reaching out to them.
Moreover, some customers like to stick only to some essential letters. Other clients, in turn, like to receive the company's promotions, news, and helpful information.
With that said, you should thoroughly segment your audience to ensure everyone is getting the right message. Trust us, you will palpably grow your open rate and CTR and CTOR rates after segmentation.
5. A too long or short text
Content length also impacts your email marketing success. So far, an average marketing newsletter length is about 435 words.
Of course, this doesn't mean all your letters should include exactly this number of words. Yet, it's a really bad idea to send a letter with only five words in it. Vice versa, it's still pointless to make your letter 800-word long.
By sending emails with too little text in them, you risk appearing in the spam folder. Besides, even if you make it to the promotions or inbox folders, you won't give any use to your subscribers.
If your emails are too long, your clients will most probably close them without taking any further action. Leave long-form content to your blog.
So, what solutions do you have? Is there something helpful to share, but it's like 1k+ words? Create an article first! Then take briefs or small citations out of it and afterward suggest subscribers go and read the article in full.
You can say that you don't run a blog. Well, we strongly recommend you start it. Anyway, there is still a solution as you can divide your email into two parts. This way, you will still share some helpful info without overwhelming readers with too much text.
Conclusion
Writing a newsletter that is helpful and effective might be tricky. But in any way, you shouldn't refuse to employ email marketing for your business!
Email marketing ROI numbers a whopping 4200%. That means you can earn $42 for every $1 you spend. So this marketing channel is extremely beneficial.
To make it work for you, avoid the most common mistakes we've shared in this article.
Remember that you have space for creativity and trying various approaches. Do A/B testing for your campaigns, see how your audience is responding to different formats, and stick to the best practices.
Now it's time to hear from you! Do you send emails to your customers? How effective your email marketing is? Share your experience and stories in the comments section down below.

More Like This