Created on
March 10, 2021
| Updated on
September 22, 2023
6 Steps to Creating an Effective Newsletter
Content Marketing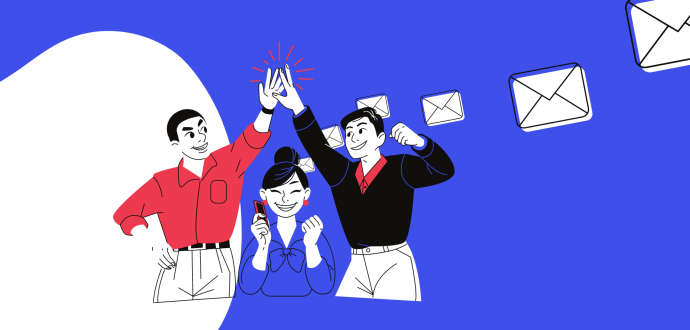 Are you thinking about how to write an effective newsletter? Well, that's really something you should be thinking about.
Let us explain why.
Firstly, newsletters show an impressive ROI. So, every $1 spent on email marketing brings $42 on average, according to Oberlo.
Moreover, marketers confirm that newsletters stay one of the most used content marketing forms. Additionally, as Hubspot puts it, 73% of millennials favor communication via email newsletters with businesses.
If you are not using email marketing as a part of your strategy, you definitely should start doing it.
Nevertheless, the end goal for beginners and experienced users of email marketing stays the same. And it is making people open your letter and read it. The following action - buying a product or trying a new feature - depends on the letter's type and goal.
So, how do you write a good newsletter after all? Here are six elements that will make your email effective.
Contents
1. Know your type of newsletter
Trust us, a type of newsletter will have an impressive impact on how your copy will look like.
Welcome, promotional, digest emails, and so much more of them will require different approaches. To create content that will match the letter's goal, you should be aware of the existing types.
Email newsletters. That might be the most common and widely-used type. As such, this kind of letter can have various narratives. They could include - blog posts promotion, upcoming events, company updates, and so on.
Lead nurturing sequences. Usually, that's an email sequence that guides prospects through the sales funnel. The point is to build a connection with a user to convert him/her into your company's customer.
Promotional emails. That's when you can show what value your products or services offer. It can be a discount on goods (that's the most common option). Yet, you can describe new features that will be beneficial to your clients.
Digest emails. That's a fit for online media, news portals, and alike companies. Such emails will help you showcase the best-performing content. Accordingly, you'll share constant updates without bothering readers with too much information.
Milestone emails. That's how you can mark or celebrate important events. Note that those events might be your customers' or yours. So, with these letters, you'll share memorable dates like birthdays or the time of your partnership.
Action emails. These are newsletters, including a strong CTA. The point is to make a person click through. The call to action can be in various forms - a button as well as plain text. The CTA message can be different also.
That's how we can group the most widespread email types.
Based on the type of newsletter, you'll work on its message and style. Yet, you should keep the same tone of voice across all your emails. That ensures every letter you send is easily recognizable.
2. Create thought-out content
Statista reports that there will be 4.3 billion daily email users by 2023. Sounds mad!
Yet, this number sends a remarkable message - there are many users and, accordingly, emails they receive.
So, don't let your email go unnoticed.
Content for a newsletter starts from the subject line. That's what your subscribers see at first. And it will influence how many people convert.
As a matter of fact, we've already talked about eight efficient newsletters' subjects in our previous article. So, we highly recommend checking it.
Create converting subject lines!


The next thing you need to think about is in-email content. As you already know newsletter types, you can create content based on them.
With this in mind, some of your letters might be more chilled and some more formal. Besides, some may be super-short, and some reach up to 800 words.
Still, there are some rules you need to follow with all emails you create:
keep them clear,
don't bother users with too much information,
focus on users' needs, not yours,
forget about clickbait subject lines,
ensure that content within a letter correlates with its subject line,
proofread all the letters you send.
And these are the only things that should limit you. Every other thing you engage with should release your creativity and usefulness for customers.
3. Choose an appropriate design
What does a newsletter look like as a professional piece of a content marketing strategy?
Well, most obviously, it's its design.
If you are only getting started with email marketing for your business, you might be scared about which way to go. Some colorful visual-rich emails may convince you that's the only option to choose. Anyway, it's not always true.
Yes, we do like creative newsletters. Many companies selling marketing products or fashion brands use them to grasp customers' attention. And they often are very effective.
Nevertheless, that doesn't mean it's your way. Practice shows that plain text emails work no worse than HTML ones. So, choose the one based on your company's needs.
For instance, we combine both options.
As you can see, we are using different approaches based on the occasion. Of course, we track newsletters' CTR and open rate to know how they are performing.
What if you have decided to use HTML emails but have no design team? Don't give up on this idea! Nowadays, many email marketing services have ready-made templates for various occasions.
Also, there are a lot of inspirational articles with examples of great newsletters.
4. Segment your audience
According to Campaign Monitor, segmented email campaigns can bring an up to 760% rise in revenue.
Well, that's a solid signal to start segmenting your audience.
Of course, to build segments cleverly, you should first attract enough audience. Let's set some examples.
Sample #1
You own a technology company that sells software. In this case, some part of your audience may wish to receive newsletters with your articles. Others will be happy to get news about software special features and updates.
Sample #2
You can run a blog that covers healthy eating. For instance, after knowing your subscribers better, you can start building different lists. Ones may be more interested in getting healthy recipes; some might be more engaged in receiving tips on building a diet.
We, at Adsy, have a slightly another approach. As we work with two different types of clients - buyers and publishers - we segment subscribers based on the account they choose.
As our clients have different needs and goals when using our services, we create emails to support them in their endeavors.
5. Proofread and A/B test your newsletter
Probably, it's impossible to know your audience inside out. Nevertheless, you shouldn't stop trying.
To create a newsletter that matches customers' expectations employ A/B tests.
As such, you can test various subject lines to learn what catches your audience the most. Your metric here is an email's open rate. The higher it is, the better it resonates with your clients.
Also, you can test the newsletter's content and design.
Create a sample of the newsletter in plain and HTML versions to see users' reactions. Check how the CTR changes.
Yet, before sending a split test, thoroughly proofread your emails. They should be typos-free, clear, and informative.
6. Add a clear CTA
CTA will directly influence how well your audience converts. That rule works regardless of you writing a newsletter, article, or homepage content.
In our previous articles about homepage conversion, it's not that people refuse to buy your goods. Sometimes they simply don't know what to do.
And a clear CTA is your yellow brick road.
This way, depending on the letter's type, employ different kinds of the call to action. Remember, CTAs are not always about selling stuff.
For instance, depending on the occasion, your call to action might look like this:
Read more >> - if you are sending a digest with articles,
Book my spot! - if you are inviting a subscriber to take part in your conference or course,
Try now! - if you are introducing a new feature,
Get my 15% off! - if you are sending a discount for products or services.
And the list certainly goes on. Just make sure your CTA is not too generic and easily detectable.
One more pro-tip for you. Make it easy for your customers to unsubscribe. Of course, you want to keep everybody subscribed.
But what does happen if someone is not interested in your service anymore and doesn't want to receive your letters? Trust us, nothing will stop them from unsubscribing.
And the complicated process will only make them angry and may result in marking your letters as spam. Remember, you don't want this to occur at any cost.
Conclusion
As much as 81% of SMEs rely on emails as their main customer acquisition channel.
And we understand why.
Newsletters help to nurture customers' needs at every stage of their journey. They assist with various goals - from educating clients to ensuring more sales thanks to abandoned cart reminders.
With that said, an effective newsletter can help you establish strong relationships with your customers.
Stick to the six elements we've shared with you to create email campaigns that bring results.
How do you build your work when writing emails? Share what components you are paying the most attention to in the comments section.
More Like This