Marketing is evolving. The ideas that were fresh and relevant in 2017 become old and obsolete by 2020. There is no chance you'll succeed by using the same old pieces of content nowadays. All the pieces of content that your copywriters create must be adjusted according to the latest data. And considering how fast the marketing industry is evolving, a marketer has to change the approach like on a monthly basis.
According to the 2019 statistics, about 92% of B2B companies actively use content marketing to promote their products online. It means not just using sponsored content but also creating new posts, images, videos, and news feeds. The year-end proves that the companies that regularly post new content show an approximately 71% increase in leads. On the other hand, content marketing has not experienced any fundamental changes and adjustments for some time, continually using the same old methods.
It means that the very approach to content has to be adjusted. Long reads that previously experienced a splash of popularity among marketers tend to be less effective rather than short posts. While social media format posts still win hearts and thoughts of the audience, the increasing amount of people, consuming short messages from Twitter, continues to grow. Besides, Google's top shared content is hovering around 1,000 words. Finally, social media, using short forms of content (the bright example is Instagram), is growing more popular these days. The time we are living in has become over-saturated with information, which means that users have less time to read any message at all.
Another noteworthy fact is that according to the statistics, B2C marketing budgets are going to increase. In 2019 the content marketing industry was worth 300 billion, and in 2020 over 57% of companies report they are about to increase their marketing budget at least 9% or more. The content generation requires the development of new approaches, thus demanding more investments and searching for new ways of promoting a business agenda.
We've decided to gather all the most important tendencies of late 2019 and the beginning of 2020 in one article. The goal is to help marketers to pick the most interesting ideas among those trends, and to assist you in adjusting your content strategy. Here we go: top 8 trends in content marketing in 2020.
User-generated content
Recent studies have proven that in 85% of cases, consumers are more likely to trust user-generated content. While not containing any keywords and selling methods, content created by users appears to be the most engaging and shows the highest conversion rate. It makes a work of marketing copywriters both easier and more difficult at the same time. Easier, because there is no need to invent anything, just maintaining the false "users" accounts. More difficult, because it is quite hard to pretend to be an ordinary person while using all the methods available to promote such accounts in relevant channels. It looks like in the next few years content marketing will be filled with false-flag operations. Marketers should consider the influence of marketing approach rather than corporate blogs and mailings.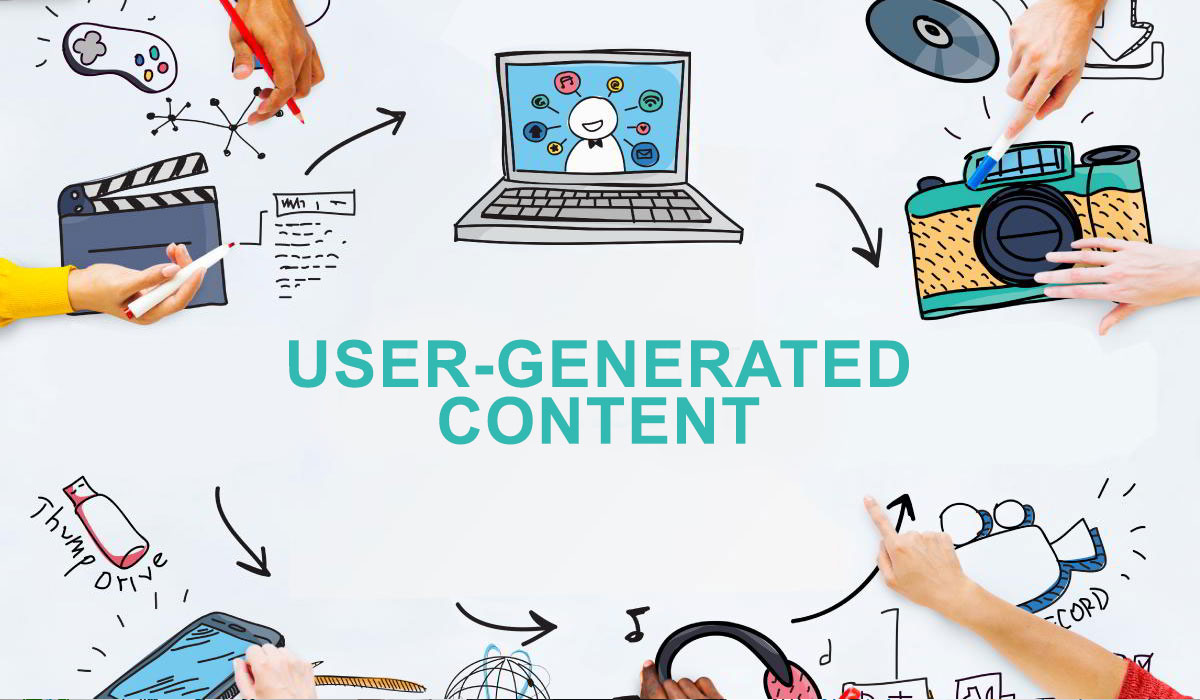 Video content becomes more popular
While the average viewing time of video continues to decline and reaches 35 seconds, people tend to prefer video content to text. Over 80% of users chose to watch a video review when making a purchase decision, while over 50% of customers admit that online video was the factor that helped them to select the specific product. Finally, 55% of customers say they watched online videos right in the store while shopping. It makes video content one of the most essential points when pushing people towards purchasing your products. Thus, in 2020 video might become a more important part of companies' marketing strategy. Marketers should consider producing both high-end clips and do-it-yourself-style videos, which can win the hearts of the audience.
Quality trumps quantity
The quality of the content is becoming far more important than the amount. While marketers try to produce as much content as possible, researches have proven that quality hugely prevails over the number of posts published. People are more likely to subscribe to you if you produce qualitative and interesting content on a regular basis, thus providing them with exquisite information. People are drowning in information flow, that is why they prefer to get news from you more rarely, but expect them to be more comprehensive. The perfect content posting model for 2020 includes consistent posting, while not drowning people in some irrelevant or repeating articles. The new long-read format should consist of 1,000 words and offer not just information, but an inspiration.
Personalized approach
A personalized approach to content strategy will become even more popular in 2020. At the end of 2019 over 90% of consumers told they trusted personalized content more than a regular advertisement. Meanwhile, 63% of customers admitted they were getting even more annoyed when receiving a generic marketing offer. Finally, 80% of customers acknowledged they'd more likely respond to the business, that used a personal approach, thus increasing a user's experience. An overall conversion may be increased three times by implementing a personal approach. Demand for personal special treatment is getting higher, thus making marketers depend on data science even more. Ordinary target audience portrait should be supported with additional info, including a user's experience, habits, and even expectations of potential customers.
Podcasting popularity triples
Podcasts' popularity grows exponentially. According to the latest statistical data, the number of its audience has tripled within the decade. What's more interesting is that the overall attraction to podcasts continues to grow. Generally speaking, there is a huge demand for audio content, which can be used for your agenda's advantage. The promotion of products or services via podcasts can be a great advantage for any marketer, because of really low competition on this market. Make sure you've got a firm schedule for podcasts because it is better to have none than to have episodes coming whenever the team has time to create one. Another piece of advice for branded podcasts is to focus on one relevant topic rather than to try to cover everything that comes into your mind. This might be a new marketing way to establish your brand's credibility.
Focusing on your topic
Experts advise focusing on a specific and relevant topic that concerns your expertise. Creating content strategically will help you to build up your reputation as an honored expert in the area of your interests. It means every time people who are seeking for an expert in the field your business operates will have to attend your web resources, thus increasing the number of visitors and potential customers. Work your specific topic out and provide people with as much relevant info on the field as possible. Thus, you'll show that your brand has exceptional expertise. It will aid you in building up the brand's awareness. While tending to trust user content, people still praise the recognized experts and value their opinion.
Raising popularity of interactive content
Two thousand twenty consumers are seeking for not just relevant content, but also an interactive one. While having resourceful smartphones at their disposal, people are eagerly looking for a new fresh experience. Modern-day customers are more than happy to see content with embedded interactive elements. According to the polls, nearly 91% of consumers admit they enjoy all the interactive and game components the business can provide. After all, interactive content can be a way more attractive to people, and at the same time allowing marketers to connect with the target audience, generate additional incomes and leads. Modern days interactive content may include:
360 degrees VR videos;
Augmented reality advertisement;
Interactive ads and photos;
Embedded supplementary tools.
Thus, the world of marketing enters the age of interactivity, and modern marketing departments must adapt to the new demands of the customers.
No More Random Acts of Cntent
2020 is the year when marketing departments must stop producing random momentary content, which may never have an impact on the target audience. Like a TV network, advertising content should be planned and prepared beforehand. It is highly recommended to produce in general less content, but make it way more effective. It means, aside from old but gold formats, marketing should consider new types of advertisement, including those never used before. At least, marketers have to find the audience's preferred channels and to deliver the content in a constant stream at predictable intervals. Every piece of content nowadays must have a well-thought strategy behind it. A new approach to the commercial must be developed, as the old ones are slowly dying out.
***
It might be a hasty conclusion, but it looks like content marketing is the only marketing that is left to us today. Customers want to consume pieces of content first of all. And those pieces have to be engaging and entertaining. Marketers should think of new approaches while embracing the fact that the world has become more advanced for the last decade.
Got any ideas on the main content marketing trends of 2020? Feel free to share your thoughts with everyone in the most convenient way. Good luck!
If you liked this post, make sure to share it with friends using one of the social media buttons on your left.