Created on
August 12, 2020
| Updated on
May 12, 2023
Content Marketing Platforms: Top 7 in 2023
Content Marketing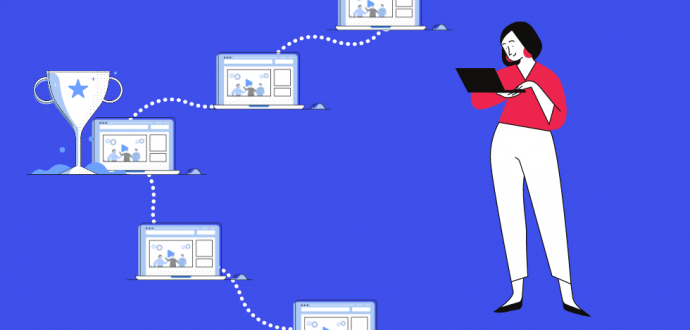 Content marketing platforms are changing the game. They revolutionize the way marketers build all the processes. And the best content marketing platforms turn everything upside down. In a good way.
Just think about how many activities marketers had to juggle at a time. Planning, implementing, executing, and evaluating results - all existed separately. Imagine how tough it was to bring everything together.
These platforms gave a second wind to all industry professionals. In fact, their variety is as extensive as the content marketing essence is.
And as the median age of marketers is 32, they are eagerly taking on new technologies.
In this article, we are going to discuss the top content marketing platforms. Continue reading to find a perfect match and optimize your performance.
Contents
What is content marketing and why is it important?
Before going straight to the platforms themselves, let's see what content marketing is. Let's refer to the Content Marketing Institute definition.
Content marketing can be described as strategic marketing lead up. It focuses on content creation and distribution. A significant feature lies in the fact that content value, relevancy, and consistency is a must. The main content marketing goal is to attract and retain a peculiar audience.
That said, marketers use content to attract customers and convert them into buying clients. As we can see, the role of content marketing is vital for modern companies. Why so?
For starters, let's highlight three main benefits of content marketing:
It enhances sales
It saves budget
It grows customer loyalty
Well, there is an extra benefit. In most cases, content marketing costs less than traditional marketing.
We've mentioned that content marketing is very versatile. To attract and retain customers, marketers use a variety of content types. Among them are:
articles
videos
webinars
podcasts
case studies
infographics
And, of course, the list goes on. Taking into account the big number of content types and ways of its distribution, marketers need assistance. That's when the content marketing platforms come in the spotlight.
Top 7 content marketing platforms
1. SEMRush
SEMRush is rightly among the top content marketing platforms. For 12 years on the market, they managed to work with the top clients. Quora, Vodafone, Moschino, and many more companies trust SEMRush.
The platform claims to provide all-in-one marketing services. The company proves this with several can opportunities offered. Clients can use SEMRush for:
SEO
PPC
Social media
Content Marketing
Marketing Research
Thanks to these options, professionals can execute complex marketing campaigns. Yet you need to keep one thing in mind.
The platform itself lets marketers collaborate with each other, set plans, access and evaluate data, find content ideas, and so on.
To get access specifically to the Content Marketing Platform and data reports, you need to get started with the Guru subscription. It'll cost $199.95 per month.
2. Adsy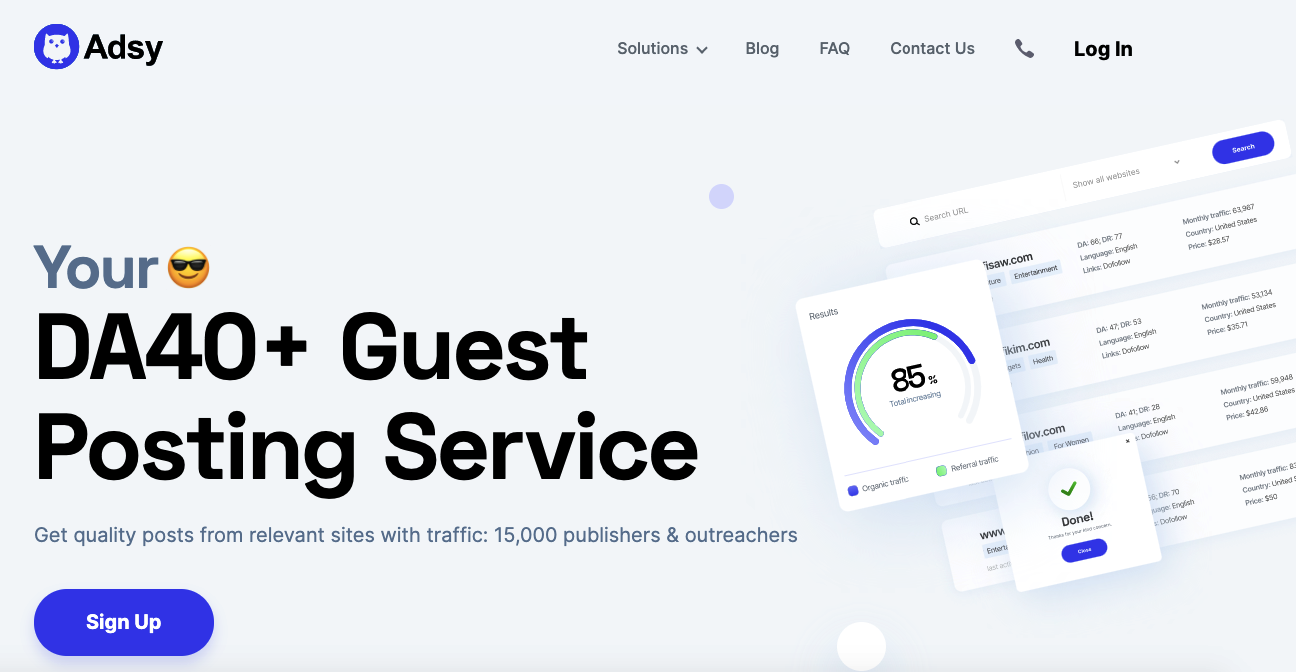 Adsy refers to content marketing distribution platforms. In fact, it is a sophisticated guest posting service. It deals with the content marketing part that caters to brand awareness growth, enhancing online presence, and building a strong backlink profile.
For over a decade, Adsy helps marketers in two main ways. Firstly, it lets companies who accept guest posts get quality content. Secondly, companies that need to build brand awareness receive access to the relevant sites. So, Adsy can help in the following ways.
| | |
| --- | --- |
| Publishers | Buyers |
| get paid for placing content | have the run to DA40+ sites |
| grow their blogs faster thanks to guest posts | access publishers without waste of time |
| can share material from the industry experts | place content on authority sites |
| increase ranking and traffic | increase ranking and traffic |
The platform gives marketers full control of the offered and placed content. They can track the progress of the task. Also, content placed with Adsy always answers quality standards and the ordering customer requests. In the end, both parties have a win-win outcome.
The minimum top-up price at Adsy is $25. It allows opening URLs in the inventory of 50,000+ checked publishers. Then you can spend this sum for the guest post purchase.

3. HubSpot
HubSpot is a renowned company that works with inbound marketing. In fact, it unites all the features needed to execute successful content marketing campaigns. From opening its doors in 2005, HubSpot grew significantly.
The platform claims to provide all-in-one marketing support. In sum, HubSpot supports the following features:
Blogging
Emails
Landing pages
Marketing automation
SEO
Analytics
For sure, the list doesn't end up on these options. Thanks to their unity and far-going reach, HubSpot helps marketers create better content to ideally fit customers' needs.
Also, we can refer HubSpot to one of the free content marketing platforms. Why so?
Because it offers a pretty vast functionality with its free version. So, marketers can manage ads, emails, and add other forms of content as deals. Nonetheless, to enjoy the full range of service you have to pay $800 per month.
4. CoSchedule
Another content marketing platform types you might notice are organizers. That said, this software helps industry professionals effectively plan marketing activities. CoSchedule is one of those companies.
Founded in 2013, CoSchedule offers customers a special marketing suite. It helps to plan a variety of activities from email marketing to content distribution. So far, brands like Yamaha, Microsoft, and others prefer to schedule campaigns with CoSchedule.
You have three options to choose from:
Blog calendar
Marketing calendar
Marketing suite
Marketers who are the best content marketing platforms users, tend to deliver better results. And platforms that help to organize and schedule the workflow play a huge role in it.
By far, marketers get very powerful tools with the Marketing Suite. They are able to check the work, cooperate with teams, sort calendars, and so on. Yet the price of the suite is unknown.
5. Percolate
Percolate is one of the best content marketing platforms for enterprise marketers. For almost a decade, the company helps brands achieve goals in the fastly changing environment. Percolate is trusted by industry giants. Among them are Cisco, DocuSign, Levi's, and so on.
This platform aims to fine-tune all marketing processes. It does it through the range of available products:
Marketing planning
Content coordination
'Content in action' management
Digital assets management
Once again, you can perform all these activities at the enterprise scale. The platform lets marketers coordinate and produce content at a bigger amount without losing quality.
Like many other companies that offer enterprise-level services, Percolate doesn't show the price. Yet after entering the company details, marketers can request a quote. Potential customers have to state the country and industry to get a precise price range.
6. ContentStudio
ContentStudio is a content marketing platform that enables marketing activities across various channels. This software is a nice fit for marketing agencies or marketing departments of SMEs. Many clients point out ContentStudio's UX-friendliness.
This platform's differentiating feature is the ability to compose material for multiple channels. Besides, ContentStudio provides the following opportunities:
Content publishing
Content discovery
Content planner
Analysis
The content discovery option gives an unfailing source for your ideas. Thanks to this, marketers can create engaging content for their companies or customers.
To work at a professional level, we advise you to start with the Small plan. It costs $99 per month. With it, you can manage teams, automate campaigns, and run a variety of blogs.
7. SendPulse
Finally, we've reached one of the top content marketing platforms that deals with email marketing and push notifications. SendPulse managed to grow fastly from 2015. Right now, its clients are LOT, Jack Wolfskin, Radisson Blu, and other popular companies.
This software supports marketers' urge in reaching clients. With SendPulse, professionals can execute campaigns on all stages of the marketing funnel. So, what are the options?
Email marketing
Chatbots
SMS marketing
Web push notifications
It's really easy to integrate SendPulse with different eCommerce platforms. To get maximum results, the company offers extended features for email marketing. Marketers can benefit from the drag and drop option, subscription forms, automation flow, and so on.
Unlike other platforms, the SendPulse price depends on the number of emails, notifications, or SMS you want to send. It is possible to start from a free account. Nevertheless, to unlock a larger scale, spend $25 on email marketing or $15.88 for push notifications.
Characteristics table of the content marketing platforms
| | | | | |
| --- | --- | --- | --- | --- |
| Company | Price | Type of service | For whom | Free trial |
| SEMRush | from $199.95 per month | Content marketing | freelancers, SMEs, enterprises | yes |
| Adsy | from $25 per month | Guest posting | site owners, bloggers, freelancers | yes |
| HubSpot | from $0 per month | Inbound marketing | SMEs, enterprises | yes |
| CoSchedule | unknown (for marketing suite) | CM* Organizer | freelancers, SMEs, enterprises | yes |
| Percolate | unknown | Content marketing | enterprises | no |
| ContentStudio | from $49 per month | CM* & SMM | freelancers, SMEs, enterprises | yes |
| SendPulse | from $0 per month | CM* & push notifications | freelancers, SMEs, enterprises | no |
* CM - content marketing
Conclusion
Content marketing platforms are marketers' main assistants. From scheduling to guest posting or team coordination, the platforms help to optimize content-focused work.
So, what are content marketing platforms? It's special software that lets marketers unite and streamline their marketing efforts across different channels. As we can see, it is possible to use content marketing platforms for different goals.
In today's article, we've shown what platforms may come in handy. You can always choose one based on your current strategies and long- or short-term plans.
Tell us what content marketing platforms do you like to use? Or do you still utilize good old spreadsheets?
More Like This