Created on
February 10, 2021
| Updated on
March 29, 2023
Top 20 SEO Blogs to Check in 2022 [Approved by Pros]
SEO Articles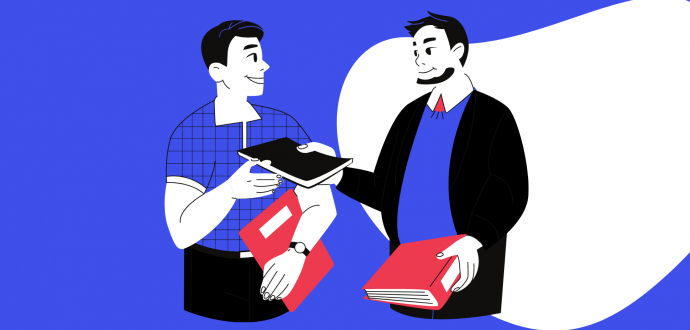 Why are we talking about SEO blogs today?
Whether you are starting your SEO career or are an experienced professional, learning is never odd. Probably, the only constant thing in an SEO is its constant change. That's why it's crucial to be in the know about the industry changes.
Of course, it's a worthy idea to follow Google's SEO executives to catch the latest news. Yet, often you will need a deep understanding of how new mechanisms work. You will need the support of tested theories and approaches. You will require working pieces of advice from SEO industry experts.
So, today we want to empower you with trusted sources of information you can use. We've gathered the top SEO blogs based on the recommendations of our SEO professionals and clients.
Top SEO blogs
1. Ahrefs
Ahrefs is a technology startup headquartered in Singapore. It provides top-class SEO tools for industry professionals. This way, SEO professionals can check backlinks, sites, keywords or perform a site audit.
This company has a powerful team that stands behind the content. We confidently put Ahrefs Blog among the best SEO blogs. So, you can always be sure of its quality. The team provides in-depth guides to educate users about various search engine-related topics.
Alexa rank (global): 1,410
Youtube Channel: yes
2. MOZ

Moz is a company from Seattle, USA, that has started as an SEO blog. It was a hub where industry experts could share their experiences and thoughts. Later Moz has concentrated on creating its own software and tools for SEO and marketing.
Sure thing, as one of the first SEO blogs, Moz continues to deliver outstanding quality and value to its clients. It's possible to learn about advanced, international, and eCommerce SEO.
Alexa rank (global): 3,111
Youtube Channel: yes
3. Semrush
Semrush is a marketing SaaS platform from Boston, USA. SEO and IT specialists were the company's founders. Their main aim was to help businesses of all sizes and industries to optimize their visibility across various channels.
To support its software, Semrush also runs a blog praised by many industry professionals. It educates about all-thing search optimization: from research to even Amazon SEO.
Alexa rank (global): 1,430
Youtube Channel: yes
4. Hubspot
Hubspot is a SaaS company from Cambridge, USA. It's a growth platform that offers CRM systems and all-in marketing hubs. Yet, mainly the company concentrates on inbound marketing.
Hubspot runs a blog on a variety of topics. Of course, SEO is among them. What differentiates this blog from others is that it offers many helpful guides and templates every specialist may use. So, it's definitely one of the top SEO tips blogs.
Alexa rank (global): 684
Youtube Channel: yes
5. Yoast
Yoast is a technology company from Wijchen, the Netherlands. It's famous for its SEO plugin and training courses. Subscription to the company's software allows clients to make a full site check - from keywords usage to inbound linking.
Accordingly, Yoast's blog offers top-tier content about search optimization. From guides to course-based articles, every specialist can find a perfect fit.
Alexa rank (global): 4,038
Youtube Channel: yes
6. Backlinko
Backlinko is a blog by Brian Dean. And Brian is an industry-renowned expert from the US. In his blog, he talks about SEO and link-building strategies.
On his platform, Brian provides actionable pieces of advice about search engine optimization. His site is trusted by Disney, Forbes, Amazon, and other giants. And you can easily join their forces as Backlinko publishes really awesome guides. That said, Backlinko is among SEO & marketing blogs you should check.
Alexa rank (global): 14,006
Youtube Channel: yes
7. Neil Patel
Neil Patel is one of the most respected industry professionals. The author is based in the US, and Forbes names him one of the top ten marketers.
Neil covers all themes that are hot in SEO and marketing. He has helped so many companies to grow that we had no other option than to put his blog into our top 10 SEO blogs. He provides detailed guides as well as insights on how to use his SEO tools (like Ubersuggest).
Alexa rank (global): 2,332
Youtube Channel: yes
8. Search Engine Journal
Of course, SEJ is among the best blogs for SEO. The media's name speaks for itself. This US-based journal's motto is "by SEO professionals for SEO professionals."
And that makes sense as the magazine has a broad choice of SEO-specific topics from link building to Google updates. Both beginners and advanced optimizers can benefit from reading SEJ.
Alexa rank (global): 8,322.
Youtube Channel: yes.
9. Search Engine Watch
SE Watch is undoubtedly among the best blogs for SEO. It's a US-based online journal with the longest history in the search engine industry. SEO is the core topic this magazine covers.
Industry professionals can easily navigate the niche themes by selecting the sub-categories. This way, readers can educate themselves on Google's algorithms and ranking factors, search engines, etc.
Alexa rank (global): 11,823
Youtube Channel: yes
10. Search Engine Land
One more stunning source we name among the best SEO blogs for 2022 is Search Engine Land. And, yet, another self-explanatory name. It's an American online publication that covers search engine optimization, content, and marketing.
This journal publishes articles from in-house writers as well as industry experts. There is a lot of helpful information on updates, algorithms, penalties, etc.
Alexa rank (global): 19,400
Youtube Channel: yes
11. Search Engine Roundtable
This US-based online source has another approach. Search Engine Roundtable serves as an aggregator of the most popular SEM threads. In fact, optimizers can get access to the most current SEO news and discussions.
This forum will be the perfect match for industry professionals who want to keep track of the latest news.
Alexa rank (global): 19,467
Youtube Channel: yes (via Rustybrick)
12. Searchmetrics
This platform for search and content marketing originates from Berlin, Germany. Searchmetrics as a technology company uses data to help users surely invest in earned media.
On its SEO blog, Searchmetrics offers an impressive number of articles on the search engine optimization topic. The peculiarity of this company's blog is a vast choice of data- and analysis-rich articles.
Alexa rank (global): 24,986
Youtube Channel: yes
13. Content Marketing Institute
CMI is a "digital child" of Joe Pulizzi - a content marketing evangelist. This organization runs huge content marketing summits in the US. Besides, every user can find marketing-focused content and training on-site.
Of course, it's easy to find expert articles about SEO by typing this word in the search box. As a result, specialists may access articles about current tactics, approaches, and SEO trends.
Alexa rank (global): 9,416
Youtube Channel: yes
14. Raven Tools
Raven Tools is an American cloud-based platform for marketers. The toolset helps optimizers and marketers to turn SEO efforts into measurable results. So, this company is dedicated to search engine optimization.
Besides a selection of tools, Raven provides an SEO tips blog. Insights, case studies, and reports are what readers can find while checking this blog.
Alexa rank (global): 27,636
Youtube Channel: yes
15. Adsy
Adsy is an American guest posting service. It provides a platform for marketers and publishers interested in the blog posting. As a result, both parties build a win-win partnership. Marketers get quality backlinks, and publishers top-tier content to fuel their SEO.
One of the directions that Adsy blog covers is SEO topics. You can get helpful information about local and international search engine optimization, link building strategies, and more.
Alexa rank (global): 15,852
Youtube Channel: yes
16. Linksmanagement
Linksmanagement is an American company that provides SEO services and backlinks purchase. The business also assists with keyword research, SEO audit and strategy, and more.
On its blog, Linksmanagement covers topics on search engine optimization audit, research, and current news. Also, users can access case studies from real customers with their success stories and strategies they've applied.
Alexa rank (global): 19,826
Youtube Channel: yes
17. Marketing Land
Marketing Land is a sister site to Search Engine Land. Like it, the ML covers digital marketing topics, including SEO. It's an American daily publication with a list of the top news and trends. Journal's writers and contributors are industry experts.
Both beginner and professional optimizers will find this periodical highly helpful. Additionally, Marketing Land covers themes on SEM and provides analytics on top search optimization tools.
Alexa rank (global): 17,780
Youtube Channel: yes
18. ClickZ
ClickZ is an American community about digital marketing. It targets senior marketers and is a Search Engine Watch sister site. All-in-all, this publication covers the newest trends and strategies in the digital marketing world.
By typing "SEO" in the search box, users can find numerous articles on this topic. In addition to articles, readers will find an impressive list of white papers to support their interest in search optimization.
Alexa rank (global): 19,816
Youtube Channel: yes
19. Local Search Forum
Perhaps, one of the best local SEO blogs is Local Search Forum. It's a forum from Canadian SEO company Sterling Sky Inc. Every marketer or optimizer can register and participate in various topics available on the forum.
Though it's not a 100% SEO blog and there are no articles, professionals can get the most current information. Moreover, they can discuss any issues with fellow colleagues.
Alexa rank (global): 110,403
Youtube Channel: no
20. Digital Marketing Depot
Digital Marketing Depot is a site by American SEO moguls Danny Sullivan and Chris Sherman. Unlike other sources from our list, DMD works more as a repository or online library. It provides access to white papers and e-books by various digital marketing or research firms.
Type "SEO" in the search box to find many e-books on search engine optimization. Every book represents a great research work to give an in-depth understanding of the picked theme.
Alexa rank (global): 89,761
Youtube Channel: yes (with no available content)
Conclusion
So, in this article, we did our best to gather the top SEO blogs. They might be a source of learning and industry insights.
They cover all aspects of search engine optimization. This way, you can always stay in the know and confidently form strategies. Thanks to the variety of content and approaches each site offers, everyone can find one's fit.
Tell us, what sources do you use to educate yourself? Are the SEO blogs we have also named on your watchlist? Leave your comments with your favorite SEO publications in the comment section.

More Like This