Created on
October 15, 2020
| Updated on
September 21, 2022
Top 5 Blogger Outreach Service Platforms
Blogging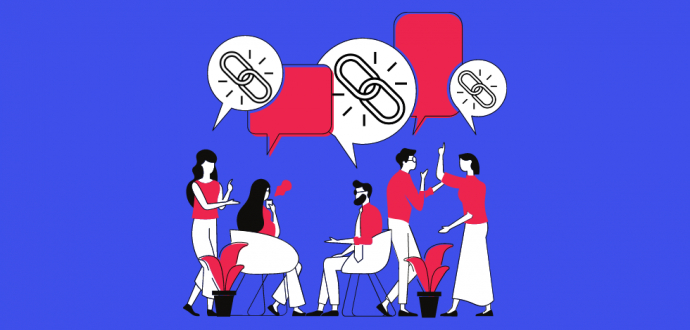 What is a blogger outreach service? Well, it's your step closer to acquiring quality backlinks and growing brand awareness. But there are more things an outreach platform can do for you.
In fact, 65% of marketers claim that link building is the most difficult part of SEO. Moreover, circa 91% of the content has no traffic because it has no backlinks.
So, building links is vital. It helps your content/pages to be seen and helps to increase your rankings. Yet it's not the easiest task to fulfill.
That's when the blogger outreach service comes into the spotlight. Firstly, it solves the main pain in the neck. Secondly, it saves you so much time!
In this article, we'll showcase the most popular outreach services and see how they assist in building links via guest posting.
Contents
1. Outreachmonks
Outreachmonks is a fresh-on-the-market company that provides link outreach services. It claims to provide white label SEO solutions to customers. It sees its main strength in its team.
What it does
Finds the best fitting blogs/platforms for you
Creates content
Places content
Makes a post-publishing check
Outreachmonks partners with the checked influencers to ensure the site's quality. This way, customers can repose they get backlinks from the up & running sites.
As the team chooses the best fitting sites for clients they use some factors to pick the right platforms. Accordingly, they pay attention to DA, prior link history, and the trust flow. While creating content for customers, Outreachmonks ensures to place keywords and proper anchors.
Building links is essential for any company that works online. Yet Outreachmonks is a perfect fit for resellers, businesses, and affiliates.
What's about pricing?
Outreachmonks fees are reasonable. Their price tag starts at $59 for DA10+ sites and 500+ words articles. The highest price is $359 for DA50+ sites and 500+ words articles.
2. Adsy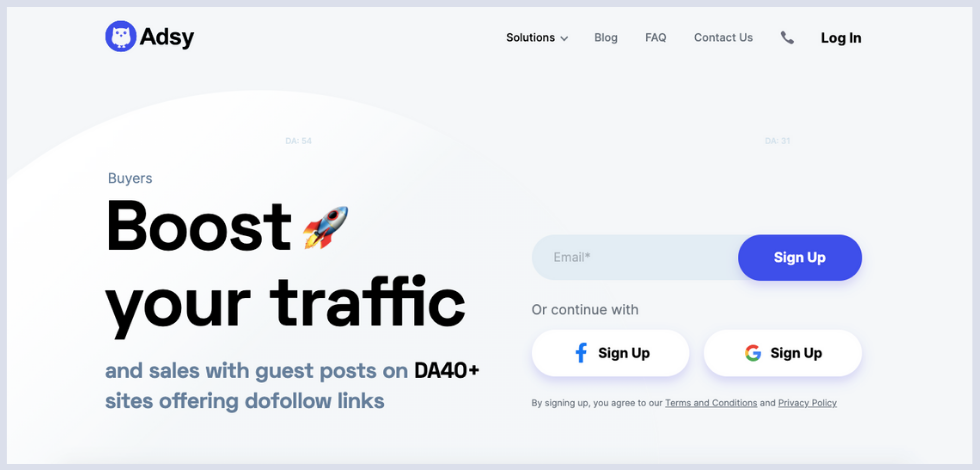 Adsy is a guest posting service. The company helps to acquire links for over a decade. It has helped thousands of clients to get top-tier links from relevant websites. The company's main strength lies in its quality procedures. For every accepted platform the service has three declined ones.
What it does
Lets you find the best fitting site or creates a list for you
Creates content or lets you submit your own
Lets you place content
Makes a post-publishing check
As we have mentioned, Adsy has strict quality standards. This way, they have an inventory of 19,000+ manually-checked blogs/sites ready to accept content for placement.
Adsy provides 18 filters to help customers make their minds. To form the list of the most appropriate platforms, clients set special parameters. They include DA, DR, Spam score, GEO, language, link type, and so on. As you can see, this outreach service is very sensitive to customers' requests. In the end, clients get a list of the most fitting blogs/sites.
The platform's specialists attentively listen to the users' needs and implement new approaches and metrics to help them make the right choice of donor sites.

Adsy is ready to help companies that work online and want to enlarge their presence. Yet, bloggers, influencers, marketing agencies are welcome as clients also.
What's about pricing?
Adsy's prices will pleasantly surprise you. You can start from DA15+ sites and 500+ words articles. It'll cost $14 and up. Accordingly, the higher the DA (and DR) metric is, the higher the end price is.
3. Stellar SEO
Stellar SEO is another outreach platform that has a long-time history. The primary goal of this agency is to educate companies about all-thing SEO. The core strength of this platform is the ability to reach trusted sites to ensure steady growth for clients.
What it does
Finds the best fitting blogs/platforms for you
Creates content
Places content
Shares a portfolio with acquired links
The company manually checks the sites to provide quality links for clients. Stellar SEO has a team of in-house writers to deliver top-tier content.
There is no information about the metrics the agency uses. They only claim the company partners with the checked sites/blogs to build quality links.
Based on the price range, the company is ready to help local businesses and global SMEs.
What's about pricing?
Stellar SEO's fees are somewhat pricey. So, clients have to pay $167 for a link from DA20+ sites.
4. OutreachMama
Another blogger outreach service you can use. It's a new company that has yet built over 3,000 links. The main strength of the company is building tight relationships with the top bloggers/publishers.
What it does
Finds the best fitting blogs/platforms for you
Creates content
Places content
Reports monthly about the acquired links
Right now, the company possesses an inventory of 10,000 sites. Clients are getting links from the most fitting ones.
As we've mentioned before, OutreachMama's top priority is building quality links. There is no data about the metrics the company uses. Nevertheless, it ensures to reach the industry's top bloggers or brands.
This outreach service can fit SMEs, resellers, or agencies.
What's about pricing?
There's no available information about the pricing. The client has to register to unlock the price range.
5. Evergreenoutreach
This is a blogger outreach platform that helps clients build links with white-hat SEO practices. Evergreenoutreach sees its strength in its content. It claims that native speakers only compose content for clients.
What it does
Finds the best fitting blogs/platforms for you
Creates content
Places content
Reports after acquiring the link
The agency shares that it partners with thousands of checked bloggers. This way, clients can be sure they receive backlinks from trusted and active sites.
To build backlinks for clients, Evergreenoutreach relies on its publishers' base. We couldn't find the information about what metrics they use. Yet they employ SEMRush to showcase their results.
Who can use Evergreenoutreach's services? Well, it'll gladly help agencies, SEO specialists (freelance & in-house), and marketers.
What's about pricing?
It's also a service from the high price range. Clients can start with the Trial Package - $349. It includes three links: two from DA10+ sites and one from the DA20+ site. So, one link is $116,33.
Blogger outreach service platforms comparison
| | | | | | |
| --- | --- | --- | --- | --- | --- |
| | Outreachmonks | Adsy | Stellar SEO | OutreachMama | Evergreenoutreach |
| Prices | from $59 | from $14 | from $167 | NA | from $116,33 |
| For whom | resellers, SMEs, affiliates | SMEs, bloggers, marketers, etc. | local & global SMEs | SMEs, resellers, agencies | SEO specialists (freelance & in-house), marketers |
| DA | from 10 | from 15 | from 20 | NA | from 10 |
| Control over sites | no | yes | no | no | no |
Conclusions
If you want to buy guest post backlinks let professionals help you! Usually, this process is time- and resource-consuming. With the help of the blogger outreach service, you get quality links without a fuss.
The depicting outreach services' feature is contextual links. That means customers receive links not only from relevant blogs but also links covered in the text. This ensures that the backlink is more weighty. Accordingly, the acquired links will influence the rankings' growth.
Also, you could have mentioned that some services may differ. Some offer package options, some sell one link per deal only. The price range is pretty different. Likewise is the control over the publishers the client gets.
Moreover, we recommend minding the set of tools the outreach platform uses to form the best-suiting blogs for the client. Make sure they take into account sites' DA, DR metrics, industry relevance, and so on.
As a guest posting service, Adsy helps you find the top bloggers/sites from your niche. Dozens of useful filters assist you in curating the correct list.
Tell us more about your experience with the outreach services. Do you use them? Or do you plan partnering with one? Leave your comments down below and let's talk!
* In this article we only describe and compare different outreach services. It is only up to you what service to use. We are not responsible for your choice and the quality of provided services (except for the service number two - Adsy).

More Like This