Created on
September 20, 2023
| Updated on
September 21, 2023
Top US Podcast Advertising Statistics You Should Know in 2023
Content Marketing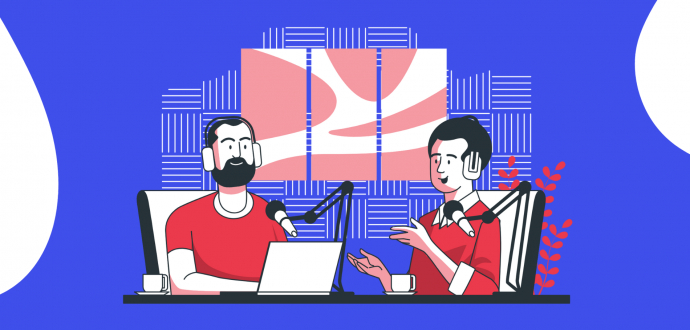 We bet you've heard some podcasts - be it professional-related or just for fun. Maybe you even follow some podcasts and listen to them regularly.
Taking into account that there are over 3 million podcasts right now, everyone can find something interesting.
At the same time, there are approximately 464.7 million podcast listeners worldwide. Of course, business owners and marketers cannot leave this fact behind.
Podcasts' established popularity means it's another channel to promote one's products or services.
In this article, we will share how podcast advertising is going on. You will learn more about budgets, effectiveness, burdens, user preferences, and more. After this, you can make informed decisions about adding podcast advertising to your budget.
Contents
Podcast ad spending and revenue
Surely, the first thing we'd like to discuss is how the money flows in this type of advertising. Pre-assumption - taking into account that 100 million US citizens listen to podcasts, ad budgets will be impressive.
Podcast ad spending in the US 2019-2024
The graph clearly shows the continuous ad spending growth. The predicted spending will be 2.5 billion dollars in 2024. That's 3.5 times more than in 2020!
Podcast advertising spending in the United States from 2019 to 2024 (in billion U.S. dollars)

Remember we talked about podcast listeners' numbers at the very beginning? Well, the increase in ad spending directly correlates to the listeners' base.
While there were around 67 million listeners in 2017 and 87 million in 2019, right now, this number is 100 million and growing. That means marketers have more chances to reach potential customers.
Moreover, if done right, listeners view podcast ads as "memorable, positive, and engaging." So, no wonder we see the following dynamics in podcast ad spending.
Podcast ad revenue in the US 2021-2022, by genre
Let's find out what podcast types are the most popular in the US. According to Edison Research, the most beloved genres are as follows:
Comedy
News
Society&Culture
True Crime
Sports
This is the most current information and depicts the situation from October 2022 to March 2023.
So, do marketers get the most money from the same genres?
Well, the situation is slightly different here. (Yet, you need to take into account that Statista offers data based on 2021-2022 analysis.)
Businesses receive top podcast advertising revenue from the next genres:
Sports podcasts - 15% of revenue,
Society&Culture - 14% of revenue,
Comedy - 14% of revenue,
News - unknown % of revenue.
Anyway, you can see that the top 5 podcast genres bring the most money. The correlation between a genre's popularity and income is obvious.
For instance, sports podcast listeners are very engaged. There are lots of "die-hard" sports fans who switch to podcasts when the TV league ends. Normally, they listen to podcasts weekly, so it's a great option for companies to activate for the goods or services.
Podcast ad revenue in the US 2019-2021, by ad type
Now you know where you can put your ads to get better revenue. (Of course, your products should be related to the podcast's topic.)
But how should hosts narrate your ads to deliver the best results?
55% of the podcast advertising revenue generate host-read ads,
40% of the podcast advertising revenue generate announcer-read/pre-produced ads.
Most possibly, host-read ads show better results as they feel more natural and native. Moreover, brands can use a storytelling approach to integrate advertisements more seamlessly into podcasts.
Yet, there is another ad type you can use. It is "branded content." In this case, a section or the whole episode can be sponsored by a brand. Though it's less popular than host-read ads or pre-produce ads, it seems to be gaining momentum.
Podcast ad revenue in the US 2022, by industry category
Now we know what genres can generate more revenue for your company and how to share your message. But what industry did receive the biggest ad revenue last year?
Distribution of podcast advertising revenue in the United States in 2022, by industry category

According to Statista, financial services were the most effective when receiving income from placing ads.
Nevertheless, the beverage & restaurant sector didn't figure out how to use podcast advertising effectively.
As the infrastructure changes, more industries can find benefits from using podcast ads. Magellan AI shares ten industries that will spend more on ads.
Alcohol (+85%).
Home goods (+81%).
Hobbies and lifestyle (+78%).
Online entertainment (+72%).
Furniture (+50%).
Mental health (+39%).
Gaming (+31%).
VPN (+30%).
Business services and software (+24%).
Sexual wellness (+11%).
So, if you operate in the same industries, you can spy a bit on the huge brands. Then, decide how you can incorporate your ads in podcasts.
Insights for marketers
Of course, people working in marketing think about where to put a company's ad to get the most results. So, we've collected even more helpful information for you.
Usage of digital advertising in the US, by platform
Earlier, TV was the highest platform to gather and deliver ads to people. Then, the Internet joined during the past ten years.
We are not going to lie - these two platforms are the leading ones when it comes to digital advertising. Nonetheless, podcasting started to impact the platform share heavily.
The situation looks as follows:
42% of US advertisers stated that they used over-the-top (OTT) or connected TV (CTV) for advertising purposes,
23% of respondents stated they used in-podcast adverting for advertising purposes.
The growing popularity of putting ads within podcasts is quite explainable. This platform allows to:
Reach highly targeted audience,
Be more creative when marketing your company,
Build connections with influencers.
Of course, this way of advertising is also more cost-effective than promoting on TV.
On-air radio and podcast ad spending per listener in the US 2022
Surely, we cannot forget about radio as one of the most popular advertising channels. Gen Zers might find it unbelievable, but 82% of US citizens aged 12+ listened to terrestrial radio in a given week in 2022.
People talk on the radio. People talk on podcasts. The spending for those channels is palpably different, though.
Advertisers spent an average of $52.1 on radio advertising per listener,
Advertisers spent an average of $13.7 on podcast advertising per listener.
So, marketing potential customers on the radio is much pricier. Moreover, the radio audience is very distorted. A podcast might bring you more targeted traffic.
Moreover, there are podcasts with a really huge audience. So, if your company has enough budget - we feel like it's better to try podcast ads.
Leading obstacles to programmatic podcast advertising in the US 2022
Though promoting your company on podcast seems to be a worthy idea, marketers still find some obstacles.
49% of respondents said they considered trust in podcasting to deliver ROI to be an obstacle to buying podcasts programmatically,
44% of the advertisers mentioned targeting,
39% of respondents mentioned finding premium podcast content.
Besides, AudienceX shares the next possible challenges:
Finding the right podcast audiences,
Control over ad placements,
Difficulty with cross-device targeting.
Those fears are clear. As mentioned earlier, podcasts have millions of listeners. But only a part of them will be excited about your product, and only a part of later will buy it. Also, ad placement has a huge impact on listeners. And you cannot always control it.
Insights about consumers
Another point that will help you make an informed decision about this type of advertising is consumer data.
Statista reports that 82% of the US adult population listened to podcasts two years ago. Yet, the numbers only grow. So does consumption frequency.
But let's figure out how listeners react and percept podcast ads.
Podcast advertising effectiveness in the US 2022
One conclusion that we can make based on statistics is that ads on podcasts attract listeners' attention. 79% of them head to the advertiser's site. And that's a lot.
Actions taken after hearing a product advertised in a podcast in the United States as of December 2022

Of course, then goes only your work and effort. By this, we mean that your site's homepage should be engaging and able to convert.
Anyway, a big percentage of listeners not only visit a site but also buy from the advertiser. Accordingly, podcast ads are effective now. They have not palled on listeners yet.
Preferred podcast ad types in the US 2022
We already know what ad types bring the most revenue (they are host-read ads, by the way). But do they match listeners' preferences?
Well, turns out that yes.
48% of listeners responded that they favored ads voiced by the show's host.
19% stated that they preferred ads that sounded like the ones heard on the radio.
As you can see, people like ads to be organic. That said, if a podcast host personally reads the ad, it feels like a recommendation rather than selling a product.
Of course, it's a company's job to write the ad and make it sound native, relatable, and not aggressively promotional.
Podcast advertising effectiveness in the US 2022, by generation
So, what generation does represent the most engaged consumers? According to statistics, millennials purchase the most after hearing podcast ads.
Share of podcast listeners who have purchased a product or service because of a podcast ad in the United States as of October 2022, by generation

Surprisingly, Gen X demonstrates more willingness to buy advertised goods compared to Gen Z. Yet, centennials will soon represent the majority of buying populations. So, we advise creating ad campaigns with younger generations in mind.
Moreover, other source shares slightly different statistics. According to it:
43% of 16+ Gen Zers have actually bought a product after hearing it advertised in a podcast,
44% of the 13 to 17 Gen Zers have asked someone to buy an advertised product for them.
And even bigger number of young listeners have visited the advertiser's site. That's why you can target centennials through various popular podcasts.
Podcast advertising effectiveness in the US 2022, by ethnicity
Based on Edison's 2021 research, the overall monthly podcast listeners are:
57% white,
16% Latino,
13% African American,
4% Asian,
10% of some other background.
At the same time, Statista reports that two ethnicities made the most purchases after listening to an ad:
38% of Hispanic respondents,
36% of Black respondents.
Conclusion
As you can see, podcast audiences are really diverse based on age, sex, and ethnicity. Now, 79% of the population know what podcast is, and over 82% listens to them.
Given the huge amount of people engaging with this type of digital media, it can become an effective advertising platform.
Mostly statistics show that podcast ads are effective. They make listeners not only visit the advertiser's site but also buy goods. So, this is your sign to allocate a budget for this type of advertisement.
Have you ever placed ads on podcasts? How efficient were they? Share your comments down below!
* Statistics without marked links refer to Statista source 1 and source 2.

More Like This