Created on
February 24, 2021
| Updated on
December 8, 2021
Top 13 SEO Podcasts to Listen to in 2022
SEO Articles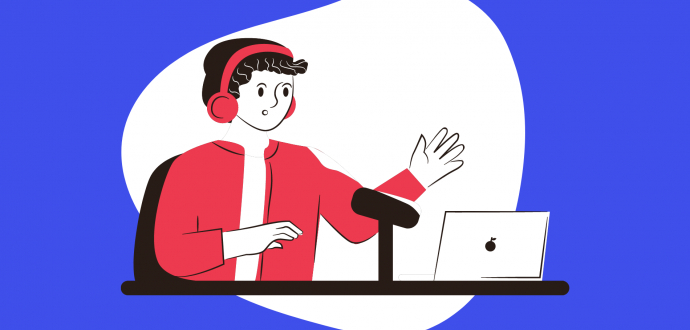 Are you listening to SEO podcasts or looking for some to check? Then this article is for you!
According to statistics, 55% of US citizens have listened to podcasts. Moreover, the number of listeners has increased by 37.5% in three years. That clearly shows that podcasts are becoming more popular.
And it's no surprise. This means of information delivery is very convenient. Everyone can listen to a podcast on the run and absorb valuable data.
That's why we've decided to prepare the best SEO podcasts for you to check.
Top SEO blogs
1. Adsy
The liked-named podcast by Adsy covers SEO and content marketing topics. Listeners can find a new episode every Wednesday. Many SEO topics are shown in the context of guest posting.
Via this podcast, you can learn more about outreach, link building, SEO with the help of guest posting, and other themes.
Site: adsy.com
Frequency: each week
Platforms: Apple Podcast, Google Podcast, Podbean, Speaker
2. Voices of Search Podcast
That's also one of the podcasts about SEO and content marketing. Benjamin Shapiro hosts this podcast and has a variety of guests from the industry. The host himself helps companies build their marketing strategies. So, most of the episodes provide plenty of practical approaches.
You can check more information about SERP updates, keywords, SEO strategies, and so on.
Site: voicesofsearch.com
Frequency: a daily podcast
Platforms: Apple Podcast, Google Podcast, Spotify, Overcast
3. Edge of the Web
This SEO podcast covers all-thing digital marketing. The host, Erin Sparks, talks to various industry experts like Sam Tomlinson, John Mueller, Jason Barnard, and others. During these conversations, you can learn more about the best marketing practices.
What topics does this podcast cover? Well, they are SEO, content marketing, social media, and more. Plus, Erin gathers the top weekly news.
Site: edgeofthewebradio.com
Frequency: each week
Platforms: Apple Podcast, Google Podcast, Spotify, Speaker, iHeartMedia, PlayerFM
4. Webcology
This podcast takes a look at the Internet from the web marketers' point of view. This way, the hosts Dave Davies and Jim Hedger speak with the top industry experts to cover different digital marketing topics.
While listening to this kind of SEO podcasts, you'll learn more about Google updates, ranking, keywords, and more. Also, the hosts talk about why and how social media pages rank on SERP.
Site: wmr.fm
Frequency: each week
Platforms: Apple Podcast, Soundcloud, Stitcher, Spotify, WMR.FM, Podbean
5. MozPod
One of the SEO podcasts to check in 2021 is MozPod. It's a creation of Moz's own Brian Childs. His main aim was to allow marketers to access information about SEO easily. Accordingly, beginners and professionals can check the latest trends and insights on the go.
Brian speaks to experts in his podcast to cover crawling, link building, voice search, and other topics. This podcast will help you logically upbuild your SEO knowledge.
Site: moz.com
Frequency: each week
Platforms: Apple Podcast, Spotify, Himalaya, Google Podcast, Stitcher, Clutch
6. Experts on The Wire
That is an SEO podcast by Dan Shure. The podcast goes in the form of an interview. During them, industry experts share their thoughts on a wide range of topics. As the host is also a well-established search engine optimization adept, episodes will be interesting for middle and senior SEO professionals.
Tune in to listen to the main trends, tactics, and tools to use to upgrade your search optimization efforts. Besides, you'll get access to working formulas and strategies to develop your business digitally.
Site: evolvingseo.com
Frequency: once per month
Platforms: Apple Podcast, Spotify, Soundcloud, Stitcher, Podbean
7. SEO 101
Are you only starting a career in SEO? Then this podcast is for you. Ross Dunn and John Carcutt will help you enter this specialization logically and step by step. You won't get confused by difficult professional terms.
Yet, the podcast features one of the top industry professionals (like John Mueller). So, you can learn the latest news and updates from the stable. Expect to find information about the core web vitals, SEO tips, ranking factors, and more.
Site: stepforth.com
Frequency: each week
Platforms: Apple Podcast, Spotify, Stitcher, WMR.FM, Soundcloud
8. Authority Hacker
This podcast's founders, Mark Webster and Gael Breton, talk about online marketing in general. Of course, an essential part of their conversations is SEO. What stands this podcast out is that they discuss the topics from the entrepreneur mindset.
By listening to episodes, you'll learn how to survive through Google's core updates, what tools to use to grow, on-page SEO, and lots more. Gael and Mark run their podcast in the form of casual conversation, so it's really easy to process the information.
Site: authorityhacker.com
Frequency: each week
Platforms: Apple Podcast, Spotify, Stitcher, Google Podcast, Soundcloud
9. Search Engine Journal Show
It's a podcast from the renowned SEJ hosted by Loren Baker, Danny Goodwin, and Brent Csutoras. At the very beginning, the show covered various marketing topics. Yet, nowadays, the primary goal of the podcast is SEO-related themes discussion.
Like other podcast moderators, the hosts engage with the industry leaders to discuss the search optimization topics. With that say, you can educate yourself about local SEO, E-A-T, white hat link building, and more.
Site: searchenginejournal.com
Frequency: each two weeks
Platforms: Apple Podcast, Spotify, Google Podcast, TuneIn
10. Marketing Scoop Podcast
That is an SEO podcast by another well-established publication SEMRush. That is your weekly dose of case studies in the form of audio if you wish. Host Laura Morelli talks about marketing success stories from the top global brands.
Sure thing, you can also learn about the latest and most effective SEO tools. Traffic growth, tested SEO strategies, and more stories powered by practical experience are what you can expect from the podcast.
Site: semrush.com
Frequency: each week
Platforms: Apple Podcast, Spotify, Google Podcast, Stitcher
11. Cashing in on Content Marketing
When talking about SEO podcasts, we cannot pass this one up. It's an SEO and content marketing podcast hosted by Amanda Milligan. An experienced marketer herself, she talks to industry experts to cover various topics.
Content creation through the lens of SEO is what you can find in this podcast. Moreover, Amanda thoroughly chooses every speaker she interviews to provide the highest quality. The goal is to show how to ensure the ROI of your content marketing work.
Site: frac.tl
Frequency: each week
Platforms: Apple Podcast, Spotify, Stitcher
12. SEObits
How do we continue the list of the top SEO podcasts? Well, with a series from Rebecca Gill. Her goal is to empower businesses with working SEO strategies. Besides, business owners can learn how even the tiniest changes can impact the state of things.
Listen to this podcast if you'd like to know best practices. She talks about the key search optimization aspects. So, you can get working tips on E-A-T, internal linking, keywords, and more.
Site: seobits.fm
Frequency: each week
Platforms: Apple Podcast, Podchaser, Himalaya
13. Search Talk Live
Here's one more SEO and digital marketing podcast. Additionally, hosts Robert O'Haver and Matt Weber speak about SEM. The main objective is to educate listeners. From episode to episode, hosts share their personal experiences.
Check this podcast to avoid pitfalls and absorb the best practices only. Get a deeper look at link building, strategic planning, and tools. Also, interviews with SEO professionals are available.
Site: seobits.fm
Frequency: each week
Platforms: Apple Podcast, Player FM, Stitcher
Conclusion
We hope that this list of the best SEO podcasts in 2021 was helpful. We truly believe in constant education and upgrading your skills. And we are sure that listening to the podcasts by industry professionals will help you do this.
What's essential, you can find podcasts that fit your level. That ensures you evolve naturally and don't get blown away by complicated terms.
Also, every host has his or her own style. So, it's another thing that will help you choose the right match. This way, you can get the most positive experience possible.
Do you listen to marketing or SEO podcasts? If yes, how do you find them? If no, what does stops you from doing this? Share your thoughts in the comments!

More Like This