Created on
May 18, 2022
| Updated on
May 25, 2022
9 Best Ways to Get High-Quality Online Traffic
SEO Articles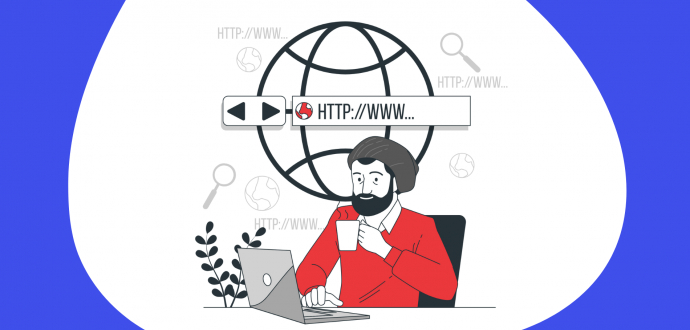 Every blog or site owner wants to attract quality online traffic. Nowadays, it's really important to get noticed as there are around 1.88 billion sites (according to Statista). And we are sure that you want users to visit exactly your site.
So, are there ways that ensure you drive high-quality traffic to your site?
Well, we've saved some effective ones for you! Keep on reading to learn more about nine strategies that will help you get top-class online traffic.
Contents
1. Paid traffic
Paid traffic can help you quickly attract traffic and first customers. If you choose this tactic, you can proceed with various options:
Paid search - in this case, you will work with Google Adwords, Bing ads, etc. This approach ensures your site appears on the top of search results (above organic results).
Display ads - here come texts, images, banners, etc. that you place on external sites.
Sponsored content - these are articles or posts you distribute via third-party publishers.
Social media ads - in this case, you create paid advertisements on the chosen social media networks: Facebook, LinkedIn, Instagram, etc.
As you can set the preferred parameters when building paid campaigns, you choose who sees your site. That means you receive desired traffic from different channels.
Moreover, paid search is most likely to bring you buying clients. So, we recommend you use it if your goal is conversions and sales.
2. SEO
SEO might be the first thing that comes to mind when it has to do with getting online traffic. And while many think that SEO is only link building, it's not the case, to be honest. Search optimization involves much more aspects.
This way, search optimization will include two main directions:
Off-page optimization,
On-site and on-page optimization.
And within these two directions, you can do various things to optimize your site. It can include keyword research and planning, backlink acquisition, content creation and optimization, landing page optimization, and so on.
All these actions (when done right) will lead to the positions' growth. And the higher you rank on SERP, the more chances you have to attract more traffic. In fact, the first result gets 28.5% of clicks, the second one - 15%, and the third one - 11% (according to SEJ).
So, your goal is to rank on the first SERP and preferably with the first five results to receive more qualitative traffic.
3. Article/blog posts, published on high-quality websites
The good thing about article/blog posts is that they not only improve your website's search engine rankings with the most organic backlinks possible. Moreover, they also bring you direct traffic right from those blogs where the articles are posted!
And one more great thing - is that those backlinks are permanent and stay alive for many, many years (being paid just once!).
Are you wondering how you can make this traffic channel work? Well, we've got a solution for you. Use professional help from a guest posting platform to acquire backlinks, grow your SERP positions, and get more relevant traffic.
4. Content marketing
Content marketing is a long-term investment, and it works only together with good SEO. Besides, you have to ensure that your content is really valuable. That said, write about something where you have the expertise, do not repeat after someone else.
Keep posting quality, unique content on your website for quite a long period of time, along with blog posts on external websites with backlinks pointing to your website. The effect and results might be really significant because search engines love unique content.
5. Influencer marketing
Nowadays, one of the biggest trends is, of course, influencer marketing. Suppose you can make popular influencers start talking and recommending your products or services in their groups or accounts on Facebook, Instagram, Twitter, Youtube, Telegram, Tiktok, Reddit, and other social media platforms. In that case, you may get a really huge effect from that.
In fact, 92% of users trust influencers more than advertisements or traditional celebrity endorsements. That means influencers can palpably increase traffic to your site and even get better conversions.
6. Banner networks
At that time when banner networks can give you traffic very quickly (their most strong advantage), most of them will bring you poor traffic (the biggest weakness), often containing bots. So you should be careful, don't spend too much at once, and always test them first with your minimum budget.
Some of them, such BuySellAds, work and pay off quite well for 60% of businesses. They work hard to filter out and remove any bot traffic passed to you by publishers. CPC is quite low and can be from $0.01 to $3, as well as CPM prices are also lower than on Google or even Facebook.
7. Affiliate networks
Create your own affiliate program (it's quite easy) and then use platforms like Gainrock to use thousands of their partners, willing to promote and sell your products online on their websites, relevant to your niche.
You can get thousands of website owners to start promoting your business without paying a single penny before they bring you a customer who converts, pays you, and only then you have to share some part of your profit with them.
Advantage - it's probably the biggest leverage that you can use since you don't have to spend years collecting your own network of partners.
Weakness - you need to do some programming before you can use it.
8. Online directories and review sites
While this tactic won't be the perfect one for strengthening your backlink profile, it's still good for attracting quality traffic. Both directories and review sites allow placing a link to your website.
As those sources often have high domain authority, they appear on top of Google searches. So, more users can find out about your company and click the link to check it.
9. Email marketing, SMS marketing, automated messaging marketing
That includes SMS, Facebook, Whatsapp, Telegram bots, and follow-ups. It's an awesome way of driving traffic to your site. Also, we recommend setting up automated email marketing and an SMS, Whatsapp, Facebook, or Telegram bot for automated follow-ups to keep growing your conversion rates.
Conclusion
As you can see, you have various options when it comes to getting quality online traffic to your site. Often paid tactics bring strong results and in a relatively short time.
Yet, sometimes ads don't pay off for quite many businesses at all because the prices are just too high. In this case, think about switching to SEO since it requires lower investments but provides better ROI. However, search engine optimization requires a longer waiting time.
So, you are up to choosing what fits you better. It'll be a worthy idea to combine some of the suggested approaches to achieve more brilliant results.
A few questions to you:
Did you like the article? Was it useful for you? If yes, please write in the comments what you liked and what would you like to know more about?

More Like This