Created on
October 21, 2020
| Updated on
September 21, 2022
How to Submit an Article Online and Get Published
Blogging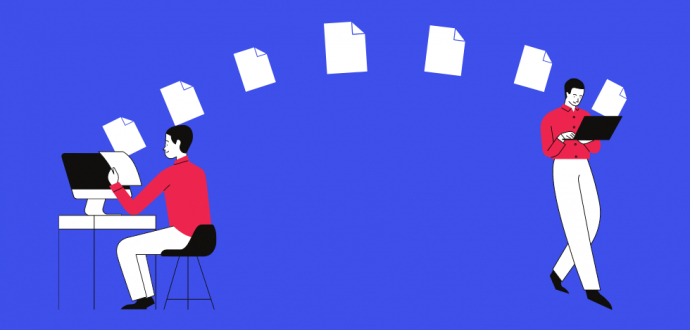 Probably every blogger has thought about how to submit an article to online media. And it's a logical question. Thanks to publications in online magazines writers can share their expertise and attract a new audience.
Yet, unfortunately, not all authors succeed in this endeavor. This may lower the writer's morale. Nevertheless, one should not give up!
Despite all the undertows, bloggers can end up with a publication in top online journals. In today's article, we will go through the main steps to fulfill this goal.
Contents
Determine your field of interest/expertise
Before thinking about how to submit an article to a magazine, you need to make some preparation steps. This way, you have to concentrate on what themes you will cover. Do you have a blog? Well, then you've found your passion.
Are you only planning to start a blogger career? Then take some time to think about where your expertise is.
Frankly speaking, you may write on any theme from the economy to marketing or chemistry. Find your passion and people will feel you care about what you write. After you have picked your niche it's time to think about text format.
In your article, you can share your personal experience, offer comparisons or reviews, provide some analysis, or give helpful advice. It's only up to you what to choose.
Yet every article should meet some vital criteria. It has to be unique, well-written, relevant, and useful. All-in-all, your article has to capture readers' minds.
Find fitting online media
Stage 1
After you know your strong sides, it's time to search for an appropriate online magazine. The obvious and most popular option you'll use is Google. Basically, your query may be about the lists with the fitting journals or you can start a manual search.
If you look for some academic sources, your university might provide you with some information. Or you can find sources on your own by typing "top academic online journals."
Heading back to non-academic sources. There are two main options as we've mentioned. So, you can google "where to publish economics articles" to find some lists of sites.
On the other hand, you can use a manual search. In this case, you need to employ search operators. Let's also see it in the example of an economics journal. You can type "write for us + economics" or "submit an article + economics." You'll receive a variety of options.
After this, it's time to create a list of the fitting online media. It will be the first draft.
Stage 2
At this stage, you'll curate the list of the online magazines that are most likely to publish your work. What do we mean here exactly?
Well, most probably you won't be able to submit your article to every site from Google's result page.
First of all, check what formats the online media accepts. It might be either an article or a blog post. If you are not ready to write a well-researched long-read, cross out such media from your list.
Secondly, check what themes online magazine covers. Even if you've got it from the "economics" query, it won't necessarily include themes you are interested in or are an expert in.
Thirdly, the more authority and traffic the site has, the harder it is to get published there. Most probably, these journals publish works of their in-house writers and renowned specialists. Yet you don't have to give up.
Look critically at your article. Does it provide readers with some novelty? Do you offer peculiar research with actual data? Will this article be appealing to the journal's target audience? Make a shot then. You might get lucky!
How to submit an article for publication in a journal
After you've brushed up your list, it's time to read through the journal's guidelines. For all media accepting guest posts, there will be one common rule. Your article must be unique. And, in most cases, it shouldn't be published anywhere before.
All other requirements will vary depending on the journal. Let's look through some examples.
The Wall Street Journal
There's no need to introduce this online media as people all over the world have heard of it. It covers a variety of topics from business to economy or markets.
WSJ doesn't have any strict editing requirements. Instead, it asks to send an article in an email body. The authors should send unique work between 400 to 1,000 words. What's interesting, the writers ought not to use any jargon.
There is one specific email address dedicated to submissions. Also, WSJ, as well as other authority sites, have a large volume of candidates. So, they ask not to disturb the editorial team if there was no reply after ten business days.
Fast Company
Fast Company is a popular online issue covering work-life, technology, and so on. What's interesting is that this journal accepts submissions for the Work Life section only.
Anyway, in this section authors are free to express their experiences or cover actual themes. Writers should compose an article between 600-900 words and send it via email. An article should cover one of the themes published in Section - innovations, entrepreneurship, etc.
There is one special email address that the authors need to use to send a submission. Allow a week after a submission date to get a response. If the writer gets no answer that means the editorial team has not accepted the post.
Entrepreneur
This world-renowned online journal has completely another approach to accepting articles. It suggests signing up with an Entrepreneur Leadership Network.
Thanks to it all the contributors have two options. The first one is free and allows writers to submit one article per 90 days. Another option is a paid $1,000/year subscription. It allows submitting one or two articles per month.
Entrepreneur expects well-thought articles under 1,500 words. Authors with a paid membership may receive the editor's feedback shortly and get published in under four weeks. Yet the editorial team has a full right to reject a submission if it doesn't fit the quality standards.
Getting published
So, you've figured out how to submit an article for publication in a journal. Without a doubt, a factor that will influence your success is your letter with a pitch.
Your ability to write a clear, short, and catchy pitch can bring you one step closer to success. When writing we highly recommend appealing to an editor/staff member. This way, if the online magazine states the name of the responsible person, use it.
For instance, don't start your letter to Fast Company with "Dear Sir or Madam" as the name of the editor is clearly stated. And it is Diana Shi. So, make it personal and use the name.
Also, here's what really vital. Read the magazine's guidelines super attentively. Did you do this? Well, read it once again.
Imagine how many submissions online journals receive. The editorial team will likely reject 1) letters; 2) articles that do not follow the guidelines.
For example, you are most probably to use a common approach of pitching your idea or article in a letter. But if you use this way when submitting a post to Fast Company no one will even read your article no matter how good it is. And it's because the magazine clearly states they need no pitches or article outlines in the letter. The author has to attach an article only.
So, you complied with the email requirements perfectly well. Now, it's time to critically look at your text.
As you can see from the previous examples, there are different requirements for editing. Some magazines may ask to send the plain text only. Some, on the other hand, have more detailed guidelines.
For example, journals may require authors to use certain types of headings (H2, H3, etc.). Moreover, writers sometimes have to add visuals to their articles. In most cases, online magazines accept pictures used from free photo banks (Pexels, Unsplash, etc.).
Once again, make sure your text 100% correlates with journals' demands. And, of course, the theme you cover has to be of the magazine's interest.
Conclusion
The way to the top online magazines may be tough. Yet if you are really interested in how to submit an article for publication in a journal, you'll succeed.
The main idea is to be consistent and attentive. Start from finding your passion. Then complete the list of the fitting online issues. And, in the end, ensure to follow the magazine's guidelines.
What's important - remember that rejections should not stop you.
Also, remember that nowadays you have a lot of options when it comes to reaching online media. If you are tired of spending weeks on the manual search, you can always use a guest posting service.
You'll need only a couple of minutes to set filters to receive the most fitting journals and sites from your industry. Then you can reach the publishers directly.
But it's all up to you! Tell us have you ever been published in some popular online media? What approach did you use? Share your experience in the comments.
More Like This