Created on
April 14, 2021
| Updated on
September 22, 2023
How to Increase Brand Reputation with 7 Tactics
Content Marketing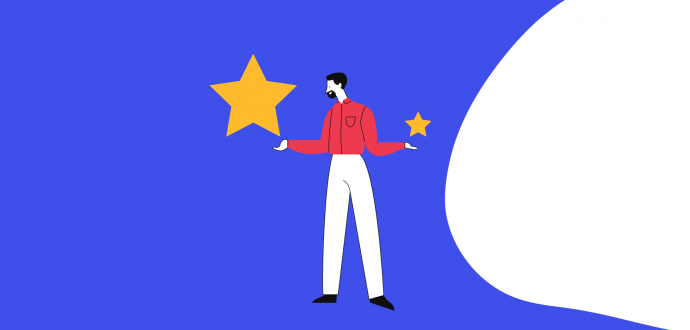 Brand reputation is a crucial part of a company's success nowadays. Effective brand reputation management can determine how far you can be from the competition.
In fact, reputation is so vital that 87% of executives evaluate reputation risk management as even more important than other strategic risks.
So, the better your reputation is, the easier it is for you to establish a connection with customers. And that's how the system works nowadays.
It's the century when we are overflowed with goods and services. This way, only brands with an unspotted reputation may attract our attention.
A drop in reputation may palpably harm your organization. 41% of firms with a negative reputation mark claimed the loss of brand value and even revenue.
That's why we'd like to give you seven ways how to increase your brand reputation.
Contents
1. Create high-quality content
Let's take a quick look back at the brand reputation definition. Basically, it goes around monitoring and shaping how consumers see your brand.
And content, nowadays, is one of the most efficient ways to commence communication. Simply put, if you'd like to enhance your brand reputation, build a strong content marketing strategy.
Running a blog may become your powerful tool. In fact, it can execute a couple of goals:
establish you as an expert,
educate your audience,
provide useful information,
inform about the company's updates,
show values you have,
tell your customers if you support charities, the local community, etc.
This way, blogging can impact how people perceive your brand.
Of course, you don't need to forget that your content should be not only interesting and useful but also entertaining and engaging.
To reach this goal, you need to know your audience perfectly. So, its needs, desires, and aspirations should guide you as you create content.
2. Show what value you offer
So, as we've mentioned, the market is now overcrowded with offers. There are lots of similar goods and services.
Don't talk about how good you are. Show it.
While your competitors are using hoary reputation strategy tricks, take a step forward. Output your value in the spotlight!
To fulfill this tactic, you need to know all the pains your customers may have. After this, you can build marketing activities around how your products may serve.
Work through the issues your audience can have and offer a worthy solution at the end.
3. Partner with influencers
Well, 92% of customers trust influencers more than ads or traditional celebrity endorsements. As such, when it comes to improving a lousy reputation, influencer marketing is an excellent deal.
One vital perk of partnering with influencers is that they already have strong relationships with their audiences. So, most likely, they will follow the Internet celebs' lead.
Also, your brand's promotion will look more like a friendly recommendation. When an influencer shows his or her trust in your company, people see it as a reliable one. This establishes you as a reputable brand.
Moreover, you have a chance to receive new followers from influencers' accounts. As such, you can work on their conversion by adding to email leads and pitching your goods.
4. Work on user experience
If you want to gain a good reputation in business, mind user experience. This point is highly essential as we are living in a customer-centric era.
First acquaintance begins from your site. Your task is to work on its design and usability. It should load fast, be easy to navigate and be up to date. And when we say up to date, we mean information and design-wise.
So, look at your site from the users' perspective.
Does your menu bar gives a clear message?
How long does it take to find the appropriate information?
Is the hierarchy understandable?
Is the subscription form visible?
Ensure that the site's design corresponds to your industry. It shouldn't distract or bother users.
Statistics say that 88% of people are less likely to return to a site after a poor user experience.
Moreover, if visitors don't like their customer experience, they may leave bad reviews or tell their friends about it. Therefore, your reputation may drop.
5. Get customers' reviews
In the previous point, we've mentioned customer reviews. Sure thing, we have a reason for it.
56% of users read at least four reviews before purchasing a thing.
Respectively, the reviews you have should be flawless. And if you are working on the reputation repair strategies, include work with reviews there.
We trust that you are providing top-notch service. But often, people more likely to leave negative comments. So, how do you encourage them to write reviews for your business?
You can offer some bonuses, discounts, or freebies for anyone leaving a positive and informative review about your brand.
So, when new users will look through testimonials, they will assume you as a reputable and trustworthy brand.
6. Be transparent
Don't try to trick your customers. Do so, and forget about how to build trustworthy relationships with your users. Trust us, they will know if you are lying.
Instead, be as honest as possible. Tell about your mission and how you serve the community, charities, or other causes. Once again, tell customers about what value your brand provides.
Is your brand experiencing some major changes? Share why you are doing this.
Somehow, people will get that something is different. So, better be the first one to tell it. And your consumers will appreciate it, trust us.
7. Set a problem-solving plan
If you have a resolution plan in hand, you can uplift your reputation lots faster.
As around 60% of the world's population uses the Internet, the opinions' difference is drastic. And, indeed, you can't be good to everyone.
Yet, if your team has a clear plan, they can overcome or downscale the negative impact. That may include work with:
influencers (if they experienced problems with your brand),
customers' reviews (the majority of users are paying attention to the business's answers).
Try to relocate the conflict from the public's eye and DM your customers with a solution.
Conclusion
So, these are working methods that can improve your brand reputation.
Some of them are easier; some are harder. Yet, you have a variety of directions to choose from. Integrate them into your overall strategy to monitor these methods' effectiveness.
Remember that any negative comment, mention, or release may seriously affect your brand's sustainability. Ensure your brand reputation management is good enough to outshine their impact.
We also recommend you to get down to basics and learn why reputation management is vital.
We'd like to hear from you. What tactics do you use to increase your brand reputations? Do you find our examples helpful? Leave your comments down below!

More Like This