Created on
August 17, 2022
| Updated on
August 17, 2022
5 Great Marketing Examples for Small Businesses
Content Marketing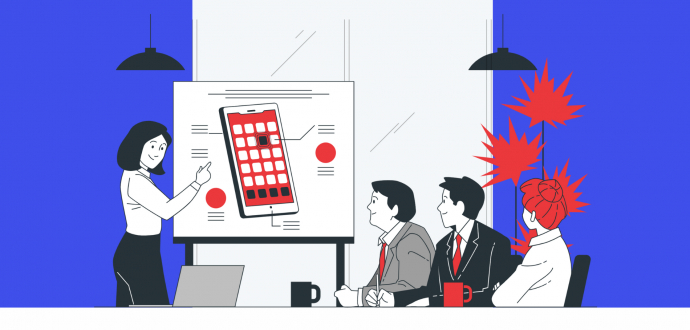 Are you working on your small business marketing strategy? Then it will never be odd to check some inspiring examples to fuel your business with creative ideas.
According to Small Business Administration, there are 31.7 million small businesses. And that's only in the U.S. If we scale to the global measure, there will be billions of companies.
So, you need to think about what makes your business special and how you will show it to people. That's when marketing comes into the spotlight.
Today, we share five inspiring marketing stories for small businesses to show how you can make your company shine.
Contents
1. DollarShaveClub
You've probably heard of this company. It's an American small business that started its activity in 2011.
It began as a company that delivers shaving necessities to your doorsteps once per month. Everything sounds simple and nothing special. Yet, the business had a crazy ride.
At the very beginning, DollarShaveClub had no employees and no huge budget. Yet, the company made a courageous marketing move and invested $4,500 for video production and promotion.
And nowadays, we are all well aware of the result. The renowned video has over 27 million views to the current date! So, what makes this video awesome?
Well, it is short, catchy, and very ironic. DollarShaveClub owner, Michael Dublin, reminds everyone about the main goal of razors - shaving. Moreover, he highlights another important company's value - creating jobs.
Right after this video, the company attracted 23,000 Twitter followers, 76,000 Facebook fans, and 12,000 new clients.
But what we like the most is that DollarShaveClub didn't stop on those results. It supports a stunning video marketing campaign with constant upgrades and keeps in touch with its customers.
2. Safehub
Safehub is a technology company that predicts risks caused by natural disasters. According to Crunchbase, it's a small business of up to 50 employees. The main technology it uses to serve fellow businesses is IoT (Internet of Things).
Every visitor can check a demo to see how Safehub's technology works. In fact, that's a great product that can save millions of dollars for business owners.
But why did we bring this company to notice? We enjoy how this company carries out its marketing strategy by collaborating with renowned online publications.
If you check Safehub's site, you notice the "News & Press" sign. By clicking on it, you discover that the firm got coverage on top sources like Forbes, Fortune, Silicon Angle, Insurance Insider, and so on.
This way, most likely, dozens of new clients knew about Safehub, specifically thanks to publications in online magazines. With that said, online marketing for small businesses can include handing out press releases and posting articles on industry-related blogs or publications.
3. Omnes
Omnes is an online fashion retailer from England. But what does stand it out from other hundreds of brands?
Firstly, for only two years of its activity, it gained some famous fans like Bridgerton star Florence Hunt. Secondly, Omnes actively uses brand storytelling as a part of its marketing strategy.
In our previous articles, we shared how you can share what your brand stands for with storytelling. That said, you have to articulate your purpose by telling what values your company supports.
The main purpose of this small business is sustainability. That's why every customer has easy access to Omnes's activity and impact on the environment. You can either click on the "We're are officially Climate Positive" banner or the "Sustainability" tab on the main menu.
This company is uber-transparent about the parties it works with, the manufacturing process, carbon offset, and so on. Moreover, Omnes's founder Jordan Azavi speaks about the business's ambitions in the sustainability field and the company's marketing approach.
Though the brand's price tag might be slightly higher, Azavi knows whom to target. So, the TA are young females from 20 to 35 years old, willing to make a change. By marketing the brand correctly and telling a story, Omnes can sell clothes to women who care about the environment. Moreover, clients seek to build a lasting wardrobe rather than getting something from fast fashion brands.
4. Bossbabe
Bossbabe is an online community that targets female entrepreneurs. This US-based company teaches women how to be successful in business by offering a variety of courses.
What we love about the marketing approach of this small business created by Natalie Ellis and Danielle Canty is access to knowledge. That means they do not only try to sell their products.
They also run a resourceful blog and also a podcast full of practical pieces of advice. This way, Natalie and Danielle prove that their goal truly is to empower female entrepreneurs. So, even if you are not ready to pay for the monthly subscription, you can still get access to inspirational sources.
That is why one of the essential marketing tips for small businesses is a readiness to share information for free. Build a strong content marketing strategy (just like bossbabe does) to attract clients.
Trust us, your effort won't go in vain. After your customers see that you offer valuable content, they will be ready to take the next step and enroll in your paid programs.
5. Jeni's Splendid Ice Creams
Jeni's is an artisan ice cream maker from the United States. Right now, it's a nationwide chain of over 60 branded "scoop shops." But how did the company achieve those results?
The business did well, yet the owner Jeni Bauer wanted something more. That's why she made a cool marketing move and wrote a book! Yes, you've heard it right. Jeni shared the recipes of her famous buttery ice cream on over 200 pages.
This campaign was nothing less than successful. The founder got James Beard Award for her 2011-released cooking book.
So, don't be afraid to use print media or publish digital books and share them via Amazon, for instance.
Here's how you increase your chances of getting noticed and attracting people's attention to your brand.
For example, Jeni's Splendid Ice Creams has also got coverage in top online publications like The Washington Post, Popsugar, and Food & Wine.
Conclusion
In this article, we tried to gather various marketing ideas for small businesses. Going viral or making your brand stand out doesn't always require huge budgets.
You can use different affordable approaches and combine them to get the best results.
See how fellow entrepreneurs use marketing strategies for their small businesses. Try taking your content marketing to a new level. Engage in video creation as this type of content stays the most preferred by users. Take the most of storytelling to make your brand lively and relatable.
Also, don't forget about traditional marketing. That means you can use printed media, banners, etc. Yet, in this case, be really precise and do your research first.
Tell us more about what you think about these examples. Do you find them helpful? Share your thoughts in the comments.

More Like This