Created on
January 25, 2023
| Updated on
January 25, 2023
5 Creative Visual Trends 2023
Content Marketing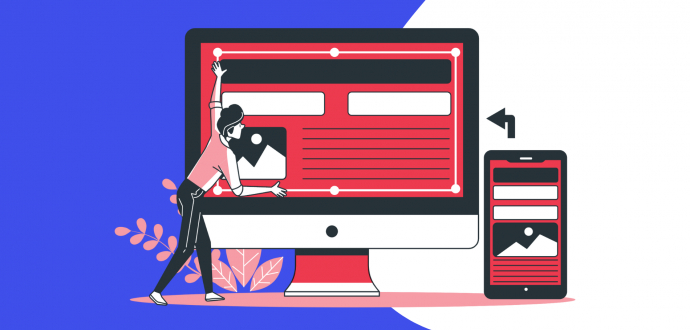 Visuals are an inseparable part of modern content marketing. From the site's design to the article's cover or social media posts, visual content plays an important role in customers' attraction and engagement.
In fact, articles with pictures after every 75-100 words get 200% more shares. Yet, it's not that easy to create high-quality visual content.
According to Venggage, 22% of marketers think that creating great designs and sourcing important data and statistics are the two biggest challenges in visual content marketing. And we can't blame our colleagues for saying this.
Anyway, you can ease this job. We understand that visual trends fastly change and you should know how wow your customers. That's why we gathered the top five visual trends in 2023 you should look up to. As a bonus, we tell what trends are slowly fading into obscurity.
Contents
Motion x Parallax effect

87% of people would like to see more videos from brands. Nothing new here, to be honest. Video platforms are huge now. There are really a few people who haven't heard of Instagram or TikTok. And these platforms have made their impact on design.
UI is not static anymore. We bet you noticed (and will notice) more animations. They can be easy and rather basic or truly complex ones.
This shift in design also mirrors some users' behavior changes. Firstly, they prefer videos, secondly, their attention span is getting shorter. That means you have lesser time to grasp their attention.
So, the pictures on the main pages of sites or within content turn into motion. Perhaps, one of the coolest representations of motion design is the parallax effect.
Adobe defines this effect the following way "Parallax scrolling is a computer graphics technique used by web designers to create a faux-3D effect." The point is that the well-built parallax effect can engage customers on a qualitatively new level. Moreover, scrolling is more comfortable than clicking. Also, parallax can be a really good helper if you plan to tell a story.
Gradients
Another trend that can make your content or site less boring is gradients. We know that this trend was top of mind last year. But somehow it tends to keep a strong presence in 2023.
You can employ any approach that includes a 'gradient' in it to get users' attention. Abstract gradient forms and shapes, letters with gradient filling, just some random splashes of gradient on the background - the choice is yours.
Gradients are here to stay. So you can incorporate them into your site's designs, social media posts, physical creatives, or whatever else you wish.
This trend gives you a lot of space for creativity. You can leave gradients to their true weightless feel, or add some noise to put on some vibes. You can stick to soft and pastel colors or go full-in with bright color combinations.
Real-life materials

Shapes and forms can add more depth to your designs. Did you notice floating bubbles, sharp crystal lines, or fluffy 3D figures on landing pages? That all refer to this trend. Glassmorphism, claymorphism, or metal/chromemorphism if you name it professionally.
Perhaps, you've seen a lot of glassmorphism examples in the last year. The main goal is to give a translucent or transparent look and feel to elements. This trend will also be popular this year We can notice more and more attention to this style as navigation bars, buttons, or decorative elements have this effect on them.
Also, designers went from skeumorphism to flat designs and back to skeumorphism. But what's now? Well, we can witness the comeback of skeumorphism. Simply put we are going back to design when the objects you see in the interface look like their real-world counterparts in their appearance and interaction.
Punk revival
Punk (also referred to as Dada) takes its roots back in the 1920-s. Yet, some specialists mark its beginning from the 1970-s anti-consumerist youth movement. This style has a long story and was on its rise during certain periods. And 2023 can be a year of its revival.
This style was always anti-war and politically affected. So the growing wealth gap in society and the monarch's death in 2022 influenced the renewal and new round of punk.
Punk is far from elegant and polished designs. It's heavily influenced by DIY techniques. So, you can notice cutouts, scribbled lettering, graffiti elements, and various collages. This style doesn't afraid to be messy and break rules.
Through decades, designers rethought this direction many times. Yet, main features like rebellious spirit and tight connection with the same-name music genre stay unchanged. One of the most popular brands that uses punk motifs is Supreme.
Mixed worlds
The borders between the real and virtual worlds become blurred. So do the boundaries between real-life photographs and digital art. This way, 2023 will surprise us with the combination of various artistic manifestations.
While some cannot fully imagine the combination of real and drawn, it seems like a big trend in 2023. And the point is not in high contrast and mismatch between these two styles. Mixed realities will be focused on bringing joy and positivity.
This style brings space for imagination. Bright splashes of colors, cartoonish additions to photographs, and intentional contrast between real-life images and digital art will define this trend.
Mixed reality lets designers be really creative and make completely new and different artworks.
Conclusion
Of course, there are more visual trends that will dominate 2023. Yet, we wanted to gather our favorite directions and ideas.
If you decide to present a new design to your audience don't forget to test it first. Sometimes even the trendiest direction can go separate ways with your audience's opinion.
Gladly, new graphic design trends give lots of space for creativity. You can adapt them to your brand's and customers' needs. Hopefully, you've got some inspiration from the examples we've found for you.
Don't be afraid to try something new and stand out in 2023!

More Like This